Hilton HHonors Windows Phone app to say 'Goodbye' soon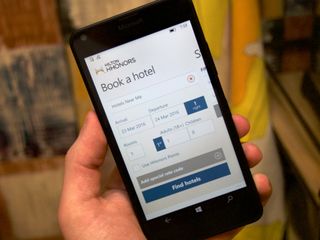 The Hilton HHonors Windows Phone app, which offered users travel planning features and special access for HHonors members, is slated to be retired in the near future.
The Windows Store page for the app (opens in new tab) states:
The company announced the retirement of the Windows tablet version of the Hilton HHonors app earlier this year. There's no specific information on when the Windows Phone version will be shut down.
Thanks to Paul for the tip!
Download Hilton HHonors from the Windows Store (opens in new tab)
Get the Windows Central Newsletter
All the latest news, reviews, and guides for Windows and Xbox diehards.
BOO!! Ah well, I've started using rocketmiles as the rewards (Amazon points, baby!) are much faster than trying to rack up points on Hilton.

I don't care what anyone says, WM is dying.. Not dead, and it may in fact survive, but it is literally dying. Hate it when I say this, or believe it, the fact is that it is on a steady decline with little positive building day to day. The bad outweighs the good. This is a fact.
.......
Now, that doesn't mean that the end is most definitely near, or near at all. Just that it is in a current state of dying, or to sugar coat it, "retrenchment". MS can revive it, though. The reality is that any fan who decides to stick it out for the long haul will be doing just that.... It's gonna be a long, long, long, 2017..... The only significant amount of light could only come from a Surface Phone announcement. Let's pray we find out something soon.
.......
Worth mentioning,,,, there is a chance we may get a universal app in place of any app that "temporarily" leaves the store.

Yep, I'm off. Sad as it is, I couldn't take the constant making do of an OS. Never thought I'd say it. I've been Nokia forever and WP since the L800 but it just feels like the sound of one hand clapping all the time. Disappointed with the 950XL, the firmware and the W10 experience which is still buggy even at a stable release. Fed up of the constant workarounds and fudging and it really feels like a divorce to do this but... I need to breathe again and enjoy mobile tech. I'd love to come back but we'll have to see. Got a OnePlus 3 coming tomorrow and I'm going to enjoy playing with Cyanogen for a while. This site also seems to like writing about games more than mobile these days which is also a reflection of the mind-set of the authors regarding the state of Windows. To open the app and see 8 articles about Xbox before you read one about mobile is disheartening for any fan.

I'm sticking it out till the end, but I completely agree with you.
....
Regarding Xbox Central, which it feels like nowadays,, Xbox Central reports on MS related news... The world of WM is tiny relative to the world of pretty much everything in the world.. Lol. The amount of news reflects accordingly. The truth is that MS doesn't care about Mobile as much a Apple, and Google. They care, but just not as much.

I hear you. I understand the Windows connections across all products, I just wish the writers would tag their work appropriately, then the filters would actually work. It's a completely disenfranchising experience for us all and will just drive people away.

Yep... Like I've said... Let's be honest. Their level of excitement for mobile is directly reflected in how long it takes to react to this negative situation.... It's been two years now, and everyday there's less hope.... Hummmmmmmmmm.

I left to sgs3 for a while and came back again for a few years (thanks Nokia), will probably give ios a go now. Slick hardware, all the apps, tailored browsing, great Microsoft Office experience, what more could you want...

I've got a OnePlus 3 with T-Mobile. It is an amazing phone, coming from a Lumia 1520. The camera is so good, you'd think it is a DSLR (that's an exageration, but it is super good though). The fingerprint sensor takes less than a second to sign in. Even less than half a second. With 64GB of storage and 6GB of ram, the phone is super fast. I really enjoy that phone.

Yeah.. Nist got both of his sons that phone to replace thier 1520's.. He says they've never been happier. They can enjoy all the apps with their friends, and can look forward to a pretty certain future.... Good choice. What's sad is that MS could've kept y'all, if they wanted to. But, they obviously don't. They're lucky to have stubborn fools like me who will sit here in annoyance, using a subpar OS, with ZERO apps, just because I have hope. Lol
....
Please pray for us. Please pray for us, man. Enjoy your new device; I'm sure more are to follow. But, not me just yet. If no Surface Phone is reveled by late October 2017, I'm out. Reasonable?

This is a sad sad sad sad day..... WM fans admitting defeat, and finally coming to reality. I never wanted to see this happen. I feel EXTREMELY let down by MS. I always helped recruit new fans to the platform, and now I just look stupid.. Lol. Would've been nice if MS did their part. They better fix this in 2017, or they will have lost no less than the biggest WP fan in history... Heck, they're probably waiting on me, and others alike, to abandon the platform so that they can go ahead and shut the **** down... Lol. That way they can say they didn't abandon us. They honestly are trying to drive fans away so that they can start over (again), or get out of the business without further failure. Because, why would they take so long to come out with a new device, and a functional OS? A company that big? ****, there's a dude that's practically about to start making devices out of his garage, and it takes MS two generations to come up with something? I doubt that. It's because they don't want to. Please.
.....
I hope MS, and Jason, prove me wrong, and soon.

All of these. My exact feelings. Well, except for the Xbox part. I do believe we should have all Windows 10 news here, and that includes the Xbox.

Yeah, we do too.. It's just that much more depressing when it over shadows mobile news.... For example, over at iMore right now there is probably more Apple related articles about the iP7 than anything.... Now, doesn't that burn your bunions?

Oh I agree, but the real annoyance for me as I said above is the lack of intelligent tagging which is supposed to make filtering out stuff easy. This article doesn't even appear in the Phone pivot ffs.

I probably join the OnePlus3 users club in 2017, sad about my 950.

Hilton Skype Bot? Access through Cortana, app gap disappears? Just a thought and a ray of hope.

Nadella.
Dominoes l/,____

What does Microsoft have to do with this?

And why are you been downvoted?

Because the average person here thinks that Microsoft develop all applications :/

Maybe because Microsoft is in charge of marketing the OS?

still has nothing to do with developers making apps. They have greatly simplified the process in making UWP apps over the years, developers are just simply refusing to use the tools to do so.

Where did you get that info from?

It has everything to do with MS. There complete incompetence with mobile is why what little apps there are left are dying.

And what about the app developers marketing their apps with the supported platforms as well? It's a 2-way street. I've used the Hilton app for a while now, and love it. If their mobile site offered the same features, then I wouldn't "cry over spilled milk". Yes, we all can agree that Microsoft has been anemic around marketing Windows Phone/Mobile, even with their Universal App strategy. But, devs are just as much to blame with lack of marketing their apps in the various app stores.

No, they market their apps on TV, the internet, and product packaging, all the time... Apple, Samsung, and Google market mobile.... Who is left out? Can we same the same for MS? Nope. That's why mobile has failed.

What really pisses me off is that when a company advertises "available for any device, any where" they are lying. I have not disagreed with you ever that the demise of Windows Phone/Mobile has mainly been on the shoulders of Microsoft and the lack of proper marketing. If they wanted to be disruptive, they need to be out in front of peoples faces; MS cannot simply rely on their partners like they have with the PC industry to save the mobile platform. I too have been saying it for years; if it weren't for the damn iPod and Apple giving it away, they wouldn't have dominated the music industry as they have. That strategy was easily adapted to the mobile market.

You said it perfectly... And, any idiot knows this... That means that failure has to be what they want. Like if the Cowboys put Romo back in...

Yea, every time I hear an advert saying, "Available on your Smartphone now!" I'm thinking, not my one mate.

I have to ask, when was the last time you saw a company advertise their Windows app along with their iOS and Android apps? From what I've seen, most of the time the Windows app goes unmentioned. The only party to blame is the company.

It's been a little while, but I can certainly count on one hand the wp advertisements for an app.

It costs to much to put that little download from the windows store in their ads for the rate of return of a dozen windows mobile users....the ink costs more than the return on investment.

Funny...... I always said that marketing was the issue, and nobody believed me.... Look now. SMDH. Look at us now!
......
I bet y'all wish WC, Fans, and the general media, bitched about marketing as much as I did.. But, no... Sad.

Me too.....I was screaming that back when windows phone 8 was released......MARKET this stuff. It was a great OS, but alas, Who are we.....I moved on becuase its just better elsewhere.....much better.

Marketing is key to success.

No, nobody thinks that. But everybody knows that the platform doesn't exist without Microsoft actively supporting it. And instead they actively kill it by cutting apps, products and marketing. Actually, no, they didn't cut marketing. You can't cut something that doesn't exist. And from time to time they throw some irrelevant sentence in some speech or interview that they fully support Windows Phone and UWP so Jason Ward can say that hell is nice and cozy because it's warm there.

MS did not cut any apps, the only apps they cut are the old Nokia ones that already have those features built into the OS. They are actively developing W10M so of course they are supporting it.

They have very little incentive to do so! What is Microsoft doing for them? They aren't actively trying to market the OS to bring new users that would actually use the app (Other than promoting Windows 10 for PC, and right now, why not use the website? Users probably don't even know how to download an app in Windows 10). They need to start offering incentive to devolopers so they come to the OS (and that incentive is growing the mobile and tablet part of the OS. Business aren't going to keep the OS on the desktops forever. I wonder how many older apps are being developed for IOS or android vs Windows Desktop Apps. ​I think if they don't get into the mobile and phone market soon, Windows 10 as a whole will die off, very slowly, since businesses move pretty slow. That's the only thing keeping Microsoft afloat right now... Just my opinion/rant.

MS?? Market WM??? LOLOLOLOLZZZZZZZZ. I'm dying!!

"That's the only thing keeping Microsoft afloat right now... " Apparently, you've never heard of Azure or Office 365. Microsoft is ending it's consumer business (slowly), but don't thing for a second they're not a successful company, they're just not what we want them to be. When the cloud bubble bursts, they're going to become the next IBM...

@nw47978 I agree with you. I just didn't phrase it correctly. I meant that the business industry cloud services is keeping Microsoft afloat right now. The OS is dying.

Health vault from the top of my head in recent days. I was actually using it and hoping they would improve it and move to UWP. But no, not for WM. Updates are only for Android, iPhone. Cutting Nokia apps after building the features into OS? Kidding me? What features? The ones that were removed from WP7 and 8 when Win 10 was released? There's a bunch of articles comparing those OS's. I strongly suggest you read them. It's a nice reminder what actually brought us to this platform in the first place.

@Thorgal Been saying this for a while now. WP7.X and WP8.X had more and better features than W10. Now some will say they improved this and that. No sh*&! That's what they should be doing. They should be improving but not taking away. Rooms, Pivots, Integration with social media, Kids Corner, and much more! There's a reason, they don't care about the consumer market. Only the business market. They have given up! Some may not want to see it, but they have. In total agreement with "rodneyej"... they never marketed their system hard and consistantly enough. With all the money they lost on the Nokia deal, they should've had a buy one get one from jump street and put as many phones in peoples hands. And I'm not talking about those cheap 4xx, 5xx, 6xx, series phones.

Lol. Exactly. Well said. Best comment of the year. Lol.

Any failure surrounding MS's OS is MS's responsibility... Period, point blank. No need to lie to ourselves to make us feel better.

Queue the Queen song Another One Bites the Dust.

Annnnnnnd another one bites the dust!!!!! LOL

Hey, I'm gonna get you too...

No apps, just pinned websites. So sad, so sorry, platform is going down

And you can't even pin an album to the start screen anymore.

Tested, works. What are you talking about?

Websites lost their pretty pinned images.

They could at least give us a high res to pin since that's what makes us unique! We have the most pinned web apps!

You're wrong..... You should say "that's what made us unique". That was the past. Now, the only thing that makes us unique is .8% market share. Lol

No problem, Windows Phone has less than 1% market share only a foolish company will pay to keep a tiny segment like that happy...HOWEVER... the thing to remember is that Hilton makes most of thier money from businesses and companies where people stay for 3 or more months at a time. 95% of business use Windows, they will 100% come back in the form of a UWP app in due course, like many others will too.

Who told you 95% use windows? If you mean on PC then maybe, but rich people tend to use iPhone :) not that i can afford it :')

I laugh at this rich people use the iphone. My kids who are 9 and 18 both have iphones. Hardly rich. Everyone of their friends have iphones....again hardly rich. Rich people use vertu phones...NOT IPHONES>

iPhones are like $1000 in many countries, and that's the average yearly salary in these places

You have to pull your head out of your a** and have a good look around to understand.

In a global context 2.5 Billion people (a quarter of the earths population) dont even have a bank account, we are very privaleged and in the context of discussing Apple v Google v Microsoft its easy to lose sight of that.

Yes PC - 95% is a massive market, they can easily make an app once that works on Windows PC's/Tablets/Phones in one go, well worth doing. As enterprise strats expanding in the use of devices like the X3 and others that will no doubt be released then the number of UWP apps will also grow...after a while the demand has the potential to do a 'Blackberry' where consumers want cool amazing devices running UWP apps. Time will tell, one things for sure though, Apple and Google cant compete with enterprise where Microsoft can.

Either way, he has a point.

Going wild on the kool aid I see....

Yep. Moved both my sons from their Lumia1520 to a couple of Honor 5x. They couldn't be happier.

Those honor phones look really decent....esp, the blue 8. That has caught my eye a few times.

As a Consultant who's traveled 49 weeks/year for the last 6 years, you are way off course here. I have only seen one other colleague in the last year or two using a Windows phone. In fact, it was sad to see a few MS presenters take jabs at Windows Phone at Ignite last week. "This works on mobile phones...except of course Windows Phone. Oops...did I say that out loud?"

@explosive0 what where those presentations called? Want to look 'em on Channel9.msdn.

Reminds me of Panos introducing flagships for fans. All 30 seconds of it.

Really? Did they they laughs?

That's incredibly messed up, but I guess not as messed up as upper management of Microsoft not even using their own freaking devices!!!

If true, it's another indicator that MS's mobile strategy to target businesses is likely going to fail. They won't able to use that to hide from shareholders forever. MS will need to put more effort on mobile, but due to the current CEO, it's more likely that they drop development of W10 mobile.

Nadella's iPhone not affected. All is good.

only Nadella? Phil Spencer, Joe Belfiore....

If they keep killing apps the only thing Windows 10 Mobile will be good for is counting boxes.

As with 90% of these cases, it's not a loss, it's probably better to use the web for this. There's no point in having a million apps that do only one thing and that single thing can be done through the web. That's not good for anyone.

This app was actually pretty good though. This is disappointing.

What about ebay app? Not a loss?

Web doesn't have electronic key like iOs. Was hoping WP would get that feature.

This comment is a total cop out. NO ITS NOT BETTER TO USE THE WEB. thats what a person says when their are no apps available on their amazing platform. I have yet to see a web page on mobile better than the actual app.

It's a HECK of a lot better to use the web, particularly on a pc... If I needed a hotel room, a phone app would be my last choice for doing the booking!

THIS IS ALL ABOUT WINDOWS MOBILE....wow some people.

Only if the website is any good. I find that the full websites are not really Ideal for phone use and sometimes the mobile site just plain sucks.
And you can't say its not a loss because of the website is available. Then there's no point of any app on any platform.

@fdruid. You can't do cheque deposits with a mobile website... lol.

Yep, there is always that. Apparently though there are some banks out there that you can on their website.

Is that your justification? ok

Bummer I use this sometimes.

So after few mounths we will be left with phone and messaging apps?! LoL :')

No, just get an android or apple phone, and love technology....unlike the rotary dial windows phone.

Wow, you have a REAL hatred for anything Microsoft!!!!!

why should'nt I, its all been turned to sewage...just as many many people here have the same hatred for google and apple for some unkown reason since all their devices work as advertised unlike this crap. Windows phone 8 and windows 8 were AWESOME compared to this trash!

We all get it you hate Windows and always have, we don't need to hear that on EVERY article and because you don't use the platform anyway why bother wasting your time posting on here, it just makes you a troll. You'll eventually learn that people will use what they want to use and not what you think they should use. I'm not going to ditch thousands of dollars/pounds of software just because you think I should use a Mac and I'm pretty sure that most of the others on here would say the same thing. Oh and the hatred on here for Apple and Google ARE justified because in case you hadn't noticed this is WINDOWS Central, not iMore or Android Central, if you want to hate on Microsoft then go post on iMore or Android Central instead.

See thats where our wrong....I never ALWAYS hated windows and microsoft. I have stated here A MILLION times that I have owned ONLY windows phones since 2012, and ONLY windows PCs since the commodore 128 days. It has been since windows 10, or better yet since that ass satya took over. So, please, before spewing garbage about me get your facts straight. If Microsoft kept trucking with windows 8 and windows phone 8, I would prbably still be using those devices...but 10 ruined anything that microsoft had.

Whatever, it doesn't change the fact that you're trolling. I'll stop with the garbage when you stop trolling but that's never going to happen!!!!

When MS stops putting out garbage and sewage...I will. Unitl then it's interesting to see how long people will hang on to this trash they are calling software.

You don't undestand. I have spent shitload of money for devices running MS software and now they just become useless pile of microchips. And this pisses me off!

Exactly 77.....I spent thousands of dollars on MS based gear since 2012...for it ALL to be sent to ****. 2 asus vivotab RTs, awesome tablets only to be sent to pasture with the RT fiasco, then 2 surface 3's and 2 1020s Both sent to **** by windows 10 and windows 10 moible, plus numerous desktop and notebooks...All sold for nothing. At least with apple and google based devices, resale is awesome. unlike this MS trash!

I use Android and iOS phones every day (my phone and my work phone). Windows Phone has, hands down, the best UI experience for me. Tweets, emails, calendars, instagram, weather, etc are all better when looking at my home screen. All update to show me what I need to know and I dont have to open the app or swipe down on my screen to see notifications. The apps suck. But the UI is amazing. I cant stand the lack of apps on WP and I cant stand the lack of information on Android and iOS. ​And when phones had actual numbers to press I could use T9word and text without looking at my phone with one hand. Much better than texting something today. My point in all this... Technology sucks. Nothing is the best. They all have their flaws and every advancement forward we lose a bit of conviences from the past.

A rotary dial Windows Phone would be so cool!!!

They are close...thats for sure! A few more things stripped from it, and they got it nailed.

Messaging app stopped receiving MMS long ago.

You don't need apps when you have continuum*!
(*disclaimer : Continuum only supported on Lumia 950 or equivalent and above)

@Squachy, incorrect. Phones with snapdragon 617 SOC can run continuum as well.

bah ha ha ha!....continuum....gimped RT....I would rather use BB10

Microsoft is discontinuing both of them

Skype being sunsetted for ~90% of Windows phone users.

No way. Wow :/ It was a nice app to have.

Bummer. Another app I used. Losing Chase was tough. If Uber goes, I'll probably have to move to another platform. I rely on that app quite heavily.

Agreed. If uber goes I kinda have to go too lol.holt crap this might happen. Uber and groove are my two most used apps

I wonder if Dan reads the comment sections of these articles......he might as well start using 'closed comment articles'. The dissent here is very distracting, and really detracts from the WindowsCentral focus and mood that the site is trying to push.

What do you expect? MS no longer actively supports W10M.

You're a very naive person, aren't you?

Yeah, we should all put our heads in the sand and only come out when there's a good news. Great idea!

People's opinions are now dissent? Did we move back in space and time to the old communist Eastern Europe during the night? Or are we now all expected to be Microsoft Yes men?

Pretty sure Dan himself is feverishly updating his resume...

You do realize phones make up a small percentage of our content, right? We changed two years ago from a 'phone focused' site. Our traffic ranks us as the highest Microsoft-focused destination on the web for consumers. We're fine, I'm fine.

I'm an IT working with ms products, i don't feel fine, but depressed reading theese blogs

Just messing with you. More so trying to push the rose-tinted fans to be realistic and read the writings on the wall.

I'm about to switch to iPhone. How about an article on setting up iphone with Microsoft services?

An article is not necessary. Just download the apps -- they are all there. Sign in, and you're ready to go! You won't miss a beat.

Hybrid usage! friend or enemy!

Isn't that just about most of the articles lately?

Paul Thurrott has done just that...

Please let others publish the bad news.

I think we all know the smart decision on moving beyond phones. Your crystal ball was a little clearer than ours. We're just the minority of the site complaining about being the minority of Microsoft's efforts.

Yes Daniel....thanks for putting up all that forsa content.....Just when I thought I was out of the microsoft vortex....you pull me back in with all the FH3 awesomeness! DOH! NOW, what system to get?

No unlike other users here, Dan and his team were quick to understand and pivoted to other MS stuff than mobiles.

Like Microsoft, Mobile (phone) is not our focus anymore. This info does not bother me nor what people say in comments. It is what it is.

so you accept finaly, what the articles here do not acknowledge directly, that Mobile is not MS focus. but somehow now and then articles try to keep up the (false)hopes.

I think that was directly said in the previous podcast

Indeed. I've seen a big move towards Minecraft.

So are you saying MS phone is dead lumia?

He needs to stop publishing small apps leaving the platform.
Is not good for all of us as developers look to us to set the example

The truth shouldnt be hidden to con people into thinking everything is rosy with this platform, that at least gives people the correct information to make an informed decision.

The truth will be found when you Google shjt.
See what I did there.

Would that not be "bing" Shjt?

I think that even MS knows googling is now a verb and binging doesnt exist. =P

True. Yet another failure by MS! ha ha.

Biz only/enterprise focused... A new os/2

UWP typically follows. Transition. Apps that are singular to any one platform are growing old.

I will uninstall soon all Windows blogs apps since it's too much depressing
Only and only bad news it seems to me to re-live the death of os/2 :-(

I too was a fan and user of OS/2. Back than, Microsoft was a bad company to work with, so if I could avoid them, I would (and OS/2 was a great way to do that, just a wonderful OS). Microsoft has turned that around, but the legacy of their Al Capone-style of doing business back then still permeates the thinking of a lot of people who view Microsoft as the bad guys. At their worst, while incredibly cutthroat, at least they always cared about their users. Google sells their users to their customers (advertisers). Google of today is far worse than Microsoft was in the 90s when they were cut down by the government for monopolistic behavior.

I'm out. No Salesforce1, no Hilton, Delta app sucks and will probably be sun-setted soon as well uber. Oh well, iPhone here I reluctantly come.

You will love it campellc....trust me. I was reluctant to goto the iphone because of the supposedly dumb down OS, but when you have everything at your fingertips your busy doing things instead of ******* with the os!

Why would someone spend tome posting about a phone OS that they no longer use? Sounds idiotic

Mwright, Just trying to help the poor saps here that are still clinging to this pile of steaming excrement called windows 10. There are many better choices out there (not just apple) to use. But foolish fanboy prides stops them from opening the windows and going outside where its fresh, and wide open instead of piegonholed into half baked apps, software and hardware!

I'm not to far behind, regretably.

This is the business focus of which John speaks, no?

Watching the google Pixel keynote, while reading about disappearing WP apps. :(

nice device, and accessories there! the pixel is def the choice for me for an android phone. VERY NICE!

Not staying at Hellton any longer!

I guess there's only one option for you then...

soon, he will only be able to book the cardboard box outside the hilton that the homeless former microsoft employee lives in with his windows phone.

Omg more boycotting! Think you should read my comments on the eBay app article to find out why that's bad idea.

Whine, whine, whine... Who the heck needs a Hilton app anyway? On ANY platform?!? If I want to book a hotel room, I'm not going to be booking it via a mobile app, that's for sure!

Whine, whine, whine... Who the heck needs apps anyways? On ANY platform?!? If I want apps, I have a computer for that, that's for sure!

so you carry your computer EVERYWHERE and connect using your computer everywhere? Typical MS Fanboy response.

I could sense a little bit of irony in Jf's post. ;)

after I posted...i did too!

Lets all just go back to flip phones then, shall we?

Nah, just get an Iphone or maybe that sweet new google pixel...both are awesome...

If there will be no more phones with windows on it then yes I will be going to a flip phone. 1, my bill will be far less. 2, won't have to worry about breaking it as much. 3, Just wont have anymore headaches worrying. Oh the good old days.

I bet you will be running out to get some nice new device. You just won't admit it here.

Well, because of the boycott, he would have to get it from a manufacturer that supports Microsoft, so that leaves....

wharton brooks - and their WB unicorn, which from the horn blowing done on this site, is going to be twice the device the mythical surface unicorn is!

I have a Lumia 650 and I stayed at a Hilton in Austin for a conference back in May and the Hilton app for iOS and Android if you are a Hilton Honors Member has keyless room entry via the phone app. Sadly WP was not supported for this feature but it was cool seeing my collegues use this feature via the app on their iPhones and Android devices.

manus imperceptus millions of users of the other platforms disagree with you....

We stay at Hilton hotels when we travel and I do have the Windows Phone 8.1 Hilton app installed, but I have to admit, I don't use it. We book our rooms, well in advance, on the Hilton web site using a browser to compare choices. We are Hilton Honors members and just have to show ID at the HHonors Registration desk to get our room assignment. No real "need" for the Hilton app, on any mobile phone. Serves no purpose? Maybe I used it once to check the date of a future trip I had scheduled. I could use my calendar for that. I did look up my points one time.
.
Funny thing, I was proud/happy there was a HHonors app, for some reason, but didn't really use it.
.
I think I have many apps installed that I don't use regularly. I guess I have them installed, so that if I ever want to use them I could. Too bad there isn't an instant install feature for those apps so I could clean up my phone memory.
.
Clearly Satya has no long term vision. The future is mobile.
Best Wishes

Remember the Cloud first, mobile first? In reality it's shareholder first, cash first. Whatever it takes to make that happen.

Short term gains at the expense of long term investments.

The lock/unlock feature of the app is reason enough to have it. no fidding around with dumb keys.....oh wait....that was never a feature on windows mobile...right! sorry. Back to your regularly scheduled programming..ha ha ha! Sucks to be on windows mobile!

Time to pay an extra cash bonus to Satya ;)

It is not only Satya, which of course I blame mostly but the whole board of Microsoft. To be honest I was hoping Microsoft to be very aggressive and be consumer and not only business. But again they are disappoint me.....again.....

Couldn't agree more ... But since it is Satya who gets paid for what he has done till now, he is the most responsible man in the company for this situation

Hope after that it gets much better. We will see how it goes

As CEO he IS responsable and has the final say! If not, he should not be CEO. that is the point of the CEO. make decisions for the progress of the company. If the board makes the decisions, then They should not have a CEO. When I own a company and run it.....I make the decisions of the company. I listen to my staff, and then decide how to proceed and move forward. This YAHOO of a CEO is just winging it I think. You think Balmer missed the boat....This idiot is not even near an ocean...

Haha, yeah, right on target! :D

So much for "raining apps."

Its snowing apps...they are just falling to be shoveled into a pile and left to melt.

WOW!!! This is an app I use daily because of travel. Trust me I'm a huge Windows 10 mobile fan but this is getting ridiculous.

Geez.. Isn't this a surprise?

Ok after ....months I know get it. They want us to leave windows phone devices. Ok all the apps are gone . But why? Seriously I will never understand.....so much investment, money resources etc etc and suddenly they decide to cut this.....after so much effort. Seriously I get it. iPhone 7 here I come soon

Here we go again. Who will be next?

There may be more to this than what everyone is reacting to. If you open the current Hilton HHonors app, they provide a little more information on their introductory screen: "Hassle-free booking is our goal. That's why we'll soon be saying farewell to the HHonors Windows Phone app, and focusing on an improved web experience on all devices." (emphasis mine) What this suggests is that they might be moving toward to a universal HTML 5 solution. Certainly, they probably will package it for iOS and Android users who don't know how to do anything but hit app icons, but it will probably be the same thing. More and more companies are realizing that app development is costly and inefficient (and not just for Windows). This is the future for apps that do not require special hardware API's. In other words, chill everyone!

That would be great if all these companies did do that. I do rather the actual website, but when an app has more functionality, then the app is better.

I'm sorry to say that I don't think that will be happening. Iactually do some contract work for Hilton CRM department and I spoke with a person in the Digital Product Inovation team back in August about their Windows Phone app as I'm one of 3 other people that has a Windows Phone. After a brief "I can't believe you have a Windows Phone smirk"; I was told that the current Windows Phone app would be shutting down in October. So sadly I wouldn't hold out hope that a new UWA would be made.

Actually I'm not holding out hope for a UWP app. If they go to an HTML 5 base across platforms, it won't really matter (except for those people who only know how to do things by going to store and downloading apps), because the web experience should be same as whatever the app would be (and likely will be on iOS and Android).

Its not knowing only how to do things with apps, its actually easier, faster and more efficent to use apps instead of opening a web browser, then entering the website, then waiting for page loads etc....which is terrible on Edge....

That is a PC way of saying its not worth our time to develop an app and maintian it for the 2 dozen or so windows phone users....don't kid yourself. Universal apps are a failure. They don't need them on desktops, and there are no users for windows mobile. I can guarantee that apps are alive and well when you have users.

dont forget ms competing with google they will strip away all the appps one by one

And this is why no one at the company I'm at wants a Windows based phone for business. No airline, no travel apps, just facebook and games. MS says the phones are about productivity. Also, no one at company I'm at wants to carry a dock, mouse, keyboard for their phone and hope a monitor is around to use. Might as well just take a laptop. MS has it's head in the cloud.

I agree with the apps comment but for the monitor thing this is why the lapdocks exist. They are cheap, all battery/screen and can be used to charge your phone while using it. And you can use it without ever taking your phone out of your pocket with some of the new features they are going to release. MS isn't targeting business just yet. They won't be till redstone 2.

Lapdocks haven't taken off with Android phones and I doubt they would with Windows based phones. Why not have a full powered laptop as a backup to your phone than trying to turn your phone into a netbook. It will be interesting to see what happens in a few years.

Android isn't really designed for laptop use. Windows 10 continuum is. Of course, even now it has its limits but from what they showcased at ignire it will be just like desktop. A full CPU requires more parts, more chances of breaking down, fans, heat sinks, etcc. Unless you heavily rely on w32 apps it's probably better to have a dumb terminal. But again we are a year away from the completion of windows 10.

However, running full software versions on a real notebook trumps all of those possible negatives while carrying the same amount of stuff with you and doing much less!

They did say "cloud first"! =P

The cloud that they removed our unlimited space from. That cloud first.

Yeah that really pissed me off. Even amazon gives me unlimited for Prime!

correct, they have their heads up their ass. MS is terrible at this point for anything except creating memos for the cubical dwellers.

I've seen the future and it's wonderful, I tell you! It's a really thin and light screen with pages and pages of icons. Millions of little icons in a grid, I tell you! You have a little icon for whatever task you need to do, one for each of your favorite products. And you have them all at a swipe of your finger (or ten). That's the future. /s


At least for iOS and Android users who don't know how to do anything any other way.

Why would they need to, apps work fine...its just sour grapes from microsoft users that think apps are garbage.

That's not true. I have said many times that apps are better if they are more functional, even though I prefer the website if I have the time most of the time. Hell, I used the eBay app all the time even though it was handicapped. At the same time there IS an argument for apps dumbing down the population of technical skills for computers. I can think of one example of many people at my work (younger than me and I'm 34) can barely navigate a computer even though that is 60% or more of what we do. Sometimes I even have to tell them how to set a default printer or even explain how/why to select a different printer or preferences. To me this is understandable for people older than me who didn't grow up on computers, but unforgivable for the 'Technology Generation', and it is all the time with many different examples.

I don't see it as I grew up programming a trs - 80. So, I see apps as fast, efficent and "the mobile way to go"! Then in the same breath I see apps on a desktop/laptop pointless!

I totally agree apps on desktops are pointless (spare the video streaming apps). Unfortunately people are inherently lazy, so when you make something that uses one click to install vs having to do scary things like choosing a directory to install something to, they will choose the one click option. After that happens enough, you have what is happening now, where some kids like my cousin in high school can barely navigate saving and recovering a file through the options in word because usually the app takes care of it for you. It isn't the app's fault, but it is because of the app. Be glad you are somewhere you don't see computer skills falling. It is one of the most annoying things to watch.

My son in his first year of university has no issues with computer use either, unless its hardware related but thats ok! ha ha....

Stupid comment. mobile devices is more than small computers. For example I use endomondo for tracking my fitness training, GoPro app for managing my camera, etc. etc. How I can do all this tasks without apps. maybe you recommend us to use printed roadmaps instead of turn by turn navigation app?

Didn't they purchase a company and also have a couple "projects" to make it easier to port and create apps over to Windows. Wasn't UWP supposed to help bring in App Developers? How's come we don't hear about any of that anymore? Is that advertised at all?

Yep more promises at Build, that never happened.

https://www.youtube.com/watch?v=PY4z6FmxbDs SOOOOO MANY LIES!

Yes, at the reveal of windows 10 / mobile they were touting that they had 3 projects finished, islandwood, astoria and a third for something else. Obviously the sort of prematurely released info on those since over a year later, they still have NOHTING happening with either of them....astoria is cancelled because it was evident that it WAS'NT that easy to port over apps...I am guessing that, although not offically announced that windows users just accept that islandwood is not going ahead either...leaving the universal app platform dead in the water.....And developers back at square one if they want to build for windows. and judging by what has happend in over a year of windows 10 is, 1. Microsoft does not want to develop for w10/M....hell they don't even want to have a development team for the actual OS, and farms all that out to insiders, and 2. Developers don't want to develop for windows 10/m because its pointless for a failing OS.

They just keep on hammering us into the ground, eh? Pretty soon there will be nothing left except games.

Hate seeing the continued exodus of apps.

slepr, its not an exodus of apps, its the exodus of windows mobile as anything other than cubical fodder.

So funny to see all those apps being retired in 2016, every week at least one. Why so much apps in one single year? I know about the Microsoft strategy, but it is a little bit silly to retire all apps in one single year.

Up to the individual company, out of Microsoft hands. They have killed windows on PC and Mobile.

Shocking!!! That took me by surprise. I never thought anyone would want to leave this booming platform.

Oh well another app gone.

MS is just not doing enough themselves. Seems like they have more employees working on the other 2 mobile OS then windows. Come on, their employees don't even use windows, how does MS expect their mobile to improve! Boo

I've decided to try not to bother commenting on what apps leaving means for the platform (As I'm using it for as long as it makes sense for ME). I have a few reasons why Windows 10 Mobile is still the best Mobile OS for me personally. One big thing that has me right by the balls is the fact Cortana isn't properly cross platform yet. I'd need a production quality Cortana with full UK availability on any other platform as I rely on the reminders so much on my PC, I can't let go of that experience even if all the other positives eventually disappear. For now, I'm still happy because I'm not really bothered what any of you personally choose to do, as long as it's the best choice for you I'm happy

Yeah there is a plus side to every app leaving... Tons of empty storage space!!! =P

Re: Dan Harris,
Yes, I'm sticking with Windows phone for as long as it makes sense for ME, too.

When will WC retire ?? Hahaha

Waiting for the departure of all those apps crashes frequently in my phone. Stupid apps, pls WhatsApp, fb, Instagram retire from our legendary OS.
I don't need any apps, i just want OS.

windows 10 legendary? ha ha ha....just as legendary as windows ME......

my comment was sarcastic.... pls sense it when I mean legendary where all the 3rd party apps utterly fail to run properly in win10m unlike in Android or iOS.

I got that, I was just commenting on the sarcasm!

I reluctantly left WP back in April just due to lack of apps mainly. I've been using a nexus phone which has been fantastic. I do keep an eye on here though as I would come back to WP if they had a decent flagship and apps. I loved the whole UI of WP. Posted via the Windows Central App for Android

I signed up for Hilton Honors once when I stayed at one in Boston. What a mistake. They began emailing me MULTIPLE times per day, so I went on their portal and unsubscribed. The emails kept coming for days. I unsubscribed to each. They kept coming. On and on this went for about a month (after 7 days I started diverting them to Junk folder) until I eventually just blocked the whole domain and closed my Honors account. Since then, I've refused to stay at any Hilton.

Ha Ha Ha. Rotary dial Windows Phone. MS should release an Android phone with all MS apps on it.

They don't need to....those phones already exist. I use them but without the windows apps as there are better alternatives out there!

Is it safe to leave the platform now since most of them are going.

Its been safe to leave since windows 10 mobile rolled out....The beginning of the end IMO. Its terrible...both on mobile, and windows 10 on everything else. Crap! OS....

another one bites the dust!

Will they be exploring Bots? =s