Hilton's HHonors app could open hotel rooms for customers in 2015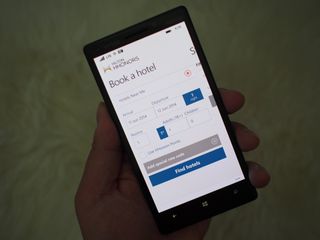 Hilton Worldwide Holdings is prepping for a major technology update in its 4,200 hotel locations that could allow customers to do things such as open their hotel rooms with a smartphone app as early as 2015.
Customers can already use the Hilton HHonors app to check in and out of their hotels, but the Wall Street Journal reports that the company is spending $550 million to let people actually unlock their hotel rooms with the app. That feature will begin rolling out in 2015 and be available worldwide in all of Hilton's hotels by 2016.
In addition, Hilton will let customers choose which rooms they want to stay in with their app by the end of summer 2014. The idea is to cut down the line at the check in desk at these hotels, which can get rather lenghty at times.
What do you think of the idea of a smartphone app becoming your hotel room key?
Download: Hilton HHonors app - Store Link
Source: Wall Street Journal
Windows Central Newsletter
Get the best of Windows Central in your inbox, every day!
Great development. It's only so sad that their hotels are to business and way to expensive. :/

Awesome! I spend a lot of time at Hilton properties and would use this constantly. I can't tell you how many times I've been at a hotel with four or five hotel keys in my wallet/laptop bag and had to guess and check which one let me into my room that night.

Wow, this is pretty cool. I guess it's nfc based? I'm Platinum with Marriott, but something like this might get me to switch.

Breaking in a hotel room will be easier than ever.

Exactly what I thought! Hackers will take this to a huge advantage if ever needed.

Not sure if this will ever work with Windows Phone. The system they are using now uses infrared to unlock. Unless this feature is change don't see it happening.

I assume that is what they will spend the $550mil on, to change their technology (:

Do iPhones have infrared? If not... They will not be using that.

The Homewood Suites (Hilton chain) I stayed in the other day used an RFID key lock. Even played with reading it with my phone - it bleeped a read but did nothing else. So current system == compatible RFID.

+1520 Does Marriott have app on Windows Phone? I've been waiting on one. Marriott app on other OS allows to check in also. Marriott definitely need an app on WP8.x. However, even their iPhone App is limited to premium hotels.

Exactly what I was thinking. I made my own web wrapper for Marriott to make it a little easier. If I don't see something from Marriott soon, I'm switching to Hilton. Where vendors support this platform, I will use them instead of those who don't. With United, National and Marriott, I'd be good to go but I can definitely switch over to Hilton in the areas I travel.

As a Diamond member of HHonors, I welcome this change. I always ask for a particular room and I get it. mainly because most of the hotel staff knows me by name, etc. But having to select the room I want, at the time of booking is awesome. Secondly, i dont have to worry about carrying the key, and key losing its magnetic power amongst my credit cards and having to reprogram the key etc will be helpful.Looking forward to 2015! Having said that, WP app for HHonors is nice but not very useful other than basic features. they need to include more feature so i can completely replace HHonors website.

Being able to choose your specific room would be great. Knowing that the room you pick is not next to a room with screaming kids would be priceless.

The Hilton loyalty program is great!

Funny. This is one of the apps I checked for, in the WP Marketplace, when I was considering WP8.1 as my daily driver. Never overlook the power of "smaller" apps like this in affecting customer adoption of a platform.

Travel apps are right up there with banking apps in terms of importance IMO.

Banking, travel, social, magazines, multimedia, productivity, miscellaneous, and then games for me in terms of importance.

I smell hacking. Great idea though.