Hisense launches first Windows Phone 8.1 Update 1 device called Nana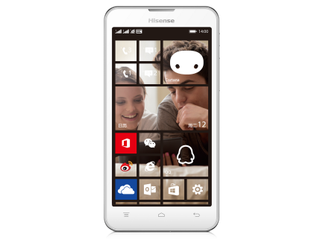 Announced at a media event last week, Hisense has launched its first Windows Phone 8.1 Update 1 handset, dubbed Nana. Another distinction that belongs to the Nana is that it is the first Windows Phone device to feature dual-SIM CDMA+GSM connectivity.
Nana offers a 5-inch 854 x 480 display, a 1.2 GHz dual-core Qualcomm Snapdragon (MSM8610) CPU, 512 MB RAM, 4 GB internal memory, microSD card slot up to 32 GB, Wi-Fi, Bluetooth, dual network dual standby and a 2000mAh battery. Since it runs Update 1 out of the box, the device comes with Xiao Na, the Chinese version of Cortana, installed by default.
And before you guys point it out, the handset does look like it features navigation buttons that are more suited to an Android handset. We'll cut Hisense some slack as Nana is only the vendor's second Windows Phone device after the MIRA 6, which was launched for China Telecom earlier this year.
What do you guys think about Hisense's Nana?
Source: Hisense
Thanks hengxiang32401 for bringing this to our attention!
Phone is ugly with those capacitive buttons. So now WP is just an android flavor? Pffft.

A rendering shouldn't have such a mistake :/

Perhaps they subcontracted it out to BGR.

Well, they released photo with WP and those capacitive buttons. http://www.wpcentral.com/sites/wpcentral.com/files/styles/large/public/f...

it looks like 3:4 screen... if I see that in detail....

Windows phones have one of the best looks. How'd they dare to do this!

PhotoShop. Please tell me that's a PhotoShop...

Perhaps this is Windroid Phone?

What a funny thought! Windroid/andows phone! Lol

I don't believe that Microsoft lets a phone run Windows Phone that doesn't have Windows and Bing button and its back button is on the right side...

Nope @lelleib is right, as a part of Certification of a Windows Phone device it must contain those buttons, either hardware wise or software on screen buttons. I believe this is just lazy rendering on their part

Fake pic or a bad PhotoShop but I want that smiley as my Cortana lol

Lol, maximum storage is around 36gb (without system files). Why bother putting a microsd slot in if you don't make it 64gb and higher?

Because this is cheaaaaap... Just guessing :p

Because its better than nothing.

I'm pretty sure it supports much higher than 32gb, the OS surely can recognize it. Heck I have 7 year old mp3 players that officially supported 16gb and are chilling with a 128gb card. Typically FAT32 is the reason why.

It all depends on the controller used. There are a lot of devices out there that state the max capacity of storage compatibility that was available at the time the controller was developed when they can really do more. But then you get something like the Wii where what is says is supported is actually a firm ceiling and there is no going beyond it. No way to know until you get the device in hand and try it.

It's a maximum of 32GB SD card

So said Nokia about the 1520 > it had a max of 64, for a card, but handles the 128 just fine.

The difference comes in support and terms, imagine a 128gb card going corrupt, you will probably be told its unsupported whereas 64gb maybe investigated. Another big reason why such limits are suggested is because of in house testing for any software team, you support and make claims of what was tested.

Without LG and Samsung, Windows Phone cannot come alive.

Samsung have released few windows phones but lets face the truth when it comes to supporting the platform Samsung basically doesn't give a damn!

The SE is a Verizon exclusive, and so is the Icon and the W8...

Though the W8 will probably get a international version

Andy, that is history.
There is no Samsung Windows phone currently sold outside the US.
Cannot buy the SE anywhere.
I have to hold on to my Ativ S for now.
So no... There probably never will be again.

Damn true that. Samsucks is pathetic when it comes to support.

Only the success of WP can win those Korean companys' supports.

You're forgetting Sony. I want that waterproof WP.

Iamaki, I'll take a Sony too

Look at those Android buttons. Will those keys really appear on the real product? WPC App for Android- Lenovo IdeaTab A3000

Well obviously the marketing people took as much care of the phone as you did with the article

It sure looks like an android device. That's not cool

Nana is a very fun place in Bangkok :P

I see what you mean there!

This is a bad render. The official device will have on screen buttons like the newer low-end Lumias, hence the 854x480 resolution

I think it's good that Windows Phone is finally getting back to the device diversity that it had back in the Windows Mobile days.

Now they just need to get back featurewise to the windows mobile days

Hisense is growing
i have a Infinity Prime. 1

It means official windows phone 8.1 update 1 is not far !

Lol, half of WP's are still waiting for 8.1! Lol

Hahaha u r right, but the people who got windows phone 8.1 update now they want windows phone 8.1 update 1 ! Like me.

I just jumped back to to PD. I don't know if the PD program will stop official update 1. Does it even matter, idk? I would hope MS gets there promised fix for PD by the time update 2 rolls out.

Windows phone 8.1 update 1 will start rolling as soon as windows phone 8.1 is done rolling out

I think they will release next month !

It may swing alot of users to the OS with the familiarity of the capacitive buttons... My opinion is....
Dual SIM is awesome 512mb ram and the dual core is a let down though...
Have to keep waiting ;)

1 thing I don't understand is that it comes with only 512mb of Ram. Well I generally don't understand why WP's with less than 1GB of Ram are even released. The ram costs most likely close to nothing and Android devices in the same pricerange come with more ram (yeah I know they need it to run more or less stable and fluent), so it's possible.This is always a huge disadvantage also in therms of marketing or probably updatability (does that word exist?) in the future.

I have Lumia 620 which has only 512MB RAM, and even though, it runs much smoother than Android out there, even with 1GB RAM. That's why Windows Phone is superior to the Androids. Well, I have tested Galaxy S III Mini too, which has more RAM and literally the same specs with Lumia 620. And the results? Lumia wins. #Seriously

well.. you should try a high end phone for a change:)

Or maybe high end windows phone

Don't get me wrong. I'm a Nokia fan. Icanged form sony erricson K750i to N95 and so on (x5800 - n8 - n9 (best phone ever!) - 808 - lumia 920). I got the lumia 920 and 520. WP is very smooth and it's astonishing how smooth WP 8.1 DP runs on lumia 520 (like an Iphone but with Nokia building quality and 10% of the price). It even outruns the IPhone 5s. But still 512mb is a letdown and People would definitively pay 2 USD more for the 1Gb of ram. It's also easyer for the app developers and for MS to update WP... But maybe it's a challenge MS sets themself to make sure WP is ressource saving so they need to code efficiently ;)

Haha
I like to see it that way, too.
As long as there are 512MB devices getting released I know WP will maintain its fluidity! But I do get your point. 1GB can't be that hard ...

I prefer to spend the extra money on things that don't randomly reboot, that don't FORCE-close (!) apps, that aren't a total joke when it comes to security and privacy related stuff, and that don't require you to Mc Gyver style futz around with ROMs just to be able to get a half-userfriendly UI. Thank you very much come again please.

Wow Cortana is looking so cute

if Xiao Na goes international......

Lol, just need some mud and snot

She looks too Chinese. Not for me

Hmmm strange worlds Windows with android keys

that's a bad rendering on which (maybe) the designers are lazy of just putting the Windows Phone buttons on it.

It has Android keys because it's an Android phone. They're just selling it with Windows Phone installed on it.

Maybe that's how they announced and shoved it out the door so fast.

It doesn't look like a Windows Phone with the Android buttons. Don't like the design..

Am sure the transparent tile and WP smoothness will blow the disguise.

2.0 mega rear camera is really funny and stupid.

well, that's the first phone with 2MP Camera. Anyway, good to see you have tipped the new phone. It will make Windows Phone has wider diversity. ;)

The key question is how much will it cost?

And the answer is: 599 Yuan ~$100 US. Chalet than the Lumia 530!

Guess that this device would sell in Indonesia as one of Smartfren bundled product. Thought that the manufactur that make devices for smartfren is Hisense for long times since.

If that is true, then it's a good thing for us here.

Yes, i think. Smartfren is the closest Hisense's partner on our country, and i think Smartfren/Hisense should release this one in Indonesia.

Yep, it will be great if Smartfren bring it to Indonesia and priced around Rp 800k-1,200k since the spec is like the Andromax G2. Then, will Smartfren sell the Nana under the 'Windowsmax' brand? :p And dont forget add "BBM Ready" in the ads.

I get that the asthetics may not be optiomal, but the more of these phone appear the better WP arketshare gets and with that we'll see more and broader (app) support which is good for all of us. It will also push back iOS and allow Windows Phone to grow beyond it into the #2 slot in more and more places. A little pain here will most likely gain us an advantage overall so I say let them..

Definitely agree with that.

0.o Posted via Windows Phone Central App

Does every OEM but Nokia know how to arrange start screens

I'm afraid with only 4 GB internal memory, this device is not eligible for future update. Like HTC 8s

WP8.1 GDR1 allows future OS updates to be stored on the SDCard. HTC 8S has that problem because it doesn't have the GDR1 and it never will. Sort of ironic.

Oh. Is that really the reason for the 8s not getting it?

Based on that specific resolution, will this be one of those phones with the back, home and search buttons built into the LCD?

No. On screen buttons. It's a bad render.

Not the render, the LCD size

I was hoping for a high end device

I wish Chinese Cortana icon was available for the usa version

The default Cortana icon is wonderful...gives a feeling of halo. Hence, each has their own preference.

Too Chineese. They should keep the Halo

Come on guys. How many WP users are used to the HALO voice?? If she sounds nice - good. But it should not be of importance for the majority of Cortana users whether or not her voice resembles a HALO character.

Looks to me like they are clearing out old Android inventory with Windows Phone 8.1 unless its a rendering.

First time I'm seeing a screen with rounded corners.

Sounds like this is an "old" phone lol

Would of been a better image without the ugly android buttons

4GB memory is poor even Nokia puts 8 in their budget phones

Nana sounds a good name :)

Yep, reminds me of an ex. She was loads of fun wink wink, nudge nudge.

Android > buttons = ugly, os = laggy

Adding flavour to the Windows family

Ofcoursee it wouldn't have this ugly buttons! Microsoft is not stupid!!!! Its just a android phone on the picture and have WP on the screen,i can do this in photoshop in 10secs:D

Search the web and see by your self

512 MB ram is a waste as it doesn't support all windows phone apps which is already low

Because Microsoft's OS is on far distant 3rd and they are luring many manufacturers are they can, I assume they are swallowing this up. License fee is free already, the least that these manufactures could do is to follow the design language of the WP hardware. And with those capacitive buttons from competing device/OS, it's totally a BS. But well, Microsoft is open to have their OS run side-by-side with Androi, so.

Maybe uk version of cortana will be called Win ja.... Re naming for Chinese market is pretty racist..... Wang ka? Aussie version- Yeah Na. Amused myself for a second there.

Thumbs up...more devices more share

Yayyyy 5"!! Oh wait... 480p. Stone age technology

The internal memory isn't enough to hold the OS!

Not the best looking phone or specs but we need to get WPs out there as much as we can. Diversity and choices helps mkt share especially when the market lacks a true flagship WP such as now.

You can see the commitment when the render belongs to an Android phone -.-

But aren't all windows phones with 5"+ rendered with 3-6 tiles in a row, not with 2-4?

Lol, need to get this for my mother in law. Phone isn't great but its called the Nana. Shed get a kick out of that since that's what my daughter calls her.

So did they just take a shit on MS's licensing terms? AFAIK, one of the hardware requirements is,that you must have the specified buttons on the phone (power, volume, and control under the screen), with the control buttons being in specific order with specific pictography.

Maybe a mistake or maybe a cheap way to pack in an WP OS in existing cases and hardware. No specialized parts to build.

It's practically a Android phone with Windows phone slapped on for the OS

I really don't understand the big deal about the buttons. It's not like the buttons determine the OS. And there are many people who are quite content with 512 ram. Personally, I think the lower end devices will draw more people. It's the only reason I switched.

It only draws because of the price. I don't know a lot of people who would rather have a less capable phone over a fully featured one. And I for one am tired of seeing devices like this come to the market. As much as people hate on Apple they don't make crap. Even at their lowest end iPhones, you get high quality products.

But it doesn't matter how great a phone is if I can't afford it. I have a 635 and am thrilled because it's only $7 a month instead of $30+ and it does everything I need to. I don't have the money to spend on a more expensive phone, and I see no reason to if this one meets my needs. To me, that would be a waste.

Yes I acknowledge there are phones for people who don't have the money to spend but my bigger point is that on a whole iPhones, the Galaxy series and other other high end phones on rivaling OS's are selling at an astounding rate. Windows Phone needs phone that can compete with those type of phone and more importantly not blocked by carrier exclusives. WP needs to cater to the high end and the low end market but it seems to me the low to midrange target group is the main focus for OEMs.

What a waist of manufacturing. Why even make a device with a 5 inch screen and such terrible resolution and limit the max storage capacity including the SD card to under 40gb? Dear Windows Phone OEMs, people drive the Prius's and Taurus's of the world but the majority of the population would rather drive something fun and sexy like a Corvette, Mustang, or a Jaguar. Let's bring that mindset to our handsets and make phones that people really want and not some hunk of plastic people can afford.

Um... Not sure about cutting them some slack in this one.... It's like saying e can just load on WP on Android devices (HD7, lol)

Seems direct-port of an Android phone, I think a fallback idea if the sales dip! But appreciate Hisense test the waters ..more OEMs should come forward.

Looks like manufacturers was in hurry didn't bother to design the case.

I'm italian, i want the pizza cortana. Pizza eye contact is important here

Those buttons certainly don't belong there and specs are entry level

Doesn't Hisense make tv's?
Windows Central Newsletter
Get the best of Windows Central in in your inbox, every day!
Thank you for signing up to Windows Central. You will receive a verification email shortly.
There was a problem. Please refresh the page and try again.