Homefront: The Revolution and Sonic Forces achieve 1800p resolution on Xbox One X
Homefront: The Revolution and Sonic Forces don't look that good on a standard Xbox One.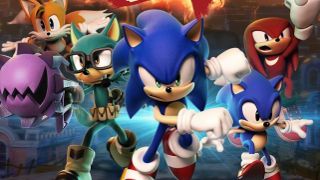 Homefront: The Revolution comes in at 900p on Xbox One and Sonic Forces comes in at 720p on the console. The presentation is rather blurry, especially when it comes to Sonic's latest adventure. Luckily, both games look pretty good on the Xbox One X because the developers managed to pump up the resolutions to 1800p on both titles.
In a press release, Deep Silver detailed the changes coming to Homefront: The Revolution for Xbox One X owners today. They said that the game is rendered in 3200 by 1800 pixels, which is a four times increase over the standard Xbox One version. This resolution will provide superior image quality on 4K displays and a crisper, super-sampled image on 1080p ones. For comparison purposes, the PlayStation 4 Pro version runs at 1440p. This is great news for gamers who wish to revisit the title after all this time.
Sonic Forces is another story though. The game runs between 1800p and 1080p depending on the level. Digital Foundry recently conducted a thorough comparison between the Xbox One X and PlayStation 4 Pro versions. While the PlayStation 4 Pro version of Sonic Forces runs at 1080p at all times, the Xbox One X version bumps the resolution up to 1800p for certain levels. While this isn't an ideal solution, it still offers superior image quality during those instances.
It's great to see that these popular games are getting patches for the Xbox One X. The Xbox One is the most powerful console ever made. The device features 6 TFLOPS of processing power and 12 GB of GDDR5 RAM. In addition to that, the Xbox One X also contains a 4K Blu-ray player and offers a faster hard drive. The device is now available at retailers worldwide.
Keep an eye on WindowsCentral.com/Gaming for all the latest in Xbox and Windows 10 gaming, accessories, news, and reviews!
Windows Central Newsletter
Get the best of Windows Central in in your inbox, every day!
Asher Madan handles gaming news for Windows Central. Before joining Windows Central in 2017, Asher worked for a number of different gaming outlets. He has a background in medical science and is passionate about all forms of entertainment, cooking, and antiquing.
Sorry to ask, but is anyone playing Homefront? I heard the game was smoked by critics. The first one was alright. The story was what sold me.

I'm not sure how popular it is right now, but Homefront Revolution has received a lot of post-launch updates and improvements over time. It's surely a lot better now than it was when reviewers first played it.

I think the main complaint was the single player is supposed to be quite repetitive - But people do say that about a lot of games and it doesn't always mean a game isn't interesting. Could be worth getting it on a deal now it's been out a while

It's a fine and fun 7/10, with pretty visuals, tons of content, good performance today and pretty much bug free nowadays as well. It also has 3 DLC of 3 hour content each.

The sonic game is really bad optimized.

True, but it does run better on Xbox One X than any other console, at least.

Just curious....1800p its new standart like before "900p"? Even its yes....its still higher the ps4pro get get for the same games;)

The amount a game runs below 2160p (4K resolution) can vary. But 1800p on a 4K monitor is basically the equivalent of 900p as compared to 1080p, yes.

And I never really cared when an Xbox One game ran at 900p instead of 1080p, I personally can't tell much difference so I am happy when some games are running internally on Xbox One X @ 1800p - That's practically 4K and I don't think many people can see a difference. 720p on Sonic is shocking for the original Xbox One, I'm sure I read it runs at 720p on the Switch - Must have a lower framerate or be better optimised there. That is probably the platform I'm going to get it on, over the Xbox One X

The Switch version runs at 30 fps and also suffers from downgraded assets, but it'd still be cool to play on the go. Just don't expect it to look as good as the regular Xbox One version.

Yeah I'd mainly be buying it for playing on the go - For some games I'm still very much interested in the Switch version. I got DOOM on the PC and played a few hours, I'm probably going to re-buy that on the Switch at some point to play on the go. For something that I'm not a mega fan of the series (Wolfenstein for example, I do enjoy but I don't get mega excited when a new one is released) I am tempted to go for the Switch version - It's become a little harder now I've got a One X because the difference is even bigger between the two than when I had the original Xbox One, but that portability is really convenient. I've got Skyrim: SE on Xbox One and I never started it, but taking it on the go could help with that so I can dip in every now and again - Unfortunately no cross platform saving so have to pick 1 really when I do get around to it

I don't blame you for appreciating portability. My Vita gets a lot of love for that reason, even when I own the same game on Xbox. But yeah, it's a pain having to either pick and choose between widely disparate platforms or simply buy multiple versions of the same game. Still, playing Skyrim and Doom on the go sounds really awesome. :)
Windows Central Newsletter
Thank you for signing up to Windows Central. You will receive a verification email shortly.
There was a problem. Please refresh the page and try again.