Get inspired by beautiful home design ideas with Houzz for Windows Phone (Update)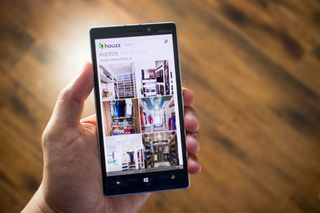 In the past few months, my family has been really busy fixing up stuff around the house. In addition to watching a lot of DIY videos on Youtube and getting inspired by TV shows on the HGTV channel (hgtv.com), we've also been looking at Houzz (houzz.com (opens in new tab)) for design ideas. If you're looking to renovate your house or simply want to browse beautiful home photos, then you should check out the Houzz app for Windows Phone.
We've installed Houzz on our Nokia Lumia 930. Head past the break to watch our hands-on video.
The Houzz app for Windows Phone currently has 2 sections: Photos and Ideabooks.
Photos let you take a look at other people's designs and you can browse by certain types of rooms. This includes the usual living, dining, and bath, but you can also check out wine cellars, closets, gyms, and more. The photos do not have any descriptions. If you see something you like, you can save them to your phone's album. This option is available if you purchase the VIP Upgrade package for $1.99. The package also removes ads within the app.
Think of Ideabooks as articles with photos. There are several topics such as Houzz tours, remodeling, decorating, and more. When you click 'Topics,' a list slides in from the left.
Houzz started as a side project but has become a community of more than 20 million homeowners, home design enthusiasts and home improvement professionals around the world. Whether you are starting a complete bathroom remodel or just looking for the perfect office desk, Houzz is a great place to get inspiration and discover products for your home.
We were having doubts, but the Houzz Support Team has told us that this is indeed their official app for Windows Phone. One major thing that's currently missing is integration with the Houzz account that lets you upload photos, make comments, and more.
Update: WPCentral reader, SEKKDS, was not convinced this was an official Houzz app, so he has tried contacting Houzz's support team. Their response indicates this is not an official app. The good news is that they are currently working on one. Read the email below:
Houzz is a free download from the Windows Phone Store. It has ads that can be removed with an in-app purchase. Check it out and let us know what you think in the comments!
Thanks for the tip, Rui W.!
Houzz is a great service. Glad to see it on WP!

Finally!!!! Now all we need is an
equally nice app for the surface!

Finally, I remember emailing these guys a few months back asking for Windows 8 app. I guess they went with the phone first.

Agreed! This would be a great looking Windows 8.* app.

That is very strange. Is it or is it not the "official" app? Is it normal that when you click on the developer's name on the app download page, it would show other apps the developer has made, but not related to the "official" app? Almost all the other *official* apps have a developer that when you click on them lists only the official app. This developer has 3 other non-Houzz related apps. My better half uses the iPhone version of this often. I have my doubts, and surprised WPCentral doesn't have theirs. **edit** Ha... my mistake, WPC said it themselves... "doubts" too. Odds are you folks got in touch with a Houzz rep in some 3rd-world country who speaks minimal English and doesn't even know what Windows Phone is.

Yeah, definitely had doubts. Contacted Houzz's press office and their support team. The support team responded, "Hello There, Yes that is the official app-- Enjoy! All the best, The Houzz Support Team"

I would imagine that they just outsourced development of the WP app to a different company. They don't advertise it on their site though: http://www.houzz.co.uk/mobileApps

Wow.. Right now word work is going on at our house in the kitchen and this app at this time is the worth going to make our home a splendid affair... Thank you wpcentral..:)

I love Houzz! So glad. I hated using website only. Terribly inconvenient. Gonna download now!

Ok ok, lots of good praise here, but can I trust a design service with such a terribly created name...

I look for design ideas on Houzz fairly frequently, so this is good news!

The people that commented on this piece are probably in the minority but I too am glad to see this app makes its way to Windows Phone. Slowly by surely I'm using my iPod Touch less for missing apps and more for just the music. Lets keep it going!

Great to finally have this on Windows Phone but it would be nice as pictures to your own ideabooks. I guess I'll buy the VIP package in hopes they add the ability to logon to your account.

Glad to see this, but only because it bodes well that it'll show up in the Windows Store. Use Houzz alot just to browse remodelling ideas, but phone is way too small for an ideal experience.

So smooth scrolling!! Wish all apps had this level of smoothness in their apps (WPcentral)..

OMG, YES!!! And yes, it really is that big of a deal.

I was happy to discover this app too. I love Houzz. However, the ads in the app made it feel very unofficial.

Just got the OFFICIAL word from Houzz: This app is UNofficial.

Not avilable in Lumia 720
Windows Central Newsletter
Get the best of Windows Central in in your inbox, every day!
Thank you for signing up to Windows Central. You will receive a verification email shortly.
There was a problem. Please refresh the page and try again.