How does the Microsoft Lumia 950 compare to other Lumia Windows Phones?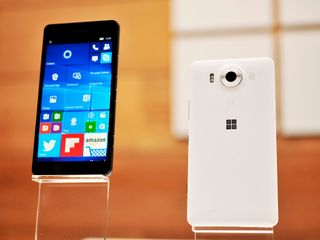 Now that the Microsoft Lumia 950 is now official, many will be weighing the options of upgrading to the new Windows Phone. In many respects, comparing the Lumia 950 to previous Lumia 900 series phones may be an apples to oranges comparison, but we did it anyways.
| Category | Lumia 950 | Lumia 930 | Lumia 925 |
| --- | --- | --- | --- |
| Operating System | Windows 10 Mobile | Windows Phone 8.1* | Windows Phone 8.1* |
| Display | 5.2 inches (1440x2560) | 5 inches (1920 x 1080) | 4.5 inches (1280 x 768) |
| Notifications | Glance | None | Glance |
| Processor | Qualcomm Snapdragon 808** | Qualcomm Quad-Core Snapdragon 800 | Qualcomm Snapdragon S4 Dual Core |
| Materials | Polycarbonate | Aluminum/Polycarbonate | Aluminum/Polycarbonate |
| Rear Camera | 20MP F/1.9 | 20MP F/2.4 | 8.7MP F/2.0 |
| OIS | Yes | Yes | Yes |
| Rear Flash | Triple LED | Dual LED | Dual LED |
| Front Camera | 5MP | 1.2MP | 1.2MP |
| RAM | 3GB | 2GB | 1GB |
| Biometrics | Iris scanner | None | None |
| Internal Storage | 32GB | 32GB | 16GB |
| External Storage | micro SD | None | None |
| Battery | 3000mAh | 2420mAh | 2000mAh |
| Fast Charge | Yes | No | No |
| Wireless charging | Qi | Qi | Qi with Accessory Cover |
| Removable battery | Yes | No | No |
| Dimensions | 145 x 73.2 x 8.25 mm/150 g | 137 x 71 x 9.8 mm/167g | 129 x 70.6 x 8.5 mm/139g |
*Both the Lumia 930 and Lumia 925 expected to be eligible for upgrade to Windows 10 Mobile **Hexacore Liquid Cooled
Is the Lumia 950 worth upgrading from the Lumia 930 or Lumia 925? We think so. The Lumia 950 is built for Windows 10 mobile and sports the latest technology under the hood. From the Hexacore processor to the fifth generation optical stabilization for the 20MP camera, the Lumia 950 is an impressive device.
We think all the 900 series Lumia Windows Phones have been outstanding Windows Phones and with each installment, they seem to get a little better. The Lumia 950 is no different.
More from of our NYC #Windows10Devices coverage:
Lumia 950
Surface Pro 4
Surface Book
Microsoft Band 2
George is the Reviews Editor at Windows Central, concentrating on Windows 10 PC and Mobile apps. He's been a supporter of the platform since the days of Windows CE and uses his current Windows 10 Mobile phone daily to keep up with life and enjoy a game during down time.
Does the 930 have glance?

No. That was a mistake in the article

It didn't have micro sd either

Actually the 925 has the best design among them.

925 to this day feels like sex in your hand. I feel ashamed putting a case over it. Very well built. Kudos. But its gone now :(

Definitely! 925 is the best design lumia to this day. Then the 830 but it is square. Posted via the Windows Central App for Android

I have 925 and i cant take 950 to change it. 950 loks like 3 years older brother to 925

950 looks like a more mature Lumia than any other. The colors and fancy lines looked great. But im attracted to the nature and elegant look on the 950 series tbh
I didn't say this weeks ago. The design certainly grew on me. It just feels confident. As it should be with the tech its packing inside. It's like walking into a party with business shoes on, instead of the freshest Jordans. Sure you won't get as much initial attention. But you got your shit together and the other maturefolks know

I agree about the 950. It is a mature looking phone. Very simple, yet classic...like a pair of Oxford lace ups. Posted via the Windows Central App for Android

Simple and classic, perhaps, but more the cheap looking materials remind me more of the canvas Chuck Taylor All-Stars than a pair of fine leather Oxfords.

Mature, elegant, confident. Your MS check is in the mail.

I disagree, the usb and audio jack should NEVER be on the same end, it creates too many issues and interference. Also the audio jack was very flimsy, it was constantly having a connection problem later on...and at one point my sim caddy cover (the aluminum part) just popped clean off, had to superglue it back on which was unattractive. =[

Agree Posted via the Windows Central App for Android

Disagree. I like my 920 much more.

I think the best designed Lumia to date was the 730/5. It was just like the 920 but thinner if i remember correctly. I had previously said i liked the 830 best, but i was mistaken. I like the curved edges of the 920, 925, 730 much better than the hard edges of the 830 or 930

How come oled displays are having glance? If so, then L730 which also has oled should be supporting glance right?? (yeah i remember its something related to the display memory but does that come in to the picture?)

That's what I am thinking. The reason I didn't buy l730 was no glance. ( and here is the glance on amoled). 640 didn't attract me even a bit. so I am till now without new window phone aged 620 gone, I am using android now. Hope to get 950. Posted via the Windows Central App for Android

Thought so as I have the icon and it's the same as the 930

Its actually on 925, which also doesn't supports SD

But the vodafone version of the L925 has 32gb internal

True Posted via the Windows Central App for Android

I hope they make a 955 for Verizon

I hope they don't. Either Verizon gets the same phone as everyone else out they get nothing.
No hope to jump through with special models.

Read an article that MS an Verizon parted ways, so, don't expect that anytime soon. I am not a fan of exclusives either, but I do appreciate that AT&T has been the only one to support from the very beginning.

With the way Verizon has dumped all over the WP platform and its users, I'm glad MS didn't just bend over and take whatever terms VZW gave them. It sucks I won't be able to use the 950XL on Verizon (been a customer for a LONG time), but they're essentially a Google subsidiary at this point, so screw them. I'll use my TMo SIM to see how well it works and make the jump to AT&T if I have to.

Well they just added the Lumia 735 on big red

Actually, you might be able to. Verizon should... ahem... "Should" be able to use the 950 XL. I believe the radio freqs are good. I'll have to check with a friend of mine again, but I was told they're starting to transition to GSM, over CDMA. Also, they can give you a SIM card. The major problem I can see is if they block your phone, or just don't allow it on their network. Not sure why they would do that, mind you. Give them a call, and question them about this.

Yeah I agree totally! I hate Verizon even when they were called Air Touch. They think their shit don't stink, very much like Apple. Fuck them Posted via the Windows Central App for Android

Lumia 930\Icon did not support Glance screen as it lacked display memory.

My 920 lacks display memory as well yet supports glance :P

The 920 does not lack display memory.

OFC it does. you either dont know what Display Memory is or you dont know what Display the 920 has

Panel technology has nothing to do with display memory, oled and LCD in this case, neither of them prevent the assembly to have a display memory

920 has display memory, that is what makes Glance work. Without display memory there would be no way to run the display on a static image without running the GPU on the phone. Granted, not many non-oled panels have/had display memory on the panel controller, but the 920 had it.

The 920 had a lot of things. Until the 950, it was the ultimate Windows phone. Posted via the Windows Central App for Android

Pictures are wrong lol all 3 of them lumia 925 pic on L950, L950 pic on L930 and L930 on L925 xD Also L930 doesn't have glance, never did and it never will, because od the display instaled in it. It only has double tap to wake feature which is not glance. Please correct this.

Id like to see a comparison between the 1520 and the 950XL

+1 to this! I love my 1520, but the 950XL has my interest.

You can compare on the Microsoft phones page, disappointed the battery went from (something like) 25 hrs to 19. Might have to hangout with my 1520 a bit longer :)
http://www.windowscentral.com/ext?link=http2F%2Fclkde.tradedoubler.c...
(step saver)

Are these 950 and 950 xl standby time correct on the specs??? Only around 300 hours on standy??? With a around 3000 mAh battery?? This is very bad, what happened to one of the major plus on windows Phone OS? This is worse than ios and iphone battery live, and it will be a no go for me. I prefer a phone I can use without having to be around a power outlet all the time... Maybe its because of the iria scanner? Because 550 has around 600 hrs.

While battery life might drop a bit, remember that these have Quick Charge, which should get your phone topped off MUCH faster.

Yes, but you'll still have to carry a charger around. If tou go outdoors for a whole day, taking pictures, using gps... I dont know how it will stand. But the best thing to do is to wait for them to be sold and reviewed.

If you are out doors all day using GPS and taking pics then standby time is not going to do much for you anyways :P
I am sure you will still be able to get a solid amount of up-time on this phone. The 800 series snapdragons can drain a battery quick if you push them, but they do fine at prolonging battery life if you just do mundane things like snap a few pictures.

I don't think this is a total no-starter for me, but I would prefer not having to be a part of the herd looking for receptacles in the airport - even if it is for a shorter time. However, it has given me pause as my experience has been that the estimated talk times are ~usually~ more ... um .. generous than real world times. :)

The question is - why can i find the 950 Dual sim in the Microsoft store but not the 950 XL Dual Sim

The "demo model" 950XL I used yesterday at the Microsoft Store didn't have dual sim either...

Now we need someone to find out about this!

WAIT YOU CAN TRY AT THE MS STORE?!?!?!?!

Uh... Either the author is talking about something other than the 930 and just got the name wrong, or they really know nothing about the 930. I hope it's the former.

Lumia 930 has no Glance or MicroSD. Your stats need fixing.

Why won't Microsoft take my money yet?!?

Because Windows 10 Mobile isn't ready yet unfortunately. We don't even know everything about it yet. Posted via the Windows Central App for Android

Because, at this point they should be paying you.

Lumia 930 does not have glance screen

George, you're a little bit high when you wrote this article didn't ya? anyway, if Windows Central could give us a hands-on-and-side-by-side video of Lumia 950 and the 930 I'd be very happy

More so cross-eyed from looking at all the specifications. It's been a long couple of days. Corrected the micro-SD card and Glance errors. Thanks to everyone for the help.

The 925 doesn't have micro SD either, so you might as well correct that too.

@George Ponder, haha must have been looking at alot of specs then.

HI, I have a 925. its my only phone. and it does not have the micro sd slot. sorry

Did they just hire someone from BGR, 'cause there's just a lot of mistakes here regarding Windows Phone models.

We get it guys. Give them some time to correct it. Posted via the Windows Central App for Android

Could you do a size comparison with L1520 so that we can get better idea of the 950 XL size?

Mine is definitely bigger, longer, and stronger than yours. ;-)).

So um...do you guys realize the pictures are in the wrong order on this? You are showing the 925 over the 950 specs and the 950 over the 930 specs.... and then 930 over the 925 specs.... Might want to fix that

I think this is the most faulty article i've ever seen on windows central, probably because of the exitement from yesterday :P

I think so ;). Never seen so much error before..

The 925 doesn't have a micro sd slot...

The one Tmobile has is 16gb. There are two versions of this phone

Yeah mine is 32GB aslo. It was a Vodafone exclusive

I'm waiting for the 1020 successor. :-(

You are going to be waiting a really really long time.

Lol they never promised one

Same. Posted via the Windows Central App for Android

Juha Alakarhu (alpha-guy in Microsoft Device's camera department) said that Lumia 950/XL are the best camera they've ever made and claimed that it's gonna be better both in quality and performance than Lumia 1020

That picture doesn't look like the 925

Lumia 925/920 can be good upgrade for Lumia 950, but the Lumia 930 still stands well

925 has one of the best design of Lumia line up. Always wanted to own one, but I am also loving my 730's design now. Next up 950.

Haha. This article is a mess. 930 doesn't support glance. Neither the 925 or 930 support Micro SD. And the 925 was available in both 16GB and 32GB variants.

The real question is should someone with a 925/930 upgrade to a 950/950XL or wait six months to see what the Surface team has done with a phone?

Why go with the Surface phone. Whatever phone they come out with after that is going to be even better. Wait for that............ *sarcasm*

I think Dan have already said the "Surface Phone" would likely be a middle-high-end instead of a high-end phone... think of it as the spiritual successor of the Lumia 830

those photos should allign with its specs

The 925 doesn't support Micro SD

The 930 is quick charge compatible Microsoft just has to enable it.

the pics are not fixed yet....i think George got fired. lol

mr george ponder please fix your article

+1 request comparison of 1520.3 with 950XL. It's a pretty tough decision for the upgrade price (I buy my phones cash) vs. what I can sell a 1520.3 on eBay.

Yes, i will upgrade from my 925 to 950XL. The price for the XL is just right.

Not quite, in Europe at least.

How does the 950XL compare to the 1520?

So far nothing to compare with

950XL looks like an upgraded 640XL as they are both similar in size.

No way. Sizing is way to different for being close. You'r mistaken by the screen size.

Except for that odd sandwich of a phone the Lumia 910.. Posted via the Windows Central App for Android

Hi George I'm missing the Lumia 1520 from the list. Can you as this to the table? Thanks! ​

During the presentation Panos also emphasized the dual antennas for better reception no matter how you hold the phone. I'd love to see some tests of what this means in practice.

There were several subtle jabs at apple, this was my favorite.

Yup, he had me loling through out his segment.

Technically Apple tried this same approach on the original iPhone 4, and they ended up having Antenna-Gate. Thankfully, I don't think history will be repeating itself. Maybe I can finally stop holding my phone by the top-right corner like an idiot when I desperately need that extra bar of signal strength now?

Will def replace my Lumia 1020 with Lumia 950... It has all the features and specs I need...great job Microsoft...thou I loved the after markets back panels with leather back with metal rim...

yep, looks like I'm gonna get a kick-ass back panel instead of the default one

I think the 950 and 950XL are superb devoces, they have glance, continuum and iris scanner ,that liquid cooking and not to mention everything else their predecessors have. I think the on screen buttons are a plus too cause it makes the device more functional when watching videos etc Oh and one neat trick I learnt was double tapping the nav bar locks the phone, great way to save that lock button hassle.

Liquid cooking. Epic typo

I find the lack of the hardware buttons to be the biggest minus of the devices. Almost every single time you want to open the start screen it takes two actions instead of one.

No, you can also set the onscreen buttons to fixed. Also with set to auto the onscreen buttons are there when you switch on the screen/phone.

I'm glad they actually mentioned Glance on-stage. While they didn't go in-depth about it, it's honestly one of the hidden gems of Lumia phones. It's so useful, why don't they advertise it more? I was admittedly skeptical of on-screen buttons for the longest time (I love my capacitive buttons on my 900, 1020, 520, 635 and I loved it for the month I had a 1520), but after using it for a little on my sister's Lumia 640: Not bad, not bad at all. I'm definitely a fan of double-tap-to-lock, which means that combined with double-tap-to-wake: You can wake up and put your device to sleep all without ever using the power button. Useful if you just quickly want to check it while it's on your desk.

Hi George - thanks for the comparison

I'm not sure yet about upgrading from the 1520 to the 950XL but that 2K Amoled display may just win me over. I seriously hope some enterprising third party decides to 3D print and sell a Magnesium (or Aluminum or wood) replacement backplate for the 950 series and then I'm REALLY sold. Bye bye beloved 6 inch screen.

At an event they held last night, I saw some designs from Mozo that were custom made for the 950XL with leather backplate and add'l options... =p

I definitely will be upgrading. It's easy to understate how much of a difference the slightly smaller size makes. The 950XL feels way more comfortable to hold than the 1520, its a little bit lighter and thinner as well, but overall just felt really good in my hands.

I'm definitely excited for removable and interchangeable back covers. I love the idea of having a different phone material based on whatever whim I feel that day. Hopefully Microsoft generates enough hyped to get a decent selection of at least a dozen or so unique different covers. xD

Alright, so is it worth update from 925? Or better get 930 at this moment? Ooooooooor, wait for Surface phone?

Why only upgrade one-gen when you can upgrade 2 gens? And seeing as we know nothing about the Surface Phone yet, that honestly depends on how content you are with your 925, seeing as the 950 is superior in almost every regard, including future-proofing.

920 is also a beast. Don't forget that :)

Are both phones supporting liquid coming?

YOU might support that lol... ;p

How does it compare to my L720? :-)

How is the camera shooting speed? Compare to note 5 and iphone 6s plus?

I think new wp should compare with other products which also flagship.

Maybe Verizon will get a rebranded 950 named the Lumia Iconic as the successor to the Icon. :-P

and then they'll stop selling it after a week

WP interface really smooth enough for daily use. How about the apps support? None of Microsoft management like to talk about this chapter?

We concern about the future of wp, so we comment. Microsoft can ignoring us but market proves the truth.

Don't 930 have a secret notification led?

That has not been mentioned. I am sure it is there, and *just* as useful as on the current models. /s

Mirror the picture of the phones George ;)

925 and 930 both supported fast charge of previous versions. It was not so fast as today, but it was there. There were never a dual-sim version of a top Lumia, it is a big change that has to be in the chart.

I'll stick with 930 for now, unless 950 goes down to say £300...

L1520 is better than L950 only comparison is that L1520 has 2 GB RAM, dual flash LED, front camera is 1.5, external memory extendable 64GB & L950 has 3 GB RAM, triple flash LED, front camera 5 MP, external memory extendable 200GB

Actually it's Up to to 2 Terabytes. But it's a given how only 200 gigs is out for purchase right now.

http://www.windowscentral.com/alleged-first-photo-prototype-nokia-lumia-... 950, 2 years ago... :?

We want an article like this for 950XL and NOKIA Lumia 1520

I'll pick up a 950 ones it's in the shops.

Is it true that all android apps will work on windows phone 10?

That's Project Astoria, and it's in the works: Yes. An early version of it leaked, it looks promising. But no, Android apps won't suddenly and magically work on Windows 10 Mobile, especially those that require Google Play Services.

I want the 950 but I don't want ATT. Buying off contract is far less attractive these days compared to a minimal $30/month with the ability to trade that phone in for a new one if you decide too. It sucks but I'll have to wait it out to see if any other OEMs make a Windows Phone available for my carrier and maybe the Acer one will fill that void. Posted via the Windows Central App for Android

Living in the past my Friend

are there any cpu speed benchmarks? I would be interested to see how the cpus compare between the old 920 series and the new 950.

What are the prices in Europe?

600€ for the 950, 700€ for the 950XL on Microsoft's online Store. Retailers will probably offer them cheaper otherwise they'll stay on the shelves.

Is the Windows 10 Mobile OS a 64bit OS??

Well, since it's running atop a 64bit chip, shares most of its code with Windows 10 on the desktop, and since both the 950 and 950 XL feature hardware accelerated encryption (Something that's more easily done on 64bit than 32bit): I'd say it's safe to guess that yes, Windows 10 Mobile is a 64bit OS.

Why does nfc is being ignored by everybody all of a sudden ?

Because barely anything uses it

@JF.Vigor.
Not really NFC is picking up alot of momentum due to Apple Pay.

Except Apple has the NFC chip on its devices locked down, so they can ONLY be used for Apple Pay. As such: NFC payments have taken off, but NFC itself has simply never gotten the credit it deserved.

Micro needs to come up with something new and quite using old ass Nokia design's.

It's a no brainer for someone who loves windows phones. Plus i scratch my 1020 preatty bad the other day :(

My 830 has glance la la la laaa laa

The lumia 950 i love it, the lumia 930 is so cute

Lumia 925, would have gone for the 950 xl as an upgrade but that phone is pricey, but its worth it

Not impressed with 950 really. 1020 has better camera and I have no use for a removable back because I never change batteries, expandable storage because 32 is enough for me, Iris scanner because it's cool but I don't need it, faster processor because things are fine already for me, battery because 1020 is long enough, etc. I would get it if I could because it's great, but I don't see a huge reason to upgrade. When I upgrade I upgrade when it's nescessary. Like when my gs4 stops supporting the newest updates and everything starts lagging and I don't have the new features like ultra power saving mode which I really need. If MS made me have to upgrade, I would. I'm not spending an additional 600 bucks for the same phone but a little faster with an eye scanner. No thanks. Posted via the Windows Central App for Android

So you're the guy who got the one 1020 with good speed and battery.

It's fine for me and I have like 200 apps. Posted via the Windows Central App for Android

I have to decide if it is worth "upgrading" from the 1520 to the 950XL

Not really. You be spending like 600 bucks more for speed and an eye scanner. Great phone though. Posted via the Windows Central App for Android

Speed is always a plus though. To be honest, after three 1520's, none of them seem to be as snappy as they should with the OS

I think they are snappy enough. Posted via the Windows Central App for Android

How about comparing it to a L1520??

I'll have to ponder the 950 carefully... Sorry, could not resist it :)

Should I upgrade to 950 from 1020?

I've a 925 and I love the design of this phone (no love for the battery life instead). I think I will upgrade next year to the 950 because it has everything I want from a phone and the design looks a nice evolution of the sexiest Lumia ever, the 925 :)

Tru. I like 930 and Icon too and that neon green phone forgot if that's a 1520 or 930. Posted via the Windows Central App for Android

950 leaks suggested that there's no built-in wireless charging. Only for the 950 XL. Does 950 have BUILT-IN wireless charging or not?

The back cover could be replaced by third party manufacturer...i think they could make cases to make it more elegant like an aluminum case

I'd like to see a 950 to 1520 comparison. Is it really worth me going from one flagship to the other? Posted via the Windows Central App for Android

I use Lumia 730 is the best model n i want Lumia 950

I think the 950xl only is liquid cooled , can you confirm this from official source?

Where's the current best, the One M8?

How about a side to side comparison to the iPhone 6? I would like to see what features excel over Apple's latest!

Man. The 950 is ugly as sh*t in front of the 925 and 930 does not dessapoint ider!

1520 disciple here. I'll have a 950XL. First phone in 2 years to tempt me. BUT, my 1520 will be right there waiting for a SIM transfer, just in case I need to visit her.

Of course, it's supposed to be better in every aspect, lest it won't sell well.

Should I get a 950 XL and get rid of my 1020?

If you value the camera NO. That isn't to say you shouldn't get the 950XL but I am ready to bet you that if you get rid of your Nokia 1020 you will miss the camera a lot. I suggest you to do what I did: keep the 1020 as a dedicated camera.

As nice as the L950 is, I think I will hold onto my L930 for a little while longer. The specs do not look like they are that big of an improvement.

930 - the best minimalistic design

So, they 930/ICON still holds up.... I guess because Verizon wont get they 950xl, I guess the 929/ICON will have to hold me out a while more...

Not gonna lie... I still think the 925 is the single most gorgeous Windows Phone ever made. But the 950 XL doesn't look half bad either.

The 1520 was best design. Posted via the Windows Central App for Android
Windows Central Newsletter
Get the best of Windows Central in in your inbox, every day!
Thank you for signing up to Windows Central. You will receive a verification email shortly.
There was a problem. Please refresh the page and try again.