How Microsoft and Kroger plan to use the cloud to revolutionize the modern shopping experience
Microsoft has partnered with Kroger grocery stores to combine the online and brick and mortar shopping experiences to modernize shopping.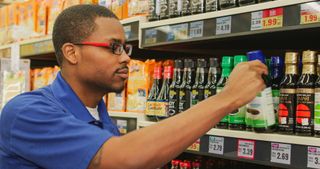 Online shopping is killing traditional shopping venues like Toys R Us, Sears, Kmart, JCPenny and others. That's what we're told anyway. And it seems that the proof is in the pudding as online holiday shopping sales for 2018 increased around 16-percent year-over-year (opens in new tab) and Black Friday Cyber Monday year-over-year revenue increased by more than 22-percent. More people are shopping online, and more money is being made by businesses that have a strong online presence.
Still, despite this growth according to the National Retail Federation (NRF) and Forrester's State of Retailing Online study consumers are still visiting retail outlets in significant numbers. In other words, digital shopping alone is not killing physical retail. Though making online purchases is convenient, the study revealed consumers expect digital and traditional retailing to be intertwined.
Furthermore, though grocery stores like Kroger are less impacted by online shopping than department stores, the grocery industry is still affected. Most large grocery stores offer an online experience where shoppers can place orders digitally, and as with other retailers, are either delivered to the consumer or picked up by them at the store. Microsoft and Kroger have partnered to take advantage of what the data shows is a consumer's desire for the benefits of both a digital and physical shopping experience. Companies that strategically combine both find success in the modern marketplace where others fail.
A better stagecoach won't stop the automobile
The advent of the automobile presented a challenge to the stagecoach (and its makers), which at the time was the established mode of transportation. Creating a better, prettier and faster stagecoach was not the answer to this challenge. The introduction of a new mode of transportation and new technology presented a need and opportunity for companies to think about how they would take advantage of this shift.
The advent and increase in online shopping require companies to think about how they can take advantage of the web, mobile devices, PCs, apps and the traditional shopping experience to meet consumer needs. And because consumers are still visiting physical stores, an omnichannel approach is necessary if businesses are to succeed in the modern market. "Omnichannel" is when a company provides customers with multiple access points to its business.
This includes shopping online via a PC at home, via a mobile app on the go or in a physical store. It can even include a combination of the digital and physical where a consumer in a physical store uses technology to order a product for delivery.
Pros and cons of digital and physical shopping
Image 1 of 2
There are pros and cons to physical and digital shopping experiences. Some advantages of visiting a brick and mortar store include the ability to physically see and touch a product, the immediacy of having a product at the time of purchase, direct customer service and the ability to return a product in person.
Some advantages of shopping online are the convenience of not leaving home, the potential for better prices and deals, able to compare and review up to date product data, a personalized shopping experience where ads, suggestions, and deals that are reflective of past activity.
Microsoft's and Kroger's pilot program that provides RaaS (Retail as a Service) is geared toward harmonizing a customers' digital and physical shopping experiences. To that end, the Microsoft and Kroger partnership leverages Microsoft's Azure cloud platform and artificial intelligence in combination with Kroger's expertise as the world's largest grocery chain. The goal is to utilize technology and data-driven insights to provide shoppers with a smooth and personalized experience that reflects the advantages of both traditional and digital shopping experiences.
Combining digital and physical
To bring the advantages of the digital shopping experience to the physical Kroger and Microsoft are using the cloud, a smartphone app, EDGE Shelf (Enhanced Display for Grocery Environment) technology, and a Scan, Bag, Go device.
The digital experience begins with a smartphone where a shopper creates their shopping list – not unlike how they would if committing to a digital-only experience. The digital and physical cross-over, however, when the shopper arrives at the store and picks up a Scan, Bag and Go device that aligns with the shopping list in the app and provides a guided and expedited shopping experience. The shopper is also assigned a digital avatar that digitally enhances their physical shopping experience by flashing on the digital EDGE display when the shopper arrives near the product on their list.
Like a digital-only experience, the EDGE display will also serve up personalized ads and offers and display up to date content about a product. The EDGE displays also provide data that help employees keep inventory stocked and a pick-to-light feature helps associates quickly find items for curbside delivery.
Into the future
Kroger and Microsoft are embarking on a journey that creates a symbiosis between the inescapable digital shopping reality which we are delving deeper into and the traditional shopping experience that we are rooted in. Traditionally, businesses that overcommit to a single experience, creating an imbalance, have found it difficult or even impossible to reap long-term success in the modern marketplace. As technology evolves, businesses have to evolve their modalities to match.
Even online powerhouse Amazon has acknowledged the need for a physical presence. Physical stores that provide traditional shopping experiences such as Amazon's Whole Foods, where customers can pick up items, or quickly receive fresh produce locally via delivery.
Currently, only two Kroger locations are piloting this Retail as a Service model but Microsoft's CEO, Satya Nadella, sees this as the seed to a much broader goal (opens in new tab):
As we move into this future, I can't help but visualize how augmented (AR) and virtual reality (VR) with devices like future iterations of HoloLens might make virtual and augmented visits to a store possible. Where customers will walk through a virtual store, select digital representations of actual products that are paid for by a cloud-linked account and delivered to one's home. Or where an AR experience guides a shopper through the physical store and displays an overlay of personalized product information, offers, and ads over products. Wherever we're headed, Kroger and Microsoft are creating a foundation where our digital and physical shopping experiences are intricately intertwined.
Windows Central Newsletter
Get the best of Windows Central in in your inbox, every day!
Jason L Ward is a columnist at Windows Central. He provides unique big picture analysis of the complex world of Microsoft. Jason takes the small clues and gives you an insightful big picture perspective through storytelling that you won't find *anywhere* else. Seriously, this dude thinks outside the box. Follow him on Twitter at @JLTechWord. He's doing the "write" thing!
stick that idea. I prefer to put my list on a bit of paper.

I tend to loose that paper, especially between stores for some reason. I would like to transition to electronic, especially with the synching aspect, but I don't talk to my phone or PC and To Do and others are too clunky to manually enter.

Just stop being realistic and use Andromeda. Problem solved. You're welcome

Jokes aside, note 9 with sticky notes app or one note, or to do... If you must write it down. If not, use phone to input text

My Wife uses one note for our shopping list and she uses the scanit App from Stop&Shop here in MA and Samsung pay to pay for everything when she's done shopping.
I've tried for a long time to stop using paper because she's loses it before we get there, she loves how fast it is scanning as she grabs items off the shelf, the no taking items out when she gets to the self checkout.

I have to say that judged as a Enterprise guy Satya Nadella is a genius. One example is clearly seen here. He's positioned MS perfectly to appeal to big chain companies like Kroger, Walmart, Walgreens, etc. etc. who rightly don't trust Bezos and AWS to host their modern services. My only wish is that Nadella would use some of that genius in Consumer. I really don't see why it has to be one OR the other? BTW, MS if you're listening, I use To-Do as a shopping list. I also shop at Kroger. Can you integrate the two please? Would also love to use To-Do on a foldable Andromeda device for crying out loud! ;0)

And Norway, Miami, India, Dubai and General Electric are also working with MS either on their water or power system....
Uncharted, Zelda, COD, BF, Switch games use MS's middleware or dev solutions.
Then we have SWIFT, NHS, MasterCard, Biotechnologies, LG, Toyota, BMW, Volkswagen, Nissan, Delphi, Volvo, Ford, Harman, IAV, Qoros, Shell, GAP, Nike on the other side.
Then drone, arcade cabinet, ATM, surveillance, robotics, Azure + AI cashier, vending machine, Samsung's smart electronics / furniture, Singapore's smart city project, Australia's agriculture, ZPMC, and Hololens for organ visualization, military usage, remote training, remote customer support, etc.

True genius at play here in middleware and backend. But again what I don't want to see is Windows Central having to someday change their name to Azure Central. I still don't see why Nadella feels compelled to kill the old Microsoft off completely as he chases the cloud? Amazon runs a perfectly fine cloud... still #1 in fact... but somehow they built their cloud without pulling the rug out from under their existing platforms and business interests.

What "old Microsoft" has been killed? Windows, Servers, Office, SQL Server etc. are still there. Phones, MP3 players and music services was "new Microsoft", not old. They were killed for good reason - losing tons of cash.

Killing light computing, or WORSE yet only putting up a tepid half-hearted effort, has resulted in stats like these in light computing: https://cdn.geekwire.com/wp-content/uploads/2019/01/Screen-Shot-2019-01-... . The same butt whooping that's happening for MS in Education in the US can easily spread outside the US. What's more, the same butt whooping MS is getting in Education can easily happen in Enterprise. Frankly there's little reason anymore why many large corporations couldn't outfit 80% or more of their average cubical workers with Chromebooks. Ask Charles Schwab. And if... rather.... when... that starts to happen, just whose cloud do you think they're going to start looking to? Contrary to your dismissive opinion, small form factor devices (phones) are important in the battle for light computing. No phone = a hamstrung UWP = mobile developers who don't trust you anymore = a hamstrung MS Store = a weak play for Core OS when MS tries to stage a comeback in light computing. Losing Education... losing light computing... losing ground in Enterprise... that's where we're talking about "losing tons of cash" for realsies.

By stating "Currently, only two Kroger locations are piloting this Retail as a Service model" are you referring to Scan, Bag and Go? If so are you also considering the other affiliated names that Kroger uses in various states? I believe Both of the King Soopers stores near my home have the Scan, Bag and Go service. I *know* the one closest to me does, they were demoing it awhile back to teach people how to use it.

The City Market (Kroger in the mountains) up here in Avon CO, also has the scan and go. Works quite well...

This is interesting use of LED and tech but I see it as the continuing erosion of the human workforce in the grocery store. If digital tags and pricing are accurate it will eliminate a job of someone updating pricing on a shelf. Digital tags are long overdue however and I acknowledge that this is the future of grocery store shelving. However, I really don't need any more advertising when I get to the store. I'm curious, if you are using the list and following the signs doesn't that hurt impulse buying?

Great article, very interesting.

We have the Scan Bag and Go in one of the stores here in Chandler AZ. To date I have used it a couple of times, and at least at this store, to me it cumbersome. It's cumbersome because for now I and until I get used to it, I prefer to use my OneNote Shopping list as well as my Excel price list.
Windows Central Newsletter
Thank you for signing up to Windows Central. You will receive a verification email shortly.
There was a problem. Please refresh the page and try again.