How to Mute message threads on Windows Phone 8.1 to get some quiet time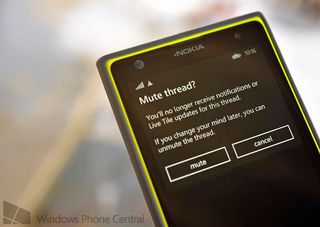 While I totally love the messaging app on Windows Phone, sometimes long, meandering conversations can be annoying with their constant alerts. I'd rather text passively when I choose to, rather then get distracted by a ping every second.
Apart from the plethora of big feature additions that you've been reading about at Windows Phone Central, Windows Phone 8.1 has also introduced a nifty feature that allows you to mute text message threads. As far as we know, no other smartphone platforms has this useful feature, making it quite interesting for Windows Phone users.
Let's take a look at how it works!
We wrote about this feature a couple of months ago, and how it is different from blocking an individual. Once you mute a thread, you will not receive notification alerts for a new message in this thread and the Live Tile for messaging app won't take the messages into account for the unread message count it displays. You will though, continue to receive the messages.
Blocking rejects; muting just hides. Here's how to enable it:
How to Mute a thread
All you need to do is, go into the message thread you want to mute, check out more options at the bottom of the screen, and tap on mute thread. You'll get a confirmation prompt warning you that you'd not receive notifications and Live Tile updates for the particular thread. That's the intention, so hit mute, and you're done! To unmute a thread that you've muted before, just tap on the unmute thread option.
I think it's a pretty useful, yet seamless, feature in Windows Phone 8.1. Check it out and tell us if you like it, and if you would mute a few threads in your list? Also, would you mute when your girlfriend/spouse/partner if they're being less than agreeable? (Asking for a friend, ahem)
Get the Windows Central Newsletter
All the latest news, reviews, and guides for Windows and Xbox diehards.