How to turn off the camera shutter sound on the Lumia 950 & 950 XL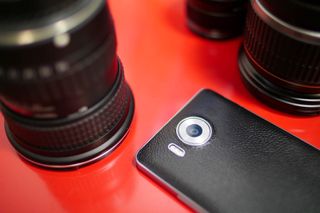 When taking photos with the Lumia 950 and 950 XL, a fake shutter sound goes on. Sometimes, it can be loud and annoying, especially when you're trying to snap a picture discretely. We'll show you two ways to disable the sound.
Put the Lumia 950 or 950 XL in silent mode
If you mute the Ringer & notifications volume on your phone, the camera shutter sound will also be muted. Click one of the volume buttons on your phone and tap the bell icon at the top left corner of the screen. The icon changes to the vibrate or mute icon. This method is great if you just want to temporarily turn off the camera shutter sound.
Completely disable the camera shutter sound
If you want to completely disable the camera shutter sound go to Settings > Personalization > Sounds. Uncheck the box for Camera shutter. That's it. You no longer need to worry about it from now on. This also turns off the sound when taking screenshots!
Will you be turning off the camera shutter sound on your Lumia 950 or 950 XL? Let us know in the comments!
News
Want all the latest news on these phones? Hit these topic pages for all that we got.
Microsoft Lumia 950 XL main page
Support and help forums
Need to chat about the Lumia 950 and Lumia 950 XL? Jump into our forums and ask others what they think or get help and advice on your new phone!
Get the Windows Central Newsletter
All the latest news, reviews, and guides for Windows and Xbox diehards.