How's your battery life after upgrading to Windows Phone 8.1?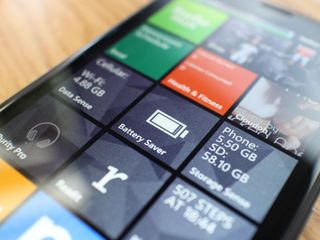 Thanks to the Preview for Developers program we've been playing with Windows Phone 8.1 for more than three days. It's been very well received by most everyone in the community. Now it's time to check out how your battery is doing after upgrading from Windows Phone 8.0 to Windows Phone 8.1. Has your battery life improved or taken a turn for the worst? Maybe is it just the same as it was before. Let's find out.
So why didn't we run this poll immediately after the release of Windows Phone 8.1? A lot of you wanted us to ask the Windows Phone community how their battery life was being impacted after upgrading to Windows Phone 8.1. We didn't right away because your usage was going to be abnormal over the first day. You probably spent a lot of time playing with Cortana, poking around with all the new features and downloading apps. Safe to say the first day of Windows Phone 8.1 wasn't a normal usage day for you.
Now that we're a few days out your usage should be starting to normalize. Though there are already a few threads in our forums about battery life after upgrading to Windows Phone 8.1:
We here haven't seen our devices behave worse in regards to battery life. If you have, keep in mind that playing with Cortana nonstop will probably negatively impact your battery life. Also things like OEM specific drivers that come with firmware updates in the future could help alleviate any battery life concerns you might have right now. Firmware, like Nokia's Lumia Cyan update, will optimize handsets for Windows Phone 8.1. Right now things like Bluetooth LE and SensorCore technology aren't enabled, but will be with future firmware updates.
Poll time
Reading this in one of our apps? Head to IE11 to take the poll since our apps don't display it yet. Here's the mobile link:
Get the Windows Central Newsletter
All the latest news, reviews, and guides for Windows and Xbox diehards.
Second day my battery drained quickly. But I deleted and reinstalled an app whose tile was not working (thought it may be problem) and after using FB tile, realised I was not logged in. so logged in. After these two events battery has gone back to normal. Can't be sure two actions above resolved battery drain, but it sure is back to normal.

I experienced awful battery life, but just performed a hard reset today and I'm pleased so far. :p

7 hours of idleness, with no background tasks and my phone went fromm 100% to 35%. This is not good. Performed a hard reset and I shall do the test again.

Turn off Cortana and Location... this two things together drains a lot of battery...

I don't use Cortana. I'm a UK user. lso, i've always had location on and I don't think that's what is causing the issues. I'll let you know how things are after the hard reset.

Yea let us know. I've had sub par battery life since I bought my L925, the battery get extraordinarily hot when I'm just browsing the web but I've also had the preview since I've owned it. I can't tell if my phone is defective or not. I'm leaning toward no as only the web browser is causing significant drain but I want to avoid a hard test if possible.

I use Cortana and never turn Location off. After a couple of days, and going through Battery Saver to disallow all the apps that 8.1 re-allowed to run in the background after installation, my battery life is better than with 8.0. I use Cortana modestly, but enough that if it were a real problem, I would see it. My Icon just went through two days where I only dropped about 35% of battery through about 8 and a half hours of work. Yesterday, after pulling the phone off the charger a little after 7am, I was sitting at ~43% around 10:45pm when I finally put it back on the charger. With 8.0 a similar day would have had me in the 20-25% range.

I have noticed slightly faster battery drain but today I took mine off charge at 9am, it's now just gone 23:30 and I still have 58% left on the battery.

NEVER turn off Cortana. It's just wrong man...???

When you say "Hard Reset" are you shutting down the phone, our completely testing to factory settings and starting over?

Factory settings and restoring content from a previous backup.

same here even in airplane mode in 7 hrs it battery went from %35 to %1

Was a awful at first did a factor restart, now it's working like before.

My battery after amber 3.3.3.4 or 3.3.2.4 don't remember is very bad. Before this version I had very well battery life with the same usage. Now with 8.1 in idle it's ok. But when using the phone in ie or anything else it is drained very quickly!

I have a Lumia 1020. It's impossible say that it's bad, or the same. My battery life doesn't recharge like before, it takes much more time. But, my percption is that the battery life was realy improved.

Lumia 520 the same. Battery takes FAR longer to charge, but lasts FAR longer too. It's almost like 8.1 made the battery bigger!

I noticed that on my ATIV S after a factory reset.

I agree to that. My L720 does the same thing after the update. I have changed the battery settings to save the battery for a longer time by enabling only few apps to run in the background.

I have noticed longer recharging time aswell on my 1520, but the battery also dies notably faster.

I second that. It's really poor. I also know it was gonna be impacted by the higher than usual use but after letting it settle down it's still very bad. I mean, yesterday I had to charge the poor thing four times. Unacceptable.

I turned Cortana off and she slapped me. Not going to lie I liked it.

I'm replying to this one to hopefully get a lot more people to see this. When you load 8.1 it resets ALL of your apps that can have permission to run in the background to "Allowed". You need to open Battery Saver and disallow all the apps you don't need or want to run in the background. Also make sure all your accounts are syncing properly and set to the right time frames. After doing this, my Icon's battery life is now better than with 8.0. After an 8.5 hour workday, my Icon dropped 35% to 65% left. About the same as yesterday, which was my first full day after fixing the background tasks. Yesterday, I finally put the phone back on the charger after 15.75 hours when it was sitting at 43%. With 8.0, I would be in the 20's by then. I have Cortana, Location, and Bluetooth always on. Please make sure your background tasks and account syncing are all set right!

I've already done this on my 920. Where I would have 60% left after a day at work, it's <40%. I've turned off everything I can, except for Cortana, which I'm not using much at all.

So a hard reset later. Still not an impressive performance. 7 hours of idleness gave me 65% drop, this is before the hard reset. After the hard reset, I'm getting a 32% decrease with the same conditions. Nice improvement but still not as good as 8.0. It would be nice if someone with a 920 with WP8 could do a controlled test. Any offers?

Hi Derek, My boring long story: :) Im an owner of a Lumia 920. I updated my phone today (it took so much time btw) Before update, I deleted most of my apps, games, and music, videos. The important things I backed up of course. After back up, update, after update I Hard/Factory reseted the phone (took enough time) After reseting, I stopped all background apps, turned wifi, location, bluettoth, nfc etc OFF. I synchronized FB, outlook etc..the usual accounts for import of personal info. Now, the phone works great, Played with it so long and Im still in battery saver and got 20%.That said, when I started to update (download/install) the phone was 75%) now its the 20% with everything off. I but wanted to get it really low, so I went to store, downloaded many apps, music, connected to PC and filled it with music/videos etc, and played it so the battery drops...not a chance. MY BATTERY LIFE IS EXTENED I feel, not that I have proof. Now, Im gonna let it ,,die,, and recharge to 100%. Im just satisfied and I read all post about critical battery drain after blue update. In short: Back up phone+Update+change language and location for cortana to work outside US (Im from EU-Slovakia and she can talk + Restart + Hard reset + drain all battery + charge it 100% and test it: moderate use and for standby time. The hard reset is important!!!

Tips for those of you who are less educated on this topic:GO TO SETTINGS: set brightness as ,,automatic,,, disable vibration, update (I think you will need an app) the capacitive vibrations (3buttons) and turn vibration ,,heptic feedback,, off, aso vibration in sound settings off, lock screen time out set to 1minute or 30seconds, wifi search mnaually (disable the automatic connection to wifi hotsports, keep location off if not needed...indeed, turn everything internet based off if your not using web, + location if not using cortana and gps and maps and other location based. glance off or at least to ,,peek,, and touch to normal, not high sensitivity etc. :) and definitely: dont overcharge phone, when it hits 99 or 100% battery, and dont let it die either, when it hits 5% or so, charge it. Lithium based batteries are designed for such charging. Not too less, not too much :) And dont look at it 160times per day as the statistic show, be different, play outside :)

And now I discovered, the phone (lumia 920) with its original charger (a small round one) takes perhaps smaller, or the exact same time to charge, as i have now 10%, had 5% when I started to charge it, and it took only 3 minutes, so basically, in about an hour, it should be 100%

Went through and yes, everything that had an option for on/off in background was set to "allow". Went through and changed the ones I could. However, one thing I noted - it shows battery usage for "App in use" and "App in background" - Internet Explorer was the biggest battery hog, according to the phone itself. And it barely registered when "in use", but the bar completely underlines the "App in background:" line. So, while hardly using Explorer, it seems to have drained a lot of battery. And there is not an option to turn off in background. (and for completeness, I had static, mobile version of pages open, nothing that should have been using a lot of processor/battery while unused).

Thanks Posted via the WPC App for Android!

I just charged my L1020 to 100%, restart it for apply a region change and when boots up, it says 28% remaining ->wt*!

Also charging seems weird. It charges extremely slow (up to 2.5 - 3h) and it stays on low percentage for a long time and that suddendly percentage jumps to full. Don`t know if it`s just on my L920 or anyone else is experincing this as well. Before, charging didn`t last longer then 1.5h.

My battery suddenly became awful in the last couple of days. I bought it 2 weeks ago - it's a 925 - and it's already all up to date, but now when not only is the battery draining crazy fast, it also shows that Phone is major cause of it, taking up almost to the right edge of the screen; and I must talk 30min a day. Can someone assist me in this?

I turned off Cortana to not run in the background. Now got alot better. You should try that if you don't wanna hard reset

Does this disable the location based reminders etc?

Yes it does, you'll get a warning that they won't work

I will pass. Still get a day of use on my 1520

yeah for lumia 1520 you'll get that at least, most others with 920 or 1020 battery are taking hits with this 8.1 battery wise

Same for me, only a little bit. 928.

My phone's(L520) battery is draining so fast :(

Seems faster in draining here too :p

At first it was down alot quicker but I suspect it was due to the fatty that I was using it more often. Now it is back to normal lasting all day. Lumia 1520

+1 Same thing on my 1520.

+1520.....mine normalized after a day or so and after me stopping some apps from running in the background or notifying me.
Back to lasting all day again. Sweet.

Bad. Very bad. I used to charge my 1520 for fun, not because I had to. I used to go almost two days without charging. Now, I have to charge by the time I get home from work. Which is just crazy to me, considering the enormous size of the 1520's battery. I disabled Cortana today to see if it would help. We'll see if it does

Good here with my 1520 ;)

My battery seems to be running the same on my lumia 625, 1020 and 1520. I'm surprised that the battery has settled in so well... For now...

Same here. My battery is roughly the same as before on the 920. I'm kinda of surprised by that. I definitely expected it to take a hit. The only change I've noticed is my wifi connetions aren't as good as they used to be.

Actually I've noticed the WiFi being sketchy also, I thought I might be imagining things but it's all the wp8.1 devices here. I'm guessing beta drivers or something :/

Yes I too noticed that. And it definitely something to do with 8.1 update and with cyan update it should be fixed.

Confirmed. Wifi strength has been significantly reduced since the upgrade.

My wifi connection also became weaker after 8.1.

It's been dying faster than normal, but still decent.

Same here, it went from amazing to about normal. I still get through the day fine.

Still decent on my Icon but not like it was. But it lasts a little. Definitely longer than android.

After I deleted and re added my imap email account, changed it to only check email after 30 minutes, and went and set most apps to not allow for background, which is how I had,it set before, my battery usage is the same if not slightly better than before. It does seem to charge faster when plugged in. Nokia 925

It is charging too fast no doubt. But draining complete in 8hrs

How do you change the background settings with 8.1?

for apps in the background ? its in battery saver, swipe for usage and it there.

I don't know. I have a 925 and my battery drains significantly. I don't even use it that much. I disabled most background apps and changed my email sync settings to how it was before the update. I don't know if it makes a difference, but even my start screen background is a pretty dark color (carbon fiber design, which I think looks pretty nice).

Me too. My phone heats up significantly in the top half when I'm web browsing. I don't know if I should exchange or not. I feel like its a software bug.

L520 draining a little bit faster but not such a big difference.

My 520 is draining really fast, about 6~8 hours tops.

Dies Faster? :P Seriously though, I was just posting about this on a forum thread: Hehe, I find this somewhat funny... My Surface Pro 2 is having better battery life than my L920. Came to a restaurant with both charged 100% about two and a half hours ago. Surface: 76% left.
L920: 68% left. Mind you, I have been using the Surface the whole time while the phone has been used sporadically. To be fair I have been using the phone as a hotspot. So maybe not so bad? (I really have no point of reference when using the phone as a hotspot because I don't do it much).

Yeah, I always plug in my phone when using it as a hotspot. Luckily the surface pro has a handy USB port for charging your phone.

Good to know. I just didn't feel like bringing any cables today. :D Even forgot my headphones which I did mean to bring. Love traveling light with the Surface. :D

There's your answer friend.

my GF would kill me if I whipped out my tablet in a restaurant.

Mines pretty much the same, but playing with Cortana day one super drained it.
+928

It's draining a little faster but who cares this 8X is getting older.

I'm not sure if it's the switch from a 920 to a 925 or the OS update, but the battery life on my 925 is phenomal. I didn't know how bad I had it with my 920 on WP8, frankly.

Same here. After the update i am having like thrice the battery life it's insane. And yes i hated my battery life prior to the update and did everything i could to make it longer

I miss my 920.. Someone stole it from my car when I was using an alternate phone. I hated how the camera produced a pink spot in the middle of the photo against light cookies though.

L920: Appears to have lost about 4-5 hours a charge, was getting 20-22 hours before a charge. Though part of the lose maybe due to I'm picking up my phone more to fiddle with the new features and settings.

Draining like a time bomb. Especially with location on.and if I switch the location off I cant use Cortana.such a double edged sword Cortana is.I hope this is settled though ;(

My 1520's battery is draining faster - Next step TURN Cortana OFF

Not sure if it's actually worse or I'd I'm just playing with it a lot more recently figuring out new things and getting used to it.

It certainly took a dent after 8.1 update. L1520

About 8-10 hours with moderate use, glance set on peak, no cortana and wifi off (on lumia 1020).

same with me, i recently purchased 1020, soon did update straight away to 8.1 so i barely used the WP8. always had to charge;used the nokia software recovery tool and reverted back to original firmware phone came with (Lumia Black), using WP8.0 and i'm getting to use it for full day then i have to charge again when battery hits about 18%

Bad, turned of background shizzle of IE and it tot better!

IE doesnt have any background task listed.

Go to Settings > Sync My Settings and make sure you toggle everything Off, specially Internet Explorer. That improved my battery life with my 1520.

My friend. You might have saved my battery life. I never thought of turning sync off, didn't even notice the setting

I also over looked that setting at first but I knew there was a reason for IE being a big battery hog in 8.1 and that was it, constantly trying to sync settings in the cloud.

Never even thought of this. I wondered why IE was draining so much battery.

Let me know how you guys fare after turning the sync settings off. I think on the next update they need to have that automatically switched off!

Glad you mentioned this. I also discovered that if you thoroughly comb through the settings list, it's unbelievable how many things are running that you don't need. Are a lot of them new? Maybe I just didn't do as close of an inspection, but I don't remember 8 having so much stuff running.

Yeah what are you referring to?

Send browsing history, is that what you are talking about? I've got awful battery life so I'll try just about anything

Check in the battery saver app. Internet explorer will be set to 'allowed' by default for running in the background, its the same for all apps with background tasks after updating to 8.1.

Not good, it fell 25% during the night (wifi on) but no usage.

Terrible on the Icon. Also have the power button issues, wifi issues and some touch screen issues now and then. I get it is a developer preview, but much worse than I was expecting. EDIT: Sounds angrier than I am, was just venting.

um, f*cked the other day it went down 40% in the standby mode. soft reset helped a bit. now it's 2% an hour (though it used to be about 1.2% before the update) //edit: and this happened with cortana and location services OFF

Mine is fine, maybe a slight drop but I like being able to stop apps from running to save battery now that helps. Cortana is my main drain at the moment but I think she is awesome!

Not much change in battery life to the extent that I have noticed a difference... Lumia 1320

Draining fast and also notice my start screen hang and phone become so hot

Wow, mine lasts twice as long, almost. 5% drain to just under 3%.

Haven't noticed a difference on my 925. Real test will be tomorrow morning when I go in to work for twelve hours, which is an every shift occurrence.

I'm on the website and don't see the poll In regards to battery, my Ativ S is worse on battery life

I did a factory reset on my ATIV S and disabled all unneeded background tasks and it's improved the battery life. I guess that updated firmware should fix the battery drain issues for everyone.

Worse. Especially when using Here Drive or Here maps. L925

Am I the only person who thinks the battery life has improved? On my L1020, my usage hasn't changed but my phone is lasting well into the evening rather than mid afternoon.

Ditto, I have a 1020 too.

Yes, you are.... joking :D

I'm getting mid afternoon now, but used to be fine all day. You're 1020 used to only last mid day before the update?

Yeah for some of the lucky ones with the Lumia 1020 the battery life is at least twice as long after the update.

whoa, wish i could say same for mine , you should let us know what some of your settings are, i had to use Nokia Software Recovery Tool and revert back to WP8 cause i get a full 22 hours or so when fully charged

I don't think my phone's battery life has increased or decreased

My battery life is much better since the upgrade. I'm using a 1520. I use it really heavily every day and I can go a full day 7am to 11:30pm and still have 40% battery left. I must have the anomaly of batteries.

also what one persons normal day usage may be alot differant to another persons day...

Initially it was horrible, otherwise it's about the same... some apps don't close when I press back so I am constantly close apps from the card view...

I noticed that as well, Facebook and Battery Saver are the worst culprits.

Bad for the first two days. Simply blocking some background tasks in battery saver seems to have put the battery back to the same level it was at before the update. I usually easily get 30+ hours on my 720, which was down to 11 hours on Tuesday after the update. Been on for 20 hours no with 40% charge remaining. Rebooting a few times might have helped too.
Overall I'm happy with the update on my 720.

damn that's alot of usage you get from the L720 bro compared to my 1020

Pretty much battery hungry :D
Only when on internet so its Cortana :)
+ it dechrages on a charger that used to charge 20 in a hour

Battery definitely impacted... Used to go all day, now down to about 6 hours under normal usage.

Baad. I have only about three apps running (allowed) in background still not as long as it used to be.. 928

With constant use every day, sense I installed 8.1 on my Lumia 1520, the battery seems just as stable on life as before the update... and trust me when I say, my phone gets used for everything. Especially media streaming, downloading, game play, adobe and office, social, and Cortana of coarse.

Hey guys, Here with my L920 is something like this: - Phone without use (stand by): Wifi on, Location off, Data off, Some apps background (FB, Whatsapp, Instagram, Weather Flow, Calendar, Store, Battery Performance), Cortana On ----> battery performance is something like 1% per hour, what is the same that I got in WP8. -Using the phone (normal using like check FB, Instagram, Whatsapp, etc) ---> battery drains something like 16% per hour!!! I have to assume that MAYBE is something related with the screen (probably the firmware updates by Nokia could solve this problem). Well, we have to wait untill Nokia releases their updates... for now, lets keep our battery charger closer! :)

Anu idea which month it will roll out?

1% per hour :O wow that is crazy good! How is that possible?

yeah i'm trying to figure that out too

Why the 3rd option is "Not bad. Battery has gone down"???? Two contradicting sentences in one option.

Its been horrible. The first 2 days I assumed its due to me playing around with the OS...I let it sit there the whole day yesterday and used my Nexus 5. Even without the SIM card I got about 10 hours on the 920....thats literally sitting there doing nothing...I SHOULD get 2-3 days on standby. When i use it normally I get about 5-6 hours...yeah its been that bad.

As long as you manage properly your battery saver ( which is now detailed compared to the old one) you can keep kr save more battery life

I dono about that. I have every app disabled for the bacjground and cortana completely disabled. i'm losing about 25% an hour.

feel your pain bro, i had to revert back to WP8 and i get around 22 hrs with average use on my 1020, will wait for final release to come out

Important thing to bear in mind is that Cortana runs in the background which will tax the battery.

Had to go back and reset all background apps in Battery Sense. Then, all good.

Thanks for the article. This was a much needed article for wp8.1. Will wait for cyan update which will optimize it perfectly. Any idea in which month it will be released approximately. I know it takes alot pic time rolling put firmware updates

That's what I suspect is the root cause of battery drain, unoptimised firmware.

No difference on my 1520.

Horrible the phone gets hot alot when doing nothing and I killed most of the background tasks I think it just needs a firmware upgrade

Absolutely terrible! Sucks it down like a runaway train! (1020)

Interesting... on my 1020 there is no difference, if anything it might be a little better now.

In my 1020, battery drains faster! :(

I see what you did there :p

It seems to be worst than before but then again I have been playing with it an aweful lot since 8.1 came out so... when I don't use it as much, it seems to be the same.

My 920 has lost some battery life but nothing drastic...so far anyways.

My 925 was terrible (some apps drained the battery even while on charge and that percentage seemed to drop really quickly) but after a soft reset, things seem to be better, back to how I'd expect.

My battery life tripled... 8X. Used to last a few hours, now all day?

I wouldn't say its drastically worse but i have definetely noticed it draining quicker on my 1520

For me the charging time has increased and the discharge time has reduced.

Yeah it drains quickly but it charges really quickly too

I would say my battery drains faster but I still get through the day.

It was terrible until I changed my Battery Saver settings. Now it's just a little bit worse than with 8.0.

Definitely worse on my 1520

Immediately, after the update, it drained badly cause was figuring all the new stuff, then went to battery saver and blocked some apps as such. It went back to normal. Same as before the update.

I've had it off the charger for 7 hours now and have only checked texts and emails a few times... so it's been idle 98% of those 7 hours... and it's at 60% battery. That's bad. And, as usual, if I do anything for more than a couple minutes on my 920, the thing feels like it's on fire.

Battery is quite bad. But I think, Cortana is the reason

It's the same as before AFTER I went to Battery Sense and blocked the apps I had blocked before and all the others I couldn't block but still wanted to. Otherwise it would have gotten worse.

It's been behaving the same as before on my 1020. I have used cortana a lot and that does indeed drain the batt a lot faster, but I can go for about 2 hours without dropping one percent on standby (with glance on). So I'm happy so far. Cortana is fun to talk to and it makes me remember the film Her :D

Dropped quite a lot for me.

To summerize most of the posts above, the battery life seems to be F*cked. The funniest post I read somwehere on WPCentral was that a guy claimed that when he charges his phone, instead of the battery level going up it starts going down. :P I lol'd hard........ :P

It actually happens if your using the phone ALOT while charged I went from full charge to 98% but it took me and hour to notice it went down while charging

My 925 battery life is about the same. What I find with these polls whenever a new update comes out, people think their battery is worse, however it's just that they are using their phone more playing with the new features. So they are draining their battery more than usual.

I agree with u, man But its not my case! I'm using like before update and my battery performance is worse now. With my Lumia 920 before update, my battery level at 11pm was 20% Now before update, with the same rotine, is 20% at 6pm!!

I don't think that's the case here, phones are draining faster just sitting idle.

Lumia 620.Black update war terrible for me(5-6hrs). Now WP 8.1 sends my stamina up by 3 hrs. Now 9-10 hrs easily. Have to charge once at night be4 sleep.

like going from a Prius to a Navigator! I can almost see the battery life drain from my Lumia Icon.

LOL, same here on 1020, practically watching the numbers dropping every minute

exactly! strange, i was thinking about the car analogy too. my ativ s actually died at work today. normally would charge it once a day and it would be about 30-40% when i put it on the charger. awful. hard resetting tonight. firmware update,please.

Using battery saver app, and selecting only what you want active. Its better than before. 3.5% discharge rate per hour.

Its weird cause it will go down very fast to about 10% and then it is going down very slowly it can last on that 10% for a few hours :P There is definetly something wrong with it but I hope it will be fixed with the official Nokia Cyan update!

It took a hit but its not bad. I'll be waiting for cyan to optimize mt Lumia for better results

Battery life has worsened.. Plz get some fix to that. Even with minimum apps running in the background the battery isn't supporting much.

Its absolutly terrible. My 1520 went from being the king of mobile to the king of the charger pad!

haha to the king of the charger , i know what u mean but you should get more than most lumia 920,1020 users, how long does it last you after full charge?

Definitely using my phone more often. But the battery is also draining faster then normal. I could go a good 4/5 hours of heavy use before I got to 50/60% now I get to 60% in 2/3 hours.

Better than before for my l920.Gained about 2 hours.

My 920 actually lasts longer - it's been 5hrs and still >90% - before it would be 70-80% after the same amount of time.

Pretty normal use. Checking action center, emails, texts. But not much more. This is while working though, so I don't get that many texts.

Drained faster than usual but since i am playing with my friend cortana. hehehe My 1520 still got decent battery though.

At least half as effective as it was on my 920.

Got 625.. And its still the same

It drains a little bit faster on my 920 but it's no big deal to me. I'd gladly sacrifice that extra 5-7 % to have these awesome features

For those who noticed an higher battery drain after the update, try doing these 2 things: 1) Check in Battery sense that you have allowed to run in background only the apps you are interested in, the update allowed all my installed apps to run in background even if those weren't before. 2) Toast notifications turn the display on each time you get a notification. Since now we have Action Center, it pretty useless to keep Toast notifications on. You can still keep sound, action center and live tile notifications on, expecially for things like e-mails. Windows Phone 8.1 brought us a lot of new feature like IE cloud connected, auto-update of the apps etc.etc.
it's normal that it will consume a bit more battery having those features activated. If you want to save battery, disable some of em.


It's bad but I think because I'm using the phone and Cortana a lot more that could be the main reason.

I'm feeling it's slightly better than wp8. Lumia 920 :)

Its gotten really bad, I used to get about 20 hoursof medium use, now I get about 12 with light use.

Using battery sense I found that WPC app used most of my battery more than cortana :|

At first mine was really bad. But after a few days, it seems to be leveling out. Now it seems to be about the same as it was with WP8.

Dropped a bit, but nothing alarming. I'm still giving it a day or two to settle in as I optimize the battery settings for myself. Cortana naturally takes up a bit of battery power, but I was stunned how much battery is drained after using the new Podcast app. Previously I would play podcast after podcast in Music, with very little drop in battery life. One play in Pocast and it starts sucking juice like a hog. Yancy

Horrible! But it has gotten a little better after I did a hard reset to my phone, it also get's real hot real fast!

It was worse, but when I figured out how to disable some of the background tasks on 8.1, it got a lot better. It's slightly worse though...

My battery is really really really bad now I hope this is just bugs

Its killing my battery too. Have no idea why either.

1020 has better life on my end.

On the first day with 8.1 it sure was hard-core but understandable since installing the update and reinstalling the apps and setting up the stuff. On the second day it also was still very bad, but it was used on that day, too, much more than usual. But now it's going to normalize, since I now have played enough. But I still feel that I have less battery than before 8.1 but I think that's because of using the Background image and third row on the small device and stuff like that but it's not mentionable more battery usage as before.

Taking longer to get charged and draining so fast

My battery is dying a bit faster now. But maybe it's because I'm on my phone alot more since the update

My battery terrible since update
Cant get a full day without running out of juice and that's with light usage
Used to get double on 8
L1520

Seems to drain much faster... But realistically I am playing with it so much more!!

I'm only getting 8 hours of medium use. Not great.. Do I'm deliberately not using my phone till after lunch time. Its not a good situation.

It's definitely gone down a bit, but if you know how to disable unnecessary background tasks and do a hard reset afterwards it is fine. Definitely hope to see some improvements in future updates though.

Something has definitely changed. I'm going to write it off to using geofencing to turn on wi-fi when I get home. I hardly ever put myself on my wi-fi before and usually left the wi-fi radio off at home. I could have a 100% charge when I went to bed and wake up with the phone in the upper 90's after sleeping all night. Now it is usually in the upper 80's. Going to turn off the wi-fi geofencing and shut the radio off tonight and see how it does. The only other thing I can think of that would actively add extra drain is Cortana running in the background and "getting stuff ready for my day".

Battery are so draining after WP8.1... Hope for new firmware but right now I recharged my 925 3 times during the day. Before could happen only 2 times after high usage...

Its draining like may be because of numerous bugs.. And the battery takes all the hammering..

Seems like it lasts way longer on my nearly 2 year old Build Lumia 920. Usually internet explorer would really kill the battery, but it seems to not drain as fast since the update.

My battery is shocking since the upgrade on my Lumia 1020.... 100% charged to less than 20% in 4hrs of normal use and no, no messing with Cortana!! Worse, USB charging now takes 30-40% longer and Qi charging almost unusable i.e. Nokia CR-201 just wont charge the phone now at all (clearly using the Nokia Qi shell), i get the charging symbol and can hear the chime, so all looks and sounds good, but not actually charging, i guess its churning the power faster than its comming in....?

It's crap. Still worth the update. But pure crap right now.
Edit: 1020 is crap. 1520 isn't near as bad. But my 1020 gets the majority of the use.

Same... I think people are using their phone more as a result of new features. Aa the novelty subsides, I suspect more typical battery usage. If I am busy like a normal workday, my battery is about the same as before.

gone down by quite a bit. sometimes it is alarming. specially using IE11. And cortana is very power hungy.

Too soon to call! Initially, my 1520 was getting hot at the top and the battery drained quickly. This lasted a couple of days, then it went back to normal! Now the 1520 is cool at the top again and I haven't noticed any difference than before.

It was terrible, and it is worse than before, but I just went in battery savor and turned off a lot of the background processes that apps were running. That helped a lot.

I can honestly say the 8.1 fixed my battery problem I was only lasting like 6 hrs tops with most apps off and location and settings off that don't drain alot. Now I have location on all day and most apps up and I'm lasting good 8-9 hours if I'm not messing with the phone alot

It is same as before, the issue is that we have started fingering our phone more after Ms. Cortana and that lad Action center

Battery life was TERRIBLE, but I turned Cortana off & toned back the locations a little, now it is about on par with WP8.

Worse. I've already come to the conclusion that it's Cortana and the fact that, for whatever reason, it needs location services to function at all. I turned it off today and my battery life is back to a normal rate of decrease compared to yesterday.

Mines actually improved quite a bit....although no idea how to switch on Cortana

I found out that many apps that weren't working in background before now they do. So if you go to battery saver and you move to the entire list of apps you can turn off many apps that actually don't need to use in background. This brought my 1520 back to 20 hours battery time using my phone a lot.

It seems that location services are eating away most of the battery. Once I disabled it, it was a lot better.

Battery life is terrible after the upgrade

My 1020 is draining faster... And not charging as fast. I was listening to a game on mlbtv with the phone plugged in and I still lost 5% battery in an hour. Granted, the charger is .15A, but it worked before.
My wife's 925 was having battery issues pre install, it has worsened since the install. We were hoping it would improve.

Battery life has actually improved a bit.... Once I got to know about the battery saver aap...n modified the background tasks... It's improved

It's same for my but I'm pretty heavy user usual I recharge my battery twice on day

My guess is that there are a few things at play here. Cortana is going to suck up your battery over the first few days as shes digging through your phone like Google digs through gmail. Most of us are using the phone twice as much exploring the new features and asking cortana all sorts of questions . The OS is not yet optimized - hopefully this will happen with any carrier specific updates and firmware from the OEMs (which if your like me and on ATT will be lucky to see before August im guessing). Finally, its a preview build. I put it somewhere between a beta release and a final carrier release - most bugs ironed out, but still unresolved issues. This happens, and is a risk you assume if you update your phone. As we know, there is an update coming next week for music. Hopefully sometime over the next few weeks well see a few more as they pinpoint issues causing battery drain

I have actually lost about 4-6 hours of battery, and my usage of the phone is pretty consistent with pre 8.1. Battery saver reports "messaging" to have been using the most juice out of everything, which is odd. I text just as much as I did before and it was normally third down under games or whatever. Interesting. They must be spying on me ;)

Cortana : Hi, looks like you are out and your battery seems to be draining fast, would you like me to extend your battery life? Me : yes please, i need my phone to last for at least 8 more hours. Cortana : Sure, i will hibernate all uncessary background application, turn location and wifi autodiscovery off, i will check your emails every 2 hours instead of push, from my estimate, your phone will last for another 8:13. ....If only Cortana can do that.

You can go here: http://windowsphone.uservoice.com/forums/101801-feature-suggestions/filt... and you can count on my 3 votes :)

Thanks for the suggestion, i just posted this idea, let's hope they do this :) http://windowsphone.uservoice.com/forums/101801-feature-suggestions/sugg...

Intialy draining fast...now quite fine in wifi...in cellular network drains fast as always

People complaining about battery life after updating to the developer preview dont worry.. I feel that MS will send updates b4 the final build of wp 8.1 is rolled out to the carriers in the US, UK,etc amd to the unlocked devices.....

It's not bad. IE seems to burn up a lot more battery than expected tho.

Until I went in to battery saver and turned off background processing for apps that I don't use, it was pretty bad. Someone on reddit pointed out that all apps that had background processing available had it turned on by default in WP8.1 even if you had manually blocked the app in WP8. I can't claim that it's true or false for everyone, but I found many many apps were running background processes although I rarely use the apps. In short, my battery lasts far longer now on my aging 920 than it did prior to upgrading to 8.1.

What I notice is that apps stay on even after you back out of them. Facebook for example, I would hit the back button and presumably exit the application but when on the home screen I press and hold the back button I get the multitaks windows and I see Facebook there in a suspended mode. Once I make sure all apps are closed correctly, I think battery life improves.

I'm sure backing out with the back button doesn't close apps anymore, only suspends them. Has to be done with the x or swipe down

Swipe down? This is Windows phone we are talking about?? I dont think we can swipe down to close, unless you mean swipe down once we go into Multitask mode.

Yeah, that's what he/she meant.

After 8.1 update I cant download even a 30 mb size file without wifi in store.what is it ? Check this out everyone & windows plzzzz fix it

Not too too much but noticeably worse.

Better thant the initial couple of days, but still much worse than before. I've lost at least 4 hours of usage after the upgrade. Top drainers, Mehdoh and IE. Strange that IE is up there since I don't use it that often.

yes..me too..I didn't use IE...but it showed it's the most draining app...well but we can't delete IE or disable the background running....gosh!

i think the fact that battery saver is allowing you to disable apps that runs in the background that you normall wouldn't be able to in WP8.1. It actually prolong my battery a lot more than before. I still have 90% charge after 7 hours. I have a lumia 920 used it about more than 1 year now.

Really bad the first day, but now it is just a bit worse then before. Regardless, its hard to complain about this, you don't get something for nothing. When you add a bunch of features like notifications, Cortana, etc. you are going to see an increase need for power. Plus people are also screwing around with their phones much more often than they were prior to the update.

second day i went from 100% to 20% in less than an hour with zero usage. but it seems to have normalized.

First day was a disaster for my L1520, but I think it is normal because a was playing with the update and use the device intensely that usual. I use Battery Discharger App after each update to reset the battery stats and normalize drains rates. Now the drain is as usual, perhaps a little bit faster.

I can get like 4 hours with moderate use. The battery life has stopped SIGNIFICANTLY

Disable wifi sense.. Itt's continuously checking for availability of new networks and also activates location sevices.

Not so great. Everyone keeps saying to do a hard reset, but that freaks me out.... But I think it will have to be an option I look into, because right now, I can practically watch the battery drain on my minute hand.

My battery is about the same on the 1520. Lasts me more than a day!

I think it's relatively the same. I do use data frequently throughout the day but I don't believe there is a significant drop off. Lumia 925.

For me it's been about the same. Though one time the battery was fully charged before going to sleep and in the morning it was at about 20 percent. I saw that there were app updates during the night, but I was surpised to see such a large hit to the battery. I'm also managing my apps with background tasks so there is nothing unwanted running. Still, I need more time to be sure how it behaves. For all those with problems, you should check your battery saver and adjust the apps there, it could greatly improve the battery life.

Not really sure because ever since I upgraded I haven't put my phone done lol. Blame it on sweet talking Cortana.

On the 8X, definitely draining quicker than before. Also the critical warning isn't showing up right away, the past few occasions it's only shown up seconds before the phone turned itself off.

Same as before on 1020, overall very pleased so far with 8.1

Draining fast.. Got an alert today from battery performance : Battery draining fast, 54% in 20 minutes.. I mean, thats not normal... Lumia 920 btw.

I thought there was a battery life issue, until I realized that trying the airplane mode in the notifications panel, had left me on 3G.

Mine isn't too bad. Its not as good as it was before, but not bad. I go to work around 3am and I'm off around 1pm or so. Battery was always at about 85% give or take. I Only used my phone on breaks. Now I've notciced when I get off work its now at about 75%. 920 user by the way.

Used to get 24 solid hours of heavy use.. Now i'm looking at 9-12... shame as the software is solid apart from that!

Cortana, What's your favorite food? "The battery of your device, ha-ha".

It is draining so fast on 925 ..

I used to get about 5 hours with very light usage. A text every so often, nfc, wifi, location, bluetooth off, brightness turned down and no background tasks allowed. Once I upgraded to 8.1 I've had my location on the whole time, lte on, increased my usage, allowed background tasks and I'm getting about 8 hours. I'm happy.

I can no longer say that my 1520 has great battery life... I almost feel like I'm using android!

Have to charge to 100% twice a day >_>

My L1520 is acting like it has a much smaller battery in it. I've gone through and disabled as much as I can even Cortana running in the background got the axe.

Same, if not better. L1020

I've had bad battery life on my lumia 1020, however I did turn off NFC last night fully charged the battery through the night and I've had normal drain on my battery today. So for me NFC was the culprit.

I think it's similar to wp 8.
One time charge & my L920 runs all the day :)

I'm using L920 and my brother is on L1520, both battery life's are worse and draining faster after 8.1.


Well, mine is draining a lot faster, but maybe it's because I'm using it a lot more to explore all the functionalities of the last update.

My 920 is worse but I'm monitoring it with disabling certain background task to see if there's an improvement.

I got a Samsung ativ s, it goes for twelve hrs straight, its wicked so far. Every time I install a mayor updates I do a hard reset so I don't know how it would have been if I did not

Worse in Lumia 520. I think Wifi Sense is what's draining battery, since I turned it off, I've seen better battery life, but... It seems that Wifi never goes to sleep, too. So I think Wifi never sleeping is the problem.
At least that's what I've been experiencing.

Was a disaster. But after deleting and reconfigure IMAP4 account, battery life is so awesome...

It went from bad to normal. I changed things back to how I had them before the preview and it seems to be gettting better. Around 5am I was 100%. 9:00am I was at 50% with heavy usage. Still not good. I put it back on the charger up until a hour ago. At 100% with two phone calls, texts, and internet usage its at 97%. So its getting better. Yesterday was a disaster and frustrating how bad the battery life was. So today is a huge improvement.

Cortana definitely sucked all the life out of my phone's battery. But activating location services does that too. The battery lasts just fine when location services are turned off. No issues experienced other than that.

Apps that need background tasking are automatically allowed after update. So again we need to manage them via battery saver.. :)

This morning I was searching the forums because I do notice a difference in battery performance compared to 8.0 not HUGE but a difference. I stumbled upon a comment from larrybon (thank him for this btw); his comments is as follows: Set your preferred apps to run in the background within the battery saver settings. Each one needs to be addressed individually. Many I had set of were automatically turned on. Great improvement here! I followed his suggestion and I can say. Great improvement here to. It is not as it was but hey lets not complain. This update is awesome and brings so many great things that I can live with less power and I still beat all iPhones/outlethuggers around me. Future firmware updates and OS updates will address this for sure I would say: Enjoy 8.1 fellow wp8 users :)

my battery also worse but i make hard reset and do new settings manually (not restored from backup) and battery is much better http://1drv.ms/1hZrLht

My battery life improved a little bit. I always have Data Connection On, Cortana activated, of course Location On and I can get 2 days. During these 2 days I have calls, sms, some browsing, updating my apps. I think it helps that I have Lumia 720. It's a great phone with a great battery. Of course it is very important to play with your battery saver settings and turn off the apps you don't use.

Horrible. My phone dies quickly even when I am not using it heavily.

Haven't seen any difference still lasts a full day easy with frequent use. 520

I think we need to give it a little time. It was a disaster on my 920 on the first day. Yesterday, I finally started to tweak the background tasks to my liking and the battery life improved. Today is not a good day to judge as I'm spending most of my day over the phone so of course, it's going down fairly quickly. However, it's not as bad as it was on the first day. My sense is... WP8.1 is new and it's still a PREVIEW. My battery needs to get re-calibrated properly. 8.1 works differently from WP8 and the phone/battery are not used to it. At first, it used to get hot without any reasons. Now, it's not happening anymore. I'm pretty sure that after a few proper charge cycles and once I finally get very familiar with 8.1, things will get better. I'm still discovering things as I use my phone so I guess there are still a few items that need to be manually tweaked in order to save some battery life. My battery goes through a full day of work without any problem and yes, the battery life is slowly getting better since I did the update. we will be more able to judge next week. Let's not jump to wrong conclusion after 3 days.

I had horrible battery life and the device was extremely hot to touch, a hard reset fixed every issue I had!!

since i updated to windows 8.1 on my lumia 920, my battery has drain very fast!

As far i had read here all the complaints sounds like windows phone 8.1 has some issues, I will wait for the official upgraded

on WP 8.0 2-3 hours in high stress , now it takes about 4-6 hours ( Nokia Lumia 820 Red with MPJ 2500 mAh battery) :D Wifi ON Data ON Gps ON I did not test with the original battery I apologize for my English

As nice as all the new features are, I have to admit, the battery life is going extremely fast even if I do not use it for hours; it is aweful. So I tried to go through the settings, especially Battery safer and Notification center, to find the power suckers, but aparently not much improved; I also deinstalled some Apps. Today I used my 1020 just as I normally do. At work it mostly lies on the desk with me ocasionally using it to check mails, Facebook or new articles on WPCentral to read later in the evening. Music is however always streaming through Not using Cortana at all; however Live Tile is pinned to the home screen. Before the dev preview I usually still had around 20% battery left when I left the office, but today the phone gave up on me 2 hours before work was even over giving me the critical low warning. What I noticed today is that the location Service is accessed pretty frequently and if I turned it off Cortana refusing to do anything, telling you she needs location service to get to work if you tap on the live tile; if you press the search button while location service is off it opens the usual bing search instead of Cortana. I am not a developer my self but a wild guess would be that the not updated firmware and therefore unoptimized drivers causing unusual power drainage. Next thing I might try is a complet reset of the handset; lets see how that plays out. Maybe changin the region back to where I am located so Cortana is gone.

I wouldn't say it's "terrible", but I've definitely taken a hit in batt life. I figure it's because Cortana is turning on my GPS to get my location for her geo-contextual data/reminders. I also realize this is a preview, so it should get better as more updates come out (especially the full release).

It is awful. Yesterday it started to drain 8% per hour and couldn't last 12 hours. I stopped all of the background tasks and tweaked the settings for lowest battery usage but didn't help much. I also did hard reset several times before that and I had to do it again then emptied the battery to 0% to force calibration. Still the usage is higher than WP8 when the usual usage was 0.7-1.5% per hour.

Seems like it drains a bit faster with certain apps. Its not horrible, but i have noticed a difference.

Its been draining about 10% quicker than normal. I'll be waiting for the bi weekly updates and the firmware. I also have been using cortana alot. My assistant gets no rest! Lol. I will be carrying my DC-18 in the meantime.

May be imagining things but seems to take forever to recharge fully and my 920 is heating up again like crazy when using apps, browsing etc. IE 11 seems to consume most of the battery as per battery sense. Also wpcentral seems to use a lot of power. :P

I'm not sure if my usage had changed our not. The first day I was obviously abusing Cortana and all the new features but since then its all been as good if not better! My 1020 is at 40% at the end of a medium to heavy usage day!

For me it is the same in use but better if my phone in standby mode.

It drops real fast after 8.1. Before I had my phone like 10-12 hours befor reaching 20-25% but now its done in 5-6.. Not playing with my phone so much because I don't have,the,time. And Cortana is not ready in Norway.

battery life has reduced by 7-8 hours :(

Mine is horrible after the update. One thing I just noticed from the battery sense is that a game I played yesterday (Romans from Mars) for about 20 minutes was like 6th or 7th from the list, and now it's 2nd next to IE. I haven't played the game since yesterday and it stayed at 6th or7th until this morning. 30 minutes of some browsing during lunch got me down to 68% from full charge now. The phone is extremely hot for 30 minutes of light browsing. I did quite a few of soft reset(power and volume).

I went back to battery sense and now I see that game way down on the list.

Oh it's BAD. And no level of disabling Cortana does anything about it even though battery sense cites her as the cause. Strangely this is only on my 1020. My 520s battery life actually got better.

It's difficult to tell 'cuz I also got an XB1 this week. They (XB1 team) seem to expect you to use XBSG as a universal remote, which drains the battery incredibly fast.

Im almost sure that the battery is the same EXCEPT sometimes when a process stuck in the phone even if went to stand by.. It happened to me twice in three days. The phone went from 60% to 0 in 3 hours and it became very hot to a degree I can't touch it. Thats why there are mixed responses here in the comments.

same battery, it last a day on 920. I just set up the apps and my phone after preview install and I also disable 4G/LTE data when I don't use it.

L1020 - Working slightly longer than before. Reading the comments, it seems like a common thing where 1020s are experiencing battery life, but seems to worse for others.

For me i guess it has improved.. Even after enabling cortana! L620!

I thought my battery was draining too fast, but I haven't stop playing with all the new features yet!

1020... no chance of using phone in the evening if I don't charge it during the day (and that's with the camera/battery case). That said, I really like the OS... it's so much better and I'm glad I stuck with Windows Phone.

my battery drains faster and taking more time to recharge

The battery drain was ridiculous. Somehow (and I don't know why) a simple soft reset plus rebooting the phone manually afterwards did the trick for me. It's at least back to normal now. Might even be a little better than before.

Lumia 1020, obviously its been bad the last couple of days, but I think it's about the same now I've returned to normal usage.

Using NL925 & battery life has improved by avg of 20%

Was having horrible battery life at first until I noticed I had around 20 tabs open in internet explorer, I closed all of them and keep an eye on it, now my battery is back to normal

It's definitely worse. I have a 1520 that lasted two days on Windows Phone 8, but now it only lasts about 1. It's definitely survivable, but still annoying.

My 520's battery drained fairly quickly on the first day but has been fine (better even!?) over the last few days

Who see battery gone bad ...should know 1st that background tasks have been moved to battery saver >> usage > choose App to block :) Posted via the WPC App for Android!

It's about the same as gdr3. It was better before gdr1. I can get about a day out of my HTC 8x.

Mine is doing great tbh #1520

I've noticed no difference in my 920.

I have noticed no difference.

I have the impression that my battery life has worsened since the update. I used to get almost two days of usage before, now just getting round a full day. I hope this gets sorted!

Look at the Battery Sense setting / app and you'll see what's causing it. Almost all my batter drainage has been using Cortana (not her background tasks, they were minor). Overall it's hard to say since I've been playing with the phone more than I typically would.

Too soon to ask, people are ask over their phones after getting the update. Give it a couple weeks for used to normalize.

My girlfriend was having abysmal battery life on her AT&T Lumia 1020 after the update, but I found the culprit. She has 3 different gmail accounts, and 2 of them were set to sync contacts and calendar which she does not have for those two accounts. She kept having error messages when syncing as well. So I set the gmail accounts to email sync only and no more errors, and much better battery life.

I've noticed some difference in battery life, but I've still been playing with my phone more than normal. I also realize that the one feature that I have now, is Cortona. I've allowed her to be always on. With this in mind, a few games that I have with always on features, I've turned off. Cortona seemed more important than knowing when I was being attacked. I also have a number of news apps running, too. I'm glad that I have the larger battery in the Lumia 1520. The battery sense does help make me realize what's more important to run in the background. As the article mentioned, we well hopefully see some improvements with the upcoming Nokia firmware update, when the official update is pushed out. With that said, this Dev Preview may be a different version from the actual OS update. So, we may see additional optimizations there, too.

Please post about the error 80183309!! Everyone has to know!! It's many of us that still can't update!! MS and Nokia stop ignoring us!!

Battery life is still good on my L521 except when I start asking Cortana a myriad of questions just to get quirky responses.

No change really but haven't been checking but lasts a day so no complaints

Hello my friends after searching I found the problem is in your browser when you close all pages and close your browser completely will notice the change in battery life I use Nokia lumia 1520. find sene Battery notes that the browser is Most consuming battery life

All i can say is, who ever is crying about battery drain should go back to his iOS/Android. Just because the battery got a huge improvement, please go read the right section how to setup your device properly

My standby power seems to be fine but when I'm actively using the device it does seem to drain faster. I'm counting on Nokia's firmware changes/updates that rollout this summer to help correct some of that.

My battery life is still the same.

I'm draining at about 8.7%/hour in battery save mode. The phone is warm toward the top now, like it was before a few Nokia updates.

I don't see any difference on my 720 TBH

Please bring back the wi-fi option to enable/disable: "Keep Wi-Fi on when the screen times out". This option worked great for on-demand use, and really improved battery life on WP 8.0 when I wanted to conserve power.

its still there... go to "manage"

The option is not there on my Lumia 620 using WP8.1 preview. I think I read on a different thread that the option is still there on HTC's, but not the Nokia Lumia lineup...what phone are you using?

It was pretty bad but that was because all of the apps that were originally disabled in the background were reenabled. Once I went through and turned off the ones I didn't want enabled my battery life is back to normal.

I was having enormous battery drain right after I upgraded. I turns out that an IMAP email client was stuck in sync mode, ie it was trying but unable to sync, so it was spinning trying to update the email client. I could not delete the account until I turned off all my networks including the Verizon data network. Once I deleted it, then my battery usage went back to about the same, even after I added the account back.

Turn off WI-FI SENSE and it will help. Also check in battery saver for any other apps that have re-enabled due to them being re-installed after OS update.

Lumia 920 is so so... Not as good, and the OS its self lags a bit. Cortana is the main culprit here, when activated for long periods of time she eat eats battery like there's no tomorrow

Seems faster...my battery draining on my L920 that is.lol

My ICON, which kind of was lackluster on the battery even without 8.1, seems to drain faster with 8.1

"Terrible" would be an understatement.

As much as I'm loving 8.1, battery life is definitely an issue...

This is one of those rare occasions where the "seems faster" comment is appropriate. I feel like my L920 battery drains a little faster. But again, I may have been playing too much with the phone too.

No issue here with battery life. 12 hours (with about a total of three hours screen time) and I'm still at 83% on my 1520.

I have Lumia 1020 and I noticed that my battery is draining quickly, even when I'm doing same things as I was doing before upgrade. Hope they can do something to fix it!

My 1520 drained stupidly fast when i installed 8.1 I fully charged it and turned off NFC and just as good as before now so on the 1520, NFC definitely isnt working properly.

Obviously for a lot of people, at first the battery would drain quickly - that's because people are using their device alot more as they're trying the OS's new features and checking performance. Once they'll have enough of it, the battery drainage would be back to normal.

The battery life on my 1520 has been about the same, but my girlfriend's 928 has been rabid. It regularly drains tons of battery with no explanation and the stats in battery saver don't show anything.

Not bad for me..disconnected at 615am- @12pm I'm at 63%..not bad imo...make sure u go to battery sense and scroll down to the bottom,open up all apps...there still more apps running...kill them...u should b good

My lumia 925 i think is the same.

I have the 1520 and I get 1 day and 3 hours. But then again i set my phone up for optimum battery life

At first I was convinced that it was because all the background apps were re-allowed after the update but after disabling them my battery drain was terrible. I have charged my phone 3 times today just texting and browsing the internet. Ive got a feeling that it will be fixed before the final release because obviously there will be bugs and inefficient programming before 8.1 final comes out.

My 920 just can't count the battery correctly. Everytime I restart, shows completly different number. The wireless charger sometimes only keeps the battery on the same level, don't charge at all! I know the phone is already a bit old, but I hope MS releases some updates ASAP.

My Lumia 520 is ok. Maybe only one hour minus but it still holds up to a day or so.

hopefully the cyan update doesn't murder the battery life

Seems to still be fine on my 1520

This app drains my battery life along with Cortana and location. After my comment here I'll have to say good bye!

My battery is so Much better since i install the preview . Im on 820 and it ' s awesome

Upgraded my 1020 to the preview and battery was terrible. Wouldn't even charge. Realized I hadn't done any type of reset since the update. Soft reset and my battery not only lasts longer than before, but I find that I can have more background tasks via battery saver running and still save more battery than before the preview. Overall I'd say my battery life increased about 20%. Then again I only have Facebook, 6snap, weather, insider pro, simple calendar, music, tv show, Cortana, foursquare, engadget, here drive+, and perhaps 12 more apps running or allowed to run in the background. Go to work in the morning with full charge, leave work at about 60%, end up at 40% before bed. I heavily use my phone during breaks and lunch. Mild usage I'd guesstimate about 16-20 hours use or 24+ hours at idle usage. Turned off glance and increased all times by 4 hours. Overall satisfied with the preview. Only bit that disappoints is the atrocious implementation of Xbox music.

By default it is not much different than previously, but perhaps a bit worse. I think it reset my bg process options and now a few more apps show up as utilizing bg processing. HOWEVER there are now more information about which apps consume more and you can fine tune your bg processes easier. That fixed it.

Mine is definitely worse. But hey, its a beta so I'm patient and hope it will be fixed

:: super booster battery life 100% :: ringtones+ sounds = uncheck all and only vibrate email+account = only microsoft lock screen = screen time out after 30 sceonds notification+actions = uncheck show notification in action center wifi + flight mode + bluetooth + mobile SIM + location= turn off NFC = turn off all battery saver = check on brightness = low glance = turn off and open batter saver usage turn off all background

Honestly, might as well not use a smartphone at all :/.

If WPCentral have not seen bad battery performance since the update then they are the only ones...what nonsense.

Same battery life on my 1520 I always have everything on. Get the best results with that - strangely.

Normal consumption since the day of update... (Lumia 920)

There's (almost) no difference during working hours, when I play less with my phone. But as soon as I get on the train and start browsing, using Twitter, etc. (like I always do), the battery drains quicker than before.

Seems to be e draining faster... Probably because I'm using Cortana so much!

At first, my L920's battery got a lot worse than it already was, went from 100% to 35% in 2 hours a few days ago. But now it is pretty darn good, I'm at 69% after 9 hours!

The absolute worst with my battery, my battery use to work for about 20+ hours on my Lumia 1020 and that's emailing, facebooking, instagramming, texting, Lync calling and so forth, another words It would take a hit when at work, but when I get home it's still around 60-70 %, with 8.1DP 5 freaking hours and my battery is dead, glad I'm in IT and we roll out phones, cause if this was my main phone...I would really be pissed. -As MS always say's never install on a production machine or device-

What does Battery sense show?

Cortana using alot of resouces, then phone, then IE, Email (2x Excahnge accounts using Good), Hotmail, and Lync 2013 the rest is ehh, oh yeah skype is also a little high. And mind you that with 8.0 all of this usage was very min. on my battery

Surprisingly, most comments neglected to state that they went to "battery sense" to see what "ate" their battery. I've had great battery life until this morning. Don't know if it was some setting I changed, but never, ever had I noticed this type of drainage. Come to find out it was IE11

dude!! that's the first thing I checked and made sure I dont have things running in the bg that dont need to be running

My battery life has been great so far

had major problems after the upgrade, but then i noticed that all my email accounts had the new 'based on my usage' setting ensbled for email check frequency. this defaults initially to push email, which is far more battery intensive, especially if you have multiple accounts! Try changing to only periodic checks like every 30 minutes, did the trick for me!

I find my self charging 3-4 times per day on normal usage...
Used to be 1-2 charges would last me the entire day....
WP8.1 is really draining my battery...L920

Lumia 920 - amazing! Far better battery life :)

I voted for worse battery life, but I honestly can't be too sure as I find myself using my phone a lot more since installing 8.1. Probably doesn't help that the charger cable in my vehicle is on the fritz and doesn't charge as well as it used to.

Hey! Can you tell me if uploading is supported in IE11?
I haven't got the WP8.1 update till now.

I must have a lemon battery in my Lumia 1520. I only get 8 good hours of battery life b4 and after the 8.2 upgrade. I only allow 5 apps to run in the background and I still get crappy battery life. It also takes well over 8 hours to fully charge.

8.2 upgrade!? reading all the rumors? I know you meant 8.1DP just busting your balls :)

Are you charging it with the correct charger? Sounds like the current is too low.

It's about the same on my Lumia 1520. Of course it drains a little quicker since I'm using it more and playing with it. But seems to be about the same.

Battery life is normal in my case but WIFI network reception has come down or the indicator is broken, the problem is that both are happening so difficult to say at the moment

My battery lasted 2 days before I updated to 8.1.Now I have to charge the phone every morning.(Lumia920)

I didn't have any problems in fact it improved my phones battery. I did soft and hard reset before the update it worked well plus i was fascinated with how responsive my phone is than before

920 unlocked for tmo. Its lousy.i can't last a day now. Hopefully they can fix this shit. Its only 2:30 and I'm already on 64%. Im usually on 85%.

Remember this is a preview, not final and without firmware support like article said, yes your going to have issues, if your facing battery drainage

From 100 to 99 less than a minute. Not good.

That's normal. Battery strains faster when it's in the 95+

I do love this swipe feature. Texting is do much more easier and funner

What ever happen to the good ol' days when your cell phone would last for like days without a charge....lol, my first Nokia then StarTack

Same as before, sure if I start playing with Cortana and new features it shorten the battery life...but that's me using the phone.. :)

I used to get a day and a half on my 925 with normal usage. Now, after 12 hours, I'm on fumes, in fact as I type, I have 27% battery life.

Mine is the same on my 925. I made sure I only have the same background apps enabled I really want.

56% of readers are too scared to perform a phone reset. What gave them the idea that they had a clue???? INCOMPETANT!!!!! testers shouldn't be given a voice.

I had 26hrs battery life on standby b4 the update.. now my battery runs for 11hrs only :/ so sad same way.. using only to see the hours and nothing more.. I think theres no way to say "oh you guys are using the phone alot" i'm not using and guess what?! 11hrs max of battery life i turned off many features and apps from background use to see if it could make a difference but , once more, guess what?! Nothing.. My battery still getting drained like anything

My battery is not lasting all day like before but to be honest I'm playing with the icon alot since I upgraded and that alot of my power problem. I'm expecting it to settle down and back to lasting all day after some more time.

My 920 always had pretty poor battery life. At first I thought 8.1 made out a lot better but I was wrong. I barely played with Cortana & I turn almost everything off except Wi-Fi but my battery drains really quickly. I really think its a Wi-Fi problem. Ps: My battery just drained 2% typing this

Phone heating a lot on minimal use... However the heating is lesser when using WiFi rather than cellular data... Battery life poor too even after a hard reset (Lumia 520)

My 1520 used to go days without needing to be charged. Now, I can barely get through a day. But it does get through the day :/

Mine was tanking hard for the first few days. I was going mad trying to figure out what the problem was. First guess was Facebook, so I went through a few cycles of reinstalling, etc. Next was Location + Cortana, but I always had Location on in the past with no big issues. Then Bluetooth/WiFi, but again I always had those on before and it didn't really solve the problem. Then I noticed a few of my synced accounts (in my case, specifically my GMAIL, Twitter, and LinkedIn ones) were stuck in perpetual syncing. The Mail app would say it was synced x minutes/seconds ago, but I wasn't getting new mail. Over the course of a few hours, I would keep checking [ settings ] --> [ email + accounts ] every few minutes as often as I could, and they were always stuck syncing. But when an account is syncing, you can't delete it. So I turned off WiFi and Cell data .. but then the [ emails + accounts ] page won't open. So... TLDR ..
.. Put yourself in Airplane mode, restart the phone, then remove & re-add those accounts which are stuck syncing. For good measure, I also removed my Facebook account before reinstalling the Facebook app. Oddly enough, once you remove it, you can't re-add it in that same way - the app now has some 'superficially deeper' integration with the OS (like lenses almost. I say superficially because without baked in messaging/notifications it feels less integrated, but I guess it's app-centric integration, rather than platform). I'm also worried my Microsoft account is suffering from this same problem, but that's something I won't be able to fix unless I factory reset :(

My 820 suffered from major battery drain before the update, after though I think it's actually improved quite a bit. After a day of playing with Cortana I switched my region back to Ireland and it's all been going quite well since. Most of the battery issues, I suspect, are caused by Cortana being a bit of a battery hog.

Actually its better on my icon

Yea, my battery life seems to have gotten worse since the update, then again, I might now be using my phone even more often because I love the update

Mine is hit hard even with low interaction, battery does not last long. (Nokia 1020) I connect a battery to make it last, but is charges were slow now as well from Battery pack.

First two day it seemed to drain much faster because I couldn't stop playing with it. Now is much better.

Not sure you can really tell this early on as you are no doubt playing with the phone at this point more so than normal. I experience about the same but I did used to have bad days and yet to see that happen.

Yes it drains faster, 20% more than normal.. Lumia 925 bought 10 days ago

More apps can now run in the background so likely the main culprit. This is a m actually a good thing. I hated being against the app limit. Just need to keep an eye on that.

Seems worse, not so bad that It does bot get through the day buy some of my buffer is gone for sure.

820. Much much better than GDR3

It definitely drains faster, buy I still get a day out of my 920. Turned off all the background tasks I don't want runing seems a bit better.

We have 2 lumia 521's, both had rapid battery drain after the update (about 15% per hour without touching it). I soft reset both and the battery life seemed to be back to normal. I typically use about 30-40% of my battery through an average work day and it hardly loses any battery life overnight. However, both phones were still very "laggy". A hard reset seems to have smoothed things out and running like it used to. Battery life seems to be normal again, as well. Even though I had to reset the phone to make this update work good, the additional settings and twaeks are well worth it! Finally, separate volume settings for phone and media (whay this was not in the original release is mind boggling)!

Hmm... Indeed the first day battery was drained like crazy! But next two day it has become normal . -L720

It's just a little worse, but I'm using Cortana for speech recognition a lot. I don't think a day has gone by where I didn't use Cortana for somethin.

After turning off many background applications battery life is better (still only 60-70% of what it used to be in 8.0). However, what is unnerving is that wpc is at the top of the list in battery consumption by a large margin (twice as high as Cortana), even though BG mode is turned off. Any ideas why?

Battery is iffy and so are my data speeds

My Ativ S is the same. I have no issues with battery drain. It's the same as it was with 8.0. It just takes longer to charge.

They should rename it to "Windows Phone 8.1, the BatteryBleed update"

My battery life is worse for sure on my 925. With only LTE active I could go easily all day and far into the evening maybe 15 hours. Now I'll be lucky to get 10 with the same services active and same general usage.

I see we're all in the same boat!

Lumia Icon ... the first day, it was sucking battery like a Democrat spending money ... anyhow, aside of that, it actually turned itself off a few times. For some reason, after a few charges its completely back to normal. Its been on and used for web browsing, short gaming sessions, syncing two email accouts, texting and phone calls since 7 AM and right now, 12 hours later, its at 82%.

I think my battery was reduced. I've balanced it a little bit by turning bluetooth off when not in use, now that it is not a pain to toggle it on/off. What I've been the most surprised is that charging seems to be taking A LOT longer. I can have the phone charging for a long time and it will not be as charged as I was used to.

It has gone worse on my Lumia 620 namely I noticed that the battery discharging rate (seen on Battery app by A.Semenov) drops to approx. -20 every hour, from a stable state at approx. -2. That presumably means a hidden background task working and draining my battery :(. I disabled most of the background tasks and the Tile notification for Facebook although it did not help. Now I want to check if turning off auto sync makes it better... We'll see.

Lumia 925... with all the same settings as before my battery life decreased to a maximum of 8 hours... before 8.1 it was 26 hours at least... with 8.1 it drains even when I'm not doing anything on my phone. I tried everything everyone talked about, performed a hard reset that kinda increased it but still nothing compared to what it was. I gave up and used Nokia Recovery to go back to WP8 and now my battery is back to normal. WP8.1 seemed great but this battery decrease was unnacceptable for me... really frustrating... I'm praying that nothing like that will happen when the official update comes out (who knows when). Either way, when it does I won't install it right away.

Battery life was definitely worse on my L920 at first. However, managing app background tasks, disabling automatic app updates in the store and disabling the IE sync option has made a difference. Now a bit better than before. In UK but when I changed the phone language to enable Cortana for a while, there was little change.

The first day I downloaded windows phone 8.1 my battery died fast because yes, just as the article said I played with the new features. Around the third day my battery was fine (: It's just as fine as it was before I downloaded windows phone 8.1. Before I read this and commented on it I was actually supposed earlier at how long my phone was on.

Become worse. Draining fast

I just charged my phone to 100%, restart it and it says that battery is 28% -> WTH!

I just charged my L1020 battery to 100%, restart it and it shows that battery is at 28% -> WTH!

Awful!! My 620 only can life within 4 hours!!!! But hey, after calibrating, my phone can run for the next charger until 10 hours later

After 8.1 updation,When I put my Lumia in battery saver mode. The battery icon in the will go to half ,and it will be steady there..

Battery life just tanked after the update. I was able to get some performance back by disabling Cortana from running in the background. By doing that it went from draining 18%/hr to the normal 6%

Hige battrey problem... Pls fix it... My phone gets discharged after a normal use of 4-5 hours

I'm running it on my 1320 right now. Battery life was amazing before and haven't noticed much of a difference.

Of course its not as good, but its to be expect with all the new features

it get worse, can't say much much worse but i can see today that its not the same it was before 8.1. hope it gets better in the next days...

At first my battery life sucked but then I noticed one of my emails were stuck on syncing and never stopped. I threw it into airplane mode reset it then removed and re added my emIl and since then I can get a full day with no charging :)

Was bad after first few days of 8.1. It drained battery fast! My 920 could last me 1 and half day normally, but it went down to 12 hours after 8.1 preview. Did a soft reset (Hold Power + Vol Down button for up to 10 seconds), disabled most of the background tasks in Battery Saver (need to allow Whatsapp, otherwise no notifications), disabled Wifi Sense, been using Cortana more carefully (only turn on Location when I need it), now the battery is back to normal! Overnight it drops from 100% to 93% (around 7 hours of sleep). On medium usage (manual email sync, but hotmail is set to daily), news reading, some surfing, checking store for updates (I still set it to auto update apps), at end of day, I am still having 65% of battery left.

Mine has been working fine than today BAM. I go to charge it and it will not charge above 20%. In the middle of a Hard reset right now..... 928

Great battery life but if you hammer any electronic device the battery will die. It is unrealistic to think otherwise. I can standby all day 17hrs or hammer it in 5 hours, same as before. Seems to charge faster. -Lumia 920.

Is music player the reason for battery drain?? I find that way

Xbox Music definitely is a battery hog. I can feel the phone heating up just from launching it.

I think music player is the cause for the drain. Shitty app

You guys want Windows Phone to be as powerful as Android, but expect lesser battery consumption? That's impossible at all. That's why Android is a power hungry OS while the current WP8 is not. Very soon, Windows Phone will become what Android it is now, messy.


Horrible even with battery saver on and not using the phone at all

I had an issue with mine for awhile due to Google mail constantly syncing.. . I disabled the data connection and it stopped syncing so I could reinstall. Battery works as usual.

I have been tsting Cortana every second I get so there is no way to give a honest answer now, maybe in a week or two

My 1520 is only dropped 25% all day. Moderate usage. I've turned off all the IE syncing, disabled background apps, etc. Not really using Cortana a lot - she's a battery hog, for sure. Battery usage has leveled out after a couple days.

Definitely worse than before. When I don't use the phone, a Lumia 521, seems to be decent, but when I do, it's about 0.5% drop off per minute. The drop off is almost like the charging rate. Here's a screenshot from the app Battery. After charge, I use it for playing music through BT in the car, and surfing the web and apps (BT, wifi, data, location are all on by necessity). The phone is constantly lukewarm to the touch. The one caveat is that I have been using it a LOT, so not sure how it stacks up against 8.0 battery life, but I'm pretty sure it's worse. I know the phone didn't constantly feel warm before as soon as I did anything. Chart: http://1drv.ms/1gO247C

13% an hour acc to insider app it's not even running a day (my usage is less no Cortana too) l520 India.

The first few days I had it, battery was awful. Then I did a hard reset, and the battery works better than before. BUT I HAVE ONE PROBLEM. After the hard reset, my data stopped working, it doesn't connect anymore. Help please? Or should I just hard reset again?

Rebuilding my L1520 to see if battery performance improves. I had moved apps to my 64gb SD card. When setting up the pho e after resetting it, it made me delete the apps from the SD card. I understand why but dayum I had alot of apps/games that I moved to the SD card. It also tells me that Nokia Camera is no longer available, even though it worked fine after the upgrade. It was my favorite camera app.

Its not great..its going down very quickly if we use net...

battery life has decreased around 10-15% in my 720

My battery drained very quickly the first day. Second day, I turned off location and Cortana. Much better! Today my phone locked up and had to remove battery because it would not even shut down! After that, turned location and Cortana back on, and my battery lasted at least as long as before update! And prior to update, I never left location on. But I've used normally today, haven't charged since 11 am, and have 32% left!

My Lumia 920 was draining fast before the update, but now it lasts twice the time before I'm happy with my WP 8.1 :-)

Resetup my L1520 to see if the battery usage will be better. Only downside so far is that it asked if I wanted to format the SD card. I said no because I have alot of pics and music and now alot of large apps because of the ability to move them. It forced me to delete the apps anyway because it said they were from another phone. I understand the reasoning.

I am not sure that my battery life is actually worse. If anything I am interacting with my phone more which certainly does not help battery life. Either way I do find that I need to top it off before the end of the day now, when I have not had to do that since GDR1 was released. The big issue I have had to contend with is audio playback issues. WP simply does not like switching between the internal speaker, my BT speakers at home, and my wired headset. It seems to get confused 1-2 times a day requiring a reset before it will make sounds again. Also, the music, video, podcast, and radio apps all take forever to open, and often have to reload themselves if I switch to another app. Annoying, but still usable, and I am sure that since they are no longer part of the core OS we will see a fix for it sooner rather than later. Outside of those 2 issues pretty much everything has been smooth as butter, and I am using Cortana much more than I expected.

I am having weird battery life. It seems to drain faster from 100% to 80%, then slower from 80% to 20%. Cortana, Bluetooth, WiFi are on.
My major complaint is how 8.1 handles WiFi, my work has access points everywhere but WP 8.1 won't do the hand off to the closer AP when it is available.

Fear not. Thought u were unable to roll back to 8.0 after installing 8.1. It is easy. Use Nokia Recovery Tool 1.1.1. for Windows 7/8. I bricked my phone (unhappy face blue screen of death). Connected to PC, ran the software, and presto... I'm going to wait for a developer update or two to fix the bugs (namely battery drain). Then, I'll try it again. Just though I'd all want to know that if u want to roll your Nokia (only) to 8.0, proceed forward.

I wouldn't say disaster but battery performance has definitely worsened. My battery use to pull 1-2 days now it's maybe 8-10 hours depending on my usage. I like Cortana too much to turn her off.;-)

Battery life seems only slightly weaker without using Cortana but not significant. My biggest problem is that my camera randomly switches on whenever I'm doing something, happens a few times a day

Yes very poor battery life L720.


My phone's(L620) battery is draining so fast :(

Removed my gmail account and evertyhing is now better but at first it was really really bad. Even tried changing my CalDAV info... just removed it and I'm good.

Let your battery die and than charge it. It worked for me so far. Not so long ago I read that is good for the l920 battery to let it die 1 time in a mouth but its really bad to let it die everyday or every week.

Im just trying to help.. I read it from a guy that works for nokia on tech support.

Ya 8.1 draining bttry quickly..i dnt use Cortana..i am from but then too it drains faster as compared to 8..! Wil hard reset make it work..?

My battery is discharging very quickly with Windows Phone 8.1! Just 4 hours of battery life on my Lumia 520.

Battery is now back to same great Icon performance I had with 8. 7 am to 6 pm & I'm at 46% with med/heavy use

After upgraded 8.1 the battery draining quickly. I have reset the phone but the problem has remain same on my Nokia Lumia 1520

Nokia 928 with update 8.1, using all the features I can and no battery drain issues to report

guys, I have lumia 1520.. if i install dis devlp preview update... will it void the warranty???

HOT 1520 FIX. hot after 8.1? Here's the fix. It has something to do with syncing to facebook. Mine was getting hot. I un sync facebook from people hub, un sync facebook from cortana, and turned off WiFi sence. Not sure which of the 3 cause battery drain but I no longer have hot phone and battery life improved alot by un sync those 3. Hope this helps.

Cortana+location not the cause to hot batt. Unsync facebook from Cortana. Unsync facebook from people hub. I got 20% batt improvements on 1520

Yeah, my battery life has really gone south after the 8.1 update

Yes. I need to charge twice a day now. Battery is the most important for me. I don't even have Cortana.. Swede it's maybe in the background anyway..

I don't even have cortana here and still the battery don't make it till the end of the day... 8.1 is a disaster

To be honest mine is waaaaay better. Verizon L928

Seems faster in draining :p

I got almost the same battery time after upgrading, however it has improved after disabling a number of background apps.

The battery life on my 1020 has improved dramatically since upgrading to 8.1. I do however allow only the much needed Aps to run in the background. Location service is always on, and Cortana too. Very happy with 8.1's battery improvement.

I am Brazilian user, so I no have Cortana and after two days I did not notice differences in battery except it seems to be lasting longer video playback on lumia 920, for a recent holiday let my sister use it and the battery was at 100% she was several hours on Netflix with disabled battery when I returned it was saving 28%, she told me that is not heating as before. Location and always leave wifi enabled or cellular network.

Not sure if I'm just drunk but it seems to be getting better by the day since the update. I noticed massive battery drain right after the update (10% in 6-7minutes), but I also discovered my Contact avatar's weren't loading. After a day the avatar's all loaded and battery life "seemed to" increase back. Maybe it's all the background syncing from new adjustments. Not sure.

After 8.1 update battery on my 920 is draining too fast. Except Whatsapp everything is disabled. No background sync, brightness kept low, only using wify all day, no mobile data, bluetooth nfs n all disabled. Really disappointed. Hope Nokia Blue update bring some solution to it. Eagerly waiting for that. :( :( :( :(

1020 here, haven't really noticed a difference, and I use Cortana nonstop.

Well you have to consider the new background tasks management, and Cortana in the background. Also the battery icon is different at different levels than before.

Remember IE now lets you have infinite tabs......SO MAKE SURE you don't have 100 tabs running.

Shouldn't battery saver tell you what apps are draining you power. So far it shows me everything is normal in the background and the real reason only happen when I use an app. Should I believe that?

Battery life is amazing...

Battery life is slightly worse now, but still ok. (HTC 8X)

It's terrible on my 8x. About 10% per hour in standby. Going to hard reset it this weekend, expecting more than tangible improvements.

battery life is amazing as it was before but there are lags and performance issues everywhere...

So I let the battery die yesterday, took 2.5hrs to acknowledge it was 100% charged (about 1.5hrs longer than usual). Left it overnight off the charger and effectively in standby doing nothing more than syncing email throughout the night, but screen off and un touched by me whilst I slept at 12am. Battery was at 35% by when I got up at 8am now at just after 9am (still largely unused other than to post this), at below 21% and battery saver has kicked in... This is rubbish....

After WP 8.1 update, my lumia 520 battery even stopped charging.......!!!!!!!!!!!!

i am not impressed with the way battery is draining , after installing 8.1!
ealier my +820 used to lose 5-10% in night hours !
but after 8.1 the rate has gone up , its losing around 25-35% now!
dunno if its notification n action centre thing causing the problem oe is dere something else
but to have better idea of batteryconsumption , i thnk we shud w8 for lumia cyan update , which can actually be intended to boost the loosy applications at the moment meanwhile me and my frns here in inda r facing d problems like installed games are not shown in games folder, facebook app cud nt set the lockscreen wallpapers , some apps saying attention reqd as dey r having problem installing em(sofascore live) , after 8.1 update !
is dere any body else facing the same

Battery is noticeably worse on my Lumia 1020. I had manually disabled background tasks on a good number of apps in WP 8.0, but they all got re-enabled after the upgrade to WP 8.1. I was gonna try to run with them all enabled for a while, but I just went through all of my apps again in Battery Saver, and disabled a good number of background tasks again, so I'm expecting my battery life to come back a bit...

My NL 520's battery experience was fine before updating with Windows phone 8.1 developers preview version on 15.04.2014. Now the standby time of my phone has been reduced to 80%. So please fix it soon.

2.5-2.7% per hour on 2-month old 1520 with the following apps active: Cortona, Line, WhatsApp, Exchange Push-Mail and Outlook Mail (sync based on my usage), Glance, Double-Tap, Battery Performance, Amazing Weather, find my phone, location services, WiFi, and Bluetooth all activated, Only NFC off. Data connection 80/20 WiFi/3G. Cell data shows 3G but kicks into H+ when WiFi out of range. Pretty frickn' amazing really... awesome phablet

I don't know how about battery life on Lumia 720. But when charging it's quite harder than previous OS

My battery life is very poor. My Lumia 820's battery life was awful to start with, but now its useless. After 4 hours of unplugging my phone from the charger (it had fully charged) my battery was down to 34%. And that's only from mild usage. For about 10 or so minutes I was on Facebook messenger. That's all the usage it had in those 4 hours. Had to charge the phone twice yesterday as I played FIFA14 for about 5 minutes and it used 20% of my battery! However, some days are worse than others. I managed to go a whole day of usage with battery to spare on Wednesday. Strange.

I gained at least 70% additional standby time, and probably 25-40% uptime since the update on my Ativ S... It was already stellar, and now it's even more so!

after upgrading battery lasted 2-3 hours draining rapidly even when idle...after a HARD RESET the battery seems even better than before the upgrade. It lasts an entire day with average use. I guess a fresh install was needed for 8.1 to work properly.

As good as or better than before. Initially it was drain city but I did a restart and its been good times.

Definitely draining faster, not critically so but I wouldn't get through a 'busy' day on one charge now.

Battery on my 920 went from okay to bad. Worst while driving The in-car drain is now so bad that I can't drive for more than an hour with 50% battery, WHILE CHARGING. My Nokia CR-200 wireless car charger doesn't even come close to matching the drain caused by Here Drive + Spotify bluetooth.

Guys....moliplayer dosent work with wp 8.1 ...what to do ??

Do a factory reset. Battery is phenomenal afterwards

I've noticed that there's no way to to disconnect Xbox music and games the same way there was on WP8. Anyone know the answer? That feature might be draining the battery. Also, there are Cortana features that might not be used on an everyday basis that can be disabled to increase the battery life.

My 925 is working great after the upgrade, no dicernible battery difference .

The poll would be more useful if everybody could tell what phone they are using. My 920 battery is bad.

Mine has gone down significantly... but then again, I've been playing around with it rather a lot. I guess I won't know for sure until the novelty wears off.

Battery seems to be doing well. After 20-30 minutes, I noticed my 920 becoming warm. I then remembered to check the background apps... Once I disabled certain apps the phone seems to be doing well. I should also note that I have turned on location services, which I did not have enabled before... Even with that, battery life seems (but not validated) to be running longer..

The morning after installing the update my battery drained rapidly. Like 15-20% per hour while idle. I tried all the standard things like disabling all background tasks, disabling WiFi, etc. but it was still draining. Then I discovered that my AOL account, one of 8 account I sync, was having a hard time connecting and was trying to sync constantly. Deleted/re-setup the account and now battery is at least as good as before. I have reenabled everything I previously disabled. As already suggested, check your active background tasks in Battery Saver and disable those you don't need. Also check any non-Microsoft mail accounts. If they take more than a couple seconds to sync, delete and recreate them. When 8.1 migrates your settings, it may miss something in those mail setups. Just a theory.

I had went from recharging my L1520 about every day and a half, to keeping a charging cable with me at all times after I updated to WP 8.1. I reset my phone last night and let it download all my programs throughout the night and I have had EXCELENT battery conservation since. I have NOT adjusted any background processes at all.

Almost the same what it was before.

Disable IE in battery saver fixed my problem with battery drain. Htc 8x.

First 2 days after update were horrible but now its gud , back to normal...

Turn off run in the background and even when battery saver is on on the battery saver app that fixes it

I would have liked a vote for "a little worse". It's not exactly the same, but it's definately not "bad". I still make it through a full day with battery left, though perhaps a little less. HTC 8x - Verizon

I don't see any major battery drainage. I left my phone idle with WiFi on for 9 hours and the battery only dropped to 93%.

My battery life has not changed

Battery life on my 1020 decreased. I just disabled Cortana as it seems to depend on GPS to update with the various information she can provide. Does anyone know how to disable connecting with Xbox games and music the same way we were able to do in WP8? This feature may also be draining the battery.

Better than 8.0, i m so happy

It seems to be bettter if deactivate swipe keyboard.. I hope MS will fix it cause i want to use this feature!

high battery drain after updating to WP 8.1 is not an isolated problem its all over the fourums im pretty sure this is the problem with geofencing. geofencing is a new feature in windows phone 8.1 the phone keeps on checking your location continuously even though the app doesn't require it example IE , whats app etc pretty much any app. this is just like using nokia drive for 4 hours and your battery dies. constant use of gps reduces battery life and heats up the phone for no reason. when ever this feature is accessed the phone does this in the background( the location icon on the top bar is not displayed how i know this is because it says so in settings-location ) How do i know its the problem with geofencing heres a little experiment you guys can try out ( please don't mock this post if you haven't tried this out) turn off location and use your phone normally for a day and you'll notice the battery performance is like pre update. and phone doesnt heat too.

I'm using Lumia 820 I got WP 8.1 and I feel my battery drains faster than before WP 8.0

My 920 has gone downhill quite a bit. I used to be able to keep my phone on a wireless charger most of the day then after my commute home (roughly 45min-1hr) while playing either music or podcasts, my battery would be down a sliver. now it drains almost half-way. This morning alone I had a full charge waking up. no crazy extra usage and regular music playing on commute to work. down to 50%. Checked battery sense and what is this? biggest offender is the Phone "app". and I hadn't made a single phone call or text or anything using the phone the entire morning. and it was almost quite literally draining before my eyes. As I was going through the settings of the phone to check battery sense and such, it dropped 2-3%. just checking your settings SHOULD NOT DO THAT MUCH BATTERY DRAIN. anyways, sorry for the caps. really annoyed about this. EDIT/UPDATE: after posting this, rebooting it and then putting on my wireless charger, the battery is now DOWN to 40%. This is after being on a charger for 10 minutes. To clarify: It went down while on a charger. I have no clue what the hell is happening here. I'd hate to factory reset this thing after losing one 920 to eternal spinning gears.

Battery is draining so fast on L720 wp 8.1 :(

I have L720. Very bad,was awful...

@samsabri @danielrubino Everyone. Try this. This trick fixed my drain issue. Went from having very fast drain and only 10 hours or less expected battery life to have 16+ expected hours. Go to Setting>Sync My Settings>Disable All Toggles for Syncs>Do a complete full battery drain>do a complete for Battery Charge
Worked like a charm!!!!

After the initial craziness it still feels like it's draining faster. But of course I didn't have Cortana before.

@samsabri @danielrubino fixed the battery drain issue. Here is a tip. Go to Settings>Sync My Settings>Turn off all toggles for syncing>do a complete battery drain>do a complete battery charge (notices this charge took alot longer than other charges since the update). This fixed my issue...heard it has fixed other peoples issue as well. Haven't tried turning it back on yet though. I went from less than 10 hours of battery life expectancy to over 15 hours of battery life expectancy. So very pleased.

Bloggers... Serious stuff...my battery life has improved a lot...use cortona...2 hrs a day...uc browser 3 hrs...mix radio 1 hr camera...wats app 5 hrs..call..1 hr...its at 60% battery has improved

My L920 loses power incredibly fast since the update, even after I disabled as many background allowances as I could. Charging is painfully slow now, as well.

Battery drain completely fixed by a hard reset. Battery life is just as good, if not better now.

No battery problems!L520 user

I have a lumia 1020 but still on 8.0 and my battery lasts for about 30-33 hours. I hope it stays the same after the update.

At first my 1520 battery was gone in 5 hours, last charge I've had for around a day and still have 15%

GPS and performance are at high so it needs more juice

Turned off the sync for IE and more than doubled my battery life!

It behaved as before after the upgrade but after the hard reset it's behaving better than it ever has. Almost hard to believe how long it lasts.

Okay, 2nd reply. I have disabled my IE synchronizations and soft rebooted.... Battery life on my 925 has been great today!!! Been off the charger for 17hrs and I'm at 45%!!!

contrary to the poll, mine is actually better, my L720 usually lasts 2 and a half days of pure standby while it was running WP8 Lumia Black; now it can last 3 days on moderate use.

My battery fluctuates in terms of drainage. Sometimes it drains faster than it should and sometimes it lasts longer.

My Samsung ATIV Odyssey switches into battery saver around 3 or 4 pm every day, even when it's idle for most of the time. The battery life is awful.

After updating it to wp8.1, when i used my camera ( both nokia camera and stock camera app), i find just for 2 clicks my battery drains about 2-4% which is awful! -On Lumia 920, India

Phone is getting hot in very less time. For the first time phone is hunged, no response from any hardware or software key until battery is removed

Horrible battery life and heating problem please fix it!!!

It's my third day without recharging on my ativ s today ... still have 31% battery (not running battery saver)
My little history about the update is, that I did a Hard reset BEFORE upgrading from GDR3 (interop unlocked) because the update service didn't work and did not search for updates correctly. After hard reset everything went normal and the updates were done fast. Then I did a hard reset again to get my backup back in. After fixing the background apps (still got 5 or 6 apps running in the background) and letting the battery run empty and recharge to calibrate the battery meter I really am surprised about how long it lasts. I am on wifi all day but my mobile connection is very poor here so this might still need some power to always keep the connection.
Phone also checks 5 mail accounts every hour. On GDR3 the phone could only last 2 days without charging with the same usage, settings and apps. Maybe the hard reset did it for me ... I don't know but am happy about the results ;)

Actually, my battery life is better with 8.1, after tweaking background apps in Battery Saver. I don't use Cortana since I'm not in US. The device is Lumia 520.

The key to getting decent battery life, for me at least, seems to be to upgrade, then do a factory reset once 8.1 is on there. Tried the upgrade only first on my Lumia 920, overall system responsiveness had improved but battery life went way down. Did the full factory reset and it's been considerably better than 8.0 Amber so far, by a noticeable margin. Followed the sa,e procedure on my wife's 920 and her experience has been pretty much identical. Remember this is essentially the same kernel as the x86/x64 flavor of Windows - almost without exception, since the days of NT4 a clean install has always given me a faster OS than an upgrade. I'm not as au fait with what's under the hood with the ARM variety, but I guess the same basic rules apply here. People who are using Cortana and not expecting it to murder the battery are kidding themselves - we're talking about an advanced AI here, and in terms of processing power, this is like playing Crysis 3 on battery and expecting it to use as much juice as Microsoft Word.

Battery draining super quickly with 8.1! I hope you guys will fix it soon.. It's a disaster.

Well after waiting 2 weeks since 8.1 update, until yesterday my battery was still draining a lot on my 920, so i put glance background off, i mean no pictures, then i charge my phone and today i use it a lot with Google, web browsing and YouTube and my battery life is still at 89%, so i think it's normal because each time i receive a toast notification glance pictures appear and pictures got more light than the black glance... There is other peoples who have try this?? And did it work for you??

Ultra faster draining aftes update. My battery last about 11 hours before WP 8.1 now around 6 hrs. What a crap.

OK so i got a L925 for a week now, updated to 8.1 and the battery is lasting ages if i dont use the phone, like a whole night idle ate about 3% of battery (about 12 hours) only. The problem appears when i get to use the phone, IE drains it like crazy and overall normal usage kills it way faster than its suposed to,i have no idea why since everything that should be off is OFF,syncs 2 emails every 2 hours , dont use 3g,no location, no glance, no vibrations and still it eats it alive. Even with nothing except FB opened and me only browsing through aplications or just options and stuff kills it too fast, i mean like 1% every 3-4 minutes,really not acceptable for low cpu usage. Will try a factory reset and reinstal all apps, and i repeat, on idle the battery is superfine, only when i use the phone ( very moderate usage ) kills it too fast, and i gave away a SGS4 for this as its a great build phone and i love WP as it is, but it simply doesnt have any reason to drain a 2000mAh battery so fast compared to a beast quad core android device on a 2600 mAh.

Factory reset done, reinstalled all apps, except fb and fb messenger nothing is allowed to work in the background, all vibrations off, location off, 3g off, sync every 2 hours (1 email), glance off, double tap wakeup off, brightness medium,searching wifi off, connect to hotspots provided by network off. Result : idle - long lasting, all ok Usage : - wrote 2 messages to nokia care in settings ( where you recommend your lumia or not) - 19% battery - phone hot like hell - red a simple web article ,2 pages long about nokia, (the browser doesnt really matter, same battery sapp on each and every single one of them) - 12% battery - phone hot like hell - browsed a little in appstore -7% battery in about 15 minutes. Totaly unacceptable, phone`s cpu is heating too much for no reason, no load, no aplications running in bg,this is by far the worst phone ive ever had and heard of in terms of software/battery drain with very little and very simple usage on strong signal wifi only , i regred all the money i spent on it since i bet there will be no solution for this, whoever talks about WP being the best OS on battery economy is wrong. If i compare this phones SPEC / mAh to a FULL load cpu and gpu from a galaxy s4 on real racing 3, phone hot like hell,talking about android OS here, that one STILL drained slower than this lumia on a simple webpage reading. And sorry i didnt buy this phone to keep OFF absolutely every single option that uses a little battery when in use , and to be afraid to browse and read a longer article because just keeping that page on screen and slowly scrolling as i read just busted 1% / minute. Pathetic os, pathetic testing team at Nokia. Sorry, its all about the money i worked for and the smartphone this beautifull 925 should be.

Update , battery life is sort of ok now, i have no idea why, didnt change anything more than ive allready changed, still going a little warm while browsing so yes it drains a little faster than i was used to but its fine now. Thanks

After update of 8.1 battery life as same as before ..but then my touch has been broken .after replacement of it..my battery life is too muchly reduced .its not even lasting6hrs

That's really a big problem... Mine got the same problem at first but now everything seems to be much better. The secret? Simple! Reset your phone! Sounds annoying, yup, but look at the bright side.

It was horrible since it updates yesterday, and now it's even better than windows 8 (2% consumed during the night!) HTC 8x

625 here, disabling Cortana did the trick for me. She is a hungry girl isnt she. :D

The battery performance in the preview for developers is very bad.I feel sorry for upgrading it.we can actually see battery draining up like anything.
I hope windows will provide better battery life in the wp 8.1 general update.

Horrible. With Cortana on 4 to 5 hours. Off 5 to 6 hours max.... And is getting even hotter.

My batter is draining about 30% an hour after the 8.10.12397.895 update. I seen similar reports around the internet with the same update. Search for "Battery drains form 100% to empty within two hours after update to 8.10.12397.895 on Lumia 925" in wpcentral. I am trying solution #17 in the board. Some people says it works.

Any tips how to improve battery life on 1520? Latest WP 8.1 DP. Pretty normal usage in town mostly with cellular on, location always on, etc. I barely get a day of battery life till about 11 PM with about 20% left. But that depends on what I use. With the lowest usage, I may get 50% till 11 PM. So to sum it Up, I get about 24 hours of battery very rare. Could it be due to my cellular and location being always on? or that my apartment has bad cellular connection and phone tried to reconnect, thus draining batery faster that ususal? Or what else could it be? Anyone with Lumia 1520 and Wp8.1, please advise. I am a little sure that I've had much better battery life while on WP8 before. Any suggestions? thanks in advance/

My Lumia 925 sucks after the update. Battery last far less then before.

I installed the official 8.1 update and the Nokia Cyan update yesterday. The battery now takes far longer to charge and the charge does not last any where near as long as with the WInPhone 8 firmware. In the battery saving settings I've turned nearly everything off and that does not seem to have much effect on the battery life. This morning I went out of the house at 7:30am with a 100% charged battery. It is now 5pm and my battery is showing a paultry 34% charge left. All I have done today is check my Emails twice and looked at Facebook once. I haven't even 'phoned anyone. This is simply a dreadful state of affairs.


Here is my WinPhone 8.10 (Cyan) Lumia 925 experience. I attempted to reset Lumia to factory setting then restore like before (email account, social net, contact, picture ansd so on) and here is the successfull result BEFORE AFTER Charge time ~1h >3h Decharge time (->15%) 5-6h ~ 3days (1day = consum. 40% batt) % Decharge/h 6%/h(->12%) 1.3%/h Temp.in idle state hot (->very) cold So, I would warmly recommend to reset your 8.1 updated phone to factory setting to fix the battery life issue

Updated 2 Lumia 920's to 8.1, one of us started using Cortana, the other didn't have time to try it. The one the started using Cortana notice the battery only lasted 2 to 3 hours. The other had normal battery life. Turned Cortana off on the one with the short battery life. Battery stamina returned to normal. OBTW, Cortana never, and I mean never understood a command correctly or meaningfully. Cortana - BAD, 8.1 BAD, there are a multitude of other issues with it. We want 8.0 back - it worked fine.

Its slightly better. But expecting to have a great battery life in future for the one day.

Hi. I have a Lumia 1020 and i got home today to a prompt to install the Lumia 8.1. So happily I pop it onto charge and away it goes. After the installation, it is very hot, telling me it has no battery and shuts down, despite being on charge the whole time. It now won't charge and be on at the same time. When it switches itself on, it will last for a minute then shut down again. I have done 2 factory resets but no change. Still does the same thing. In the time it is on, I have been able to see what apps are running but after the reset there are none. Any help would be appreciated!

Sir my lumia 1520 heating & battery low very fast what can i do ?