HP Elite x3 could be used in the future as a portable medical lab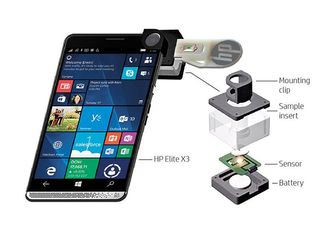 HP says the Elite x3 smartphone could be used in the future for a variety of jobs, including in the health industry. The company believes the Windows 10 Mobile smartphone could be adapted and used as a portable medical diagnostics lab.
HP described its vision for using the Elite x3 in this manner on its website (opens in new tab). It points out that the company already has some experience in the health care industry:
The HP Elite x3, combined with the company's microfluidics cartridges, could be turned into a mobile medical lab that could save doctors lots of time compared to current methods:
The HP Elite x3 launched in Europe this month and is scheduled to start shipping in the U.S. in early to mid-September:
Thanks to Ticky Thakkar for the tip!
See at Microsoft Store (opens in new tab)
Windows Central Newsletter
Get the best of Windows Central in in your inbox, every day!
That sounds advanced for a phone running "dead" OS

Android has 92837489234792830749234 applications !1!1!!!1!!!!11

yes and 10000000000000000000000 of them is flashlight ...

Half of the remainder are viruses

And all of them using alot of resouces

Yeah I had a tablet android with 1 giga of ram and I had suffered with numerous lag -.-

Android is to business fragmented. It's the total package HP will be able to offer.

http://www.techtimes.com/articles/18762/20141026/flashlight-apps-are-spy...

You forgot to add the /s flag

Apparently you didn't need it. I think the quotation marks are enough.

Even that didn't stop people from downvoting it lol

Dead? It's in the process of development and conversion from its own desktop computing into mobile form factor, Continuum is a small step to further achieve this. Do you think Android/Chrome and iOS/OS X can be made to take on higher tasks from a phone just because it owns the market? (may be it can be done but it takes time) Msft doesn't compete with rivals for the mobile market share anymore, it is into the future and who knows better about Productivity and true Operating Systems than msft.

A better desktop than Continuum is already built into Android 7. If the idea ever catches on, it will be through Android. Continuum is reliant on the app store to be useful. Android already has this down. Posted via the Windows Central App for Android

A better desktop than Continuum or a remote desktop app? There's a difference.

The hidden Android desktop can run multiple apps and they are free form. You aren't limited to a single full screen app.

It's not about multitasking alone, an OS should be the perfect powerhouse to carry and balance the developed features. Code isn't a strong suite for any other desktop OS to come down to the consumer experience other than Windows.

The only advantage Windows has is x86 support. Without that, Continuum isn't any different than Android, except it doesn't have software available.

There's a reason for sw not being available and ppl not interested in developing one.

Only Windows Mobile is capable of this why? It definitely could be developed for any platform and will be if useful. Posted via the Windows Central App for Android

Bleached, I like your comments lately. They are more sociable.
On your question, may be HP will try to create a distinct use case trying to sell their phone to some businesses.

Awesome stuff. This would be an awesome tool for home healthcare nurses. So many possibilities.

Third World countries. But with a cheaper phone

I don't see any future for Windows Mobile when everything is Android!

Lolz,, Posted via the Windows Central App for Android

I guess you dont see any future for automated cars as everything is human driven either right?

People said PCs don't have a future. Surface changed the Mindset and IFA Berlin (today) is a great Example to prove that.

Did they? Posted via the Windows Central App for Android

Yes, in face tablet sales are up, only if you include the Surface in the numbers... Posted via the Windows Central App for Android.. But waiting for the HP Elite so I can get rid of this junkie Galaxy S5...

PCs are here to stay no matter how powerful mobile handsets get.

No one can see future. We have our common sense.

That's a good one Posted via the Windows Central App for Android

I have a new found respect for HP - good job :)

That would be perfect for me as a lab tech, too bad I'm ditching Windows Phone...

Then don't do it and stick to it. Simples.

Bye, don't let the apple store door hit you on the way in.

I Just see mostly negative comments,why all the hate?

Anything good from W10 is seen as a bad idea by the Android fans

You're not from around here are you? The trolls had taken over.

I can imagine tons of patches to fix false positive cancer diagnosis

I'm glad that HP made the right decision in choosing to make Windows Mobile phone(s). It clearly expands the possibilities in development, and the partnership of HP - msft is working well for sure.

Why this "demo" does not utilize the pogo pins at the back of the phone?

Is it me or has HP become more innovative and efficient after the split up? Their laptops are getting a lot better too based on what I've read recently (albeit with some help from Microsoft with Elite X3?)

Wow, such an innovative device...

HP understand the Microsoft way.

Microsoft don't understand other phone manufacturers ways. Lumias are the only models which get all the decent upgrades and apps

Respect to HP. That's really great!

Next week plug your elite x3 into your duel disk and "get your game on" ! Starter deck not included

Haha yeah! I think there are more secrets for this device that we don't know yet :P

That's awesome creativity, well done hp

I salute HP development, they deserve it, keep building this X3

Wow elite x3 just keeps getting better & better

So it become modular like lg g5??

So it launched after all..

Already did. Unboxing and review already done.

This looks like the first prototype of the Medical Tricorder! (Star Trek for those unaware)

Hp already thing ahead, that's what's called ideology

So just like an iPhone then?

I think its future is probably as a door stop.

Tricorder, one step closer.

It seems that HP has planned everything this time. Elite X3 may be the phone that eventually turns the tide in favor of Windows smartphones.

And if you are one of those people who have the question as "Why HP did not go for Android", the answer is simple. Android has SECURITIY ISSUES. And in an enterprise segment, security is very important.

the pretty dope...
am I the only one who wonders why the haters in here are all posting from the Android version? oh you've left, SO STAY GONE :-P
Windows Central Newsletter
Thank you for signing up to Windows Central. You will receive a verification email shortly.
There was a problem. Please refresh the page and try again.