HP really will release a $199 Windows 8.1 laptop and a $99 tablet in November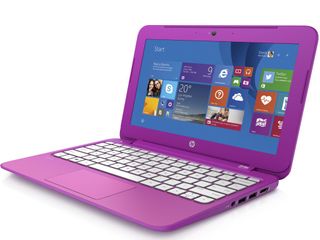 We had thought HP had given up on launching a $199 Windows 8.1 notebook when it announced that its 14-inch Stream laptop would cost $300 earlier this month. As it turns out, the PC maker really will offer a Windows 8.1 notebook for just $199 in November, along with a seven inch tablet that costs just $99.
The HP Stream 11 has an 11.6 inch display (not a touch screen; sorry) and HP is also going to sell a 13.3 inch model that will have a touch screen and cost $229. Both noteboks will have an Intel Celeron processor (no clock speeds revealed yet) and 32GB of eMMC flash memory for storage. Both will also come with one free year of Office 365 Personal, 1TB of OneDrive cloud space for a year and a $25 gift card that can be used to purchase Windows 8.1 apps. The 13.3 inch Stream notebook will also have the option of begin able to receive 200MB of free 4G data each month. Finally, both notebooks will come in either Orchid Magenta and Horizon Blue colors.
The $99 seven inch HP Stream 7 tablet will be joined by an eight inch $149 HP Stream 8 tablet. Aside from the fact that both use Windows 8.1 and both have some kind of Intel processor inside, there's no info yet on the tablets' hardware specs. Both of them will give users one free year of Office 365 Personal, 1TB of OneDrive cloud space for a year and 60 free minutes of Skype calls per month. The HP Stream 8 will also offer 200MB of free 4G data each month.
All four of these devices will be out sometime in November. What do you think of these rock bottom prices for Windows 8.1 notesbooks and tablets?
Source: HP on Marketwired, Microsoft
Get the Windows Central Newsletter
All the latest news, reviews, and guides for Windows and Xbox diehards.
I hope the specs aren't disappointing....

I believe the specs will be pretty low but so is the price. I could use a cheap Windows tablet. Not really sure about the laptops. But all and all I don't see any major problems with these devices.

How can you have a tablet with no touch??

Only the 11" laptop lacks touch.

Where does it say the tablet will have no touch screen? That doesn't even make sense.

Exactly! Doesn't make any sense at all!!

Where does it say the tablet doesn't have a touch screen? Posted via the Windows Phone Central App for Android

It doesn't make sense...purely because you read the article incorrectly!!
Try again

Did you read what you wrote, that's the dumbest comment I read all yeah!

See they are already....it is an HP..such crap..

There was nothing intelligent about your comment.

Well, the comment wasn't well thought out, but the idea stands. HP is notorious for spamming their PCs with useless OEM software and making plastic-y low quality casing and hardware. I've actually had to fix someone's PC one time because the OEM software was crashing it everyone they booted IE :P Of course, this could change soon, and if you can get a Windows tablet for cheaper than a Nexus 7..... I'm in! I just hope it isn't too disappointing :/

I agree. The low price makes me definitely think they'll be loaded with crapware.

Besides, are we seriously arguing about what sometime accidentally thought WPCentral said? Ah, internet forums.....

I really love the Dell Venue Pro 8. I'd like to see how these compare...

Is this going to be powered by intel core M?

It says Celeron in the article, so it will be an atom. And anyways, a core M CPU list price is around $280 iirc. Even in bulk, it would cost at least $200 I'd imagine for the CPU alone.

M? Surely you Jest Sir....i have my eyes on the HP Omni though

you'd have to go up a couple hundred dollars for the possibility

Is Office even free anymore

Read again: Office 365 personal for a year.

Office has only been free for RT devices. These aren't RT and, per the article, come with one year of Office 365.

enough to check your email when not near wifi hotspots

More than likely, these are headed to T-Mobile, which has made a big deal about handing out 200MB of free 4G/month across multiple existing devices - three of which (a tablet, a notebook, and a chromebook) are all from HP. So basically, two of the newly announced HP devices (the 13" touchscreen laptop, and the 8" tablet), are headed to T-Mobile.

Even though it's comparitively small, it's nice to get anything like that for free.

Then spend another $30 and get the better 13" device. Yeah it sucks, but it is price and spec competitive with chromebooks, which was the point of it all.

You missed the point. Not having touch screen in 2014 with Win 8 defeats MS vision of touch screen. Especially when they can price point touch screens for Win 8 at $200

Well Windows 9 is supposed to be more mouse and keyboard friendly so yeah.

yeah because MS has no vision. this is why they'll sadly remain in 3rd place for WP and losing value in Windows. They need to get their shit together.

We're all for innovation here but Windows is a universal tool used by millions, Windows 8 was too big of a jump from 7 and MS is paying the price. Windows 9 does not say MS has no vision it says the new management is LISTENING to the users. And now we here reading these tech blogs are not their entire user base. ill back up windows 8 and the modern UI any day. But Windows 9 is the correct thing for Microsoft to do and their next best seller. Its history really... (Windows 2000-bad, Windows XP-great adoption, Windows Vista-bad, Windows 7-great adoption, Windows 8-bad, Windows 9- guess?) lol never fails sucks to have that history but it is what it is

I really like people saying ms has no vision.. Seriously?? They are running a billion dollar company.. Your vision is too small to fit in their large vision..

That all-touch vision didn't pan out. Yes it made sense logically speaking, but in terms of reality, the market is heading a whole other direction. The vision now is to see through Universal Apps, i.e. a common app platform that runs across the three (or four, if Xbox One is included) screens.

If the specs on the 7 inch are good, I'm all over that. And by good, I mean similar to the Toshiba but with a better screen. For 99 bucks, though, I can't ask for much....just a better screen than the Toshiba.

True, and thinner dimension.

Who's going to complain about no RT...

Cheap tablets should have RT.

As long as win 8 is free don't matter

Actually it does. Windows RT would perform better than Windows 8 on low spec tablets. Also dealing with viruses and anti-virus programs would be an absolute pain on a 7-8inch tablet.

and how OEM are adapting RT for cheaper low spec tablets? You missed the point.

a few years ago i would ask whats the point of selling crap, but nowdays even the lowest end cpu can run a modern OS smoothly, if they have sd card slots chromebooks are going to get a very hard season competing with this

Looking forward to the Stream 7

Ugliest damn laptop I've ever seen. Is that the Hello Kitty edition?

Pink is the best color ever. All my electronics are pink. I'll wait for this instead of buying the $99 tablet Amazon is releasing in October. And that one also comes in pink.

Well, you are a Google boi

Adjust your glasses. It's goggle, not google.

Keep them coming. Need one for my daughter

LOL. These specs about to be so horrible. Smh.

The tablet looks like the HP Touchpad. So nice. Hope it doesn't disappoint performance wise

Spec will probably suck and then people will complain that Windows is slow...

Would prefer AMD for graphics

Seconded. I do like the sound of the tablet, though, and if it's not too low-end I might wanna try getting one since I've been in the running for a new Windows tablet lately.

This tablet has the potential to fit the needs of a wide demo, with adults and kids who just need something to get distracted by for a few minutes.

Anyone know if it will come to the UK? I'm talking about the notebook.

All I think is "Celeron?" The tablet is interesting but the laptop... I don't know...

So that Stream 8 will have an LTE modem built in for only $149?? Sounds like this should work with T-mobile then since they're giving away 200 MB a month.

This is what piqued my interest too. How the heck can they hit that price point with a WWAN radio in it, too?

Its because OEMs and MS are over charging customers for that "feature".

I might pick up a cheap tablet, my surface rt is getting old. 8" might be a great replacement

It's hard to say something about a tablet when you don't know the specs. Anyway, for $99, we don't have to wait for something big, just the enough to check emails, surf on the internet, listen to the music and watch some videos.

At this price, this is something I could get excited about. I barely need a laptop anymore, but when I do, it's great to have one. Big deal if it's low spec, if I only use it every once-in-a-while I don't feel bad for only dropping a couple hundred bucks on it. I currently have a Chromebook to meet this need, but it's so limiting I can hardly stand it. The value proposition for a full OS is much more compelling at that price point. I hope they kill the Chromebook.

Recently at Microsoft Teched, in Auckland, New Zealand, someone from Microsoft was how there will be a lot of cheap devices coming out and in different form factors. This is just the start. And no, these will not be crappy devices or running RT. They will be taking advantage of the latest processors from Intel. I don't remember the details but it's here in this video: http://channel9.msdn.com/Events/TechEd/NewZealand/2014/WIN106

Ultimately these devices will cut so many corners the end user experience will be so poor the savings wont be worth the negative impression it will leave about Windows devices. Better to charge a bit more for quality rather than joining the race to the bargain bin. Throwing together any old crap just to meet a price to compete with android will only result in more negative press for Microsoft, as seen with the Toshiba 7" tablet and its mediocre screen. Guess when you're desperate you'll try anything but I don't see these low cost Windows devices doing Microsoft any favors in the long run.

Well MS isn't really selling tons of their premium Surface line, so... I guess that leaves the mid range, then?

I actually think choosing Intel for this price point is a terrible idea. People will assume they have full pcs that can run a lot more than they can.

This is hardly going to replace my main computer or my Surface Pro but they're great choices for taking to the beach or some other place where I don't want to risk a good computer. And with Office and my data up on OneDrive I can tweak whatever I need when I get those "I know you're on vacation but can you take a look at..." requests.

Actually, I've had the Toshiba Encore for about a week and it's a pretty nice tablet for the money. Given that it's a low end device (3735 @ 1.33 Ghz, 1 GB RAM, 16 GB storage, nice 7" 1280x800 IPS screen, micro SD expansion (I picked up an ADATA 64 GB for $25 and it's worked flawlessly).

Buy my mommy a birthday present in November ... ☑ CHECK! Still enough money left for a 2nd 8" tablet for me me me... ☑ CHECK! Still waiting for the final specs ... priceless!

I would get it, but Celeron kills it. I'm sure this'll be a great entry level laptop though.

Celeron ain't really shabby now though.

At this price, its time to finally start working towards a smart home. A touchscreen in every room to handle lighting, music, etc. Hell, you could do some kind of video chat between rooms as an intercom system.

I totally agree with theefman on this one. It's like the netbook renaissance all over again...

John, can we get an 8 in tablet review when this comes out? Wanna give the misses the iPad mini and grab a great Windows tablet.

Will it come out in the UK?

More interested in battery life. And how it stacks against Chromebooks.

I just bought the Toshiba Encore Mini which is performing well and alone with the Office 365 I think is a good deal, however the screen disappoint significantly. Thinking about return it back or use it just like an e reader and play some games. Undecided.

I realize windows products are going cheaper than Android, why? Because Android OEM has to pay to Microsoft patent fees and now Windows is free for tablets under 9". I hope this can increase windows market share and attract some new developers who create new apps.

Damn ! I just needed a cheap laptop and bought an ASUS X200m yesterday ! :(

Without specs its hard to tell what to think of these tabs/notebooks. I'm looking to replace my kids notebooks for Christmas and the colors are defiantly kid friendly. Also I think it's safe to assume that the 13" will have some kind of T-Mobile incentive since their touting the free mobile plan they offer

Since you asked John, I think its great. I suspect HP has been geting some insider info from Microsoft and they know something huge is coming. They don't want to miss out.

It must be so frustrating for HP. Launching devices with an OS they can't kill, like they did with webOS.

I'm being for unimpressive screens and low memory given HP's history with budget devices.

I'm still using my HP touchpad w cyanogenmod android. Is a great device and hoping to grab this 7 incher if its running full windows, not RT....

You know it's a John Callaham article when he asks you what you think at the end of the article.

Tablet looks interesting. Not sure about the laptop because the colors are too girly.

There's also a blue variant

Android has a battle on their hands...

If it was running RT I probably would've gotten it

So basically they all have built-in 4G connectivity? Awesome!

At this price... The only thing that would hold me back is pen input. Otherwise this would replace the Kindle and 11" tablet I have now - and become my ereader/note taker in meetings.

This means no more android tablets for my kids!!!

Will we see these devices in India?

These will kill the chromebook

Mentally bought in advance. This will be the final death of Android (overclocked Cyanogenmod on Touchpad) in our house.

Now this notepad can be a real bridge between tablets and PCs. Specs may seem quite low as compared to PC specs, but I am sure the performance would be better than some of the tabs. Moreover, you can actually this like a tablet and really work on it to edit spreadsheets or presentations. I already like it at this price point. I am sure this start a new series of low cost windows PCs

Finally, some competition for all the cheapo Droid hardware. Way to go!

Gonna take the cheap laptop

Nice!! I like the HP Stream 7, 1TB but for only one year. But the 60 minutes free call every month is a killer!

If specs are not so bad, I'm getting a few for the holidays. :)

Anybody using these low end windows devices how is the experience.

Is it gonna have RT? Hope not

What happened to the free MS Office for all the small windows 8 tablets? Now all they advertise is a free year of 365... thant sucks. I got my asus vivotab smart with full office and was looking to get another device, but these new ones dont give full office free!

So my 9 yr old daughter can get her OWN laptop? And it can be Pink? This might be her greatest day EVER!!!!!!!

Finally something worthwhile from HP...

I don't mind shelling out $800 for a 7" Windows PRO 64 bit 4 gig RAM, 126 gig SSD with LTE!! It is still MUCH cheaper than any of those pseudo smart phones! Plus it is a FULL computer! and I can use Skype as my phone and get rid of my pseudo smart phone!