HP Reverb G2 brings four-camera tracking to its next-gen Windows Mixed Reality headset
Valve, Microsoft, and HP have teamed up to make the best Windows Mixed Reality headset ever. Here's why it's so great.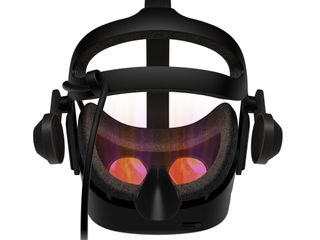 (Image credit: HP)
What you need to know
HP Reverb G2 comes out later this year for $599

(opens in new tab)

.
Valve designed vital components, including the new lenses.
The Reverb G2 is made for gaming, enterprise, and pro users.
With new controllers, Reverb G2 is the most advanced HMD for WMR.
HP recently teased a new Windows Mixed Reality head-mounted display (HMD) made in conjunction with Microsoft and Valve. Today, the company is revealing the device, dubbed HP Reverb G2, in all its glory, bringing a new level of virtual reality (VR) immersion not seen before.
Although not expected until the Fall, HP is now taking pre-orders to meet user demand (HP Reverb G1 was challenging to buy).
Here's what's different from Reverb G1 and why it is so impressive.
HP Reverb G2 specs and features
The Reverb G2 builds off the original Reverb's excellent design, which we reviewed last year, but improves upon many functions. The hallmarks are the same with 2K by 2K resolution per eye at 90Hz refresh rate with a full six-degrees-of-freedom (FOV) movement. Those features make Reverb the highest performing Windows Mixed Reality headset on the market.
For this year, HP, Valve, and Microsoft brought the following changes to Reverb G2:
Valve-designed lenses: Valve is bringing its expertise in VR lens making to the Reverb G2, delivering reduced mural, 2160 x 2160 LCD panels per eye at 90Hz. Text and textures are supposed to be more precise with a 114-degree field of view (FOV).
Manual IPD adjust: Users can now use a wheel to adjust the interpupillary distance (IPD).
Four-camera tracking: two new cameras on the side aide in motion detection and the two front-facing ones. This change gives 1.4x more movement capture over Reverb G1.
New controllers: New optimized button layout that more closely resembles a gaming controller. The design is more ergonomic, and is it supposed to be more natural.
New headphones: Reverb G2 has built-in headphones like the previous model, but these are newly designed and sit 10mm off the ear for more comfort, making them "more spatial audio ready." HP claims they use its new spatial audio format "anchored in artificial intelligence, new signal processing, and psychoacoustics." The headphones are still removable, too, in case you want to use your own. Microphones are still built-in and unchanged.
Like the previous version, comfort was a major consideration when designing the Reverb G2. HP worked closely with Valve to ensure there were no paint points. There is now an increased facemask cushion for better weight distribution, and the face gasket can be replaced as well. The headset can also flip 90-degrees when switching between virtual worlds and the real one. Reverb G2 weighs 1.21 pounds (0.55kg) up just slightly from 1.10 pounds (0.5kg) of the original.
There are other smaller changes too. The connector cable is now a single barrel instead of a doubled-one to give more flexibility. That cable also now terminates in the back of the HMD instead of a mid-way (making it harder to accidentally disconnect).
HP is still using USB Type-A and DisplayPort 1.3 for the connectors (versus the Type-A and HDMI of older gen HMDs). HP includes a miniDP adapter in the box. For those who cannot use the Type-A port for power delivery, HP now includes a power adapter for the Reverb G2. It lets users plug it into the wall for added power to allow the headset to reach its maximum resolution.
Gone this year is also the fabric front of the Reverb G1. While that design gave a more personal touch, with the current pandemic and concern over germs, HP preferred a design that could be easily wiped down without concerns over hard-to-clean material.
Users will still need some powerful hardware like an NVIDIA GTX 1080 (or higher) to drive that 2K by 2K resolution at 90Hz refresh rate. If less powerful equipment is used, the system can step down in performance, including resolution and refresh rate.
HP Reverb G2 who is it for?
The last-gen Reverb had two markets with a regular option for consumers and a "Pro" model for enterprise who were using the HMD for training, remote work, and even in hospitals for therapy. There is no pro model this year as companies and consumers can buy the Reverb G2 for gaming or development. As we wrote last year:
But consumer VR gaming is also a significant market for Reverb G2, hence Valve's involvement. Valve is no stranger to VR, making some of the most popular HMDs on the market, including Cosmos and Index. Jeremy Selan, an engineer at Valve, noted that they are "happy to see the expansion of the VR ecosystem in a way that is great for high-fidelity gaming. Providing customers with another quality option that includes some of Valve's technology is good news for the VR community, and we are happy to support that."
Although Windows Mixed Reality has not exploded for consumers, Microsoft, HP, and Valve still see a lot of interest from gamers and niche enterprise usage. Microsoft could also make some more announcements around WMR later this year for new features and improvements.
Pricing for the HP Reverb G2 is set at $599 (opens in new tab), which matches the pricing of Reverb G1. The system includes the HMD, two controllers, a six-meter cable, a DisplayPort to a mini-DisplayPort adapter, and an optional power adapter.
US pre-orders will be available on May 28, 2020, via HP.com, SteamVR homepage, and select channel partners. Pre-orders for select countries will be available over the next few weeks and months.
Premium virtual reality
Super comfortable, super HD

HP's Reverb G2 is now made with the help of Valve and Microsoft. The premium VR headset brings 2K by 2K resolution, 90Hz refresh, new Valve-designed lenses, improved spatial audio, and a massive focus on comfort. It is the ultimate VR headset for Windows Mixed Reality, gaming, or professional use. It's due this Fall, but pre-orders are now live.
Daniel Rubino is the Editor-in-chief of Windows Central, head reviewer, podcast co-host, and analyst. He has been here covering Microsoft since 2007 when this site was called WMExperts (and later Windows Phone Central). His interests include Windows, Microsoft Surface, laptops, next-gen computing, and for some reason, watches. Before all this tech stuff, he worked on a Ph.D. in linguistics and ran the projectors at movie theaters, which has done absolutely nothing for his career.
So I'm in the eight week + queue for an Index. Should I bail on that and go for this instead? Someone with more knowledge than me, how do the two stack up on paper?

Short story: The Reverb G2 has a higher resolution per eye (2160x2160) compared to the Index (1440x1600), both are using LCD technology. It has a 90Hz refresh rate, while the Index has up to a 144Hz refresh rate. Depending on your PC's hardware, that might not matter as much (144Hz is harder to attain for mid-range hardware). Basically the Reverb G2 is going to look quite crisp, but you'll need a high-end PC to take full advantage. One big difference is inside-out vs. external tracking. The Reverb G2 has four built-in cameras that will no doubt do a decent job of tracking, but might not stack up to the precision offered by the Index. And there's also the matter of the motion controllers. The Knuckles controllers that come with the Index are about the best you're going to find. The Reverb's controllers have been redesigned (first-gen WMR controllers were quite poor) but it's still hard to imagine they will compare. If I were in your shoes I would go with the Index, especially if it's primarily going to be used for gaming rather than development. It's already proven as an outstanding VR system. It is more expensive, but it sounds like the money is already earmarked. I'll have a deeper comparison dive put together in the next week or so.

Thanks! Exactly what I was looking for.

To each their own but I'll never have VR the requires the hassle and mess of setting up external trackers. The tracking on first gen WMR was already quite good and now with this having 4 cameras it confirms there will WMR 2.0 soon. As good as WMR already was for the vast majority of titles, WMR 2.0 with 4 camera tracking pretty much eliminates the need for extremal trackers. And good riddance because VR is dead in the water until the industry moves away from them. Once inside-out proliferates more the few titles that have a problem with inside-out tracking can easily be fixed by the devs. Any game can be designed to work just as well with good inside-out tracking.

+1 for me too it's a deal breaker
But IMO the 2 additionals camera won't fix everything, the few cases where traking lacks precision on my WMR is when arms are completely up (even a little bit backward, and the new cameras don't point in that direction (and have the strap in the way).
IMO they need 5 cameras to fix that
- 2 front ones, with tracking and pass through
- 2 side ones, but pointing a little bit down (so it'd cover low backward movements)
- 1 up ones, to cover movements too high to be tracked by the side ones

I am with you on that, I have the original HP VR set with 60+ hours on Half Life and the Experience has been outstanding. Everyone will have their own needs and wants but I have really enjoyed my WMR headset and the ease of setup. I had the unit for two and a half years mostly using it for arcade type games. I never sunk in more than a few hours on any game until Half Life Alyx came out. I am not about to place any external tracker in my room as well. Also, $1000 is quite steep and the resolution jump on that new Reverb unit comparing to the index seems substantial. I will be preordering the new HP unit and looking forward to that crisp resolution jump from 1440 x 1440 per eye I currently have with my VR Unit. Its great to see the partnerships in moving VR forward. As long as people keep buying VR headsets and having more content, that's the main focus. HP should release the game and include Half Life Alyx as the pack-in game.

It's great to see a partnership like this!
Also, with a name like "Valve" alongside it, I imagine it is more likely to appeal to gamers that would otherwise have settled on a head-mounted display from Valve themselves. I hope this means Microsoft is finally ready to start selling WMR devices in more regions this year :)

With the 4 cameras pretty much confirming WMR 2.0 on the horizon, now I'm curious about what else WMR 2.0 will bring besides 4 camera tracking. I gave up believing there was ever going to be a WMR 2.0, though the rumours of this device were rekindling it. I just noticed, the YouTube channel MRTV is streaming about this device now.

What laptops would be able to take advantage of this headset? I like being mobile so I can let friends and family try out VR which I've done with previous gen WMR headsets.

Basically, any gaming laptop. You'll want a RTX 2060 or greater to really leverage it. I'm not sure how Surface Book 3 would handle it, but it would be max potential (plus the port situation is...tricky). Razer Blade 15 comes to mind on the high-end. ASUS ROG Zeph G14 for affordable but powerful.

I have an HP Omen 15t that I bought for a stupid low deal. It's a 2070 max Q. that should be fine right?

I'm super excited for this. I've used Mobile VR, Occulus, And Vive, and WMR, and I've always liked WMR more. This means that WMR is still a direction for MS, this headset is fantastic, it checks all the boxes, specially the IPD adjustment and being able to use my own headphones. Day one buy for me
Windows Central Newsletter
Thank you for signing up to Windows Central. You will receive a verification email shortly.
There was a problem. Please refresh the page and try again.