Valve, HP, and Microsoft collaborating on 'no compromises' next-gen VR HMD
The HP Reverb G2 is a surprise announcement with very little info right now.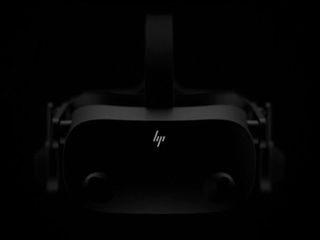 (Image credit: HP)
What you need to know
HP, Microsoft, and Valve are working on a next-generation VR headset for SteamVR and Windows Mixed Reality.
This new headset is known as the HP Reverb G2 and is said to be a new standard in VR.
Little information is available, but the short press release teases significant improvements in comfort and immersion.
Seemingly out of left field, HP, Microsoft, and Valve announced a joint partnership to develop the next generation of VR headsets for PCs everywhere. The short press release sent out includes a 15-second teaser video that showcases the front of a headset that looks like a modified HP Reverb.
Based on the announcement and the design teased, it looks like this new next-generation VR headset is going to be called the HP Reverb G2. The press release notes that folks can head to HP.com/Reverb (opens in new tab) to sign up for notifications when more information is available.
Little information has been given alongside the announcement other than platitudes, but the platform of "no compromise" has been declared and it sounds like HP, Valve, and Microsoft are going all-in on a product that should support Windows Mixed Reality and SteamVR, just as the current-generation HP Reverb headsets do. It also appears that the HP Reverb G2 has at least two cameras on its front, but it's not clear if there are additional cameras to support inside-out tracking. The announcement proclaims that the new Reverb is set to deliver a better experience than ever, but doesn't provide any real specifics.
We can surmise a few things from the teaser, but many of them are guesses until more solid information is available. Valve's off-ear headphone design looks like it may have made its way to the HP Reverb G2, as the teaser image shows headphones that appear to hover just off to the side of the headset in the same way that the Valve Index's headphones do. There's no word on pricing or availability of the HP Reverb G2 just yet.
Today has a day of many surprises, for sure. The release of Half-Life: Alyx brought about an era that many gamers have been looking forward to for years. We haven't seen a Half-Life video game release in well over a decade, and Valve's move to make Alyx a VR-only title was as surprising to as many people as the existence of a new Half-Life game itself. This new tease for the next-generation of VR headsets is certainly another surprise, and it means there seem to be plenty of exciting new releases on the horizon.
Half-Life is back!
The story we never knew

Half-Life: Alyx is a bold comeback for Valve's previously-stagnant AAA franchise, described by Valve itself as its "flagship VR game."
Get Some Funds
Stock up your library.

This large sum of cash is the perfect way to allow yourself to indulge and grab some games from Steam— or help someone else to.
Nick started with DOS and NES and uses those fond memories of floppy disks and cartridges to fuel his opinions on modern tech. Whether it's VR, smart home gadgets, or something else that beeps and boops, he's been writing about it since 2011. Reach him on Twitter or Instagram @Gwanatu
Hopefully "completely wireless" is part of that no compromise.

And not just wireless alone, but preferably fully self contained processing as well, similar to the Oculus Quest, but even better if they can. That is the real ultimate VR we are waiting for, none of this 'tethered to a PC' (wired or wirelessly) thing.

I can't see how you reconcile "no compromises" and "not tethered" when you talk about performance and resolution in a VR HMD. You can have one right now, definitely not the other.

But wouldn't the point of "No Compromises" really be great performance and no tethers (at least lasting wireless) ? That seems like the very definition and what we are missing from VR.

By your definition, but 99% sure here they're focusing on the quality of the VR experience e.g. refresh rate, resolution, amount of cameras, field of view, etc. You can't be the best at those and be wireless. If you go tether-free, by definition you're absolutely going to get lower-resolution, etc. Case in point: Oculus Quest it has a resolution of 1440 x 1440 per eye (2880x1600 total); while "neat" the HP Reverb already has 2160 x 2160 per eye for a combined resolution of 4320 x 2160. Quest is 72Hz refresh and Reverb is 90Hz. That's a big deal. You're clearly sacrificing specs for wire-free and I don't think that's what HP/Microsoft/SteamVR here mean by "no compromise". But maybe they do. Hey, I'm for a wireless system! But it's very likely a step down in resolution/refresh/FOV, etc. Mind you, HP Reverb has a recommended GPU of no less than an NVIDIA GeForce GTX 1080. Good luck getting a mobile version of that. Maybe they squeezed in an 8cx, fast storage, 90Hz display, and a very high resolution display. That's great, but that'll have to cost at least $800, imo, or $150 more than Quest. Maybe that'll happen, but in a market where VR is already 'meh' for consumer adoption that's one helluv a risk (not that I mind giving it a go).

Hey Daniel I agree, but what if it was wireless like Quest, but had better resolution in general (maybe a newer mobile processor) and then could be wired when needed like Quest? It would also be good to see WMR get more cameras for tracking

I mean, maybe, but I've seen little to suggest that will be the case. The requirements and specs for HP Reverb crush Oculus Quest. You need a GTX 1080 for the Reverb, and I'm not sure how something likes Quest's Snapdragon 835 can even come close to that. But hey, I'd love to see something like that happen, but it'd very much be a "Reverb lite" unless there's some massive breakthrough in mobile technology. Maybe it has a Snapdragon 8cx, OLED, and 2160 x 2160 resolution with 90Hz refresh...and if it does, plus onbord storage, it's going to be very expensive.

We'll get there someday. It may even be within the next 5 years (maybe!). But if you really watch the VR space, you'll notice that the Oculus Quest seems to be the device that's really captured the hearts of many VR enthusiasts, despite it's shortcomings compared to tethered solutions. I think the fully self-contained VR/AR is the ultimate form - Oculus Quest, HoloLens etc. It just feels more complete.

Nah, wireless is not there yet. And it implies a lot of compromises. There's better things to improve that enhance the experience.

Battery technology is not there yet, especially for a super high end HMD, it would only last 2 hours at best, it will still need to be tethered, to be used at its best, they may have a wireless battery pack that clips into the HMD like the VIve has, with that said i hope i am wrong ,however i feel we are years away from a super high end HMD that is tetherless and portable.

Glad they're working together!

Very intriguing if it is going to use more than 2 cameras.

I'd be excited about two things: more tracking cameras and new controllers, with finger tracking. I'd go buy this.

I bet this is not going to run Oculus. Just want to remind people how business work, and it has nothing to do with emotions. Although I was surprised as well that Surface Duo was featuring Android, I remember when people after the Windows 10 Mobile fiasco were all about hp never-ever "trusting" Microsoft on a volatile platform.

It definitely won't be running Oculus, nor would we want it to. It will be WMR and Steam. The question is, is there going to a WMR 2.0 supporting more tracking cameras.

Does anyone read Windows Mixed Reality for StreamVR release notes?
I find the following for 1.1.145 (March 11, 2020) pretty interesting:
• Adds support for exposing skeletal input data. Source: https://steamcommunity.com/gid/103582791460339125/announcements/detail/1...

so totally wireless and not a helmet, just the size of goggles
Windows Central Newsletter
Thank you for signing up to Windows Central. You will receive a verification email shortly.
There was a problem. Please refresh the page and try again.