Valve Index VR headset: Everything we know so far
The Valve Index has a lot of things going for it. The price isn't one.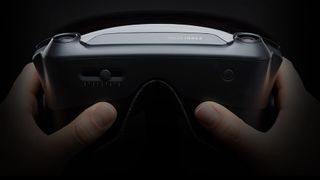 Valve has started to give us an idea of what its Virtual Reality (VR) headset is going to look like. Called Valve Index, it looks like a high-end headset to compete with other Steam VR headsets like the HTC Vive, and the Oculus Rift.
We have a lot of information now so let's dig in.
Valves blueprint
CHA CHING

The Valve Index has some excellent specs and really interesting design choices. The big question is will it be enough to stand out with a $1000 price tag?
What's new with the Valve Index?
Updated April 30, 2019: Preorders on May 1
Today Valve announced the preorder for the Index. The release date is May 21, around the time we suspected, while the preorder will go live May 1. The entire kit is $1,000 — that includes the headset, controllers, and two base stations — which is a significant investment for the average person and feels very steep when other headset manufacturers are looking to make less expensive headsets.
Updated April 1, 2019: Steam Listing goes live briefly
April Fools day is never a good day to be a tech writer, you don't know what is real. First seen by the Twitter user Wario64 and now confirmed by the folks over at Engadget, this listing for the Valve Index seems legitimate though it has been pulled from the Steam store now.
The listing includes the minimum and recommended specs, a different release date — now June 15, not May — and a brief overview of what you may need. We have updated the full article below with all the relevant details.
What is the Valve Index?
The Valve Index is Valves first foray into the VR headset space and is set to compete against other high-end VR headsets on the Steam VR platform.
It looks to be the exact headset that Road to VR leaked several months ago with very little in the way of physical changes.
What will it work with?
As Valve, and Steam are primarily PC platforms, the likely hood is that the Index will be for PC only. We know that it will be compatible with the current base stations and controllers, as well as with Valves new Knuckle controllers.
What is the Index Hardware like?
The new landing page for the Index has given us a lot of hardware information, so I'm here to break down a little for you.
Cameras
Although the index has cameras, they are not designed for Inside-out tracking. Valve has said they will be available for developers to create new experiences in applications. The easiest of these applications a simple video pass through.
Pass-through would allow you to see what was happening in the outside world without removing the headset. Navigating the real world can be a pain with a VR headset on and this is one of the ways to mitigate that.
Adjustable lenses
The Index has custom made lenses specifically designed to increase your field of view while maintaining the focus on the edge, helping you look around with your eyes, not just your whole head. They have also canted the lenses by five degrees. Apparently, this helps with balancing field of view which is fascinating. I'm excited to see the difference.
Headphones
It looks like Valve is trying something a little different, and lot interesting, with its built-in headphones on the Index. Using the Term "Off-Ear Immersion", they say it gives you a far more realistic sound than having them touching.
Firstly they are going to much more comfortable. Having headphones on for long periods of time while you are physically doing things makes you sweaty and uncomfortable in fairly short order. With these new headphones though you will be able to keep cool.
The headphones have, according to Valve, been designed so "...the sound interacts with the geometry of the outer ear and the head." This is not really something I've ever heard and I will be interested to see how much outside noise breaks through the headphones. Maybe having headphones touching your ear breaks immersion as Valve says, but I know my baby shouting at the dog certainly will.
Head strap
As you would expect on a high-end headset, the strap is extremely well made, with an anti-microbial cloth. It has an over-the-head strap as well, which is important when playing for long periods of time. A halo strap can sometimes feel unbalanced but this looks extremely well made.
One neat innovation is a removable face casket. This will allow you to clean it much easier of course, but Valve will also be releasing the spec to let third-party manufacturers create their own face caskets. This could open up a lot of variety, and at the very least, enable you to swap them out when someone else uses your headset.
What about controllers?
It is likely that Valve will use the Knuckle controllers it has been working on for a while now. They are supposed to the next generation of controllers for VR and Valve will want the Index to have the best accessories possible.
We already know quite a bit about the knuckle controllers from our own Essa Kidwell exhaustive research on the subject. If you want to know more check out the article below.
More: Everything we know about the Valve Knuckle controllers
What kind of PC will I need?
The specs for running the Index seem in keeping with most VR headsets, though the minimum specs are closer to the Windows Mixed Reality than the Vive's spec sheet. This may mean it will work differently depending on your set up and how well your system can run the hardware.
Swipe to scroll horizontally
Minimum
Recommended
Operating System
Windows 10
Windows 10
Processor
Dual core with Hyperthreading
Quad core +
Memory
8GB
8GB
Graphics
NVIDIA 970, AMD RX480
NVIDIA 1070 or better
What Connectors does the Index use?
An interesting discovery in the additional notes shows the cameras may just be cameras after all. The spec sheet lists the minimum requirement as being an available DisplayPort 1.2 and USB port 2.0. However, over on the recommended side of the table, it says a USB 3.0 or better is required for "Headset pass-through camera and USB port"
A newly revealed connector is in an area Valve is referring to as the Frunk. Yes, it's a terrible word, but the USB 3 type A connection in there is going to be opened up for people to attach assorted things to it. This will be used by third party developers as well as hobbyists to make the headset into pretty much whatever they want.
This is an innovation I can get behind and I am interested to see what happens with it.
Where and when can I get it?
The latest preorder is now live at the Steam Store and is supposed to start shipping on May 21. The preorder is a whopping $1000 for the entire kit, though you can buy all the pieces separately.
So if you already own an Oculus Rift or HTC Vive you won't need to buy new controllers and new Base Stations.
Let us know
If you hear anything or have ideas about the Index drop us a comment. We would also love to hear what you would like to see from Valve's first headset.
Valves blueprint
CHA CHING

The Valve Index has some excellent specs and really interesting design choices. The big question is will it be enough to stand out with a $1000 price tag?
Windows Central Newsletter
Get the best of Windows Central in in your inbox, every day!
James built his first PC when he was 13 and has never looked back. He can be found on Windows Central, usually in the corner where all the 3D printers are, or huddled around the Xbox playing the latest games.
Just to let you know guys - The headset will 100% be using Lighthouse system for several reasons:
a) Knuckle Controllers, which are also developed by Valve, are using Lighthouses;
b) Lighthouses are Valve's own technology - Headsets like HTC, Pimax etc. are using Valve's technology, so it would be stupid for Valve not to use their own tech;
c) You can clearly see in the brightened picture the small circles around the headset - same thing you can see on Knuckle Controllers - those are receptors for the signals sent by lighthouses. So no, Valve Index won't be tracked by Inside-Out technology, these cameras are going to be used as in Vive Pro (sth like Torch in WMR) or maybe by some AR, but I doubt it.

That's some good thinking! I will update the post with this take. Cheers!

The cameras are pretty prominent in the design, that makes me think they will have an use for them. On further inspection, they seem to be too "framed" to be tracking cameras (the camera rim would reduce the field of view, IIRC). But they're definitely using them for something.
In any case, having a headset that supports BOTH inside-out tracking and the possibility of upgrading it to a lighthouse-based setup would be a really good idea. If so, I wonder just how many users would get a full setup, since inside-out tracking would cover most use scenarios and be simpler to use. Also, of course the inside-out theory would mean there's another set of controllers included.

Sure hope this is a Next Gen headset and not another Oculus Rift S that doesn't offer any better VR experience than the 4 year old technology used in the original Rift. Some of us would actually like a more expensive, Next Gen VR experience at this point.

There is a high end Market for VR, but there needs to be a lot of more accesible options. Price is an obstacle for adoption, and a lot of people are put away by the expensive entry point Vive created and sustains. I know I was, until I got my WMR headset which I'm 100% happy about. Also, Oculus are doing this too, cheaper, simpler headsets like the Rift S (IIRC) and there's the Vive Cosmos. I personally think cheaper inside-out tracking headsets are the way forward, with those who want a more accurate setup having the option to buy it.

im gonna guess that the button on the headset might mute the microphone.
Windows Central Newsletter
Thank you for signing up to Windows Central. You will receive a verification email shortly.
There was a problem. Please refresh the page and try again.