HP Reverb headset review: Windows Mixed Reality meets higher resolution
By Daniel Rubino last updated
An all-new redesign with a focus on achieving the highest pixel density gives the HP Reverb an edge.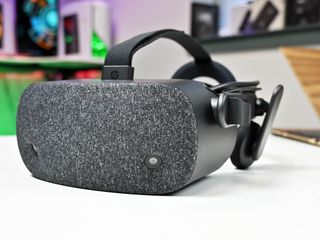 (Image credit: Windows Central)
MIcrosoft's Windows Mixed Reality (WMR) hasn't garnered a lot of headlines in 2019 after laying a solid foundation, but Microsoft and its partners are trudging ahead. HP's new Reverb headset had a rocky launch and a slow rollout, limited availability, and reports of some early hardware issues, but that doesn't mean it's also not one of the best head-mounted displays (HMD) yet.
I spent the last few weeks playing with the HP Reverb, and while it's mostly geared for professional environments, regular consumers and virtual reality (VR) users will find a lot to like, too.
(opens in new tab)
From $650 (opens in new tab)Bottom line: HP's Reverb headset for Windows Mixed Reality offers the highest resolution of any other headset yet along with a 90Hz refresh rate. When combined with the premium design and outstanding comfort, it is easy to see why it's one of our favorite HMDs for VR. However, a soft launch with limited-availability has made getting one somewhat hard, and the high price may not be prohibitive for some.
For
Highest resolution of any WMR HMD.
Comfortable.
Built-in headphones, mic, Bluetooth.
Premium build quality.
Against
Hard to find.
Higher cost.
Doesn't flip up.
Where HP Reverb improves Windows Mixed Reality
For the first generation of WMR headsets, Microsoft set the stage with a reference design for the hardware. That means almost all the original headsets from Dell, Acer, HP, and Lenovo were all the same except for a few aesthetic choices. The one company to buck that trend (to the chagrin of everyone else) was Samsung, who had AMOLED lenses and slightly better specs.
Best Windows Mixed Reality Headsets of 2019
The Reverb though is a ground-up refresh of HP's original headset; it's completely new in design and features, pushing the resolution much further than anyone else. That drives the cost up to $599 (with controllers) (opens in new tab), but that price is still well below the Valve Index, which runs north of $1,000 for the entire kit.
The Reverb has a resolution of 2160 x 2160 per eye for a combined resolution of 4320 x 2160 and a 90Hz refresh. Samsung's Odyssey+ has a lower 1,440 x 1,600 pixels per side also with a 90Hz, and almost all other HMDs run 1,440 x 1,440 per eye often with just a 60Hz refresh. Just like a PC, the display resolution matters for clarity — especially when those screens are an inch from your eyeball.
The other significant change for HP is comfort. While the original HP WMR HMD was just OK, leaning towards better value than features, the Reverb takes some cues from the Microsoft HoloLens 2, with more attention paid to coziness. The new strap system is more reminiscent of the HTC Vive, with straps at the back and across your head for more stability, balance, and pressure relief. HP also shaved off a few hundred grams (now 500 grams versus 834 grams). While the Reverb is not the lightest (see Acer's first edition at 350 grams), it's still a significant shift.
Finally, the materials and lens design are all different too. There is now Bluetooth, built-in headphones (that are removable), cloth material instead of plastic, and lenses that are squarer with better edge-to-edge focusing. Even the connector has changed from USB Type-A with HDMI to USB Type-A and DisplayPort (with a miniDP adapter included) due to the higher bandwidth requirement.
HP Reverb hardware and usage
Compared to all the WMR headsets available, HP easily has the most comfortable one with the best resolution, and the increased screen acuity really matters. Combine that with a 90Hz refresh rate, and games and content in the Reverb come across significantly better than other options.
There are still some downsides, however, which is reflective of the general WMR ecosystem. Fresnel distortion artifacts (aka "God rays") still exist, though they are muted and well within the range of acceptability. Reverb lacks a hardware interpupillary distance (IPD) adjustment, too. I had no issues with eye alignment, but people with IPD outside the norm may find some difficulty, though you can use Windows 10 to make some tunings.
There is also the "issue" with the controllers, which are the same six degrees of freedom (6DoF) ones from the first generation. I put issue in quotes here, because these controllers tend to have inadequate (or non-existent) recognizability outside the headset's field of view. For most games, including the popular Beat Saber, users will have zero problems here. In fact, the controllers work great for such titles. But any situation where the controller is not as observable will have issues compared to full-room systems. That's a fair tradeoff, however, for the lack of room setup and lower cost of WMR. Head tracking is also excellent on the Reverb.
Comparing Windows Mixed Reality headsets from Acer, ASUS, Dell, HP, Lenovo and Samsung
The PC requirements for the HP Reverb are higher, with a recommended NVIDIA GeForce GTX 1080 and a laptop or PC that also has a DisplayPort (or Mini DisplayPort). Not many laptops have such a connector compared to HDMI, which is much more common. For this review, I used a 2019 Razer Blade 15 with RTX 2070 graphics card and experienced no performance degradation. These new requirements are necessary for HP to hit that very high resolution found in the Reverb, which is what separates it from the competition, in a good way. But those changes also mean this is not your typical budget WMR HMD.
And that is what makes the HP Reverb such an exciting choice. It's one of the first non-budget, higher-end headsets on the market that targets professionals or enterprises instead of consumers. That decision is reflected in the two SKUs available with one being a $650 "Pro" model with replaceable face masks versus the $600 consumer edition. Up until now, it was only Samsung that toyed with pushing towards a more premium WMR experience.
HP Reverb is a must if you're into VR or WMR
Compared to all other WMR HMDs, the HP Reverb is the best. It is the most comfortable to wear, and the improved resolution and new visual acuity due to the larger "sweet spot" are welcome improvement.
However, HP appears to have had some problems with new Reverb units that went on sale in May in the U.S. and elsewhere. Some users on Reddit have complained about poor quality control problems with some of the lenses, and reportedly HP has pulled some consumer sales. Indeed, even shops like Best Buy (opens in new tab) have "sold out" of the headset. However, HP was quoted on reddit as saying "Demand for the HP Reverb has greatly exceeded the estimates and greatly exceeded the supply." So far, the company has not responded to my request for clarification.
I have had no problems with unit I've been using and feel that the Reverb, which easily bests some of the most premium commercially-available VR headsets, has been pretty awesome. It's comfortable, the image looks great, and it's simply better than anything else I have used. The rather thick (and heavy) data cable that keeps you tethered is still cumbersome, but it is not clear how to get around that limitation unless you opt for HP's super wild Omen X VR backpack. I also would not have minded having the ability to flip up the visor temporarily to see my surroundings instead of removing the headset.
If you are a professional or are just really into VR or WMR, the HP Reverb is an easy choice. It's the most premium Mixed Reality headset, but it is still below the cost of the HTC Vive Pro and Valve Index. Perhaps the bigger question is, will you use it when the novelty wears away? I still find WMR fascinating and incredibly well done, but it hasn't worked its way into my typical gaming workflow. That said, my 13-year-old nephew loves WMR and uses it all the time, possibly making the HP Reverb perfect for his generation, if a bit pricey.
Right now, there's unfortunately no word on whether HP will sell the Reverb without controllers for those looking to save some money (or reuse their first-generation ones).
Premium virtual reality
(opens in new tab)
Super comfortable, super HD

HP's Reverb headset is designed for professional environments but also for prosumers and addicts of WMR. The high resolution and refresh rates deliver an exciting VR experience for only slightly more money than the first-generation headsets. Comfort is also superior, as is the visual acuity due to HP's new lens system. Too bad the Reverb is so hard to find right now.
Daniel Rubino is the Executive Editor of Windows Central, head reviewer, podcast co-host, and analyst. He has been covering Microsoft here since 2007, back when this site was called WMExperts (and later Windows Phone Central). His interests include Windows, Microsoft Surface, laptops, next-gen computing, and arguing with people on the internet.
I don't care for that design. I really like my Acer rig, which doesn't have the annoying over-the-head strap and doesn't have built-in headphones (it has a port for plugging some in, if you prefer...which I don't). I don't care how good the visual experience is if I don't actually enjoy (or at least tolerate) wearing the rig.

Microsoft Store website has removed the menu choice for Windows Mixed Reality and VR headsets and there are few headsets left if you search for them. There has not been any mention of an upgrade to WMR. It is beginning to look like this promising technology is going to be another abandoned tech from Nadella the Timid

"Microsoft Store website has removed the menu choice for Windows Mixed Reality and VR headsets"

Not in the US both Microsoft Store app and website have cleaer Windows Mixed Reality sections with hardware.

"there are few headsets left if you search for them"

True, but along with HP's new headset we are expecting a next-wave from the others. HP wanted to get out first, which they did, kind of. Not sure selling 2 year-old HMDs from Acer, Dell, Lenovo, etc. is a good strategy. Companies like to deplete old stock 6 months prior (we did see a lot of sales) before launching new products. I mean, read what you want into it, but you're talking about winding down WMR on an article about the latest WMR HMD that is also the most premium; - that's one hell of a weird position to take. I also discuss in the video how

businesses

are the biggest buyers of these headsets, which is WHY companies like HP are making the Reverb (and a Pro version at that). I'm not sure why you're ignoring that point outside of being one of the Eeyores of Microsoft? (I get that's a thing around here).

I checked the Microsoft Store in the US and when I click on All Microsoft there is no category for WMR or VR. I could only find it if I searched on it. I would really like to see a next wave of WMR headsets but only if the next gen WMR gets released and I expected that before this and there has not been a beep about it. It's hard to get excited about the Reverb or any other headset still running the 1st gen WMR.

Absolutely a great move in the right direction to push the category.
I wonder how long it will take before we have a "standard" on the specs on this category.
I guess you would have to try a set to be your own judge. Any idea if HP and the likes plan to expand WMR to Europe this round? Maybe they're waiting for some kind of mainstream feature. I heard that Dan mentioned they are still not something you put on and use for hours. It's interesting to see this evolve from a distance and see how much it moves from generation to generation 😊
Windows Central Newsletter
Get the best of Windows Central in in your inbox, every day!
Thank you for signing up to Windows Central. You will receive a verification email shortly.
There was a problem. Please refresh the page and try again.