Comparing Windows Mixed Reality headsets from Acer, ASUS, Dell, HP, Lenovo and Samsung
By Matt Brown last updated
Windows Mixed Reality can be experienced with a growing range of headsets, with various options to consider. Here's a closer look at what they offer.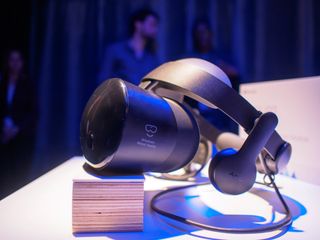 Windows Mixed Reality is Microsoft's hottest investment of 2017, extending the traditional desktop experience to a fully-realized virtual world. With its official debut kicking off this fall, a wide range of third-party hardware partners are already investing in the platform, with headsets from Acer (opens in new tab), ASUS (opens in new tab), Dell (opens in new tab), HP (opens in new tab), Lenovo (opens in new tab), and Samsung (opens in new tab).
Several devices from this varied range are now available for preorder, with some notable differences that may help determine which device is best for you. Each headset sports differing designs, features and price tags, however, with only minor discrepancies. We've broken down the specifications for each of the Windows Mixed Reality headsets, taking a closer look at what expect from each of the devices.
How every Windows Mixed Reality headset stacks up against each other
Vision
Display
At the core of every Mixed Reality headset is a screen, which is used to output all images of the virtual space. On most headsets, this is comprised of two high-resolution displays mounted beside one another for each eye, however, some manufacturers have opted for their own differing approaches.
Acer WMR headset: 1440 x 1440 per eye (2880 x 1440 combined), LCD, 90Hz.
ASUS HC102: 2880 x 1440 single display, LCD, 90Hz.
Dell Visor: 1440 x 1440 per eye (2880 x 1440 combined), LCD, 90Hz.
HP WMR headset: 1440 x 1440 per eye (2880 x 1440 combined), LCD, 90Hz.
Lenovo Explorer: 1440 x 1440 per eye (2880 x 1440 combined), LCD, 90Hz.
Samsung Odyssey: 1440 x 1600 per eye (2880 x 1600 combined), AMOLED, 90Hz.
Field of View
When it comes to virtual reality (VR) headsets, one of the greatest drivers of immersion is the field of view. The higher the degrees of the field of view, the more content you'll be able to see, making for a much more immersive experience. While the cheapest Mixed Reality headsets offer 95 degrees of sight, some higher-end headsets offer an improved angle up to 110 degrees.
Acer WMR headset: 95 degrees.
ASUS HC102: 95 degrees.
Dell Visor: 110 degrees.
HP WMR headset: 95 degrees.
Lenovo Explorer: 105 degrees.
Samsung Odyssey: 110 degrees.
Motion
Tracking
In its current implementation, all Windows Mixed Reality headsets allow for six degrees of freedom, which allows the user to move in all directions and orientations within a three-dimensional space. These headsets also adopt "inside-out tracking," which allows positioning to be calculated internally, without the need for additional external sensors.
Sensors
Windows Mixed Reality headsets take advantage of an array of sensors to provide a consistent and immersive experience. Alongside some core sensors to improve tracking, certain headsets offer additional features to offer an enhanced experience.
Acer WMR headset: Accelerometer, gyroscope, magnetometer, and proximity sensor.
ASUS HC102: Accelerometer, gyroscope, magnetometer, and proximity sensor.
Dell Visor: Accelerometer, gyroscope, and magnetometer.
HP WMR headset: Accelerometer, gyroscope, and proximity sensor.
Lenovo Explorer: Accelerometer, gyroscope, magnetometer, and proximity sensor.
Samsung Odyssey: Accelerometer, gyroscope, magnetometer, proximity sensor, and IPD sensor.
Connectivity
Audio
For many Mixed Reality experiences, audio is another crucial element to create an immersive environment. For many headsets, manufacturers encourage users to use their own external headphones. Samsung's Odyssey is the only device that offers users integrated headphones from AKG, which are built directly into the headset's surrounding head strap.
Acer WMR headset: 3.5mm combo jack.
ASUS HC102: 3.5mm combo jack.
Dell Visor: 3.5mm combo jack.
HP WMR headset: 3.5mm combo jack.
Lenovo Explorer: 3.5mm combo jack.
Samsung Odyssey: Integrated AKG headphones, in-built microphone array.
Ports
A hard-wired connection to a Windows 10 PC is a requirement for all Windows Mixed Reality headsets launching this fall. Right now, all headsets adopt an HDMI 2.0 port for transmitting a low-latency video signal, whereas a USB 3.0 connection is used for other data, including tracking information. Both of these cables are four meters long out of the box, which allows for a fair amount of movement in almost any Mixed Reality setup.
Size
Dimensions
Each Windows Mixed Reality headset also sports a unique design, which in turn, affects the size of the headset. The length, width, and height of each headset all change based on the head-mounting method, visor design, and several other factors. These are the dimensions for the headsets provided by manufacturers.
Acer WMR headset: 195.8 mm (W) x 94.8 mm (L) x 106.59 mm (H).
Dell Visor: 210 mm (W) x 330 mm (L).
ASUS HC102: Unspecified.
HP WMR headset: 338.84 mm (W) x 176.02 mm (L) x 127.76 mm (H).
Lenovo Explorer: 185.1 mm (W) x 94.8 mm (L) x 102.1 mm (H).
Samsung Odyssey: 202 mm (W) x 131.5 mm (L) x 111 mm (H).
Weight
While you might not feel it from the outset, after spending time in Mixed Reality, the weight of a headset will quickly come into play. Although distribution and padding are elements to consider when determining how a headset feels, the true value shows how differences in materials and designs affect the final weight.
Acer WMR headset: 350 grams.
ASUS HC102: "Under" 400 grams.
HP WMR headset: 834 grams.
Lenovo Explorer: 380 grams.
Dell Visor: Unspecified.
Samsung Odyssey: 645 grams.
Availability
Release date
The first wave of Windows Mixed Reality headsets hit store shelves on October 17, 2017. This is the first opportunity to get hands-on with the platform in your own home, ahead of more features and devices dropping in the months to come. Some headsets, such as the Samsung Odyssey and ASUS HC102, drop after the initial launch.
Acer WMR headset: October 17, 2017.
ASUS HC102: Spring 2018.
Dell Visor: October 17, 2017.
HP WMR headset: October 17, 2017.
Lenovo Explorer: October 17, 2017.
Samsung Odyssey: November 6, 2017.
Pricing
Windows Mixed Reality headsets start at $299, with higher-end devices and various accessories available at an additional cost. Picking up the Windows Mixed Reality controllers is also recommended, for further immersion when it comes to interacting in a virtual space.
Acer WMR headset: $299 standalone, $399 with controllers.
ASUS HC102: Expected $449.
HP WMR headset: $329 standlone, $449 with controllers.
Lenovo Explorer: $349 standalone, $399 with controllers.
Dell Visor: $349 standalone, $449 with controllers.
Samsung Odyssey: $499 with controllers.
Your take on Windows Mixed Reality
Are you planning to pick up a Mixed Reality Headset this fall? Which one? Make sure to drop your thoughts on the devices in the comments, alongside the headset you're hoping to get hands-on with.
Matt Brown is Windows Central's Senior Games Editor, Xbox & PC, at Future. Following over seven years of professional consumer technology and gaming coverage, he's focused on the world of Microsoft's gaming efforts. You can follow him on Twitter @mattjbrown.
Thanks this was a helpful comaprison. The Samsung one definitely seems pretty nice.

In all honesty, i think MSFT is missing a massive opportunity by not saying VR to the Xbox x. Not only would that be more of an incentive to buy the Xbox X. But, how many pple can make the financial investment to jump in VR. I explain. Lots of people, like me have their daily driver laptops. (i have an i7 SP4). To set my self up for VR i need to get a new desktop or gaming laptop. And we know how much that'll set me back...(north of $1,000). However if the Xbox x worked with vr, them that's all i would need and at $499, it's a steal!

Premium- Samsung Mid Range- Dell ( 110 °FOV advantage) Budget-Acer ;")

Both the dell and Samsung have 110 degree FOV. Seems like samsung is the way to go.

According to Dell's website it's 105 degrees. I don't know where WC gets the 110 from. Looking at the info this article has a lot of typo's and needs double checking.

I thought i could get Samsung this month if i ordered it from Microsoft store. Bummer.

Good read, I would like to get one some day. Since it will not be soon for me, maybe the 2.0 version of them will be better.

We need the VR power gloves like the movie Minority Report.

Thanks a lot. Personally like Dell more now but something is still unknown (especially weight and the lack of proximity sensor), otherwise it would be Lenovo. I know many like Samsung spec but I will only consider devices with top hinge.

I would not buy an MS headset, just to be abandoned again!

Good thing none of those are made by MS huh

Ok why are you here then lol

A grid would be better. Just saying....

http://www.moremixedreality.com/hardware/mixed-reality-headsets-specification-comparison/
:-)

Very helpful article. However, I still find every single one of those things to be ugly and bulky. I will NEVER like controllers, whether it's for the stupid Xbox or those weird circular ones. Some sort of glove makes much more sense. And the only reason I would even consider getting one of these would be to play Elite Dangerous. That's it. So, given that, it seems that the Acer provides the best value for the price.

It's amazing how you think you know what's better with 0 knowledge of what you're talking about.

I've been having a terrible time with the HP Mixed Reality Developer Edition and the Surface Studio. It's very strange. The device will work for about 4-6 minutes and then the display will drop out. At first, it will just flicker on and off, and then the display will just fade to black and "die". This is the second unit I've gotten from HP, so I wonder if it has more to do with the miniDisplayPort-to-HDMI adapter or if there is a bigger issue with the USB connection.

The mixed reality forum, has a great many threads on the display adapter causing issues. https://forums.hololens.com/categories/questions-and-answers-immersive

This is a great summary - many thanks!
NB For all those asking I have sumarised the content in a grid here: http://www.moremixedreality.com/hardware/mixed-reality-headsets-specification-comparison/

There are some errors/switches in there. Like the weight for Dell - HP.

I want to try them out first but most likely will go with the Samsung.

You just confirmed I pre-ordered the right WMR for me which is Samsung Odyssey with controller for $499. There re articles out there that states that Occulus have permanently dropped price to $399 which includes controller. The need for external sensor and green screen and very powerful rig still negates it for me.

I think there is an issue with size and weight. There are huge differences and I don't get why the HP would be twice as big/heavy as some others. My guess is that the weight indicated by HP is the weight of the full box (package and controllers included)

Anyone know when they might show up in Europe?

According to Microsoft UK end Germany Store website also on the October 17th. The Acer, HP, Lenovo and Dell.

Thanks, this article nailed it. Very informative and does not feel too cramp (table type).
I am expected to see the real world Reviews soon (from ppl here or from VRHeads).
.
Well, I can see that 2 cables can be reduced to 1 using Thunderbolt port in the next gen devices though. Or even 'NO' cable using WiGig connection receiver plugged into the computer. I'll wait ;)

Oculus Go announced few days ago is only $199. How does that work?

It is more like Gear VR with the mobile phone built in.

Oculus Go is more like a cheap Samsung Phone headset. You just don't need a phone.

Mobile VR is still a long way off matching what you can do with PC-based VR. 1. No 6DOF positional headset tracking (or "not really VR" as I prefer to describe it) 2. No tracked controllers. Gamepads and pointers are bearable in some types of game or experience but they exclude you from whole categories of interaction that are essential for an immersive experience. 3. Huge gap in rendering ability (even high-end gaming PCs are stretched by the requirements of VR - doing this on a mobile chipset requires big compromises)

According to Dell's website the Visor's FOV is 105 and not 110. So what is it?

I will go with the Dell headset.
Windows Central Newsletter
Get the best of Windows Central in in your inbox, every day!
Thank you for signing up to Windows Central. You will receive a verification email shortly.
There was a problem. Please refresh the page and try again.