This is how every Windows Mixed Reality headset stacks up against each other
Aren't all of these Windows Mixed Reality headsets the same thing?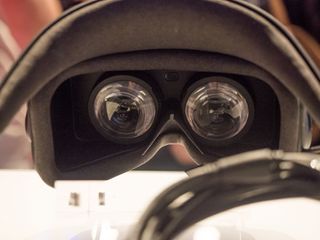 Microsoft has made sure users are spoiled for choice when it comes to the launch of Windows Mixed Reality.
Several hardware partners have followed the blueprint laid forth by the Redmond company, making it so the internal specs for each headset are exactly the same. This is great for creating a unified experience for Mixed Reality, but leaves those ready to open their wallets curious about why these headsets are all priced differently.
Here's what sets each of these Windows Mixed Reality headsets apart.
ASUS HC102
The polygonal design of the visor certainly helps this headset win points for style, but what really sets this headset apart from the other is found in the materials used for its construction. ASUS touts a single 2880x1440 "3K" display instead of two separate 1440x1440 displays found in all of the other headsets, which helped make the headset lighter than just about any other headset available today. While you may not notice the difference in your hand, you're likely to notice it on your neck after multiple hours of use.
ASUS is also using quick-drying, antimicrobial surfaces along the inside of the "halo" band, which means when you work up a sweat after a particularly active MR session the headset will clean up easily. These materials also promise to be cool to the touch, which may help you from sweating quite so much in the first place.
The HC102 Mixed Reality Headset is expected to be available for $449 later this year.
Acer Mixed Reality HMD
This headset has all of the same core features as every other Windows Mixed Reality headset, but at $299 it couldn't be more clear the biggest feature that sets this headset apart is the price tag. Acer's headset is lots of glossy plastic and not a lot of padding, as well as a pinch-to-loosen strap for the "halo" when fitting it to your head.
This headset looks nice and is absolutely capable of delivering great Windows Mixed Reality experiences, but there's a good chance you're going to want to add some padding after wearing it for a few hours.
Even with motion controllers, the Acer kit ties with Lenovo for the least expensive option available at $399.
Dell Visor
If you're a fan of high-gloss white electronics, Dell has a real looker for you.
This headset separates itself from the pack by visually outshining the others, but also by offering high-quality sweat-proof padding on the front and back of the "halo" which makes a big difference when playing something intense. Like all sweat-proof material you still have to wipe it down after use, but it's non-absorbent, and that can be a very big deal when sharing a headset with friends.
Dell's Visor headset also includes a helpful slider to guild the cable connecting the displays to the computer. You can push the slider all the way forward if you want the cable to rest in front of you, or all the way back if you want it behind you. This may sound like a small thing, but when you're spinning around in VR, that kind of flexibility can be a very big deal.
If you're looking to add motion controllers to this experience, Dell raises the price of this $349 headset to $449.
HP Windows Mixed Reality Headset
There's a lot about the HP Mixed Reality headset that feels like a premium experience. The sweat-proof padding around the head strap, the general sturdiness of the matte plastic casing around the headset, and the padding around the eyes all feel great. And, for the sake of organization, the HDMI cable detaches from the headset, so it's all easier to put away when you're done playing. This is a well-built piece of equipment, plain and simple.
The thing that really gets me about this headset, something that probably seems like a small thing until you've used all of these headsets, is the audio jack. Every Windows Mixed Reality headset has a 3.5mm headphone jack so you can wear whatever you want while playing, but HP's audio jack is actually built into the body of the headset instead of dangling off the back of your head as a separate cable. It's also positioned somewhere convenient, so you can quickly connect your headphones when your eyes are covered up by the headset. That's a really big deal, and at $329 it's one of the cheaper headsets of the bunch as well.
Combined with the motion controllers, this kit will set you back $449. That makes the HP kit tie with Dell for the second most expensive Windows Mixed Reality experience available today.
Lenovo Explorer
This headset checks a lot of the same boxes we've seen others check. The padding around the head strap is adequate, but nothing special. The design is very much industrial Lenovo standard, and it feels substantial when you have it on your head. On the outside, there isn't much about this $349 headset that stands out from the others.
On the inside, however, Lenovo has paid special attention to air flow inside the headset. There are more air vents around the outside of this design to allow air to passively move within the headset as you move around, which will dramatically reduce the chances of things like headsets fogging up or feeling overly warm after an extended session. This isn't a big, flash feature for Lenovo to show off, but it's the kind of thing its owners will deeply appreciate while using it.
The biggest benefit to this headset is its bundle price. Adding motion controllers to this headset brings the total cost to $399, which is a steal for this experience.
Samsung Odyssey HMD
While all Windows Mixed Reality headsets are made with the same basic stuff inside, Samsung kicked the details up a notch. The displays are custom Samsung AMOLED panels with lenses which offer a wider Field of View than any of the other headsets. The resolution of the display is 1440x1600 instead of the standard 1440x1440 seen everywhere else, so all of the little details surrounding this display add up to a bit more.
The other significant detail with this headset lie with the audio system. Samsung included headphones designed with spatial audio experiences in mind and a microphone in the headset so another accessory won't be needed when enjoying social Mixed Reality experiences.
Add it all together and it's not hard to see why Samsung and Microsoft are calling this the first "premium" Mixed Reality headset. That claim naturally comes with a bigger price tag, in this case $499 for the headset and motion controller bundle.
Which headset is for you?
There are clearly a lot of options here, and each one is just slightly different from the crowd. Which headset are you planning to pick up with Windows Mixed Reality is here? Sound off in the comments!
Update November 2017: We have added the Samsung Odyssey HMD to this article, as well as updates some of our previous experiences and details!
Get the Windows Central Newsletter
All the latest news, reviews, and guides for Windows and Xbox diehards.
Russell is a tech nerd who chases the best of everything, from phones to game consoles to laptops and everything glowing or beeping. He's the Managing Editor of gaming content for Mobile Nations and can be found contributing to all of the Mobile Nations sites. Reach out on Twitter!