Samsung HMD Odyssey: Hands on with a 'premium' Mixed Reality headset
By Russell Holly last updated
This is what a "premium" Mixed Reality headset is like.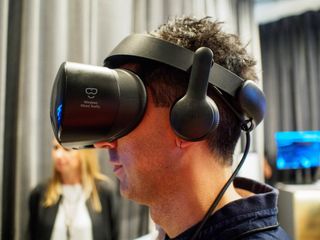 Microsoft saved the best Windows Mixed Reality partner announcement for last, and as of today there's a complete look at what hardware is going to be available when the Fall Creators Update goes live later this month. The last headset is being billed as a "premium" Windows Mixed Reality headset, and Samsung calls it the HMD Odyssey.
So what makes this headset "premium" compared to the others? We spent a little time with the new headset this afternoon to find out.
At first glance, Samsung's HMD Odyssey looks like any other Windows Mixed Reality headset. The "halo" head strap holding the visor with the display is in the same place as any other Mixed Reality gear, complete with the single cable coming from the headset to connect to the PC. The biggest difference, the thing you notice right away, is the built-in AKG headphones. These are special headphones built for spatial audio, so audio sounds like it is coming from different directions to increase the immersion. It's a nice addition to the headset, especially with the headphones being positional to fit all different head sizes, but worth pointing out there's no alternatives available. If these headphones break, there's no 3.5mm jack like the other headsets. If you have a set of headphones you prefer to wear, you're kind of out of luck here.
Putting this headset on is a little unusual, especially when compared to the other Windows Mixed Reality headsets. Samsung did not include a top hinge in this headset, making it the only Mixed Reality headset where you can't just lift the whole display up to see the real world. The reason for this? Lots of extra padding and a special adjustment wheel for the lenses. Samsung has made it so you have fine control over the lens focus, which is important because the field of view is so much wider in these lenses. It's a little bit of an awkward trade-off, but the end result is a much more comfortable headset with lenses that will deliver crystal clear visuals for every user. Hard to argue with that.
As nice as having built-in headphones and a better focusing system will be for a lot of people, Samsung and Microsoft have worked closely together to make a lot of little things feel nicer as well. The adjustment wheel on the back of the headset to tighten the "halo" to your head feels more substantial than most other headsets, and the AMOLED panels used in the display help make sure the deep blacks and bright colors really pop in every aspect of the Mixed Reality space. This headset just plain feels like a quality experience when you're using it.
Another area where Samsung made some little tweaks is the Mixed Reality Controllers. This is arguably the most important part of the Mixed Reality experience, and Samsung has worked hard to make sure the Microsoft-provided design is more ergonomic and feels more comfortable in your hand when compared to several other Mixed Reality controllers. The controllers work exactly the same, and look almost identical to the others, but the plastic is less angular and your hands cradle the edges with ease.
While it's true this is a quality Mixed Reality headset, don't let the "Premium" tag fool you into believing this is the best for everyone. The whole point of offering a variety of options from different manufacturers is to provide something for everyone. This is one option, and its clearly focused towards people who want a great display and built-in headphones above all else. If that's no you, there are plenty of other options. If this is the headset for you, hit that pre-order link so you can get your hands on this thing on launch day!
See at Microsoft (opens in new tab)
Russell is a tech nerd who chases the best of everything, from phones to game consoles to laptops and everything glowing or beeping. He's the Managing Editor of gaming content for Mobile Nations and can be found contributing to all of the Mobile Nations sites. Reach out on Twitter!
These are definitely my favorite. I'm a sucker for punchy colors. Just need to do some research...hopefully get a chance to try them out at the Microsoft store. Either way, Black Friday is just around the corner.

Abominations. Daft punk needs to design a set based off their helmets!

Can't anyone make VR sets that don't look like you're being tortured?

People around the world are truly abused and tortured. If this is your idea of torture, then you it explains a lot about you and how everything you say should be disregarded.

Donkey comment. Lighten up.

Really true, no one's innovating, they all looks the same.

Really true, no one's innovating, they all looks the same.

I would rather it had a headphone jack, but the AMOLED and higher resolution sounds nice. The FOV has never been an issue with using the devkits, and really has been something that only people who have not tried it have complained about. Really, the only problem with this is that it ships a month after the others.

Lack of top hinge is a big problem. Unless the visual experience is truely significantly better than others, I would choose convience over better specs.

There are plenty of other options. I think the better visuals and comfort is a fair trade-off.

Where are the headsets with larger than 110 FoV? That's what I'm waiting for :D

Interesting but other headsets seem nice too.

This HMD is heavy as in 50% heavier than the Acer, that combined with no hinge or headphone socket means its a no for me. From End gadget. "Yet, this thing is pretty big. It measures 202mm x 131.5mm x 111m and it weighs in at a whopping 625 grams." Acer is 380g according to specs. Just an after thought, if the Acer is 95dof and the Samsung 110dof the Acer will have a higher pixel density and thus a sharper image.

I've worn most of these; the Samsung's is still the best and most comfortable despite the weight difference.

The engadget review geebee666 cited said exactly the same the he chose to conveniently omit. "Yet, this thing is pretty big. It measures 202mm x 131.5mm x 111m and it weighs in at a whopping 625 grams. That's definitely a lot heavier than the Acer's 380 grams. It also just looks pretty bulky on the whole. That said, when I placed the whole thing on my head, it didn't feel so bad. It fits nice and snug, and I loved the feeling of the leather padding around my head. I could see myself wearing this for a few hours at a time." I have preordered one early this morning. I think I am going to love this one.

So my Dell XPS 13 I spent $1600 for isnt Windows mixed reality ready? Im so upset!!!

It is. Just can't run Ultra.

I ran a test on it using the Windows Mixed Reality check app and it said it wasn't. Extremely disappointed.

It is WMR Ready. You will get the 60hz experience rather than the 90hz experience for PCs with better graphic cards.

Microsoft is dead in the consumer space .. and soon so Will be this site ...Ms is done they are the new IBM...we may as well face it

What does a mixed reality experiece has for the CLOUD business ? uh? IBM 2.0

Can't wait to see if these will be compatible with the Scorpio/Xbox X...!

...and now we see why the "big deal" about the Samsung 8/ Microsoft version. If you can't beat them, partner with them... good strategy.
Windows Central Newsletter
Get the best of Windows Central in in your inbox, every day!
Thank you for signing up to Windows Central. You will receive a verification email shortly.
There was a problem. Please refresh the page and try again.