Microsoft HoloLens 2: Everything we know so far
By Zac Bowden last updated
Microsoft is currently working on its next-generation HoloLens wearable headset. Here's everything we know so far.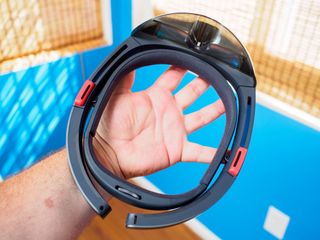 Microsoft's second-generation HoloLens headset has been announced, and it's a marvel to behold. Codenamed "Sydney," Microsoft's HoloLens 2 is rocking more power under the hood, a better field of view, and a whole new way of interacting with holograms.
HoloLens 2 itself isn't shipping just yet, and not many people outside of Microsoft have had more than a few minutes to play with one, so there's still a fair bit we don't know. There is, however, plenty that we do know. This is all of that in one place.
Next-gen holograms
HoloLens, but better.

HoloLens 2 takes everything that made the original great and turns it up to 11. With a new carbon fiber body, extra padding, eye tracking, and a wider field of view, the headset should have no problem finding success among developers and firstline workers.
HoloLens 2 hardware
The HoloLens 2 is much sleeker and more powerful than its predeccessor. Featuring a Snapdragon 850 processor under the hood, the HoloLens 2 is Microsoft's first Windows 10 on ARM64 device. The ARM processor means it has more processing power, and is more energy efficient too. It can go to sleep and wake up super fast, just like other Windows 10 on ARM devices can.
Because of the additional power under the hood, HoloLens 2 featuring a much better field of view and anti-aliasing, making holograms look better when placed in the virtual environment. There's also new sensors built into the device that can scan your iris for Windows Hello recognition, and hand tracking which allows users to interact with holograms directly with their hands.
The device also features a new, custom Holographic Processing Unit (HPU) that features an AI coprocessor to natively and flexibly implement Deep Neural Networks. That means HoloLens 2 can analyze visual data locally, without needing to send any data to the cloud. This makes HoloLens 2 faster at recognizing objects and environments.
HoloLens 2 software
HoloLens 2 is Microsoft's first shipping Windows Core OS product. Known officially as "Windows Holographic" this flavor of Windows Core OS is very similar to the old HoloLens 1 OS. From a usability standpoint, HoloLens 2 is a generational leap forward over HoloLens 1, thanks to the ability to touch and interact with holograms directly. Being able to walk up to and manipulate holograms with your hands is a complete game-changer. There's no learning curve to HoloLens 2 once you're aware of how to interact with it. Human instinct is to reach out and touch when you want to interact with something, and that's precisely what you do with HoloLens 2.
To access the Start menu, the Start button itself is found on your wrist. Just hold up your wrist, and a little Microsoft logo appears. Just tap it with your other hand, and the Start menu will pop up. From there, you can tap on any of the elements in your Start menu to get to where you want to go. Scrolling is a unique experience, and there are two ways to do it. You can do it via "touch," which is as you'd expect; just reach out with your finger and scroll as if you were scrolling on a tablet. There's also eye tracking available on HoloLens 2, and in certain areas that eye tracking is used in scrolling. If you get to the bottom of a window, and there's more content available to scroll, the window will automatically start scrolling, which is just magical.
One new thing I was able to try that wasn't working when the press first went hands-on with HoloLens 2 back in February was the new holographic keyboard. Because users can now reach out and touch holograms, Microsoft had to rework HoloLens keyboard to accommodate for this. As such, it's a bit larger, and the keys are round now. It works just as if you were typing on a tablet. You reach out and begin poking at the area where the holographic key is showing up. It's not too accurate, but you can bang out a few sentences if you really need to.
Holographic apps can be much more advanced now, thanks to the new hand- and eye-tracking capabilities. In one of the demos, a virtual bird is floating around the room, and if you hold out your hand, the bird will fly to it wherever you are in the room.
During my hands-on, I asked whether the HoloLens 2 can run Win32 programs. Microsoft was not willing to comment, but I know from sources that this is indeed the plan. I asked because I noticed the version of Microsoft Edge that is shipping on HoloLens 2 is the old Edge, not the new Chromium Edge. I don't think the ability to run Win32 programs will be there when HoloLens 2 starts shipping, but it is something that is in the works and will likely come in the form of an update later in 2020.
Speaking of updates, the HoloLens 2 I was playing with was running the 19H1 RTM build, and it was working well. Since HoloLens 2 is a Windows Core OS device, it will benefit from the new, improved Windows Update that takes less than a minute to reboot once an update is ready to install.
HoloLens 2 release date
Microsoft announced HoloLens 2 at Mobile World Congress in February 2019. It is expected to start shipping in the fall of this year, and costs $3,500 for both developers and businesses. That's $500 more expensive for developers over the original HoloLens, but $500 cheaper for businesses.
More to come
We'll continue to update this page with new information as it appears. In the meantime, are you looking forward to HoloLens 2? Let us know in the comments.
Next-gen holograms
HoloLens, but better.

HoloLens 2 takes everything that made the original great and turns it up to 11. With a new carbon fiber body, extra padding, eye tracking, and a wider field of view, the headset should have no problem finding success among developers and firstline workers.
Zac Bowden is a Senior Editor at Windows Central. Bringing you exclusive coverage into the world of Windows 10 on PCs, tablets, phones, and more. Also an avid collector of rare Microsoft prototype devices! Keep in touch on Twitter: @zacbowden.
Ever actually seen one? They just made a plastic mockup for promotional purposes and pretended it really worked.

I thought I read in an article here a few days back that the HoloLens 2 was scrapped and that MS was to concentrate on the HoloLens 3 for the next release instead? This version still looks too bulky to be the new MS mobile computing platform.

This Hololens2 is what was going to be Hololens 3. That's how I read that article. I don't think we've seen any pictures of the new version.

They may have called it 2(nd one, the updated version of the 1st one) internally, but publicly, it's still the 2nd device (not the updated version but a total make over)?

HoloLens 3.
MS already admitted to leapfrogging the second iteration due to its lackluster incremental improvement.

It's still the second HoloLens. Microsoft did not finalize a HoloLens 2 and never release it, it just decided to keep working and make the second release a far bigger upgrade than what was originally planned.

They need to shrink it by 3/4...meaning make it like a pair of glasses, and wirelessly connect to the processing unit. THAT'S how it should be made. a small "phone sized" processing module, and a pair of glasses for the output and cameras. Anything else is no point. Might as well keep what they have now.

Easier said than done. At this point nobody is going to be wearing this thing all the time so comfort is more important than fashion. Eventually i you'd be correct but that's years away.

Thing is, others have it NOW! Years away is a joke. There are a few pairs of fully functional AR glasses. Adding a couple of small cameras into the frame would be easy and very unobtrusive. Wireless technology is already available to do that. So, Years away only because MS want's it years away.

What others? no other wearable can do what Hololens can do and looks like a pair of glasses...

Others have it now? That's news! Please elaborate...

It might exist today in that form factor but I doubt the capabilities match what hololens can do.

If it's so simple and the tech is already available then why aren't any other companies taking advantage of this opportunity. The glasses you are referring to are glorified HUD's, not true AR devices with spatial awareness that can map the environment you're in. You sound like an ignorant person with no knowledge who's just looking in from the outside.

"Others have it now" I hope you have links to back up this argument.

I hope you're not talking about Google glasses... Btw a HoloLens device can't have two separated glasses for each eye like were used to from regular glasses. Maybe you should look up how the HoloLens works or even what it is to begin with. Than you might not say something like that.

No not google glasses. It's another company. Jason had them up awhile ago. No. They don't have the power of Holocene. But that can be fixed by a wireless connect mini pc.

You're probably thinking of odgs R9. They don't do spacial mapping like hololrns so the AR is pretty much just overlays like Google glass+. They also do VR and the company has been mixing up the terminology to confuse people like saying they have 6 degrees of freedom, referring to VR and not AR. These are not hololens competition.

I said, HoloLens SHOULD BE THAT FORM FACTOR. MS could do that tomorrow, mount sensors in the glasses...all the processing in a small phone sized processing unit.

No, they cannot "do that tomorrow" the technology isn't there.

How is it better being tethered (even if wirelessly tethered) to a pc. Or even if it could be a light one that you can carry around that doesn't make it more convenient than something like hololens

Take your own advice with that comment WPMUNKEY...Being tethered would make the entire system SMALL on your head..instead of the beef bucket the HoloLens is now.

No one has this now and certainly not with the capabilities of the Hololens. Unfortunately, and -period-.

Thanks for your input, I'm sure one of the worlds richest and most advanced companies will heed your wise advice.

I think it would be funny if all the patent leaks of a fold-able windows phone were just to draw attention away from creating what you just described. Send Apple, Samsung and others R&D departments off to develop a newer "phone" while you secretly create a pair of glasses that will not be a phone but will eventually replace smartphones as we know them. That would be quite the fake out. I find it all the more intriguing considering there have not been any groundbreaking patent leaks surrounding this 2nd Gen Hololens. (that I'm aware of) Yet they are abundant for the "surface-not-a-phone."

It seems that Microsoft ingnores the fact that they are not alone in this AR game.... Qualcomm it's going to release their own developer version of AR this Summer running the latest Snapdragon and it's going to run Android.
That alone and the fact that Android has millions of developers willing to write AR apps for that platform,it's questionable that Hololens 2 it's going to be successful.I think it's dead already.

I follow Qualcomm, but have not read or heard anything about them releasing their own developer version of AR. Could you share a link?

https://www.gizbot.com/news/qualcomm-announces-vr-development-kit-for-sn... https://www.msn.com/en-sg/news/techandscience/qualcomm's-new-headset-with-eye-tracking-ships-to-developers-later-this-year/ar-BBKvkwi?li=BBr8OIS

Why would devs writing apps for smartphones be particularly interested in writing programs for AR units? These devices have very little in common and I can't really see the amount of smartphones running Android having any impact on the success of an AR device running Android...

Because smartphones are the AR devices right now. Apps that have AR capabilities have been around for nearly a decade at this point. Android and iOS both have AR platforms built in.

Microsoft is going to use a Qualcomm chip in the new headset so they're fully aware of the competition. AR on Android is currently relegated to phones not a headset with custom OS.

We expected the same for Android tablets which is way more easy but take a look at Android tablets now. They're more or less dead.
Android developers are not like iOS developers. Like the OS itself it needs a lot of time

I'd prefer a transparent visor tho.
You are not going to tape a phone onto your head in the hospital, meeting room, on the battle field, during design showcasing, remote QA, at home doing holoportation right?

Remote QA... don't know what was on my mind but "remote CS", remote customer support or tech support is the right one.

I haven't seen the Halolens 1 yet

I have. What's your point?

" Microsoft was originally going to announce HoloLens 2 a lot earlier, but it decided to wait because there is no immediate competition in the market,"
While there might not be anything quite like it it does not mean it is not being overtaken by other wearables even if, in my opinion, they are not as good.
We all know best does not always win the market share. Sometimes mediocre, but first to market and best marketing wins the day.
Get on with it MS! I have wanted one of these since I first heard about them. Make one, get it to market, market it with gusto knowing it is the best, **SUPPORT IT** and then take my money.

Actually being first to market hasn't really helped Microsoft ever ;)

Aint that the truth!!! lol

When has marketing made a mediocre product have long term success? Marketing only gets you the initial sale. If the experience doesn't live up, marketing won't help. Future sales are killed by word of mouth and lack of repeat buyers.

Perhaps I should have not said mediocre. But marketing and people being entrenched in a product keep them there even when better products may come out. Personally I think the Zune was a better product than the iPod but the iPod came out first and the Apple Marketing machine made sure it stayed there. MS seems to struggle when trumpeting their products.
My point being with all the WMR units coming out now (which I know is different than the Hololens) will people be so invested in those they won't think about buying a Hololens?
I want true mixed reality. I want to see "both worlds" as it were. I don't want to be tethered. Maybe others feel the same and this will make an impact. I just see how things have went recently and i am apprehensive at best.

Remember the mediocre first iPhone? I bet you do not like most people. Everybody now "remember" the instant success of the iPhone but in reality the first iPhone wasn't a success at all. The phone and the OS get popular and successful with the 3GS. But Apple marketing and their following new phones completely let people forget about this.

Remember the mediocre latest iPhone X?

within the next year, before the end of 2018... is this correct?

It's more like release within the next year and reveal by end of 2018;")

This will be the downfall of yet another innovative product by MS which others will enter the market and run away with: " decided to wait because there is no immediate competition in the market".
They have a giant opportunity to lead a quiet market and do something well in advance of others but Google or Apple will jump in, destroy MS in mindshare even if the features aren't up to par, can release even minor iterative changes annually to fanfare while MS lumbers slowly along.
You can't wait for competition if you have any desire to lead the market.

Why do you presume the competition will be able to leapfrog MS and present a better first-off product than a device that MS has been working on for years to perfect? I'm not saying Hololens 2 will necessarily be a success, but to assume that everyone else will do better with their debut device seems rather unlikely...

Did you see those kids that created a $100 iPhone accessory that basically recreated everything the HoloLens does with a much better field of view. It was still bulky but for a $100 bucks that is pretty awesome. Imagine what Apple or some other well funded company could do.

You mentioned iPhone! So it's definately a pass through system. Which is a joke and only good for kids school projects.

Stupid comment is stupid. If other companies have a secret killer headset that's way superior to HoloLens, then what would an incremental hardware update accomplish exactly?

Yeah but apples AR kit is crashing and burning and Google is moving on to it's 2nd or 3rd AR attempt. Maybe Microsofts way of doing things in this instance is better.

I commented a bit less than a year ago to some interesting article written by James Ward on HoloLens, I remeber stating that the company that can can use ARM SoC + AMD like GPU with all the good connectivity trimmings that would cost less ($100), make it power efficient, light, mobile (Not on the street use like mobile), integrate Neural networks & AI etc and cost between $900 - $1100 sweet spot would make out like bandit. I guess someone at MSFT read my comment. Let's see if they can bring it all home and timely as well.

Qualcomm bought ATI's mobility unit (the GPU tech) when AMD acquired ATI.

You forget to mention a leaked video which showed real time hand segmentation tracking. The video was leaked in a SIGGRAPH key note last year. So next Hololens will have same capabilities as a leap motion device has now;")

Wasn't that on a desktop using the Intel cam? No doubt they will have higher resolution cams in Hololens v2. That may be the limitation today but now that we have access to the depth cam stream, someone smarter than I will probably answer this soon. Look how far magic leap have taken their device. It may be possible with v1

It wasn't an Intel cam! Those were Hololens sensors all along.
The connected PC had the new HPU 2.0 on it which was decoding the sensors data fast enough to make it real time. The real time tracking is not possible on Hololens yet. Even after the RS4 update. There is a lag which is quite noticable. next Hololens with HPU 2.0 inside it will do real time hand segmentation tracking for sure;")

I hope they increase the RAM and bring a little more umph to the GPU. Id expect 2X horizontal FOV and at least 50% more vertical. I'd also be in favor of a tethered, belt-worn CPU like magic leap if it could make the device significantly lighter (and cooler). I'm told the tethered version is off the table, though computing could be boosted off device when paired with a desktop, laptop or Andromeda.
It's all nice but MS has turned off a lot of developers over the past year and theres still problems with current Unity (2017). Unable to run unity apps along others means things like notifications and concurrently running app to app communications are not yet possible. If I see more attention to devs soon, I'll be a little less nervous about investing more time in this platform.

Exactly my thoughts! I prefer two models of Hololens. One completely standalone and other a compute device;")

Any chance it'll cost a more reachable £1000-1500 so it can begin a journey toward mainstream adoption? That would be nice. Would looooove to own one of these

Version 3 will be inadvertently worn by Panos Panay in a video, upon realizing his blunder he will quickly remove said version & the whole project will be quietly canceled.

My personal guess is that HoloLens is already abandoned by the management and as other such projects it might have some technical bright sides but overall has almost no chance to succeed on the market. If management cared at least a little about HoloLens it would drop the price by now. I don't say that it could be half the price now, but not dropping the price in almost 3 years means simply the message 'we don't care about this'.

It's not a consumer product.

Exactly. At least the first gen is not

I'm hoping for improvement in controls, working better. The one time I tried it at a Microsoft store, it didn't always catch my air tap and grab. I'd also love it if it would cut out of the hologram objects that are closer. Example, if my arm moves in front of it and my arm is closer than the hologram is, why am I still seeing the hologram. It really disrupts the experience. Obviously the improved viewing angle is needed. I'd love to be able to off load some processing to my Surface Book 2 if it's close enough (Or any powerful Windows PC).

All your concerns are going to be answered for sure;")

I do not think it will be running Windows 10. I think Andromeda os that is what's replacing windows.

I'm worried for Microsoft and Hololens. There is no featured session for Hololens at Build and the show hasn't sold out. Windows core and cshell aren't featured either. I'm not into azure so I have little interest going even if it were free.

There is a special event at build called mixed reality jam. It is exclusively for mixed reality devs;")

Wait, what? Build still hasn't sold out? That's telling in and of itself, considering how fast it sold out in previous years.

Exactly WPGUY. Scary times for MS, yep they are riding the cloud coattails and neglecting everything else.

They won't release it until it can be paired with Halo 6 and be called "HaloLens". This would obviously allow you to interact with Halo's Cortana AI and other off-screen (or extended screen) loadout and command & control options. High performance gaming will likely be the next launch market.

Oasis 🤔 interesting choice of a codename.

HoloLens was arguably one of the most exciting announcements out of MS in post-Ballmer history. But seriously... THREE YEARS after that announcement why is there no non-development version of HoloLens? And why is it still $3000! And why is it not showcased in every brick-n-mortar store they own? If anything... heavily discount it ($1000?)... give it away at 1/2 price to schools... take a loss on the bloody thing... write it off as "advertising" if you have to. But get on with it already!

It's not a consumer product. Also, for the most part consumers don't like AR VR stuff. Hence the ridiculously low adoption rate, there's plenty of this stuff out there, it just doesn't sell.

The consumer/enterprise lines are very blurry these days, mostly because MS themselves blurred them over the last four decades. It was MS that spearheaded the "personal" computer (PC) revolution, and four decades later we not only have one (or two) in every home, we have one on every desk in most every office. Does this apply to HoloLens? Here's a few examples of how: The CEO of Nike is staying in a downtown Portland hotel with his wife for their anniversary. While strolling downtown they duck into the Microsoft Store and take a virtual tour of the fountains of Rome via HoloLens. His wife says its the best anniversary they've ever had. He heads back to the office and what does he do? Tell his folks that they need to put one of these things in every outlet store nationwide. The head of IKEA's kid comes home from school and tells him how they learned about the Solar System today by taking a virtual tour of each planet using HoloLens! Again, what does he do? Summon his IT department and brainstorm on how they can put HoloLens to work in their nationwide chain of stores. A decade from now... when we no longer have flat screen monitors on our desk, but are wearing our "monitors" on our faces, whose lenses will we be using? If I'm the CIO of the Department of Human Services in Vermont and I need to replace all our monitors with wearables and I've been using HoloLens for years at home to do everything from Skype my sister in Sante Fe to taking virtual vacations to exotic locations that I could never afford to go to otherwise, then which wearable will I choose? HoloLens of course! Either that or a HoloLens "knock-off" made by an OEM that runs a future version of Windows on it! The devices people use on a day to day basis will more and more influence our decisions in the office. Microsoft should know this. It's the reason it is where it is today.

Jason Ward, please don't post under fake accounts. It's unseemly. The vast majority of people don't want this crap. People pay thousands of dollars to get their eyeballs lasered so they don't have to wear glasses. It really is something as simple as no one wants to wear a goggly headset because it messes up their hair. If you want to predict decades out, sure, whatever, who knows? Right now this junk is at the Zack Morris brick phone level, it's not anywhere near ready for Mass adoption despite Google, HTC, Microsoft, Facebook, etc all pouring billions into it. Look up Zuckerbergs comments on how disappointed/surprised FB was that VR has 0% market with huge adoption resistance.

The notion that for all eternity we're going to be using flat screen LCDs is absurd. Just got my 3rd monitor at the office, and find myself wanting a 4th. Why? Because at any point in the day I have up to 20 windows open. If I could stick on a pair of glasses and have Word up on left center, Visual Studio front & center, Edge (or Chrome) up right center, Powershell up bottom center, Outlook Mail up right top corner, Outlook Calendar up left top corner, Excel open at the left bottom corner, a 2nd instance of Excel up right bottom corner, etc. etc. I would buy those glasses TODAY... or rather cajole my boss to get them for me. Granted, the future isn't always the way we think it will be. I don't believe we'll all just be talking to our AI bot computers anytime soon. Just try talking to an automated phone system for proof of that. It's the epitome of frustration. I don't believe that watchband computers are the future. Again, that requires TALKING to our watches. But glasses - wearable lightweight lenses - that you can see through and still carry on with "normal" life, and at the same time whip up a computer image? Yeah I can see that. I can totally see a not-so-future me sitting down at my desk WITH a keyboard and mouse (I don't see those going away anytime soon), popping on a pair of lightweight lenses and getting down to business. And yeah, I can see the entire team going into a meeting room with our glasses and, rather than projecting up to the wall, I can see us all tapping into what one of us is "projecting" to the others' glasses. Lenses will happen as certain as "personal" computers happened. MS can either get one of these in every house on planet earth... every school room on planet earth... and then... every desk on planet earth. Or they wait around and watch someone else do it. But regardless of how wearables actually plays out, my point stands. The decisions we make outside the office heavily influence the ones we make inside the office. MS should know this. It's what made it great. The notion they can gracefully back away from everything personal about "personal" computing is just absurd.

The vast majority of people don't need 4 monitors & 20 windows. Your situation is not typical. The engineering required to make a simple pair of glasses that do what you describe might even exist today or in the near furire... with an hour's worth of battery life. Maybe. And the eye strain, my goodness. Again, if you want to talk about decades away or 'eternity', whatever, no one can predict that kind of thing. New technologies & manufacturing processes make new devices possible. I can't imagine that handheld devices will ever be completely replaced, people have been carrying things around for the past few thousand years, probably will for the next few thousand as well.

The sentiment and idea of your real world uses sounds interesting, but i have to disagree. Personally, I see the world moving away from so much technology. The problems already with always connected tech and mobile phones is apparent now. Going to work everyday i am constantly having to move out of the way of people with their faces buried in their devices, oblivious to the world around them. I then sit at my desk, and churn away at the keyboard, reviewing documents, drawings, writing reports etc etc (i am an engineer). Then i leave work and have to make my way through the myriad of people again with their screens glued to their faces. So after a long day all i want to do is chill at home with the family, interact with people and get away from technology. My phone gets left in the hallway and i enjoy the rest of the day. Even with the above, i am not anti technology, i enjoy gadgets, i like to play my xbox occasionally, or watch some TV, or surf the internet for useless crap, but that is occasionally. I think Hololens is a cool idea and piece of tech, that has its uses. For me however, this mixed reality stuff, especially wearable type equipment is technology that is not required with little practical personal type uses.

they should make a HoloLens "lite", a stripped down version of the Hololens that removes most of the guts and leaves it as mostly just the display, then put the processing power all into a handheld device, such as Andromeda and connected via TB3. That way the device could be smaller, more like regular glasses and fit in better with more day to day stuff

That's a difficult thing to do, since it'll cause heat problems with the mobile device.

My guess it is the software that holding back the 2, not the hardware design. Just like all the projects MS has/had in the Win10 era.

I'm pumped like Panos Panay on steroids!

It is good they are still iterating on this device. All of the competing solutions aren't really competing (i.e. VR vs AR) or they aren't flexible, mobile, or powerful enough. I would love to see these units make it to non-commercial users. But it may be a while for that to happen.

HoloLens is the only bright spot in Windows' horizon. It's the only "edge" device in Nadella's arsenal. Laptops and desktops don't count! It is therefore the only device that doesn't make Nadella sound like an absolute complete idiot when he speaks about the "intelligent edge".

Affordable for a consumer and available through a finance program like Surface All Access

Not sure what you updated to make this new again, but you could update the hardware section to include the fact that MS announced that HoloLens2 is ALSO a reference design. A design they were willing to engineer into other industrial implementations, like built around a hard-hat.
Windows Central Newsletter
Get the best of Windows Central in in your inbox, every day!
Thank you for signing up to Windows Central. You will receive a verification email shortly.
There was a problem. Please refresh the page and try again.