Microsoft HoloLens 2: Everything we know so far
Microsoft is currently working on its next-generation HoloLens wearable headset. Here's everything we know so far.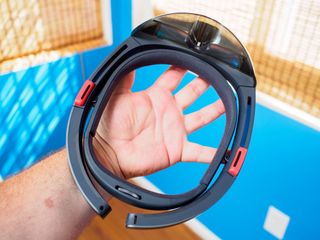 Microsoft's second-generation HoloLens headset has been announced, and it's a marvel to behold. Codenamed "Sydney," Microsoft's HoloLens 2 is rocking more power under the hood, a better field of view, and a whole new way of interacting with holograms.
HoloLens 2 itself isn't shipping just yet, and not many people outside of Microsoft have had more than a few minutes to play with one, so there's still a fair bit we don't know. There is, however, plenty that we do know. This is all of that in one place.
Next-gen holograms
HoloLens, but better.

HoloLens 2 takes everything that made the original great and turns it up to 11. With a new carbon fiber body, extra padding, eye tracking, and a wider field of view, the headset should have no problem finding success among developers and firstline workers.
HoloLens 2 hardware
The HoloLens 2 is much sleeker and more powerful than its predeccessor. Featuring a Snapdragon 850 processor under the hood, the HoloLens 2 is Microsoft's first Windows 10 on ARM64 device. The ARM processor means it has more processing power, and is more energy efficient too. It can go to sleep and wake up super fast, just like other Windows 10 on ARM devices can.
Because of the additional power under the hood, HoloLens 2 featuring a much better field of view and anti-aliasing, making holograms look better when placed in the virtual environment. There's also new sensors built into the device that can scan your iris for Windows Hello recognition, and hand tracking which allows users to interact with holograms directly with their hands.
The device also features a new, custom Holographic Processing Unit (HPU) that features an AI coprocessor to natively and flexibly implement Deep Neural Networks. That means HoloLens 2 can analyze visual data locally, without needing to send any data to the cloud. This makes HoloLens 2 faster at recognizing objects and environments.
HoloLens 2 software
HoloLens 2 is Microsoft's first shipping Windows Core OS product. Known officially as "Windows Holographic" this flavor of Windows Core OS is very similar to the old HoloLens 1 OS. From a usability standpoint, HoloLens 2 is a generational leap forward over HoloLens 1, thanks to the ability to touch and interact with holograms directly. Being able to walk up to and manipulate holograms with your hands is a complete game-changer. There's no learning curve to HoloLens 2 once you're aware of how to interact with it. Human instinct is to reach out and touch when you want to interact with something, and that's precisely what you do with HoloLens 2.
To access the Start menu, the Start button itself is found on your wrist. Just hold up your wrist, and a little Microsoft logo appears. Just tap it with your other hand, and the Start menu will pop up. From there, you can tap on any of the elements in your Start menu to get to where you want to go. Scrolling is a unique experience, and there are two ways to do it. You can do it via "touch," which is as you'd expect; just reach out with your finger and scroll as if you were scrolling on a tablet. There's also eye tracking available on HoloLens 2, and in certain areas that eye tracking is used in scrolling. If you get to the bottom of a window, and there's more content available to scroll, the window will automatically start scrolling, which is just magical.
One new thing I was able to try that wasn't working when the press first went hands-on with HoloLens 2 back in February was the new holographic keyboard. Because users can now reach out and touch holograms, Microsoft had to rework HoloLens keyboard to accommodate for this. As such, it's a bit larger, and the keys are round now. It works just as if you were typing on a tablet. You reach out and begin poking at the area where the holographic key is showing up. It's not too accurate, but you can bang out a few sentences if you really need to.
Holographic apps can be much more advanced now, thanks to the new hand- and eye-tracking capabilities. In one of the demos, a virtual bird is floating around the room, and if you hold out your hand, the bird will fly to it wherever you are in the room.
During my hands-on, I asked whether the HoloLens 2 can run Win32 programs. Microsoft was not willing to comment, but I know from sources that this is indeed the plan. I asked because I noticed the version of Microsoft Edge that is shipping on HoloLens 2 is the old Edge, not the new Chromium Edge. I don't think the ability to run Win32 programs will be there when HoloLens 2 starts shipping, but it is something that is in the works and will likely come in the form of an update later in 2020.
Speaking of updates, the HoloLens 2 I was playing with was running the 19H1 RTM build, and it was working well. Since HoloLens 2 is a Windows Core OS device, it will benefit from the new, improved Windows Update that takes less than a minute to reboot once an update is ready to install.
HoloLens 2 release date
Microsoft announced HoloLens 2 at Mobile World Congress in February 2019. It is expected to start shipping in the fall of this year, and costs $3,500 for both developers and businesses. That's $500 more expensive for developers over the original HoloLens, but $500 cheaper for businesses.
More to come
We'll continue to update this page with new information as it appears. In the meantime, are you looking forward to HoloLens 2? Let us know in the comments.
Next-gen holograms
HoloLens, but better.

HoloLens 2 takes everything that made the original great and turns it up to 11. With a new carbon fiber body, extra padding, eye tracking, and a wider field of view, the headset should have no problem finding success among developers and firstline workers.
Get the Windows Central Newsletter
All the latest news, reviews, and guides for Windows and Xbox diehards.
Zac Bowden is a Senior Editor at Windows Central. Bringing you exclusive coverage into the world of Windows on PCs, tablets, phones, and more. Also an avid collector of rare Microsoft prototype devices! Keep in touch on Twitter: @zacbowden.