HTC 2010 leak shows mini-HD2, new front-QWERTY and smaller Touch Pro 2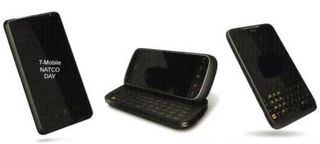 Anybody remember the Great HTC Leak of 2009, in which we learned about the likes of the Snap line, the Touch Diamond 2 and Touch Pro 2 revisions as well as a slew of Android fare? It's time for the 2010 sequel, folks, courtesy of XDA Developers guru B3ler3fonte [via BGR]. This is all gleaned from an October presentation in Switzerland, apparently.
On the Windows Mobile side, we're looking at a smaller, less powerful version of the HD2 form factor, an updated front-facing QWERTY, and another version of the Touch Pro 2. (Check out our pals at Android Central for that end of the leak).
Join us after the break for the whole WinMo breakdown.
HTC Photon
First up is the Photon, which appears like a small-scale HD2.
The 4.3-inch screen has been scaled down to 3.2 inches at HVGA. It'll have Windows Mobile 6.5, a 5-megapixel camera with autofocus, and a Qualcomm MSM7227 processor (announced back in February) running at 600MHz. The standard aGPS, WIFi and Bluetooth are thrown in, and it has a 1,300mAh battery. So, the HD2 it is not, though it should definitely be more affordable. The usual 512MB of program memory and 256MB of RAM are on board.
Don't trouble yourself too much with the radio bands. Remember that this was a European presentation, so things will change when they hit the states. But is this what HTC CEO Peter Chou meant when he said the HD2 was coming the U.S.? This is more like the HD1.5, especially without the Snapdragon processor.
HTC Trophy
Next up is the Trophy. It's a front-facing QWERTY-style candy bar, with a 3-inch VGA capacitive touchscreen. (Seems somebody's making a play for the Palm Pre crowd?)
There's a 5-megapixel camera and WiFi, GPS and Bluetooth trimmings are all there. The processor and memory are the same as the Photon. Battery is listed at 1,400mAh.
HTC Tera
Finally there's the Tera, which for all intents and purposes is a smaller -- though more powerful -- Touch Pro 2.
The screen is shrunk to 3 inches (down from 3.6) and is still a resistive touchscreen, though it shares the same 600MHz processor as the Photon and Trophy. Camera remains at 3.2 megapixels, which is curious.
So, there's a trio of new Windows phones on the way. We'll have to see exactly what makes its way to the United States in the coming months, and how these specs hold up.
Windows Central Newsletter
Get the best of Windows Central in in your inbox, every day!
"Not interested" x 3. The continuing trend is towards larger, more capable screen sizes. I'm FAR MORE interested in a large WVGA (800x600) display than a more pocket friendly (I guess) HVGA (320x480).

WVGA isn't 800x600, it's 800x480. If you want a big screen with High Resolution, then get the Moto Droid, HTC Touch HD, Daimond2, Touch Pro2, or HD2, or the Toshiba TG01. There aren't many choices out there.

Great update. But, but I think this selection is a little disappointing. I think I might prefer the current Touch Pro 2... HTC, please, please, PLEASE, bring the HD2 to the States.

I hope HTC includes a stylus pen with all of these Windows Mobile phones. I use the HTC HD2. A lot of the WinMo applications still need a stylus, and are fairly impossible to use with finger touch. I ended up getting the optional stylus pen for the HD2, which has no slot to put it in. Looking at the pix above, the HTC Photon will be similar but smaller than the HD2. That can only make it harder to use some apps with finger touch. HTC should stop pretending that its capacitive screen phones can run without a stylus. Many people will still need one for running applications. HTC should just include the necessary stylus, and provide a slot to store it in the phone.

RON JEREMY WANTS AN HD2 ON ATT THAT TREO EQUALS FAIL TIMES 3!

What a disappointment - no HD2 successor. This looks more like what the 2009 leak should have been. Smaller screens, 600Mhz CPU's...WTF?? They can keep 'em limited to Asia/EU - we don't need anymore crap like this in the US - our market is too saturated with substandard mobile electronics already...

Why would there be a HD2 successor already it's only been out for a couple months. Actually our problem and the US i that there are only a few REAL GOOD phones. That's why we overpay for I plans and subsidized phones compared to our EU counterparts.

an hd2 successor less than 6-8 months after the INITIAL release (its not even available in the US yet). Think about what you just said.

Yes, I am greedy - HTC get on it! Remember this a a road map of future phones, so you carrier may not even release them, and if they do, you could be looking at a Q3 release date. So you'll be waiting even longer for an HD2 successor to be announced, much less released...

Disappointed!!!
What's happening with the leader of the pack?
The trend is toward touch multi touch, amoled
For a good touch you NEED BIG screens.
why are going back to 3.2 - 3.0 - 2.4 ? What's is this?
Where is the HD3? with amoled, TV out, 8 MP camera?
Where is the TP3 thinner, 3.8 screen, capacitive?
They forcing me to look somewhere else next year! He he maybe they just fooling the enemy.

Hopefully these are only the 3 lower end ones, though the Trophy isn't bad for its form-factor (That form factor isn't for multimedia).

i agree with the sentiment already expressed - disappointment. maybe these fit the asian and indian markets - but probably too expensive for them. or maybe these are new android offerings? what would ignite the us-market is the hd2 on verizon and att - not trio of mini-me htc's. let's remember there is only one iphone that has been wildly successful worldwide. finally, with the hd2, there is a winmo phone that starts to change the game. perhaps htc might do well to copy nokia's 2010 plan to reduce the number of models they release (hd3, please!) and concentrate promotion on them?

I'm rather bemused by peoples comments on here. Three phones are "leaked" and yet people seem to assume thats all HTC is going to be releasing??!! If you honestly think HTC is *ONLY* going to release *THREE* phones for ALL of 2010, including allowing for the Windows Mobile 7 release about Sept/October next year, then you're a very sad person.

exactly.
go here:
http://www.boygeniusreport.com/2009/12/06/htcs-1h-2010-portfolio-leaked-... if these people bothered to look at the leek they would see - 8 devices - for the next 6 months. not 3 devices for all of 2010.

yes, we all know that there are 8 devices total in the leak, but you do know that the rest of those devices are running android, right? Doesn't make any sense to highlight android devices on a windows mobile blog, now does it? When it looks like that only 3 winmo devices are going to be coming for the first half, and these 3 don't look like a step forward, you get kind of worried about your choices for 2010...

The only one I would buy of the 3 is the Trophy, seems perfect in every way for a Candy Bar Styled QWERTY device. -To every one complaining about the screens and the 600MHz processor. CPU:
Yes these phones CPU's are clocked lower, but they still use the same ARM Cortex architecture, and GPU acceleration as the 1GHz version. It's not like there using the an higher clocked Qualcomm 528MHz CPU from last gen models, but a totally revamp one. Also it should have unbelievable battery life. Screen:
There not made with Flagship device in mind. they do have small resolution, but are made to drop the Price. Also 2 of them are Capacitive. These phone look like budget based models so a 3.5in screen,however nice, would be overkill. i think these phones are part of HTC's 2 tier winmo strategy for 2010. Release cheaper windows 6.5 devices to rival Android and Winmo 7 to compete with the iphone.

wtf, when reading comments I was thinking who are these delusional people discussing windows mobile, then I realized what WM means.

There will likely be a new series of devices later in the year optimized for WM7...depending what MS's timeline is (Fall'07). This is really just a preview of the first half and budget offerings.

I want smaller HD2 with 1 Ghz CPU. Is this so hard to accomplish?

Well has anyone given any thought to the fact that nothing really gets leaked and they are just doing marketing research to find out what the main group of their customers are looking for?

Sounds smart, but nah, lol. Last year's roadmap had like a 95% accuracy. Only the Thoth (I think)hasn't showed. Photon is real and definitely coming to a GSM carrier in Spring. BTW, the Trophy is a pretty solid device. 3" VGA capacitive front-qwerty with a 600mHz new-gen CPU? Yeah, totally give me one of those nao, thank you!

XDA is gonna be happy. 3 new Qualcomm 72xx based phones to me means more ripping Sense from mid 2010 for my Touch Pro 2 :) Ok resolutions are a bit different, but I'll still bet we get some lovely things like Opera 11 (lol) or maybe a (better) landscape Manilla 2.5 (3.0?) from HTC themselves. As for BUYING one of these new phones ... not after I've owned a TP2 but it'll be a good way to get HTC devices into the hands of those people that are still running around with Nokia candybar phones. You're not going to convert a Storm2 or iPhone 3GS user with these handsets, but isn't that segment already covered by HD2 and TP2 ?

No, no, on! They're going backwards! We want big screens and spacious keyboards and capacity screens. HTC needs to just take the 2009 form factors and make them faster with better battery life and in the case of AT&T devices give them headphone jacks.

I hope the Trophy can finally let me replace my Sprint Treo Pro and it's horrible keyboard which constantly skps letters.

My Treo Pro doesn't skip letters

I am really HAPPY. I thought when I am up in Early April there might be something right around the corner to give me pause about going with a Touch Pro 2. No worries now, I will be getting a Touch Pro 2

What WE NEED is BIG SCREENS (with great resolution of course !), FAST CPUs, MORE BATTERYLIFE and the sexy, revolutionary, nearly perfect designs like on HD2.
Other important improvements llike HDMI would not be necessary YET, but it sure would shake things up. This is great opportunity for HTC and WM to put on THE SHOW :) I noticed rumours about the "HD3". Thats what The company should focus and aim on, even if it was just a rumor. Coz thats what people want. 4.5" screen wouldn't mean bigger phone If they manage to use all the space geniously. If you ask me. 4,3" is big enaugh.. they can leave it and focus on resolution/make it AMOLED to gain more batterylife or use new touch technology on it etc...
And I'm not a dreamer. Remember the phones 5 years ago??... it's not a long time from then... Thats only an opinion about the Hardware improvements.

Brand new mobile phone unloked , laptop , come with complete accessories with one year international warranty. Email address: h.hammod@yahoo.com
h.hammod@live.com HTC HD2 unlocked.............$400usd
Apple iphone 3Gs 32gb........$350usd
Sony Ericsson Xperia X2.....$400usd
Nokia X6 unlocked.............$350usd
Samsung i8910 Omnia HDUnlocked..$300usd AND MANY MORE AT CHEAP RATE.. We make shipment via Ups and Fedex shipping company 2days
deliver worldwide. If you are interested in buying our product contact us via.. and also give us your mobile phone number for easy communication.. Email address: h.hammod@yahoo.com
h.hammod@live.com

Apple iPhone 3GS 32GB---$300,BlackBerry Bold 9700----$250,Eten glofiish X610,Nokia N900@320usd,Xbox 360 Arcade Console -- $105 OFFER:Buy 2 Get 1 Free
Buy 3 Get 2 Free Please contact: Vittorio Colao
Email : elect360@live.com
Email : electonline@yahoo.com MOBILE360 LTD is a recognized distributor of various consumer electronics.we are one of the leading mobile phone distributors.we are legitimate registered company. Registered No.06696874 We specialize in a wide range of products such as laptops, mobile phones, plasma & lcd tv, mp3 & mp4 players, video games console, digital cameras, dvd players (Etc) at affordable prices.for more information regarding purchase. Please contact:
Email : elect360@live.com
electonline@yahoo.com Guarantee
We look forward in placing your Order with us
and giving you the most competent services as we are using this
Media to seek buyers of various electronics product we Stock. For information:
Shipping Method: FedEx and UPS.
Delivery time:24hours delivery to your door step. Our phones are sealed original factory packages complete with accessories,
eg charger, extra battery and software c d. The phones have been free and
never lock to any network, specification: (Europeans / USA-specifications)
general network gsm 900/gsm 1800/gsm 1900 platform - tri band (GSM900 + 1800
+ 1900 MHz: country of manufactured origin: Finland, Hungary and Singapore. 1. Complete accessories (Well packed and sealed in original company box)
2nd Unlocked / sim free.
3rd Brand new (original manufacturer) box - no copies
4th All phones have English language as default
5th All material (software, manual) - car chargers - home chargers - usb
data cables -holsters/belt clips - wireless headsets (bluetooth)-leather and
non-leather carrying cases - batteries. If you are interested, forward your questions and requests via e-mail us
your order and shipping details. we give 1 year warranty for every product
sold to our customers, our product are company class 1 tested and approved
by global standard organization of wireless industry, new merchandise with
complete accessories, extra charger and battery. OUR COMPANY PRODUCT INCLUDES PRODUCT LIST: Apple iPhone:
Apple iPhone 3G 8GB -- $182
Apple iPhone 3G 16GB -- $190
Apple iPhone 3GS 16GB---$240
Apple iPhone 3GS 32GB---$300 BlackBerry:
BlackBerry Bold 9700----$250
BlackBerry Storm2 9550---$220
BlackBerry Storm2 9520--$210
BlackBerry Tour 9630----$205
BlackBerry Curve 8520---$210
Blackberry Curve 8900 -- $150
Blackberry Storm 9500 -- $135
Blackberry Storm 9530 -- $145
Blackberry Pearl Flip 8220 -- $110
Blackberry Bold 9000 -- $125
Blackberry Curve 8320 -- $115 HTC:
HTC HD2-----$250
HTC Pure---$250
HTC Tattoo---$250
HTC Touch2---$230
HTC Ozone ----$180
HTC Hero---$230
HTC Magic---$180
HTC Snap-----$180
HTC Touch Diamond 2--$145
HTC Touch Pro2 -- $145
HTC Dream -- $125
HTC Touch Cruise 09 -- $125 Eten:
Eten glofiish X610 -- $165
Eten glofiish V900 -- $155
Eten glofiish X900 -- $145
Eten glofiish DX900 -- $135
Eten glofiish M810 -- $135
Eten glofiish X650 -- $135
Eten glofiish M800 -- $120 Nokia:
Nokia n900@$340
Nokia N96 3g 16gb ----$255
Nokia 6788---$230
Nokia X3---$230
Nokia X6----$250
Nokia 5230----$155
Nokia 5800 Navigation Edition--$175
Nokia 6760 slide----$220
Nokia 6790 Surge--$230
Nokia N900----$300
Nokia 5530 XpressMusic--$178
Nokia E72---$210
Nokia N86------$230
Nokia N97 32GB---$255 Sony Ericsson:
Sony Ericsson XPERIA X10@$300
Sony Ericsson XPERIA X2--$250
Sony Ericsson Aino---$165
Sony Ericsson Idou-----$175
Sony Ericsson C510 -- $165
Sony Ericsson P1 -- $125
Sony Ericsson C905 -- $145
Sony Ericsson W960 -- $130
Sony Ericsson G900 -- $150
Sony Ericsson XPERIA X1 -- $155
Sony Ericsson C902 -- $130
Sony Ericsson W902 -- $145 Samsung:
Samsung S5560---$300
Samsung B7620 Giorgio Armani--$250
Samsung I5700 Spica-----$250
Samsung T939 Behold 2----$250
Samsung B5310 CorbyPRO$220
Samsung B3210 CorbyTXT---$220
Samsung B7330 OmniaPRO---$205
Samsung S5230W Star WiFi---$200
Samsung S7550 Blue Earth---$200
Samsung W880 AMOLED 12M--$230 LG Phones:
LG BL40 New Chocolate---$200
LG BL20 New Chocolate---$180
LG GW300 Viewty-----$180
LG KU990 Viewty---$175
LG GW550--$180
LG KC910 Renoir -- $175
LG GT500 Puccini----$180 Acer Phones:
Acer Liquid-----$250
Acer DX900---$200 Video Games Console:
PlayStation:
Sony PSP Slim -- $100
Sony PlayStation 3 160GB----$250
Sony PlayStation 3 80GB -- $155
Sony PlayStation 3 60GB -- $140
Sony PlayStation 3 40GB -- $125 Microsoft Xbox:
Xbox 360 Arcade Console -- $105
Xbox 360 Pro 60GB Console -- $135
Xbox 360 Elite 120GB Console -- $155 Apple iPod itouchs:
Apple iPod itouch 32GB--------$120
Apple iPod itouch 16GB--------$110
Apple iPod itouch 8GB--------$100 Nintendo:
Nintendo DS Lite -- $55
Nintendo DS i-----$80
Nintendo Wii Console -- $110 MOBILE360 LTD strive to offer high quality products at competitive prices.
All our products are new, never used, never rebuilt. We maintain
multiple-supplier sources for our products as a means to continually offer
the best products at the best prices. Contact us for more information on the
warranty process. Return Policy:
Before you return your items, you must contact us and receive a Return
Merchandise Authorization Number (RMA). Any returns sent without an RMA
number will not be accepted by MOBILE360 LTD. We assume all responsibility for the package until it arrives at our office. please include the following information when returning an item:
1) Your RMA number on your invoice (Do not write on the items box).
2) A copy of your original invoice with the RMA number (inside the shipping
box).
3) A note stating the problem if you would like the return for replacement
or exchange. Contact person: Mr Vittorio Colao Place your order today and get a taste of our services.
All buyers can contact us via e-mail, which is below in detail: Please contact : Email : elect360@live.com
electonline@yahoo.com We hope to complete your order with us and that is the most competent services. We are committed to do everything necessary to satisfy
customer! Thank you and God bless you, as you order item from MOBILE360 LTD Registered No.06696874 Address : 55 KENTISH TOWN ROAD CAMDEN TOWN LONDON NW1 8NX. Email : elect360@live.com
electonline@yahoo.com

Great updte. But, but I think this selction is a little disappointing. I think I might prfer the currnt Touch Pro 2 HTC, please, please, brng the HD2 to the Sttes.

Brand new mobile phone unlocked , laptop , come with complete
accessories with one year international warranty. Email address: a.aliinc@yahoo.com
a.aliinc@hotmail.com HTC HD2 $400usd
Sony Ericsson Hazel (Unlocked Quadband) GSM Cell Phone $380usd
Sony ericsson Satio Idou......$350usd
Samsung S9110 watchphone unlocked....$350usd
Apple iphone 3Gs 32gb........$350usd
HTC TOUCH PRO2..............$350USD
Sony Ericsson Xperia X2.....$30usd
LG BL40 New Chocolate.....$400usd
Nokia X6 unlocked.............$300usd
Samsung i8910 Omnia HDUnlocked..$400usd
Blackberry bold $250usd
Blackberry storm..$280usd We make shipment via Ups and Fedex shipping company 2days
deliver worldwide. If you are interested in buying our product contact us via Email address: a.aliinc@yahoo.com
a.aliinc@hotmail.com

Buy 3 pay for 2 : Iphone 4G : A+ MOBILE LIMITED
Registered No. 03756711
VAT NO:087627814
Incorporation Date: 1999 Email :aplusmobileltdbonanza@hotmail.com
IM US :aplusmobileltd@gmail.com
Y7 CHAT: aplusmobileltd@y7mail.com Address : CANDLEFORD, 58 OVER LANE, ALMONDSBURY, SOUTH GLOUCESTERSHIRE, BS32 4BW.
Branch office : 19629 S. McCord Rd.Oregon City, OR 97045 (USA).
Branch office : 1724 W Gardner,Spokane, WA 99201. +1-509-362-226. (USA).
Branch office: Arena Plaza Kerepesi

suck my dingle berrys and lick my ass and swallow my load!

wtf, when reading comments I was thinking who are these delusional people discussing windows mobile, then I realized what WM means.

I really like the Oled display and fantastic touch display,just few days back HTC has clashed with Nokia in the event organized at the same time in London and that has caused benefit to people as they had able to browse all the varieties displayed by both Nokia and HTC
Windows Central Newsletter
Thank you for signing up to Windows Central. You will receive a verification email shortly.
There was a problem. Please refresh the page and try again.