HTC 2010 leak shows mini-HD2, new front-QWERTY and smaller Touch Pro 2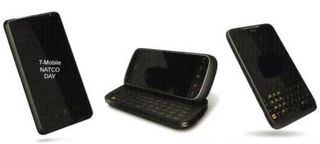 Anybody remember the Great HTC Leak of 2009, in which we learned about the likes of the Snap line, the Touch Diamond 2 and Touch Pro 2 revisions as well as a slew of Android fare? It's time for the 2010 sequel, folks, courtesy of XDA Developers guru B3ler3fonte [via BGR]. This is all gleaned from an October presentation in Switzerland, apparently.
On the Windows Mobile side, we're looking at a smaller, less powerful version of the HD2 form factor, an updated front-facing QWERTY, and another version of the Touch Pro 2. (Check out our pals at Android Central for that end of the leak).
Join us after the break for the whole WinMo breakdown.
HTC Photon
First up is the Photon, which appears like a small-scale HD2.
The 4.3-inch screen has been scaled down to 3.2 inches at HVGA. It'll have Windows Mobile 6.5, a 5-megapixel camera with autofocus, and a Qualcomm MSM7227 processor (announced back in February) running at 600MHz. The standard aGPS, WIFi and Bluetooth are thrown in, and it has a 1,300mAh battery. So, the HD2 it is not, though it should definitely be more affordable. The usual 512MB of program memory and 256MB of RAM are on board.
Don't trouble yourself too much with the radio bands. Remember that this was a European presentation, so things will change when they hit the states. But is this what HTC CEO Peter Chou meant when he said the HD2 was coming the U.S.? This is more like the HD1.5, especially without the Snapdragon processor.
HTC Trophy
Next up is the Trophy. It's a front-facing QWERTY-style candy bar, with a 3-inch VGA capacitive touchscreen. (Seems somebody's making a play for the Palm Pre crowd?)
There's a 5-megapixel camera and WiFi, GPS and Bluetooth trimmings are all there. The processor and memory are the same as the Photon. Battery is listed at 1,400mAh.
HTC Tera
Finally there's the Tera, which for all intents and purposes is a smaller -- though more powerful -- Touch Pro 2.
The screen is shrunk to 3 inches (down from 3.6) and is still a resistive touchscreen, though it shares the same 600MHz processor as the Photon and Trophy. Camera remains at 3.2 megapixels, which is curious.
So, there's a trio of new Windows phones on the way. We'll have to see exactly what makes its way to the United States in the coming months, and how these specs hold up.
Get the Windows Central Newsletter
All the latest news, reviews, and guides for Windows and Xbox diehards.