Verizon HTC 8X to get Windows Phone 8.1 in late October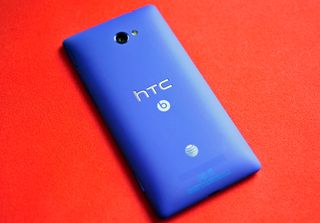 HTC 8X on Verizon is getting the Windows Phone 8.1 update in... sometime in late October. That's at least according to a recent tweet from the official HTC Twitter account.
As you're painfully aware, Windows Phone 8.1 was announced by Microsoft in early April. Since then we've slowly seen the OS rolled out to consumers. A lot of Lumia handsets have the update, but our friends rocking the HTC 8X have been left out of the fun so far.
You'll need to do a little bit more waiting for Windows Phone 8.1 if you don't go the Preview for Developers route. We'll let you know when it does drop in October.
Source: @HTC
Thanks for the tip Supergamer65!
Windows Central Newsletter
Get the best of Windows Central in in your inbox, every day!
How times have changed. Every other update, HTC was first and Nokia trailed months behind.

Uhhh... ? I don't think so.

Then you must have a short memory (: Every GDR, HTC has been before Nokia.

Given that I don't have the dates in front of me I won't argue it. Though if it is true, I would bet that it is tied to Nokia updating their numerous software solutions in sync with the MS updates... they have much better support and ongoing innovation. I guess I can sacrifice that extra week of delay for all that... (actually, I don't care all that much as long as I get updates in a "reasonable" timeframe) :-)

That happened when they start rolling wp8 first updates

Wtf, Verizon sux. What about Lumia icon??????????////

Icon? Verizon get the lead out!

Who knows when us Icon users will get the update... Verizon really has me thinking twice about staying with them.

Yeah fu Verizon. Leave them if you can, this is ridiculous.

Hey! At least we get Denim and that has better improvements than Cyan, plus we get GDR update 1

Does that include the firmware update needed for gdr1?

That makes sense of course, but I doubt they'd be that nice to us!

No. The news is about an OS update, not the firmware update.

Lmao well at least HTC hasn't completely forgotten their phones. Still prefer Lumia

What about the 822 on Verizon? I'm rocking the dev preview on my 8x so I don't really care... but my wife has the 822 and it's starting to piss me off that she still can't use Cortana or Notification center.

Is the Preview not available for the 822?

Yeah, I don't want to have to deal with signing up my non-technical, "I just want it to work" wife with the Dev preview bullshit.

You don't have to set her up on the DP program. Just install the Preview for Developers app and put your credentials in. Done!

Yes, the preview is available, but we want the official release through Verizon.

where the hell is the Lumia Cyan update?? come on Verizion.

You can't expect Verizon to care about anything other than the new iPhone, can you?

Apparently they care about the HTC x

Forget Cyan, they may as well take us straight to denim.

And that is EXACTLY what am hoping Tmobile does with the Lumia 925 :) lol or else am jumping to the 830, which is prolly what they want... dammittt.

I thought Lumia Cyan was only for Lumia phones.

It is Verizon has a bunch of Lumia phones that need the update

That's soon, right? Right? :)

I wonder what this means for their Lumias as I impatiently wait with my Lumia 928 and the three people I converted to 928s suffer without knowing it lol.

I'm curious about the 928 also...

i hope this means no later than late oct.

You know that if vzw announced the update for HTC to occur in October, our 928s won't see it till later. Difficult to understand why Microsoft can't exert just a little bit of pressure on vzm to support these phones. Been with WP since the wp7 Trophy and loved both phones but not getting much back. Going to need to reassess family and business phones when contract expires.

Absolutely love my 928, but this is getting ridiculous...

I am impatiently waiting for the update on my Lumia 928 as well as a friend that picked up a Lumia 928 on my recommendation. Come on Verizon!!!!!! Get with the Cyan and Denim updates!!!

Awesome. I really prefer the agonizing slow rollout of OS updates on the MS platform. I mean take Apple, they announced their new OS today and next week every iPhone and iPad out there will be able to get it. What fun is that? Isn't it better to wake-up every day wondering if today is the day your deemed worthy of an OS update? Sure, I know it is all a marketing ploy to sell new phones. Give the new update to the latest phones first so that people on older phones get so frustrated that they upgrade instead of waiting. Verizon doesn't want you to upgrade your HTC, they want you to buy a new one.

Android users are in the same boat as WP users when it comes to carrier updates. Only Apple can get them to push updates on a specific date because they need Apple more than Apple needs them. We do have the Preview for Developers which is stable and open to all. Firmware is a bigger concern...

iOS 8 is announced on June and going to be released this September, so WP update roll out is not far behind specially with such different handsets.

They didn't announce iOS 8 today, it has been months since Apple announced it.

Actually the OS was announced months ago...IOS 8 was announced at wwdc

It is ONLY MS phones that suffer from this eh? Take a look at all the other responses, then look at history, then come back and edit your post please. :P

Please, my point is that Apple treats their loyalists a whole lot better than MS does. 1st. You heard it here first. iOS 9 will debut Septemer 2015. Big leap there. The big DIFFERENCE is that Apple said their update will be available in September. MS RELEASED their update in April and we are still waiting for it to be deployed. If you can't see the gap, then your eyes are closed. 2nd Carrier testing is a joke. Everything a carrier does to test is done prelaunch. The delay is simply to get us lemmings to buy the latest features rather than wait for the OS update. It is a marketing decision, not a technical decision. My guess is the eventually, those MS faithful (I'm included) are going to grow sick and tired of the MS always running a step behind and a day late.

And you are absolutely right, but hey what can we do? leave the platform? why? you're just helping Apple get bigger (if you go to iOS lets say) Apple has that advantage. They can tell Verizon hey our update to the older phones wont affect our new iPhone launch, people will line up. and guess what, they do -_- Samsung is coming close to that kind of relationship, but that's just one Android OEM. sucks really =/

Meanwhile Samsung with the Ativ series...

Like everyone else who has a Lumia on Verizon, I wonder how long it will take VZW to push Cyan/8.1 to their Lumia 928 and Icon lines. They are notorious for pushing their updates slower than any other US carrier. Please, for once, be sooner than later.

I don't really care for Cyan anymore, we get Denim and that's a better update

True, but you won't get Denim before you get Cyan and if the schedule holds true, it will be Spring of 2015 before anyone sees it, unless they buy a new phone.

They better hurry up, be ON it like Donkey Kong! Waiting on update for Icon & 928. Told everyone last April we would have to wait till September or October. They laughed saying, "No, it will be July." Now we wait for November.
Denim February, maybe March if we're lucky.

So what about the Samsung Ativ S?????

Finally we hear something!

That's nice and all, but what about the UNLOCKED HTC8X version. I don't have a Verizon HTC8X. There support is really pathatic.

Think about it this way. Now at least there is some hope for the rest of us. I'm having a really tough time with my gf, because I convinced her to buy lumia 900 wich was fine but 1 update later no more updates, now she bought HTX 8x coz I told her that she will get all the updates for the nex 2 years and so far she got 0 updates xD She bought the phone just after the official GDR3 update rolled up. Meanwhile I'm rocking 925 with official cyan and update 1 xD

LOL, at least she is still your gf :P

hahahaha true xD I bought her a nice case for her 8x just to make up for it :P

But RobinPaul, its VERIZON'S fault!! Haven't you heard?! Get angry!!

Haha, I blame HTC for pathatic Windows Phone support, wonder how long the HTC One M8 will last.

Embarrasing on the part of Verizon. This update has been in their hands for at least 5 months.

See post above by RobinPaul. What has that got to do with Verizon, just curious how this line of thinking goes. An unlocked HTC 8X still doesn't have the update... How is it possible Verizon is restricting that users updates?

That tells me HTC just sent the firmware over to VZW for its one month test.

And any news regarding that 0x80188308 bug ?

Hopefully those of us on the developer preview will be able to upgrade to the official version and that it contains the driver upgrade so that we can continue using the developer preview.

So HTC fans, welcome aboard!

I am Verizon customer with a Lumia 928 still no update either.. :-(

I hope that HTC would please give an announcement for WP8.1 update for HTC8XT on Sprint. Last I read the update was to take place in September but somehow I don't have faith in both HTC and Sprint.

The picture is Att version. Report him.

Until Microsoft can do something about this incredible slow roll out of updates to phones like T-Mo L925 (their flagship) for that OEM it'll continually be hard to gain new followers. When everyone around you who has the same phone have different experiences it leaves a shot taste in your mouth. Even a Windows Phone faithful like myself starts having doubts...

Its your carrier that does want to devote resources to getting the update tested and released. Time to find a better one.

Yea but since Microsoft is the one trying to catch up they should find ways to inspire speedier testing. I understand that it is not Microsoft showing things down but they can work to make things slightly faster..... So there is not a quarter or a third of the year before other WP users are on a similar level, as had been the case in the past

As stated above it happens to android too, its Verizon/T-Mo not caring, not Microsoft and Google. If it was there choice we would all have the update by june

yeah me too, that iphone 6 plus and a nexus 7 is calling me, this Icon is starting to get on my nerves

What about the at&t HTC 8x?

Perfect, Just in time for me to get a LUMIA (or other). My contract expires November 4th. I have Dev PReview as well and I would aonly hope that I get the Update 1 in the next few weeks.

Still will probably beat all Telstra handsets in Aus

Welp.. I am rocking the dev preview.. Even still for once AT&T users didn't have to wait super long before the update for the 1520.. Unlike the 920,however it was still a better timetable than some others.

Lumia 822 & 928 still don't have the update without dev preview. Verizon is taking a lot of time rolling the 8.1, and Cyan updates.

No love for Lumias on Verizon either.

What about Lumia Icon? '.'

Way too late... I am ashamed to say that the iPhone 6 has outdone any windows phone by far... amazing! Microsoft needs to get their act together, release something groundbreaking... Even down to the tiniest details, for example the iphone 6 will be available to pre order in 4 days. If it were Microsoft, there would be a 2 month wait! Sorry Billy, but apple have outdone you this time...

I believe he is talking about Mr. Gates....

Re Edwardlb20,
Take another look and really be honest. Let go of the frenzy. My Lumia 822 is the best phone I've ever had and serves my every need for a phone and many features that I checked out, but don't need. Fast, Fluid, Amazing, and Modern. Admittedly, Verizon is slow to respond, in many ways. I would never think of downgrading with a newer phone.

What about the damn ICON, Verizon?

Lumia icon gets cyan when????

Cool, hope the international version get it before that. I'm more interested in the 8.1u1 update though ... I want my music live tile back

Meanwhile when anyone asks Verizon about any of their Lumias getting Cyan *crickets* This is getting ridiculous, at least HTC gave a real response.

Way too late im glad I'm leavin Verizon

when they getting it with Bell!??!? wife still doesn't have cortana and it annoys the crap out of her.


..she still won't have Cortana. (Unless she changes her region to United States... I know... I know...) But if you keep your phone regioned to the region you are in, there's no Cortana. (Until Denim and then we're a "Public Alpha.") All this and we're only four hours north of the mother ship...

A lot of Lumia phone have it? If you're in the US, only if you are with AT&T or buy a cheap phone from T-Mobile. More than half of the Lumia phone in North America do not have it yet.

If 2 year old 8x gets 8.1 before my 6 month old Icon. I'm getting an iPhone 6.

If the cyan update doesn't come out before this, I'm switching to AT&T. SCREW YOU VERIZON YOU SUCK! The question becomes when should I switch? I'm hoping to rock a 1525. I really hope it will be released soon. I need me a REAL phone.

Verizon is embarrassing itself. Shameful update cycles all around. If only the FCC had a pointy sticky they could poke the carriers with.

What would the FCC have to do with update cycles?

I also have a icon and been patiently waiting on cyan. I recently DL the dp preview and love it and yes might as well wait on denim

To everyone complaining, signup and install developer preview. Stick it to the carriers that way. Just go over their heads. Easy.

Well 8X users cant even get the 8.1.1 update!

But this includes firmware optimized for 8.1 so you might be able to get GDR 1 after you get this.

We wish, but most likely their 2 WP developers should get back from summer vacation.

wow. htc can eat a bag of dicks. never touching another of their products again.

Best looking Windows phone,next to Lumia hands down! Posted via Windows Phone Central App

Better late than never...

Add all Windows Phones on VERIZON ! I know no one really cares except us Windows Phone Verizon owners!

I've had it. Switching to iPhone in November. Tired of being left out of all the good stuff.

But this isn't 8.1 update 1? So no folders?

But this includes firmware optimized for 8.1 so you might be able to get GDR 1 after you get this. I'm crossing my fingers.

Umm I have HTC 8X for Verizon and I expect to get a Lumia 830 by October. Soooo uhhh bye Felicia!

Really, and where in hell is the update for the Lumia 928. I am done with Verizon, I hate those SOB.

Our family is thinking about leaving Verizon after many years. They are too slow and biased about phones. Where is the update for the Lumia 822?

At least its coming out. I decided to get the preview. This to me seems more of a side dish to something else. New devices maybe?

Six months.... That's ridiculous.I think Verizon is delaying the 8.1 update on purpose so that everyone can be enamored with the new iphone (That's my conspiracy theory for the day).

Yay. Thus not shall be forgotten

I what the update 1 on my HTC X8 :(

Errr..any news for Samsung ATIV S? Sigh!

Ini nee vayasukku vantha enna varlena enna?!! (only for Tamil speaking people)

What about non Verizone HTC 8x - I have HTC 8x in UK on the Virgin Mobile network. When am I expecting latest updates? Already enrolled in the developers preview.

What about non Verizon HTC 8x phones?! Edit: Damn it.

How about the 928 Verizon?

What about the Lumia icon??

What about the Lumia icon 929?¿?¿?

Oh, c'mon. What about Update 1?!

HTX 8X? That was my last phone. What about Lumia Icon?????

Yeah well...if you go for preview for developers with 8X you'll still be behind others...cause update 1 ain't avaliable yet for 8X. So when can we finally download update 1, huh?

after 15 years little red, i'm sticking a fork in you, you're done. taking my 4 lines and $300 / month elsewhere where they appreciate my business.

mean that my Htc x will have GDR 1.2 functions too? (grouping folders & so on...)

I'm still waiting on it also. htc att 8x

I have the 8xt on sprint. At least you guys get news. Developer preview is broken after multiple full resets and reapplications. At least you have a windows phone that you can upgrade to. I'm not switching cause unlimited data is da bomb

Man, and here I thought I was impatient! You people are psychotic. I would much rather wait until they can get me an upgrade that works right the first time than to just slam me with an upgrade that everyone thinks will be cool. I, unlike most of you I am guessing, need a phone that works and for the last year and a half, my 8X has had service that works, a phone that works, internet that works, texting that works and many, many other apps that work. I am grateful for that as well as the coverage that works. In reading many of the comments from people that are switching providers to some other company that will get them their wittle upgrades, go... go... go! That will mean less miserable people using my great Verizon network and better service for me! Thank you and you will be miserable somewhere else when you get dropped calls, no internet service and your text doesn't go through because you have no service. Happy hunting.

About damn time.. My clothes are going out of style

VZW is slow walking the 8.1 update to push people the the new M8 Windows phone.

Well, Its late October and still no update. 9 days and counting

Its literally October 29th. Verizon is that friend you're waiting for at the bar who says they're running late but they'll be there soon.
2hrs later shows up. #douchebagverizon

It's getting pretty late in October. Where is the update for the HTC 8X? Has anyone received this update from Verizon? I am seriously considering changing Carriers after this lack of support and issues with the cell service at my home location (used to be rock solid and now is difficult to even receive signal in some parts of the house and never in 4G LTE). Battery life is starting to suffer (probably due to searching for network all the time) so I am thinking about asking Santa for a new phone for Christmas

This is exactly why the carriers need to be removed from the operating system update business. Better yet, remove them from the hardware business all together. Consumers need choices. Carriers want to lock you in and control you and manipulate you into upgrading to a new phone. That needs to stop. We should be able to buy a phone anywhere and subscribe to any carrier. The operating system updates would come from the operation system vendor.

Talked to a Verizon tech support level 2 yesterday, He said, he has no information on an update, and they normally tell him when it is iwthin a month. He said it is under testing.

VERIZON where is the update?! Are we in dinosaur age?! Shame on you VERIZON

October?? Of what year?? Sprint has theirs. Verizon?? HTC?? Been on the phone with both and both blame each other. Full of excuses. I wont buy a htc or windows phone again. Had enough.

Just got the 8x 8.1 update... finally. Why do I feel like the last person on my block to get a color tv?
Windows Central Newsletter
Thank you for signing up to Windows Central. You will receive a verification email shortly.
There was a problem. Please refresh the page and try again.