HTC 8X vs Nokia Lumia 920 - Recording a live Deadmau5 event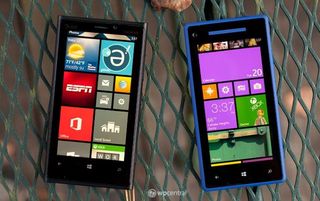 Earlier this week we were lucky enough to be in attendance at the Electric in Brixton where Nokia promoted the Lumia 920 by showing a recorded version of Deadmau5's performance near tower bridge before bringing the man live into the club for a special free live event.
Of course we weren't content with going just for the beer and electro-house music, so we thought we'd use the opportunity to do another comparison for people still torn between the Lumia 920 and HTC 8X.
If you're a regular visitor to the site you'll know that I'm lucky enough to be putting both devices through their paces and have previously published a full, in depth comparison on what I believe to be the key differentiating factors between these two outstanding devices - which you can find here. Some excellent comments pointed out that we hadn't gone as in depth as we could have with regards to audio quality when recording video, so this follow up video should help you decide for yourself.
Warning: there are sound level variations in the video when moving to the 8X - beware if you're using headphones!
Keep in mind that this is what I would call an extreme test (and raw footage), it was a very loud night and we were standing pretty much next to one of the main speakers, but still, the difference is staggering. For anyone wondering; all videos were recorded at 1080P and have been scaled down to 720P for uploading to YouTube, the audio track has been untouched apart from any compression in the upload to YouTube. The first two videos were recorded earlier in the night at exactly the same time, whereas the second two were recorded later, one after the other.
So, if recording live events is your thing perhaps this will be the final word swaying you towards the Nokia, of course if it isn't then it's worth reading through the original comparison as part of your research. Please let us know your thoughts on the recording in the comments below but remember this is not intended to fuel pointless flame wars over the two devices, only to help inform you as consumers
Get the Windows Central Newsletter
All the latest news, reviews, and guides for Windows and Xbox diehards.