HTC announces the 8X with Windows Phone 8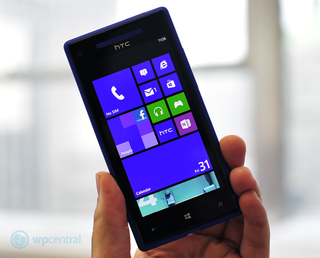 Today, September 19th, HTC finally took the veil of their 8X device featuring Windows Phone 8. The device features an array of various technologies, including a 4.3" Super LCD2 display with Gorilla Glass2 at 720P resolution. In addition, the 8X features a 1.5GHz dual-core Qualcomm S4 CPU, 1GB of RAM and 16GB of non-expandable storage.
But perhaps the most interesting feature besides the included NFC and 8MP BSI camera, is the Beats audio software and hardware. The software features some advanced DSP and signal correction technology but the 8X also features a 2.55v amplifier to greatly increase sound output.
And just as important, the HTC 8X will be coming to AT&T (US) for an estimated price of $199...
Likewise, the phone features a 2MP front-facing camera with an F2 aperture and 88 degree wide-angle view, geared for better self-shots when out with friends. The camera also features HTC's dedicated image processor for fast image rendering.
In addition to the new internal hardware, the 8X comes in four vibrant colors including California Blue, Limelight Yellow, Charcoal Black and Fire Red.
The 8X was built from the ground up as a request to HTC by Microsoft to make a whole new experience and exciting design that builds off of the Windows Phone tile system. In that sense, the phone is the first of its type and brings and exciting new look to HTC's Windows Phone 8 series.
Full specifications:
SIZE: 132.35 x 66.2 x 10.12mm
WEIGHT: 130 grams with battery
DISPLAY: 341ppi super LCD 2 display, with Gorilla® Glass for greater durability. Optical lamination for superior sharpness & clarity plus reduced light reflection
SCREEN: 4.3-inch touch screen with HD 720p (1280x720) resolution
CPU SPEED - Qualcomm® S4 1.5 GHz dual-core processor
PLATFORM - Windows® Phone 8
SIM - Micro SIM
MEMORY
Total storage: 16 GB
RAM: 1 GB
NETWORK - HSPA/WCDM ( 850/900/1900/2100 MHz); GSM/GPRS/EDGE (850/900/1800/1900 MHz)
SENSORS
Proximity sensor
Ambient light sensor
Digital compass
G-Sensor
CONNECTIVITY
3.5 mm stereo audio jack: plug any headphones with a standard-sized 3.5mm connector
Bluetooth® 2.1 + EDR
Wi-Fi®: IEEE 802.11 a/b/g/n (2.4 & 5GHz)
micro-USB 2.0 (5-pin) port
NFC capable
MAIN CAMERA
8 megapixel camera with auto focus, LED flash and BSI sensor (for better low-light captures)
f/2.0 aperture and 28mm lens
1080p HD video recording with stereo sound
Dedicated HTC ImageChipTM for fast focus speed and clearer, sharper shots
Dedicated camera button
FRONT CAMERA
2.1 megapixel camera
f/2.0 aperture and ultra-wide-angle lens
1080p HD video recording
Dedicated HTC ImageChipTM for fast focus speed and clearer, sharper shots
SOUND ENHANCEMENT
Studio-quality sound with Beats Audio™ built in
Enjoy bigger sound and superior fidelity with exclusive built-in Amplifiers
BATTERY - Capacity: 1,800 mAh
Windows Central Newsletter
Get the best of Windows Central in in your inbox, every day!
Daniel Rubino is the Editor-in-chief of Windows Central, head reviewer, podcast co-host, and analyst. He has been covering Microsoft since 2007 when this site was called WMExperts (and later Windows Phone Central). His interests include Windows, laptops, next-gen computing, and for some reason, watches. Before all this tech stuff, he worked on a Ph.D. in linguistics, watched people sleep (for medical purposes!), and ran the projectors at movie theaters because it was fun.
Seriously. No 32gb and no sd card sucks. I really like the look of this and really want to consider it, but the memory thing annoys...

I'm cool with 16 gb to keep the price down, especially with skydrive. And we don't know how X-Box Music will work. If it operates anything like Google Play Music with a Cloud-based storage of personal music, then that makes it doubly okay in my book.

That's right, Paul. Gotta keep those guys in line, LOL!

Local storage? That's soooo old skool! seriosly, if you want to adopt the new tech, you've got to adopt the new cloud philosophy. I'm a bit old school but I'm working on it...

I'm actually totally down with SkyDrive, I auto upload my pics, have uploaded whole galleries of photos for sharing and easy access, and I keep all my office files there. But until I can stream my videos and music from SkyDrive and not pay ATT for the pleasure of listening to my own material, local storage is a serious need

Totally agree.
I'm currently using over 30gig on my current phone (have 16gig internal + 64gig microSD).

The Cloud isn't going to help me much when I want to listen to my music while I'm on a flight. Or driving or riding my motorcycle in an area with spotty coverage.

Plus, with Unlimited Data plans going away on almost all the major carriers, paying for bandwidth to stream my own content, which I could be storing locally, is just dumb. People who are not on Unlimited plans and are using the Cloud to store their music or other content (pictures), which they access over a non-WiFi connection must either be rich or, well, dumb, too.

Buy a phone with enough local storage and stop paying Verizon or AT&T more money every time you want to listen to your favorite Lady Gaga song!

unmetered (data) music streaming services have been in Australia since July this year. they pull back the data allowance to force you into their unmetered services. at first I was angry, now I am loving it, great for discovering songs and songs you'd never want in your collection, plus offline downloads available for aeroplane trips. it will be the norm soon, check out the Telstra and MOG arrangements.

Good info - but moot for me. I have VZW Unlimited and will be buying my phones outright, in the future, to keep it. My problem is not paying for data. My problem is frequently going in and out of coverage. My life is way simpler when I just have all my music stored locally. And, really, there is NO reason (for ME) to sacrifice having a phone with plenty of local storage. No phone made (or coming - including this one) will do anything that I can't do on my current phone. At least, not anything that I need or want to do.
So, what is the benefit in compromising on my local storage needs (desires, if you insist) by getting a phone with 16gig internal and no expansion slot? Managing offline downloads/caching just sounds like a pain in the butt for no real benefit. And a guarantee that I'll be somewhere, at some point, wanting to play a song that is not on my phone and I can't get to it because of the coverage where I am.

The 16gb is a huge deal, that's what I have on my old ass Trophy & I have to micromanage like crazy. Why can't they have a 32gb option too? Where I live there are several places with iffy coverage where streaming doesn't work, that plus my 2gb data plan means I want space! It was so close to perfect, I really like everything else. If it's the only high end option on Verizon though I guess I'll just have to keep micro managing. No offline maps for me.

Just curious. There are Android options on Verizon that would let you have as much as 96gig of storage (as I have on my Rezound - which is also 4G, World capable, and supports simultanenous Voice and Data, on 4G AND on 3G).

What does this phone let you do that you can't get from any of the Android options (which would also relieve you of your micro managing of storage)? I mean, why put up with micro managing? What benefit are you getting to make up for that PITA?

16GB non-expandable storage....lights out...who cares.

And AT&T again. Why doesn't TMobilw just start selling rocks with antennas on them?

Hahaha that's how I feel too.

The press release says: "the Windows Phone 8X or 8S by HTC will be available from the world's top carriers including: United States: AT&T, T-Mobile and Verizon Wireless."

LOL! Totally agree though.

This phone is also coming to T-Mobile and Verizon. ATT is just getting it first.

I care, just because it doesn't satisfy your storage needs doesn't mean it's going to be a fail

I've dealt with the "8gb" of memory on my focus for a while now. 16 would be enough to add some more music, but I don't see the space being used for much else. I have more apps than I need, and photos are small and get synced to the computer then deleted. I'm also a Zune pass subscriber so if there's an album I've been wanting to listen to I download it, then delete one I'm tired of.
tl;dr 16gb is enough for me

BT 2.1? typo maybe? I don't use BT but I would imagine that for those that do that if this were correct this would be a big downer.

...and on the same day that Nokia announces that the 820/920 will have 4.0

The Sanpdragon S4 chipset supports Bluetooth 4.0. This is a typo. Just like they didn't mention LTE connectivity.

yeah the 16gb is pretty weak

Wow, It's looks like a lighter version of lumia phones! I don't care a lot for more than 16 gb memory.. Decisions, decisions.. HTC is making it harder.

16GB non expandable memory? Seriously, any sympathy I had for HTC is now gone.

The s has a sd slot though, clearly would get the 820 over the s still.

I stream everything,no need for a larger on board

Must be nice not having data caps and always having access to a fast connection. For those of us who don't, we need storage space and it's not unreasonable to want it to be external so we can add as much as we'd like to.

Streaming music only uses 55mb per hour.

If it uses 55mb/hr then I'll use 7GB a month with what I average with while listening to music....

I guess you never go travelling or go out of carrier range... On-board storage is essential and vastly superior to the cloud. I could 'download' 64GB in mere seconds (switch cards) while you're still farting around trying to get reception

Beats audio is a big deal...this phone is attractive to me...

Beats Audio should be a nice feature for the audio enthusiasts. I think if they market it correctly it could be a hit... But yeah the fact that it has an amplifier makes it nice if you plan on using with any means in audio.

I do like the size better than the Lumia 920, but not the 16GB storage (and again no microSD, it seems), or the 1280×720 display (prefer the 1280×768 of the Lumia for backwards compatibility reasons.

So I'm still leaning towards the 920.

well i mean they arent bad they are absolutely stunningly designed phones i think many plain consumers would opt for the 4" s

I sure hope T-Mobile has a bin full of HD7's...I think I'm skipping the 1st gen WP8s.

This sounds like a great phone to me. Huge upgrade over the HD7 in my book.

Not overly fond of the storage, but if Verizon ends up not getting the 920 I don't think I'll be disappointed with this guy

Wait, AT&T? What about Verizon???

The press release says: "the Windows Phone 8X or 8S by HTC will be available from the world's top carriers including: United States: AT&T, T-Mobile and Verizon Wireless."

Ah, alright. Thanks for the clarification

The key word there is "or". It doesn't say that the 8X AND the 8S will be available fromAT&T, T-Mobile, and Verizon, only that one or the other will be available. It sounds to me like Verizon will only be getting the 8S.

nope, Verizon is definitely getting the x

I hope so. But still, without the removable storage or a 32 GB option, I'm not excited about this.

+1 I'm very disappointed by this especially

The carriers should be able to request more storage like they did wait the 8gb wp7 devices

After using the Titan 2 for a few months a 4.3" screen is just too small for me to type on comfortably. Too bad it can't match the One X screen size.

Also, the Titan 2 has a camera that's very slow to focus, making it nearly impossible to take a photo of anything not sitting absolutely still. Hopefully this is much improved.

OH NO!!!!!! ARE YOU KIDDIN'??????
16GB and non expandable ! I was so in love with the design of these phones I was wondering whether I should continue with my planned Lumia 920 purchase. The decision has now been made. Goodbye HTC.
Its a real shame because I really applaud HTC's design but clearly they are not thinking this through!
For those that are not after a high end phone you would be better of buying the lower 8s rather than getting the more expensive 8x only to be disabled with two year old storage levels.

THIS MAKES NO SENSE, in a world where date is growing exponentially and Samsung today announced a new ceiling of 128GB for mobile phone storage.
Shame on you HTC

Love the design and colors, 16gb is fail with no sd for many. Personally I want a larger screen, looks like the 920 it is then. Cannot believe there is no Titan replacement.

I dont care if its 32 GB, 16 GB or even 8 GB, the deal breaker for me is the 4.3" screen. I guess I'd have to get a 920 to get a screen size close to my Titan II.

ATT again????? Where the hell is Verizon??? Please don't make me leave Verizon....irritated with this ATT BS.....verizon is far superior in my area and im due for an upgrade in Nov....fail! Verizon fail....wake up...wp8 is the new thing....get off ur asses....

Has anyone thought that maybe HTC is going to release the Titan successor when WP gets quad core support? These phones are great, 16GB with Xbox music streaming or Skydrive will do fine. Appreciate the awesome design and specs and stop moaning!

I thought wp8 supports up to 64 cores and windows phones currently use Qualcomm SOCs and their quad core hasn't gotten all the way out the door.

Whoa never expected this comment from you

Damn, I'm really liking this phone. I like this over the 820. On the other hand im still liking the 920 more only because of storage.

I have never used more than 8gb for music, so ive never needed large storage. With the Zune pass i dont use more than 5gb...<snicker>storing music is so 2012 </snicker>

Good for you. My 16 GB phone is permanently full and I am uninstalling apps, shifting music & pics every few days. It's a complete pain.

When they said this phone was coming to T-Mobile...when I tell you I yelled so loud, my roommates got scared ha ha...

Griping about localized memory is like people who gripe about a car not being a stick shift. We live in the 21st century. Get over it. My car should shift itself and my music should live in a cloud.

This better not be the zenith or I'll be disappointed, and besides I have my doubts.

They should offer a 32GB version for an extra $50. I'd be so down.

Good looking phones. For me, 1800 battery might not be enough (needs realworld results), 16GB is a little light and, while I don't use it, I think BT 2.1 will put some people off who depend on BT 3+.
What a screen though - 341 PPI?! That's fantastic!
Are these confirmed specs?

Wow! Much better than I expected from them!

16GB of non-expandable storage.is a deal breaker. Sorry HTC, I ike the design but I will go with the Nokia Lumia 920

Quit whining, the 920 doesn't have SD either.

I am seriously once again underwhelmed by this. I was hoing for an updated Titan 2 style phone or at least a Galaxy Note competitor. The Nokia copied styling is executed well, but the specs from a company like HTC, leaves much to be desired for a flagship platform phone. I think the fact that the micro sd expansion is not included in these phones, somewhat defeats the purpose of some of the improvements of the WP8 OS. I guess will be waiting for Microsofts press event and hopefully an announcement about the Juggernaut Alpha.

I love Beats but the storage worries me

The huge HTC text on the back is plain ugly, why do some company think we would want to wear their brand like tattoo.

I have been a loyal HTC customer since WP7 launch. First, with the Surround- I chose that phone for its superior sound. Second, with the Titan- I love the big screen. I have been watching Nokia since they entered the game, and I was completely wowed by the Lumia 920. Still, I planned to happily stay with HTC if they competed. But... Beats Audio is exciting, but reduced screen size? 16gb non-expandable? With all the innovation Nokia brought to the table, HTC really needed to step up their game to convince me I didn't need wireless charging or Pureview. I'm sad to say, they've fallen short. The 8X is a nice phone, no doubt about it. But it's not even in the same class as the Lumia 920. Looks like I'll be leaving HTC...

imho 4.3" feels good in hand and pocket. 4.5" is just slightly bulky in my front pants pocket. A huge rectangle bulge in my left pants pocket. lol.

Is it a polycarbonate finish? Or just painted?

I like the size of this one better, bit I like pureview, 32gb, bluetooth 4.0 and Nokia apps... I dunno... Close call

I see the storage is an issue with some, but it's really just a nuisance for power users. Users like myself would love to see 32+expandable storage on these types of phones. I store tons of music on mine cuz I hate the radio. I have a bout 6 gigs on here along with apps and pics and bids and still have space for some more. Most movies I just delete and pics get deleted to zune. So my space is cool for now. But those 1080p videos are gonna suck up space quick once I stat making my own porn! JK

Great designs, good all round spec, but the memory capacities for the phones are deal breakers. Not all of us have have unlimited access to data on the move, not all of us wan to stream and quite frankly not all of us want to be online all the time... sorry HTC.. shot yourself in the n**ts..

If sprint picks this up I might stick with them. However the HTC EVO LTE is the only HTC device sprint is currently offering. That phone has been a troubled device with a serious problem that prevents them from powering on; still yet to be resolved. Given its poor sales relative to the S3 I wouldn't be surprised to see sprint drop HTC entirely. That only gives me hope that sprint is considering Nokia as a partner going forward. This would make me very happy as unlimited data is amazing; not to mention its free for me. The added benefit is that I wouldn't have to work on HTC phones going forward as their build quality dropped rapidly after the original evo. Seriously HTC is the least reliable phone sold by sprint if you exclude Kyocera.

OMG that Limelight Yellow is HOT! HOT! HOT! Better than Nokia's Yellow, by far! I want so bad!!!!!!!!!!!!!!!!

The 8x is hot, man... Plus it's coming to my carrier so I wouldn't have to unlock... Still buying outright though. If it comes in $100 or more less than the 920 I may have to break my promise to my self not to buy another HTC device.
Windows Central Newsletter
Thank you for signing up to Windows Central. You will receive a verification email shortly.
There was a problem. Please refresh the page and try again.