HTC global push for Windows Phone 8 continues with launch event in Philippines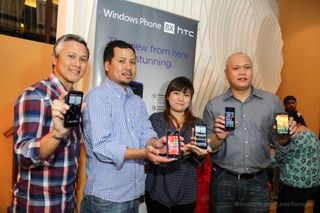 Microsoft's Windows Phone 8 has launched but that only appears to have signalled the start of a serious global assault of both device launches and advertising.
The HTC 8X has been received incredibly well, which has displayed somewhat of a return to form for the Taiwanese manufacturer (for Windows Phone anyway). Now it's time to get those devices out there.
HTC recently held an event in Cebu, Philippines to launch their new Windows Phone 8X handset in another important South East Asian Country. We have previously reviewed the device which you can check out. The event was attended by a number of HTC representatives and saw Richard Javier, their country manager take to the microphone to speak about the company's latest Windows Phone Handset.
The event also had a representative from Microsoft give a speech to help move things along and give a full tour of the Windows Phone 8 operating system. The device is set to cost around P28,800 ($685) and should be available now.
It's good to see HTC continue to push their great Windows Phone 8 handsets out as part of their global launch and the event looked fun. We're going to have to call out the group shot of the HTC representatives holding out their devices though as it seems that their Android handsets outnumber the HTC 8X. Seems rather odd to showcase a Windows Phone but have more Androids on display by the staff does it not?
We're glad to see HTC back on board with Windows Phone and will be keeping a close eye on how their global launch goes. They have done a great job with the hardware but can they now back this up with continued software updates and even start to compete head on with Nokia's mighty software offerings?
Do you have a HTC 8X, how have you been finding it?
Source: WiredMash; Thanks to @JCinWinupd8 for the tip!!!
Get the Windows Central Newsletter
All the latest news, reviews, and guides for Windows and Xbox diehards.