HTC global push for Windows Phone 8 continues with launch event in Philippines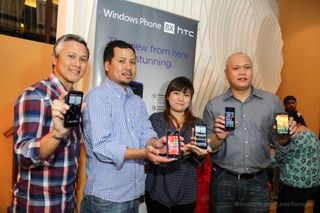 Microsoft's Windows Phone 8 has launched but that only appears to have signalled the start of a serious global assault of both device launches and advertising.
The HTC 8X has been received incredibly well, which has displayed somewhat of a return to form for the Taiwanese manufacturer (for Windows Phone anyway). Now it's time to get those devices out there.
HTC recently held an event in Cebu, Philippines to launch their new Windows Phone 8X handset in another important South East Asian Country. We have previously reviewed the device which you can check out. The event was attended by a number of HTC representatives and saw Richard Javier, their country manager take to the microphone to speak about the company's latest Windows Phone Handset.
The event also had a representative from Microsoft give a speech to help move things along and give a full tour of the Windows Phone 8 operating system. The device is set to cost around P28,800 ($685) and should be available now.
It's good to see HTC continue to push their great Windows Phone 8 handsets out as part of their global launch and the event looked fun. We're going to have to call out the group shot of the HTC representatives holding out their devices though as it seems that their Android handsets outnumber the HTC 8X. Seems rather odd to showcase a Windows Phone but have more Androids on display by the staff does it not?
We're glad to see HTC back on board with Windows Phone and will be keeping a close eye on how their global launch goes. They have done a great job with the hardware but can they now back this up with continued software updates and even start to compete head on with Nokia's mighty software offerings?
Do you have a HTC 8X, how have you been finding it?
Source: WiredMash; Thanks to @JCinWinupd8 for the tip!!!
Windows Central Newsletter
Get the best of Windows Central in your inbox, every day!
3 of those devices they are holding appear to be Android.

What about the Zenith aka Titan 3 ????? The 8X is my HD7 on steroids. I want something to compete with the 920 or ATIV S. How can HTC be a premier W8 OEM with what their pushing???? The 920 kills the 8X. I seriously see why HTC is sinking.

ffs have a little patience. no manufacturer launches the entire portofolio at the same time. i'm sure in q1 2013 they wiull show the titan 3 successor

920 kills the 8X? I don't think so, the 8X has a higher ppi, better sound.

That statement you just made couldn't be any more incorrect.

Lumia 920 PPI = 332, HTC 8X = 341. Correct

Lumia 920 doesn't have a dedicated amp, the 8X does. Beats audio is said to be marketing rubbish, but the amp is a definite plus for the 8X's audio playback capabilities. Maybe

So apparently, he could have been "more" incorrect...

Got the 8x right here, can say that the beats audio aint rubbish.. It actually makes my music sound allot better, although I think it's quite on par with dolby which the 920 is supposed to have.. :-)

I wasn't saying it was rubbish, just that some people say that it is such. I've actually not had any experience with Beats audio.

How is the battery on the 8X? I hear its poor.

Has there been a supply shortage of 8X's ??? I don't think so. If you think the 8X is high end what's the GB's? Is the memory expandable? What's the screen size? The 8X is a middle of the road phone. I'm just saying HTC should've come out swinging. They just bunted with the 8X. Yes it has a amp and sounds decent but beats is just a marketing gimmick.

You sound like you haven't read anything anyone said. The amp adds to the sound quality too, its not just beats. And at best buy the 8GB 8X is outselling the 920.

I believe HTC is still to come out with their flagship WP8 in 2013. According to a leak, which was supposedly straight from HTC, they wanted to come out with a quad-core but were waiting for MS to optimize the OS for it. As soon as that happens, I personally believe, HTC will be the first to come out with a quad-core WP8. So in a sense you're right, when the HTC quad-core WP8 comes out the 8X would lie somewhere in the middle of the road but for now it's high-end.

Can you link to that? WP8 is capable of running on up to 64 cores.

I'm glad they are backing WP8. can't wait to see Zenith

I guess Zenith will be a killer phone...might be even better than the 920

The 920 kills the 8x? According to who? Other than in a few areas , the phones are very similar, with HTC clearly winning the form factor and asthetics award.

Screen refresh rate, camera quality, exclusive apps, turn by turn, price in most markets..

Lol actually you can buy the 8X online for 24,600 pesos (around $600).

I think there is no better phone. Its more a choice of personal preferences. If you like music and want a slimmer profile, go with the 8X. If you like photography and a plethora of software go 920. No one has to be the best of the two. Either way competition is always good and always precedes market growth so have at it fanboys! Getting back on topic, I hope to get a new or my 920 unlocked because when I travel to my homeland I'd like to use the phone there. Really cool that HTC is pushing its product in the PI but really hoping that Nokia follows suit. My cousin still uses the blue brick Nokia from 2004

I have the 920, but because of the weaker AT&T coverage in our area and exclusiviity, I know 3 people that bought the HTC 8x. It's slim, light and has similar core specs, so I can understand many preferring it to the 920 regardless. Hopefully we see even more options announced for next year at CES.

They need to hurry up and fix my 8x

love Philippines and people. glad as they have many phone users and going be great see people using windows phone. I bet you they will bring 920 later on.

The local Nokia people already tweeted the 920 and 820 are coming to the Philippines in January 2013. A bit unfortunate Nokia will miss the Christmas season which is a big deal in the Philippines but better late than never. Probably the 920 is in short supply otherwise they would be here now - Nokia is big in the Philippines.