HTC confirms support of Sense TV ending, to be replaced with Peel remote app
HTC will be discontinuing support for the Sense TV app on April 30, transitioning users over to Peel instead.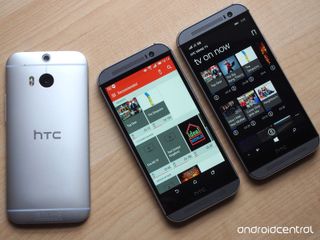 Through an update to the Sense TV app, HTC revealed that they would be ending support for the app at the end of April. Sense TV worked with the HTC One M8's IR blaster, functioning as an interactive TV guide.
Now we have official confirmation that HTC will be transitioning users over to the regular Peel app in place of the old Sense TV app. HTC tells Windows Central that after the cut-off, users will be prompted to download the Peel app in place of Sense TV on both Windows and Android devices. The two apps are essentially the same, the big difference here being Sense TV was a branded version with design input from the Taiwanese manufacturer.
While Sense TV is still available in the Windows Phone Store for the time being, we're not seeing an official listing for the Peel app on Windows as yet. Hopefully the new app will kick in in plenty of time before the shutdown.
Windows Central Newsletter
Get the best of Windows Central in in your inbox, every day!
Jared started off writing about mobile phones back when BlackBerry ruled the market, and Windows Mobile was kinda cool. Now, with a family, mortgage and other responsibilities he has no choice but to look for the best deals, and he's here to share them with you.
Thank god there is a replacement.

You don't know what god can do in this generation. :P

No, God codes app developers. :)~

At least HTC is supporting Windows still.

HTC one m9 for windows would be awesome but an s6 edge would be better

Isn't the m9 using mediatek cpu instead?

How. 10 US states doesn't count

Releasing a Windows phone in the US is like the tree that falls in the deserted forest. Does it even make a sound? We can only imagine.

Yep. I'm actually getting rid of my 925 for a HTC one m8 Droid

Correction: they are supporting their flagship. 8X, 8S, 8XT...naught but a spec on a universal radar.

Glad to see HTC supporting its products I'm sure there waiting for windows 10 to bring the one m9 over

It's a real nice feature to have, glad HTC made it available on the windows version as well. It's alot quicker then scrolling the cable guide.

I clicked on the link that was posted on an article regarding HTC Sense's discontinued service. The link took me directly to the Play Store & straight to Peel's app. I attempted to install the Peel app, but I'm unable to. It says my PHONE DOES NOT SUPPORT IT. ARE YOU F**KING KIDDING ME??? I have an HTC M8 which cost me a pretty penny. Actually, I think I'm still making payments on it. My husband has the same phone. Yes, we bought two. So now, what are our options? And don't suggest the M9, it's not happening. I'm angry & I feel cheated. I went from a Samsung to an HTC. Have I made a mistake? I love my M8, but it seems this may be the start of us being forced to upgrade, and that my friend, is total BS. Please, please, please help me find a resolution.

Of course your phone doesn't support it. You tried installing an android app onto a Windows Phone... As the article stated above, there *should* be a peel app coming to windows phone.

I have an HTC One M8 Android and it says that Peel is incompatible for my phone aswell. I have also tried installing it from the play store from my web browser, (it says the same thing.) Hopefully the app will be updated by the end of the month.

10 months later and still no app for Windows.... I wish I could just have my Windows M8's os changed... I've been a windows phone lover for 2 years now, but now I'm sick of waiting for everything, our app store is atrocious, no one wants to put apps there... And still no Peel. I got to say, after 6 phones all 929 Icons and M8's that have needed replacement due to software and technical issues from factory, finally getting a decently bug free phone, waiting 2 years for the app store to at least expand with their own games and helpful apps, hell at least an updated facebook app that's bug free... I'm going back to Android soon, I really wanted to love Windows, but really its like that couple that makes up and breaks up all the time, one promising to be better, and the other taking the person back over and over... I think its my time to break up with Windows
Windows Central Newsletter
Thank you for signing up to Windows Central. You will receive a verification email shortly.
There was a problem. Please refresh the page and try again.