HTC says HD2 getting Windows Mobile 7 isn't a done deal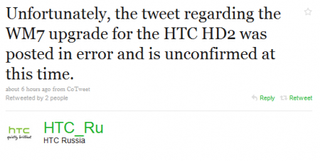 If you ever need more confirmation that the HTC HD2 was going to get an update to Windows Mobile 7, we'll point you to the facts that (A) The original tweet saying an upgrade was coming was quickly deleted and (B) the above non-denial-denial recently posted by HTC. OK, we get it. That the HD2 might be upgraded to Windows Mobile 7 is "unconfirmed." Sure thing, guys. (Thanks to everyone who sent this in!)
Phil is the father of two beautiful girls and is the Dad behind Modern Dad. Before that he spent seven years at the helm of Android Central. Before that he spent a decade in a newsroom of a two-time Pulitzer Prize-finalist newspaper. Before that — well, we don't talk much about those days. Subscribe to the Modern Dad newsletter!
I'm glad the erroneous post from a Russian tweeter was corrected. It was only going to lead to disappointed users who ran out to buy a HTC HD2, only to later find it can't be upgraded and is stuck with Windows Mobile 6.x

Given the past limitations on current phones getting OS updates, I really doubt ANY current WM phones will get upgrades to WM 7.

I even wonder whether Windows Mobile 7 will come out at all. The market position of Windows Mobile seems to have collapsed.

How has Windows Mobile collapsed?

This should be a lesson to all. 1. Marketing and sales branch companies don't usually have much solid strategic info, especially if the parent company is east asian. 2. Never trust Russians unless alcohol or firearms are involved*. * rule does not apply if they are actually using said alcohol or firearms!

i'm kind a waiting for winMo 7. I wanted to buy HD2, but then.. I have a good Diamond Touch.. as a phone.. it's doing prity good :) HD2 is bigger, than a phone.. in all meanings :)
I would go for WinMo7 and for something smaller in size :)

I'll worry about this in a year and a half when I can upgrade...

If a negativity for IE7 is a reality I would think Gen 2 is on its way.

XMAS BONANZA:buy 2 get 1 free We Are Importer And Exporter Of All Kinds Of Mobile Phones And All Others.
We are currently on a 2nd year anniversary and New year bonanza,If you order for 2 mobile phone,you will get 1 mobile phone for free Email:CHOICEPHONE@HOTMAIL.COM Tel:+447024055532 Apple Iphone 3Gs 32GB;$300
Apple Iphone 3Gs 16GB;$220 Nokia 5330 Mobile Tv Edition:$250
Nokia N900:$300
Nokia n97 mini:$350
Nokia X6:$320
Nokia X3:$280 Sony Ericsson Xperia X10:$400
Sony Ericsson XPERIA X2:$350
Sony Ericsson Jalou:$330
Sony Ericsson Satio Idou:$300 Blackberry Bold 9700:$350
Blackberry storm2 9520:$300
Blackberry storm2 9550:$320
Blackberry curve 8520:$290
BlackBerry Tour 9630: $ 300
BlackBerry Bold 9000 $270
BlackBerry Storm 9500 unlocked $270
BlackBerry Storm 9530 unlocked $260
Blackberry Curve 8900:$240 HTC HD2:$400
HTC Pure: $350
Htc Tattoo:$300
Htc Touch2:$300
Htc Touch Diamond2:$300 Please contact for more phones in stock if not listed here Email :CHOICEPHONE@HOTMAIL.COM Tel:+447024055532 Best Regards, Ann.

thanks for confirming the actual news.it should be ensured that wrong or incorrect information is not posted on social networking sites so easily as it 'll lead to blunder that was almost buzzing around.

but if it is a done deal, can i upgrade my HTC Diamond 2 to wm7?

No to the diamond...
It doesn't even come close to the min specs for win 7. Processor Qualcomm

I received and email from HTC this week and HTC reported that Windows Mobile 7 will not be offered on any current windows device including HTC HD2. Sad but true

Brand new mobile phone unlocked , laptop , come with complete
accessories with one year international warranty. Email address: a.aliinc@yahoo.com
a.aliinc@hotmail.com HTC HD2 $400usd
Sony Ericsson Hazel (Unlocked Quadband) GSM Cell Phone $380usd
Sony ericsson Satio Idou......$350usd
Samsung S9110 watchphone unlocked....$350usd
Apple iphone 3Gs 32gb........$350usd
HTC TOUCH PRO2..............$350USD
Sony Ericsson Xperia X2.....$30usd
LG BL40 New Chocolate.....$400usd
Nokia X6 unlocked.............$300usd
Samsung i8910 Omnia HDUnlocked..$400usd
Blackberry bold $250usd
Blackberry storm..$280usd We make shipment via Ups and Fedex shipping company 2days
deliver worldwide. If you are interested in buying our product contact us via Email address: a.aliinc@yahoo.com
a.aliinc@hotmail.com

Wish I have the luxury of time to consider using the benefits these site can offer.....

Feeling glad for WP7.Best Of Luck for it! blackhawk tactical

It could actually turn out to be a great deal.....

Hey it would actually be good if the HTC HD2 deal with windows mobile 7 works out... rolls royce phantom hire derby

i guess Windows 7 would be even impressive with the HTC HD2 deal...Prom cars derby
Windows Central Newsletter
Get the best of Windows Central in in your inbox, every day!
Thank you for signing up to Windows Central. You will receive a verification email shortly.
There was a problem. Please refresh the page and try again.