HTC Ultimate gets a Brazilian full-page ad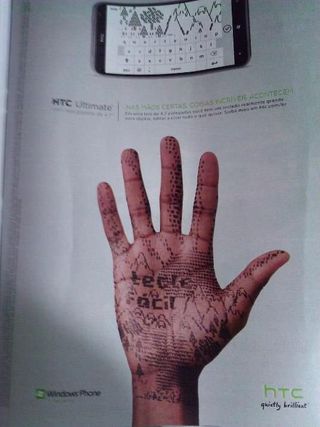 Now that the HTC Ultimate is available in Brazil, people need to know about it. That's where this full-page ad in Brazil's Veja magazine comes in. Veja is a weekly publication that tackles culture, politics, economics and entertainment. According to Wikipedia, "it is the leading weekly publication in the country, and one of the most influential outlets of the Brazilian press."
It looks like the folks at Microsoft and HTC have made good on their promise to start marketing WP7 around the world. Both HTC and Samsung, with help from Microsoft, have committed more money to advertising in order to push the new features of Mango and hopefully jump to #3 in the smartphone operating system race.
Source: Veja; Via: @RodoCarmo (Thanks for the tip, Rodolpho!)
Windows Central Newsletter
Get the best of Windows Central in in your inbox, every day!
I live in Brazil, HTC also began advertising on TV too.

still want to know if its worth exchanging my Focus with this one. Had no time to visit a store yet to get my hands on this big screen

It's great to see the OEM's advertising the WP7 like this, but this is nothing if they don't synch with the carriers as well. Vivo (the carrier that sells Ultimate here in Brazil) doesn't even lists the phone in their website and keeps it hidden in the stores.

This is true. But we are gonna change it. :) gooooooooo Windows Phone

Very good. Go Windows Phone :)

oops. Read this as "HTC Ultimate gets full Brazilian".Got some wax on your WP7?

ULTIMATE? is that Titan? I didnt know there was a third one.

Actually, Veja is the Brazilian printed version of FOX News.Anyhow, I am very glad that WP7 arrived here in Brazil.
Windows Central Newsletter
Thank you for signing up to Windows Central. You will receive a verification email shortly.
There was a problem. Please refresh the page and try again.