HTC's upcoming One (W8) for Windows may see an eventual release in Europe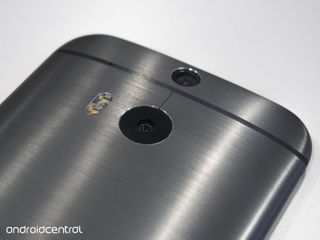 HTC's Windows Phone version of the One M8, the One (W8) for Windows, may see wider availability outside the US as certification documents reveal that the device features LTE bands commonly used by carriers in European markets.
The device was seen undergoing certification at the GSM Global Certification Forum, which revealed that the One W8 included LTE Bands 3, 4, 7 and 13. Band 4 is commonly used by carriers in the US, like Verizon and AT&T, while Band 13 is used by Verizon. LTE Bands 7 and 13 are used in Europe, which suggests that HTC is considering an international launch for its upcoming Windows Phone device.
Other than the certification listing, we don't have any other information to indicate that the Taiwanese manufacturer will indeed bring the device to more markets. The One W8 will likely be unveiled on August 19, during which time we'll have more information regarding availability of the handset.
We'll be live at HTC's launch event, so make sure you stay tuned to Windows Phone Central!
Source: GSM Global Certification Forum; Via: Neowin
Windows Central Newsletter
Get the best of Windows Central in your inbox, every day!
Harish Jonnalagadda is a Senior Editor overseeing Asia for Android Central, Windows Central's sister site. When not reviewing phones, he's testing PC hardware, including video cards, motherboards, gaming accessories, and keyboards.
HTC is the BEST out there but Customer support and device life support are Craazzzyyy Heeeelllll....toooo BAAAADD and Pooorrr. That's why I jump shipped to Nokia...and I'm happy :-)

Have not had anything but excellent experiences with HTC support. They fixed my HTC One in 3 days, no questions asked.

it's not about fixing. It's about firmware updates and long term support. They abandoned some models soon after they were released to market and HTC 8S was plagued with all sorts of hardware problems... and it didn't come cheap either considering I had bought it over 300 Euros with 4Gb internal memory (when Nokia 520 which costs somewhere around 100 Euro had 8Gb internal memory).

Availability on T-Mobile US?

What about a ".3" release that works on everything?

I will definitely pick this if it gets released here.

I love my Lumia 1520 but would love this phone, something a little smaller would be nice. I'm just wondering though, because I like a lot of the Nokia exclusives and the support with regular firmware updates. I wish Microsoft would make all the Nokia apps available for all phones since they don't really have a vested interest in keeping exclusives to just their devices. Decisions, decisions....

That would be a boon to all

That would likely happen in time, but not this year. What apps would keep you from leaving the 1520?

What apps really? 95% of them are camera related and wouldn't work on another OEM's phones.

I doubt that would happen because Microsoft owns Nokia handsets. So with that said, releasing exclusive apps to all windows phone has a potential to pull people away from their "own" product (Nokia).. And if they did it would be crazy and most people would be more likely to pick up a HTC or Samsung device. Which would be a lost for Microsoft

Not sure MS cares. They're more concerned with overall market share for their software. Hardware is a pittance if everyone is using your software, your music store, your app store, etc... When you look at their Surface line, their take is innovative hardware sells itself. I think they look at repurposed Androids the same way they do other OEM PC's... Boring same 'ole same 'ole.
Nobody really caught on to this, but MS said they were refocusing the Lumia line towards mid and low end market. That statement makes me excited to see what's coming in a Surface phone.

Well, refocusing is not what I want to hear. They to take the same approach as they do with Windows. Get going on all sectors be broad minded. Too many OEMs focusing on the same sector means just flooding with phones without much differentiation. Cheap, Cheaper, Cheapest. I hope Microsoft don't cheapen down the value of the Lumia qualitive reputation.

I think it will stay the same of a plastic variety. The metals and vapor mg will be Surface. As such, I would expect all the high end stuff including phones to be under the Surface brand.

I just can't bring myself to get anything that isn't a Nokia (Microsoft?) phone....

Well the 930 is a stop gap and bit of a disaster from what im reading with the issues it has. MS will probably (maybe not) release another stop gap to fill the demand until they have had the time to actually finnish thier new OS and design/manufacture thier own hardware which will be next year. The HTC looks like it will blow any of the Nokia devices away, guess we will see when its out as comparisons will be done. Im dont care who makes the phone as long as it does what I want it to do and is good value for the technology inside it.

I feel that the Lumia 930 is a superior device to the HTC ONE, especially in the camera department, and the design looks more sleek.

The HTC looks like it will blow any of the Nokia devices away, guess we will see when its out as comparisons will be done.

Just read the M8 reviews now seeing that this is basically the same internals, screen & camera. Speaking of the M8's camera, its garbage. And that comes from my own experience as well as many others. I also had the HTC One & was really disapointed with its cam as well. The quality is NOWHERE near what Nokia is producing.

Um didn't you say at the first part of your post HTC will kill Nokia. Its a well known fact that HTC cameras though good in the android world have never compared to Nokia, build quality as well. Unless you like aluminum ish phones that don't look that different from Samsung. Not saying htc isn't quality, or the m8 is bad. Just not on par with theb1520 or the 930/icon

It was a quote from the previous user. Hence, the indention in the text.

I wouldn't say a disaster. What you're reading are the vocal ppl. What your not reading is the adoption rate of the 930/icon. Many ppl don't post on forums, more don't when nothing is wrong. I have had my icon since launch same phone as 930 never had one issue. This is by far the best phone I've ever had and I used to have the 920. So I would say its more accurate to say (you have read SOME ppl are having issues)

I agree but a the HTC one M8 is arguably the best device on the market, and to have a windows phone version of it mean that it will arguably be the best windows phone

Well... HTC One M8 (android) has never really directly pitted against Nokia Lumia 930... So... We can just wait and see how both will fare.

When is cyan getting released for the 520?..... Lol I'm so funny

You forgot to mention India. :)

Yes! That would be an excellent opportunity for HTC to be profitable again. The One W8 is a great device except for its camera. I hope it'll be intensively advertised.

Icon or W8... Man I love my Icon's camera too much!

That's my issue. If the reviews for this are good, I might consider it as a replacement for my Icon. But I don't think HTC can match the Icon's camera, which is a big problem.

Why would you want to replace an excellent phone with an excellent phone. The Icon maybe an even better choice than HTC - camera, surround sound record, eq and Dolby audio options, excellent support.

I wouldn't call Icon support excellent. Six months after it was released, and it's still waiting on firmware to make some of its features useable. Icon has a better camera and wireless charging going for it. One has an IR blaster, SD Card, dedicated sound chip, a little faster processor, and fits your hand like glove.

Then it's best you get the new k kid on the block.

Don't get ahead of yourself. The curtain still closed on the product.

Not really, the curtain is 3/4 open really. It's the same phone that's been on the market since March, just different OS.

Glad to see you jump ship to HTC you wont be missed. I love my icon. I love it doesn't look like an android. I love that the Nokia on it means everything I want, and look for in a phone.

Planning to get a Lumia tattoo or already have one?

Well... Some people do come to WP just to run away from the Android mess... And a fan can be a fan right?

We're still using Windows Phone in the end. Does it really matter to you what other people's device preferences are?

Eventual? Why can't it be at the same time? There is nothing from Nokia even remotely worth buying at the moment or announced bar the 930.

The 1520 is still the best smartphone ever, like really

It's too big, its a tablet not a phone

Can't find a single European carrier using 13 (Wiki, list of LTE networks Europe). Most use 3, 7 and 20...

I would bet eventually all Nokia exclusive features will be bundled in the OS so really no harm in getting a HTC. Great hardware.

Agree. Its the Nokia features which keep me with this brand. This could change ...

AT&T LTE bands? There's hope that I'll be able to make this my next phone yet. Seems like it I'll be posting through the nose for it though.

We'll know for sure once its frequency specs are released. (If they offer 1700 and 2100 MHz on AWS, I may even consider it for my carrier...)

Sounds like a cdn release except with the cdma mode disabled

This phone is having the HTC nerds to join the race for propogating windows phone at large. A good device!

I have always loved HTC's hardware and design. The M8 is probably the best looking phone out in the market in my opinion so im really hoping they use the same design for the W8. Just hope they have microSD expansion slot which is something missing on the Icon (I owned a 1520 but its just too big). I have now downgraded to a dual sim 630. I'm probably the only one waiting for a high end dual sim phone. I maybe stuck with my 630 for a long time.

No, Last year's hTC One was the better looking.

I have last year's One. It does look nice but the quality was lacking. I think I like this new one better.

I agree, the One (M7) was a great looking handset, but many of my friends complained about the quality of the polycarbonate, which went from a matt finish to a used looking look :| . I would be happy with M7 or M8 design, as long as its made of metal.

No complaints overall with my three Lumias I've owned, but more handsets from leading manufacturers can only be good for the platform. Furthermore there isn't a truly premium feel WP on the market, with when the 925 & 930 not having quite the same quality feel of the iPhone 5 our HTC One.

Do we think this phone might come to AT&T? I would purchase it for sure. I have a 925 at the moment, but would like to have some updated hardware!

Does this phone have wireless charging? If not I'll go with the Icon.

Wireless charging is a deal breaker for me too. That and the fact that I don't have Verizon either. Very tempted by the Lumia 1520.3 sale.

The only benefit I can see on getting HTC W8 were the handfuls of readily available cases. I was looking for an otterbox case for the year old 1520 but still no joy...

I read that the Japan-only "Butterfly" variant replaces the ultra-pixel sensor with a 15 MP sensor for the main and a 5MP sensor for the bokeh camera. To me, that would make a whole lot more compelling argument vs. Lumia - which sounds far off from releasing a halo phone or a photo-centric phone to upgrade the 1020.

Staying with Nokia (currently have the Lumia 930)

This is looking to be one pretty device! Rough comparison to the 930:
Glance screen: 930, no. One, dot-view case
Wireless charging: 930 built in. One, wireless charging case
SD card support: 930 no. One, yes 128GB
Looks: 930 meh, but it does not need a case. One, absolutely beautiful but probably will need a case which would cover it.
Camera: 930, 20MP and amazing. One, lower quality (still better than average) but better features (faster, 60fps options, etc.)
Processor, storage, RAM: 930, 800@2.2GHz 32GB 2GB. One, 801@2.3GHz 32GB 2GB. Both on equal ground here
Display: Both 1080p 5" 441ppi. 930, Amoled. One, LCD. Personally like LCD better, but both are nice.
Weight: 930, 167g. One, 160g. Not much difference
Size: 930, 137x71x9.8mm. One, 146x70x9.4mm. One is long but thin and skinny, 930 is shorter, but a little pudgier These are both great devices. If you want the better camera then the 930 is the obvious choice. If you want built in Qi charging, then the 930 is the way to go. But when it comes to having the more premium feeling device, or expandability, or case options then the One is pretty nice. If I had to choose right now then I would probably choose the One... but my contract is not up until December, so we will see what the playing field looks like then.

W8 will probably have on screen buttons, which I'm not a fan of.

I think the article meant the us LTE bands are for t-mobile (band 4) and at&t, band 13 is Verizon I think.

Bands 4 & 13 Are used by verizont (13= their lte, 4= their xlte network). The article was correct in that.

Hope we don't have to W8 too long ;)

It's a nice phone if their support is good I might try it out. Developer preview should keep it to to date..

Amazing! Another highend device with sd-card support. May buy it..

Well this sounds promising, I hope it is launched as the HTC One M8 design is very appealing alot of people. Plus This could help push wp market share and mind share substantially.

It's good if they release it across the globe - this will add to WP user base much more than just releasing it in one carrier in the U.S., even if that carrier is the biggest in the U.S.

Europe?? So i can expect asia too!!

Man if MS made the WP flashable for the M8 it would be a glorious day for me. Free my phone MS. Posted via Windows Phone Central App

If it had wireless charging, I'd be sold on it...

Why do they continue to initially release WP into one of the weakest markets? I can see HTC complaining in 3 months of weak demand.

China and US are the two biggest smartphone markets in the world. If they can't get market share in either then the platform is in trouble.

Is "E-UTRA FDD Band 4" the same as "AWS"? (ie. so if I were able to get an unlocked HTC One (W8), it'd work with WIND Mobile in Canada, or T-Mobile in the US?). Thanks.


So does this phone effectively kill the "no flagship phone this year" argument?

2014 WP exclusives:
AT&T: Nothing
Verizon: Icon, ATIV SE, M8

Are they any possibility of this device be released in Brazil?

Of course it will be released in Europe! Only an idiot would produce a phone just for one American carrier.

Will definatley consider this phone come November renewal time. I wonder what the specs are for the microphone(s). My Lumia works great for videos of live music and I dont want to lose that ability.