HTC sends out press invites for August 19th event in NYC – One W8 on the way?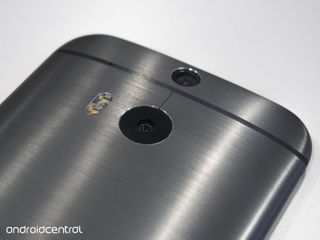 A few days ago, it was widely reported that HTC is repositioning their flagship One M8 as a new Windows Phone dubbed "One (W8) for Windows." The phone may be the same as the hot selling Android phone, but with Windows Phone 8.1 Update 1 on board and destined for Verizon.
Windows Phone Central reported the phone could go on sale as early as August 21 and coincidentally enough, HTC has sent out limited press invites for August 19 right in New York City. No clues or themes were present on the invite, though the timing is suspect.
The HTC One W8, if accurate, should have some fantastic specifications, including their BoomSound and Duo camera, along with what is arguably one of the sexiest all-metal phone designs in 2014. Further hardware specs include:
36 x 70.6 x 9.35 mm
Weight 160g
Colors Gunmetal Gray, Glacial Silver, Amber Gold
Display 5.0 inch, Full HD 1080p Corning® Gorilla® Glass 3
CPU Qualcomm Snapdragon 801 processor
2.3GHz quad-core CPU in US/EMEA (MSM8974AB)
SIM Card Type nanoSIM
Memory Total storage: 16GB/32GB, available capacity varies
Expansion card slot supports microSD memory card for up to 128GB additional storage (card not included)
RAM 2GB DDR2
All of those specs are perfectly in line with what the Windows Phone OS can handle, in addition to now having support for 'smart covers' like the Dot View case, thanks to Update 1. The One W8 may also be one of the first phones to support Verizon's new Voice over LTE (VoLTE) as Update 1 adds that to the mix as well.
We should note that fellow Editor in Chief at Android Central, Phil Nickinson, has not received an invite and Windows Phone Central never gets invited to Android events - so connect the dots. Speculation by CNet that this is an Android tablet is false.
Read Android Central's full review of the Android One M8.
Windows Phone Central has received an invite and will be on location to cover the event, so stay tuned.
Windows Central Newsletter
Get the best of Windows Central in your inbox, every day!
Daniel Rubino is the Editor-in-chief of Windows Central, head reviewer, podcast co-host, and analyst. He has been covering Microsoft since 2007 when this site was called WMExperts (and later Windows Phone Central). His interests include Windows, laptops, next-gen computing, and for some reason, watches. Before all this tech stuff, he worked on a Ph.D. in linguistics, watched people sleep (for medical purposes!), and ran the projectors at movie theaters because it was fun.
Great device, let's hope there is a way for M8 users to flash WP on their devices :)
dream ?
3GHz ?

Cooll Specs..!! and design of M8 is a hit ..

My concern is "will they support the phone after the release? Will the former Nokia apps become available on HTC W8"

Yup, agreed. That's the reason I refuse to buy HTC again,they do not support their products after they are purchased. Nokia all the way

This phone is really tempting.........coming for an icon user!

i too prefer my icon and 930, much sexier phone. I dont see anything speacial about the m8 in terms of it looking good.

Your name describes how I feel exactly. This is a huge phone for WP

While I would prefer that it was made by MM/Nokia it certainly is a potential hero phone that alot of us are looking for. I like the styling and with a 5 inch display and a SD Card Slot it really only lacks Glance.... thanks HTC!!!

I share the thought. Currently sporting a Lumia Icon but that all metal HTC looks hot!

HTC & Samsung won't support WP users and "most" WP users won't support HTC or Samsung Windows Phones.

They've supported the 8X and its variants pretty well

What updates has it not gotten?

Not necessarily oS updates but firmware updates. Additional features to make you experience better.
The only firmware updates I got was with official updates -

That's all it gets. HTC hasn't released hardware that wasn't supported yet. I consider that a good thing unlike my Icon, which six months later, is still waiting for firmware to make it fully functional.

I am very happy with my Samsung ATIV S Neo on Sprint. I have probaly had about five Samsung app updates since I bought it.

Yeah, that is a bummer that HTC essentially releases products then move on. This device is right in line with specs I am wanting for my next phone and with no new high-end Lumia device in the US, it is tempting, but in the long run I cant support HTC if they wont support their phones.

That will likely change. Microsoft gave nobody reason to develop for the WP platform because of its restrictions and difficulty in porting apps between Windows and WP. That's all changed and will continue to improve through 2014 and 2015. With a relaxing of requirements to make a WP device, HTC and other OEMs will be more into supporting their products. That being said, if HTC don't bring a quality phone to AT&T and go exclusively with Verizon I'm going to be pissed. My 1020 is ready to be replaced with its antiquated hardware that underperforms its own excellent camera. I don't need the 41MP selling point, just give me a good camera that launches immediately after I hit the camera button!

"Superior" Nokia support is a myth. HTC & Samsung have released firmware updates just like Nokia and also have exclusive apps as well. There's nothing special about Nokia's exclusive apps anyway.

Its not a myth. Quantity and quality of the Nokia collection is something to brag about. Nokia got developers that were in the fence to start creating apps for windows phone and exclusives for Lumias began.
Having a Lumia will give you the best experience on Windows Phone hands down - Most of the writers on wpcentral favorite Windows Phone is a Lumia.... coincidence? I think not.

It's completely a myth. Nokia collection is nothing to brag about. I've had this 920 for almost a year and I don't use any of the exclusive apps. Nokia paying devs to create exclusive apps with Microsoft's money was a path MS was going down anyway. And I have had just as good a WP experience with my old LG & HTC phones. The writers don't favor Lumia, they have great things to say about most of the WP devices.

but MixRadio and Here Drive...

Here Drive is available on all OEMs now.

Pandora, Spotify & Beats are here too. I've opened MixRadio once...

MixRadio is another quality App. Might not be your favorite but others would disagree... Has Samsung or HTC released anything remotely close???

http://www.windowsphone.com/en-us/store/app/mixradio/f5874252-1f04-4c3f-...
Visit this link on your PC and choose the "download and install manually" option. I think you may download NokiaMixradio on non-nokia devices using this method. I am not sure because I didn't tried it by myself.

Beats audio breh... They haven't released another Windows "signature" phone since that though and of course they sold Beats.

I have MIxRadio on my Samsung Ativ S Neo. I also have Songza and Pandora, Tune In Radio, and IHeartRadio.

At least for me beats is a pain in the ass Pandora and Spotify are good but mixradio is the best. That's my opinion and again I repeat beats sucks.

The majority of us favor Nokia Lumia devices because of their support And most of us agree that HTC and Samsung stop supporting their devices almost immediately after being released. If you want to disagree by all means go ahead but it doesn't change how we perceive HTC or Samsung when it comes to supporting their Windows Phone devices. You don't like the Nokia Collection? That's cool but I bet It's larger than Samsung or HTC. I bet Nokia has released more apps dedicated to the Windows Phone platform than HTC or Samsung combined. More firmware updates have come from Nokia than HTC or Samsung and that shows their dedication to providing their consumers with the best experience. I've had a Samsung focus, Samsung focus s. HTC Surround HTC Titan & I can tell you then none of those compare to any of the Lumia Devices I've owned (800 hundred 900, 920 & 1020). Not to brag but I Think I know what I'm talking about.

We can disagree but the facts say that HTC, Nokia & Samsung have all released about the same amount of firmware updates. The carriers are the ones to blame if you haven't gotten it. The facts also say that most of the Nokia Collection is third party apps that are available to all and that HTC & Samsung both have some comperable apps & apps that Nokia doesn't have. They may have more first party apps, but what's the point if I'm not using ANY of them? For my experience, number of apps doesn't matter. I've had HTC's from the Wizard up to the Titan II, as well the LG Panther, LG Quantum & the 920. Like I said, my experience has been equally good on all of them and that's a testament to the OS, not the OEM; but IMO, the LG Panther gave me the best experience. So yea...

You would lose your bet. Samsung has about 25 WP exclusive apps.

Dammit I think you are right. Everything is renamed to Microsoft Mobile

For the 3 of you that disagree I am still glad you chose Windows Phone. One day the Lumia devices will get an official clock app. Lol

I was in a group setting and needed a stopwatch... Couldn't find it for the life of me... Found a free one quickly though and installed. They were all hating on my win phone :(

what are you talking about? i had all three makes of windows phone now and nokia offers an experience that is superior to the extent where you almost feel like you switched platforms! that is likely to go away with them being incorporated into ms now, but it's ridiculous to claim samsung or htc can hold a candle to nokia's efforts! i would also like to point out that htc customer service in europe is absolutely abysmal, their hardware design is top notch, but their manufacturing is lackluster and once your phone gives out good luck getting it replaced!

The video editing software available in the store is exclusive for lumias only :\

This is a big part of why they've been streamlining to standard phones in each price bracket. They've done an outstanding job keeping the One updated with Android.

You do know that starting with the M7, HTC has agreed to update their phones for a full 2 years right? That's far better than any manufacturer out there right now. Both the M7 and M8 have had numerous updates, and will get Android L within 90 days of Google releasing the code. So, tell me how they don't update their phones. The past is the past, HTC's new way is awesome. I don't see how it will be any different for WP8. I think that a HTC One WP will be OFF THE HOOK. I mean really, this might be the phone to bring me back, I miss WP a great deal, but my 920 was too small, and my 1520 was way too big, I already own a M8 so am familiar with the hardware, wow just wow this could be awesome.

The past is the past...
Android is one thing and Windows Phone is another however if they start showing windows phone love and are interested in building customer loyalty than we'll see by their actions.

This is not heavily customized Android, but the stock version of WP 8.1. HTC doesn't need to do any special tweaks when there's a new version WP. So you should be safe.

For a phone of this caliber I really believe they will support it long after launch. It has the complete potential to challenge Nokia unlike any of their previous WP offerings.

I want to believe that too.

Actually, Samsung has more OEM apps on their store than NOKIA. They were the first to release that coveted folder app as well. They also have a printer app for everyone that owns Samsung printers. So, I think they do a decent enough job for me.

I think they will do this time as Nokia Mobile is now part of MS which owns the WP OS. Earlier it was a competition between Nokia and HTC. Now MS has no reason to gimp its partner.

Verizon will have the best WP lineup of all carriers in US if you think about it - Lumia Icon, Ativ SE and HTC W8. ATT is slacking with just a giant sized 1520 (not everyone's cup of tea) and needs a WP flagship immediately.

AT&T has had a few Windows Phone flagships over the years. Obviously they have not been too successful otherwise they would be wanting more.

Well, don't you feel special..... "Phil didn't get an invite, but I did!!!""" whatever makes you feel better about yourself, Daniel.... Lol!!!❗

That wasn't to make himself feel better. He said that Phil did not get an invite, so we know for sure that it is not an Android device. HTC wouldn't invite the editor of WPCentral for an Android device, and not send an invite to the chief editor at AndroidCentral if it is a Windows device.

Will you let me mess with Daniel, and mind your own business... Daniel, and everyone else, knows when I'm joking around, and being a smartass... But, you had to come along and ruin it with your "explanation"..... Well, thank you Chad.. Thank you for that enlightenment... :-o:-o:-o:-o:-o;-)

Daniel, does this have the IR blaster like the original One?

Man Smartglass and IR BLaster? Can I haz 13MP? I'm in if so.

i doubt it will be any different, unless it's the E8 version

Well, there's another kid in town with everything you want. Unless of course, you got something against Samsung.

Yea, I have something against Samsung. They did well up front and cut corners on the back side. The ATIV SE, they put BT 3.0 in it instead of 4.0. They put a SDHC slot in it instead of today's standard SDXC. There is still not so much as a whisper or a fart concerning a firmware update for 8.1.

I think that they've been hinting at it for awhile now and I'm hoping it's true this year. I have a OnePLus on it's way and would love to put WP8.1 on it.

Of Paul and Marie Joe got an invite then it is a Windows phone

W8 what!? :P that's very cool actually

That exclusive nonsense is killing WP growth.

My guess is its a way for oems to test the market to see if there's high enough demand by allowing vzw to be the only carrier but thats not that bad as their lte handsets are unlocked to work on any gsm carrier & most 3rd party retailer will sell it to you no problem

Locked or unlocked verizon network based phones will not work on AT&T, T-Mo and PCS, it might work on sprint because those 2 uses CDMA and not GSM

All Verizon LTE phones have unlocked SIM slot and work with AT&T and T-Mobile. They may not get LTE depending on the phone but will at least get HSPA+. Currently using Verizon Lumia Icon on ATT and tested on friends T-Mobile too.

Thanks for the enlightenment, now I know. I have alsways seen unlocked phones says GSM and would specify works only on AT&T, T-Mo and PCS only, they even make note saying will not work on Verizon and Sprint, what I did not know is that Verizon actually have GSM band / network, thanks for the info, now I know

Again, not under Microsoft's control. They can't do anything about it. This is going to be awesome, but I wasn't very impressed with the Duosense camera. I think they could have definitely bumped it up to 6 or 8MP without affecting the pixel size much, and that would have been wonderful for daylight image quality. I'm *really* hoping for a flagship Microsoft phone this winter though. It doesn't have to be a 3D Mclaren, it just has to be an updated phone launching on preferably all three, but at least Verizon.

Agreed. I'd settle for a 1030. Gimme that camera with a Snapdragon 805

Even Android has temporary exclusives, but I do agree that there either needs to be Zero exclusives, which ain't happenin, or very short term exclusives, which is much more likely!!!!

Offering Windows Phones for sale is a two street. The OEM has to make and offer them and the carrier has to agree to sell the phone. The reason you see so many exclusives is likely a result of low interest on the part of carriers to stock Windows Phones, since Windows Phones don't sell well. In order to get at least one of them to agree to carry the product, OEMs likely have to sweeten the pot by giving them exclusivity. It sucks for WP users, but those are the trials and tribulations of using an OS with such poor numbers.

I'm hopeful that Sprint finds their way around this like they did with the 8XT. Slightly tweaked device, different model number, etc.

I'm hoping that at the presser they drop a bomb that it's limited Verizon exclusivity and that AT&T will get it in "the following months". This is the phone I've been waiting for to finally move on from the 920.

Agreed! Needs to stop! I wish Congress took action (joke of the day)...

Yeah, stupid, is it windows or not, the OS should be open for all.

There's a big difference between "exclusive" and "currently offered on only one carrier". So far I haven't seen anything that says this is a Verizon exclusive. Yeah, I know I keep repeating this, but perception and words matter.

Only if it was not a Verizon exclusive!!

-1520.3. It's a nice phone though.

Somehow I doubt it will have update 1 this early.

It was Released to manufactures a few week back. So just might come along with dot view cover :)

Well apparently the preview for Update 1 will come next week, so it's hardly a stretch of the imagination that HTC has already had the latest update to make this new phone. Moreover, to make the Dot Cover work like it does on the Android version, HTC needs this update.

I hope it does, if so, I'll replace my ATIV SE. Otherwise, I won't spend money on a device that won't be fully functional until six months or more after it goes on sale. Got burned twice with that already with my Icon and ATIV SE.

Well you should always wait for the reviews from good sites to come in before making your decision.
Not The Verge, haha! They knocked-out their review of the Surface Pro 3 in one day, so hardly leave time for extended experience. Here they do good ones ;)

Most reputed tech websites have review units with them way before public launch day and all their reviews ready to go live on d-day.

No, I know what I am talking about. Microsoft at the New York event announced and gave out review units to people attending the press event. No one got it before then, no one really knew it existed before then other than small details about possible specs from leaks.

Dammit, only Verizon? There better at least be an international version, or a timed exclusive with them for a short period so I can buy it on ATT. If I have to wait a long time, I'll just get the next flagship Lumia or i6.

I agree but we don't know when a high end Lumia is available. So far only mid range phones have been leaked.......

Which is why I said that or the i6. We were supposed to get the 1020 successor, then the McLaren, now nothing high end...

Lol I'm with Verizon and want the 1520

+1520 Posted via Windows Phone Central App

I'm guessing 6 month exclusivity. Hoping I'm right.

Always only verizon, the higher end sasung phone was too and so was the icon until we got the 930 almost a half year later, just give me an international version, all that american carier shit

Hopefully this will be on other carriers also. It doesn't seem like Microsoft mobile has a high end WP coming. I guess we have to wait and see

HTC is really bad in marketing. Their products are good that they could have ruled android market share instead of that stupid bloatware Samsung. Anyways they can grow of they concentrate on windows phone now.

Agreed!! HTC can easily beat Samsung if they wanted!! Love those specifications BTW..

Yeah.. Looks solid.. Would definitely be my second choice after my 1520..

False, it is not that HTC is bad at marketing, they simple do not have the $$$ that Samsung has by comparison and are outmatched. This is a well known fact and why they struggle.

Agreed, HTC doesn't have that capital to grow like they would want to..

But still they made some ground breaking phones...

Plus HTC wasn't the one(Samsung) hiring trolls to spam the other guy's message boards

They struggle because they dumped $12 million on Robert Downey Jr. And I still have yet to see a single commercial on TV. That's not bad marketing, it's awful.

I don't even have TV at home yet when I was at the gym, saw that ad **plenty* of times during prime time.

There were a couple with Robert Downey Jr., and now the Gary Oldman commercial. I used to see them all the time prior to the M8 release. They're definitely making an effort with the budget they have available.

I have yet to see a single one of them.

Verizon, huh? I hope AT&T gets it a few months later. I'll buy it.

Had I known this was coming,I totally might have waited on purchasing the Lumia Icon. Keyword, might.

Lets hope its not region restricted & will be available worldwide.

Strongly agree with you.. Would be such a shame if it is (US only or something like that)

What is Sim card type Nanosim?

Smaller than mico SIM and what a few Lumias use?

Will it have a dedicated camara button?

Looks promising, i guess.

See, I want to be excited about this product but HTC doesn't really care about their phones once they launch them. This HTC w8 will come out and then what? will it receive firmware updates, will it get custom apps, will it get the threshold update??? All those reasons together add up to a non purchase. Nokia is still adding features to phones that are over a year old and to phones that are only $49.99. That is the kind of product I want to own.

Only true upgrade is that chip... The rest to me would be a downgrade, I'm addicted to wireless charging, glance screen and customer service these days ;)

Like the 8x and 8s it will receive firmware updates and HTC already has exclusive apps. As far as I can tell, I'm not going to be missing anything when I finally drop this 920 since none of the Microsoft Mobile apps are that special. I wish commenters here would stop perpetuating this myth.

Yep,8X,8S,8XT all have received the major updates.Don't know why people keep saying they don't support their devices.

People just love to have something to say to people, facts or any personal experience be damned.

Yes...the news the I've been waiting for...

Hey good news! Heroes of Order & Chaos is now on 512 mb (Sorry for my bad English). Download it!

It was already available! O___O

May b for ur country and for others just published 0_0

Your English is flawless. No joke.

Nevermind .. HTC fails before nokia when it comes to windows phone

It depends, launching a phone is a thing, giving it the necessary support through the years is another.

Hope that comes to ATT. A phone like this and with those specs and a perfect sized screen, I'd stick with WP.

So, this could also be a date for their release of 8.1 update, or it will be August 21? The sooner the better.

They probably have had access to the WP 8.1.1 ROM before the preview.

And as usual tmobile customers get the middle finger.

So, blame your carrier who do not fight for high end Lumias or exclusives. Carriers order the phones, not customers.

Daniel... If u guys from Msft keeps telling us to blame the carriers, how do you expect the sales and growth of win OS... Pls you Msft people shld change first this damn culture and if not don't expect something in return, just saying...

Daniel has said many times that he doesn't work for Microsoft. This is a Windows Phone enthusiast site that isn't affiliated with Microsoft in anyway. Calling Daniel "you MSFT people" is completely wrong, don't blame Daniel if you are frustrated. As he said, its the carriers' fault they choose not to carry the phones, not Microsoft's, not WPCentral's and certainly not Daniel's.

Indeed. This is a free market (mostly). If you don't like T-Mobile's selection of phones YOU LEAVE T-MOBILE. Complaining on in comments on a website is not nearly as effective as taking your money elsewhere.

Is this the complaint line?

Daniel sorry about that, but what I meant is as a community we should voice out what's the best interest. You, me and everybody should tell Microsoft what's best for the platform. It's just like selling a medicine exclusive to CVS. I'm not complaining rather than giving my best support to MSFT especially Win8 OS...i luv all u guys that's why I'm here coz I can't go back to Android...

And carriers pick the phones based on their profitability. T-Mobile didn't make jack off of the 925 and prior devices because Microsoft hasn't done enough to fight for a competitive app ecosystem and released a fundamentally flawed product in WP7/8. Only now in 8.1 are some of the problems that existed in 7 starting to be addressed, and the damage is already done. As a T-Mobile RSA, I've maybe sold one Nokia device that isn't the 521 in my entire time working for the company, and I was the only associate in my store who cared about WP, having brought my 1520 over from ATT. Putting the onus of carrying a non-profitable device on the carriers is just ignoring the issues that make it non-profitable in the first place. Blackberry did it, and Blackberry lost T-Mobile's support. Blackberry did it, and Blackberry is dead. tldr: Microsoft needs to invest the time and effort to make the ecosystem worth selling before the ecosystem is worth selling

Daniel, the tone is not granted. The reader has a very legitimate point based on facts and track record. The carrier isn't to blame if a manufacturer is not smart enough to understand that they are an underdog and that no matter how good the product is, the only way to succeed with it will be to remove ALL barriers for people to purchase it, and that includes courting all main carriers, as opposed to the other way around. If they were creating a market like Apple did, "maybe" they'd be in a position to successfully get away with these exclusivity deals. And even in that case, Apple learned a bitter lesson by allowing the alternative to their product to succeed thanks to the same people that were turned away by the exclusivity deal and didn't want the product badly enough to switch carriers for it.

I disagree on all points. Manufactures make exclusive deals because it offsets their marketing costs of the device to the carrier. In turn, they can use that money elsewhere for other phones and carriers position those devices front and center in their stores, including them in ads, etc. It's a syngeristic relationship. Nokia tried a "one device for all" with the Lumia 800. Carriers balked. They do not want to sell the same device as their competition if they don't have to and with Windows Phone, they don't have to. If T-Mobile wants a highend Windows Phone, they simply talk to a manufacture and make a deal. Nokia can't force T-Mobile to take a phone if they do not want it and Microsoft has nothing to do with it. And if you think Nokia doesn't "court all the main carriers" I don't know what world you live in. You don't think they have they have sales people who's job is to SELL PHONES TO CARRIERS? If a carrier wants a "special" phone, Nokia makes it, hence "Lumia 521" or "Lumia 810" for T-Mobile. They bend over backwards to sell their phones to carriers, and they don't bite. So blame the carrier.

I agree that voting with your dollar sends a message. When it comes to TMO, they will hear the wrong message, however. They won't correlate the loss of a customer to not having good a Windows Phone selection. All they will hear is that "WP doesn't sell", so they will continue to push Android. Android is in their DNA. Android is what allowed them to compete with the iphone when everyone else had it but them. Now that they have the iphone, the deck is stacked against WP. Reps don't understand it, and still to this day think it's buggy like WM. I am a TMO customer, and I want a good Windows Phone. I am SUPER PISSED that my 810 will not get Cyan. I have the developer preview, but I want Cyan. I want BT4.0 and the other benefits that come with Cyan. The only way TMO will change is if people will complain. I have complained, and others on TMO should too. Also, I HATE that TMO tends to have carrier specific variations. It limits the availability of accessories, which probably will in turn will hurt sales of that model.

Daniel I guess no one of us except you can make this things work out and tell Tmo/MSFT and other players how to expand the salability of win fons... You're the man... Tnx n God bless...

TMO:Haha, **** u WP t-mobile customers!/s

This phone is killer. Too bad it is only for Verizon... Boo

Aren't Verizon Wireless phones unlocked for GSM networks?

Yes but AT&TLTE won't work on their phones if you put an AT&T sim card in them and people report MMS not working right either.

MMS should work, I get texts on one of my WP's that's not even activated.

I think you're thinking of SMS. Texting seems to work fine on most any phone, unlocked or not. However, picture messages(MMS) has been a big issue for me who has had unlocked phones Since like 2008 starting with the E71. I always have to tinker with those APN settings. If you have an ATIV SE and you get MMS to work, please post it on the forums as people haven't been able to get that to work from what I've read.

Yea, my bad. As for others, it didn't work on Verizon or another carrier?

Love the specs on this phone. It's the kind of device I'm looking for. Only problem is Verizon. A single-person plan with them is way too damn expensive and their data charges are ridiculous. I hope other carriers get this as well.

I sure as heck hope that HTC and/or Microsoft can light a fire under the Verizon sales reps about this product, otherwise this will just be another nice piece of technology sitting on the back shelf.

Well I'm happy but not really since it's a Verizon exclusive. Hopefully I can sell my M8 and by the W8 internationally if there is one. If not I'll wait for Nokia'a next flagship. I have the 1520 already Posted via Windows Phone Central App

I hope if true, it will be released in the UK. My first Windows Phone was the HTC Mozart and I loved it...cool gunmetal case with a very crisp and sharp screen. The only let down were the HTC apps but happy to say we have moved on since then. I would definitely upgrade my L720 to this. Windows Phone needs an all metal chassis phone to up the wow factor!

Wexclusive or winclisive? What's the better word of this damn exclusivity.;(

4 cores running at 3Ghz how do they cool that thing? This thing must producing an insane amount of heat while in use.

Low energy mode when not in use

2.3, my ATIV SE runs the same, it doesn't even get warm.

Wireless charging? Glance screen? Pure view?

Qi charging, maybe
Glance, it's still Lumia exclusive
PureView, same

This sounds Nice. I now have a HTC 8X but will switch To Lumia 930 in september. Sad To say but HTC for me is a company thats 'sells and forget'

Man, this is so tempting. I'm stillusing my Lumia 920 that I got on the launch day and was looking forward to McLaren. I wonder if MS has another flagship coming out this fall. If not, I'd just get this.

This might be the only other high end phone besides the 930/Icon for 2014. A solid and respectable candidate. Good choice. Even if another high end Lumia comes later this year, it is not likely to really exceed this (at least in specs).

Oh well.. Now I think of it, I'm tied to AT&T contract until November so I'll have to wait anyways. Hope MS has something else under their sleeve. Also the camera on this phone isn't really good.

Not the only one Samsung ATIV SE has virtually the specs as this HTC.

Slightly off topic, but not really: Nokia = Microsoft = windows phone. This makes me wonder is in the future sometime we will see heretofore Nokia exclusive apps be opened up to other OEMs. It could only be a plus and would keep some uniformity in the ecosystem. Three major ecosystems are a challenge for any industry. It would help feature fragmentation and mindshare retention for the WP platform. Furthermore, it would allow less wealthy and developer rich companies to concentrate on hardware.

Really glad HTC is bringing this to WP. I was getting a bit worried that all high end phones were left to the lumias and from all indications it appears the WP management believes more in the mid and lower end of the spectrum to boost sales. At least with this we have one more option of a solid high end WP, just in case the 930/Icon is the only high end Lumia for 2014. And HTC have always made good WPs too.

Very tempting as a UK 1520 user who is due an upgrade ;-)

Universal carrier availability would be lovely for this device, no?

They are making daily posts about M8, wonder if it will go the same way with M8 for Windows :P

I wonder if this version will have qi...

Not unless it has plastic back.

Hopefully they put a better camera in the WP version.

if it's exclusive, it's not a flagship phone, a flagship phone should be avalable on every provider

This should make a lot of people requiring a microSD slot happy. I wish my Icon had one...

I just hope it's SDXC and not SDHC. Samsung went cheap with HC and it can be a pain in the ass.

I didn't even realise there are two different types. Learn something everyday, cheers.

Yea, HC has a much slower read/write speed.

Daniel has said many times that he doesn't work for Microsoft. This is a Windows Phone enthusiast site that isn't affiliated with Microsoft in anyway. Calling Daniel a "guy from MSFT" is completely wrong, don't blame Daniel if you are frustrated. As he said, its the carriers' fault they choose not to carry the phones, not Microsoft's, not WPCentral's and certainly not Daniel's.

I really hope we see an international version of this phone. I've been waiting for a phone to replace my Lumia 920 and this may just be it (if it ever comes out). It will be interesting to know more about the rumoured 5" LG phone as well.

I agree. 5" will be hard for me to say no to. I may make a move without thinking much. Is rather these features in a Nokia phone. HTC putting one out first will certainly see sales.

What Nokia app can you use on none Nokia phones

MixRadio and HERE Maps, Transit, Drive

Can't do Mixradio on non-Nokia yet

I've got MixRadio on my Samsung Ativ S Neo

Shows as unavailable on my SE

AHHHHHHHHHHHHHHHH... Why wont microsoft release a new phone for some other carrier than Verizon?!?!?!?! What about people who dont want to be a customer of the most expensive carrier on the planet? Before you say it, the 1520 is too big for me.

Blame the carrier....aw, nevermind

Simply buy the device off-contract and pish-posh, you're all set.

Verizon exclusive is a step backwards from HTC 8X. But even with 8X Verizon got wireless charging exclusive. (Which is why we use the Verizon 8X on TMobile)

I think I'd like more OEMs making hi end phones. Clearly MS is targeting low end markets. I love my Nokia phones, but I think my loyalty is waning... Killing McLaren...

+W8
I've been waiting for a long time for a nice windows phone. If they had it on ATT, I would probably pick tho one up.

Haha at "speculation by Cnet this is an Android tablet." Oh CNet...

I HATE EXCLUSIVES! But if that's what it takes to carry WP... Sprint (who loves primarily HTC and Samsung for Android and WP) BETTER GET THIS PHONE!!! I got the 8XT, but I've been wanting a HTC One running WP since the original One (M7)!!! Better not be exclusive, or for long!

What???? WOW!!!!! OMG! Nokia or HTC? I'm confused...and excited!! Posted via Windows Phone Central App

Thank God ... I didn't rush to buy M8 ... & instead I'll wait for this piece of style to b available in India.

Man I hope they release a mini version identical to the Mini 2! I really am not a "MOAR SPECS" guy and don't prefer large phones............. Here's to hoping

Does this phone have Qi charging capability?

LOL. I'm really upset about this, but maybe it's the metal case...i don't know.

Seems a little lazy from HTC. M8 is a really nice phone, would like to see a new top end design especially made for the windows os.

It is kind of lazy, but understandable. The M8 is a solid phone, so they may just be testing the water with a solid phone before putting too much effort and money into a unique design for windows phone.

Not going to happen. They were working on a unique Windows phone to replace the 8X but they scrapped the project. HTC was losing too much money and couldn't support all the phones they had so they decided on one design language throughout all their models. Then, you had MS come out and make WP work on Android hardware and it was inevitable that HTC would choose the cheaper route and put it on existing hardware to keep from having to start a new production line. There won't be a unique Windows Phone from HTC now. In this case, I'm rather happy. I love the One hardware. This phone hits every point except for glance and Qi charging. I can make those tradeoffs considering everything else in the package. Giving up Qi is a bit tough but somehow I'll survive.

Really lazy?? They are bringing the arguably best Android phone to WP and you're complaining? I'm pretty stoked!!

I can't agree. This is one of the nicest phones available.

Not really lazy. That's like saying Nokia was lazy taking the 520 & 630 and putting Android on them for the X & XL. This is what we've wanted, really nice Android hardware running WP. It's a dream come true.

Imagine a time when they release 2 devices the same time but running either WP or Android. Works well for the consumer, choose your hardware, then chose your preferred os.

Bell Canada may actually carry this since they hate Nokia. If so, I might grab one.

They absolutely hate Nokia and they don't hide it.

BTW...Bell called me the other day to try to talk me into changing my unlimited data plan. I haven't laughed that hard in a while...:D

Nice. Do you get LTE, or just H+?

Just H+ but I can get about 10MB down and 5 up.

Probably not this device specifically since it's a Verizon exclusive. However, HTC may release a variant that Bell and/or Rogers could sell.

Agreed. It would probably be the same as the specs for the Android M8 they sell now.

Why do they hate Nokia? Bad history?

If I can get all Nokia Lumia apps on this phone, I'll buy it to replace my Lumia 920... Hopefully it comes to Canada.

You do realize that Nokia Mobile no longer exist, right? Those apps can be freed up by Microsoft if they feel it would help them sell more phones. Actually, I fully expect that to happen. MixRadio has already been freed up. I suspect the other apps would lose their Nokia name and become a stable of the OS.

What's your point? Just because Microsoft can do something doesn't mean they will. Speculating on what could be made available isn't of much use to Cormango, particularly since the vast majority of Nokia apps at this moment can't be accessed by any non-Nokia phones.

95% of those apps are camera related. What would you be missing outside of the camera stuff?

I can't tell you that because I'm not a Lumia user who wants all Nokia apps available on an HTC device.

This sounds great, some exciting news for windows phone with the dominance of Nokia, its nice to see a change. I take it this is happening due to Microsoft dropping all the requirements such as hardware camera button, hardware buttons, etc... which is making it easier for manufactures to use same hardware/bodies. Oh I don't like the W8 in the name but great news!

The invitation kind of reminds me of a windows phone lock screen. Maybe it's a hint. Haha

Hopefully the sales people at Verizon stores won't ignore and steer people away from the W8 like they do most Windows products.

II love Nokia's, but it will be nice when they have less than 94% market share

Throught WP8.1 does not support 801 chip?

I really don't like the camera on this phone if its the same as the m8. Other than that, I want one

My first Windows Phone was an HTC Trophy and I loved it -- by far the most reliable, trouble-free WP device I've had including the Lumia 521 and 630. I'm now on Cricket (AT&T system) so I'm hoping either this goes wider or else I may have to look at an MNVO like, what, Straight Talk. Way above there's a question about nano sims--yes, that's the smallest size now.

The second AT&T has this phone I'm getting it. This is the design & specs I've been waiting for since the Titan II.

Great news, great device, great specs Posted via the WPC App for Android!

I would buy this if it were on t-mobile, it's not worth switching carriers though......

The invite looks like it's in the same style as WP8....

A lock screen indeed.. Or a dotted cover :)

Maybe this is a dumb question, but it HERE Drive + available for non Nokia phones? and is the ability to download maps for offline use? That would keep me with Nokia/Microsoft if that was the case. if not, this could be a real good alternative.

Yes to both, it's not only available you can d/l the maps to SD card

Didn't know you could download to the sd unless you have a Nokia phone and use Lumia Storage Check BETA - that only works on lumia devices. Correct me if I'm wrong...

You're wrong. My Samsung ATIV SE, with Developer Preview 8.1, can be set to send everything to the SD card. There are a few MS apps which demand to go to internal like the Bing apps. But yea, you can get Here Drive+, also Here Maps, and download the maps to SD.

Have you tested this... downloading the "maps" themselves to the SD card I mean, not the app? I have an Ativ S and can't do that. I also have a Lumia 520 and like the poster above you stated, it can only be done through that Lumia Storage check app.

Yes, I've done it. I'll charge it up and verify though.

That would be cool then. Especially for people with 8GB internal memory on non Nokia phones. I had low memory issues with my Dev Preview Map Installation on the Lumia 520, so I downloaded that storage check and move it to my SD card. It's the only thing on the SD card, everything else I've put on the phone memory.

Alright, checked it last night. It's weird. I have two SD cards, according to storage sense the maps are on one card but installed to memory when I tried to do the other card.

Really nice phone, I'll be very tempted if the WP8 variant comes out, but I'm still leaning toward a lumia 930.

Shame the htc won't support the lumia additions; they really add to wp.

Have a feeling this will come to more carriers than Verizon with this event. The Samsung ATIV SE was an exclusive to Verizon and didn't have an event, so if HTC is having one, it can't just be for Verizon.

Solid device but the camera is TERRIBLE. Sorry but no way in heck I would drop my Lumia 1020 for this thing.

The Nokia hate is strong in these comments lol

Omgosh....TerTer says yes! I love the design of the M8. To put that on Windows Phone would just make it that much cooler!

Would have considered this if it was Lumia One W8 ;)

My friend has the Android version of this phone and it is a sexy piece of kit. The only thing stopping me is HTC's support of Windows Phone in the future????

Looks like a lock screen... This might be a hint...

That's what I said. Why didn't anyone else pick up on that??

I hope you're going Daniel.

Verizon getting the high end WP trifecta is quite annoying.

Still waiting for LG. I have G2.. But ill pass for G3.. Waiting for what LG is about to offer in their wP comeback..

This is mouthwatering news - great design with the most advanced gui - what's not to like?

if he got support from HTC like 8X and 8S......... dont buy it!

I think Microsoft decided to pull McLaren because they didn't want it competing with other well known OEMs high end phones, like LG, HTC & Samsung for example. Turns out in this case it's HTC. I think for Microsoft, stepping aside briefly to allow these other OEMs an opportunity to feel the love and turn a profit with Windows Phone, is more important to them than how many Lumias they can sell. Which clearly we all know is a hell of a lot of Lumias. My question to you all is... If given the opportunity, which Windows phone would you buy, Microsoft's McLaren or HTC's One W8? Sadly I feel that ultimately the answer would appear one-sided from the broader perspective. That hurts Microsoft/Windows Phone more than any profits made off of sales of McLaren alone.

We don't actually know what McLaren was/could have been, so...

You're correct. We didn't know all the specifics of it. But my point is that we did know it was a high end (Lumia) flagship device.

You could be right. They could focus on making McLaren better, and release it late this year or next spring in the meantime, focus on lower and mid range where they seem to be selling like hot cakes. So In turn, let HTC release their phone, and the inevitable Samsung super phone. Seems brilliant to me.

"the inevitable Samsung super phone" I wish that would be true. But I doubt it. Either way, I will buy the Next High End Samsung makes for AT&T. Wish that was a WP version of their Note series. But we'll see.

Samsung can't build a WP super phone. They go where its cheap and common for max profit. And that's android. You have to have talent and make an effort to get in Nokia's league. Samsung only uses its third tier developers on this platform...and it shows.

Nonsense. I've talked with several of them, and they are some of the best engineers in the business. They may design products that you do not like, but their targeted market absolutely loves them. Posted via Windows Phone Central App

I've talked to several of my friends and... man, who gives a crap about who you talked to for all of a minute. All I have to say is, where is the proof? Show me proof.

Well, I like being a second class citizen. Samsung is my preferred phone... Replaceable battery, SD card, IR blaster, Super Amoled screens, on par with Nokia apps in terms of quantity. It is nonsense that you and all the Nokia fanboys keep bashing them.

I don't hate samsung for the sake of hating on them. I have one point in the matter is they cannot build a quality, top tier Windows Phone. They are afraid to let others know they are simply full of crap if they dare put a top tier Windows Phone in the market. We'll all know they are just commercial junk food. So they stay where they are and hide behind Sammyfanboys rhetoric. Its cool. I love my two samsung computer monitors. But that's easy too. The phone division of samsung they are a busted company. Of the Windows phones they did put out, they didn't even try.

McLaren... Although my GF does have th m8. Really smooth phone. Infra red blaster has been useful.

I'm curious, what do you use the ir blaster for?

Tv. Got several kids, and they like lose the remotes.

It's superior, can't wait for it.

Wait. I thought WPCentral "confirmed" that this device was going to be the "One (M8) for Windows." Now I see you've reverted to "One (W8)." Is there a reason they're being used interchangeably?

The best things about this phone is the micro SD support, color variants, speakers, and available accessories. I don't like HTC and their lack of support for products but they seem to be really be behind this phone on Android. Will they be that way with Windows phone? We'll see. I like my Lumia Icon.

Well there is one other factor about this phone as compared to any other phone including all Nokia phones, and that is the HTC m8 has the lowest screen latency of any phone on the market right now, and this is by the standard Microsoft has developed for all screens. For those who don't know what this means it is how fast the screen reacts to your touch. The HTC is rated at 54ms far lower than anything else. This is why it seems so fluid and fast, because it is. Posted via Windows Phone Central App

Wonder what they will do with the camera here.

I have the android M8...I wonder if I can root my M8 and switch it to windows when it is released...that's going to be a nice phone. Posted via Windows Phone Central App

A device will draw lots of attention in the market. After Nokia HTC is the one to ignite the fire and passion of windows phone fever.

If they are having a press event, hopefully they are serious about pushing the phone. Would love to see it sell well and move on to other carriers. Nokia/Microsoft cannot continue with 95% of the WP market. That number needs to get down below 50%. This phone will help. We all that said, I will probably still buy another Lumia!

Seems they are. The fact that they got Microsoft to update the operating system purely to accommodate HTC accessories shows it's a little more than releasing it an existing device with Windows Phone software on it. If that were the case there really would be nothing to show off at this press event would there as everyone has seen both the M8 and Windows Phone software.

Neat. I'll just throw out there that it would be nice if LG surprised us this year with a G3 based or better WP device.

Yea that would definitely be great news! (fingers crossed)

I agree... But the OS screen max resolution is below the G3 resolution. Although that could change in November.

So, with this being Windows Phone, W8 seems appropriate... W8 as in wait :)

I'm actually excited to see what unique customizations HTC is bringing with this phone. There are quite a fee things that could be done with the relaxed flexibility 8.1 and update 1.

Sounds good. I hope others companies will release their high end mobile with Windows Phone.

@Daniel_Rubino Wow! Definitely will be a Windows Phone or Windows tablet if you guys got the invite! So jealous! You guys are gonna have a blast. Great news for the WP ecosystem to have a flashy new flagship from a 3rd party, especially with cutting edge specs like the W8 (even though I am fully aligned with Lumia and only Lumia for the foreseeable future :)

The only thing bad about the m8 is its huge bezel.

Hmmm...I'm thinking MS is not releasing a high end phone to give other OEMS that market segment. At least for this year.

The W8 is a awesome phone. I hope they change the camera, give better support to this WP, take a not from Nokia and make exclusive firmware for there WP.
Why not do something like give deeper integration for sense into the OS? Why not Nokia has it custom firmware come on HTC

Should have waited with the L930... :'(

Omg! It was hilarious the way you said in the end "rest you can connect the dots".

If this is true it brings new hope for WP and one more OEM to look forward to (instead of just waiting for Microkia to bring a new device)

If the guys at XDA can get android working on this so that I know I had a choice of going back to Android if I needed / wanted I think I would be all over this. If (and I maybe dreaming) its even possible to dual boot Android and W8 then I'm 100% sold. The only 3 things I think I would miss from my 1520 is glance, MixRadio and wireless charging. I guess there is a chance MixRadio will come to all devices (either due to MS or when they sell it off). Wonder if the dot screen cover thing would make up for glance...

all breaking and latest technology news at officail site.. http://geekthem.com/