Verizon to get HTC One (W8) for Windows Phone on August 21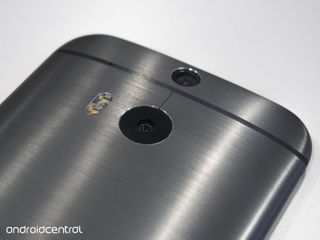 Reports that HTC would be reconfiguring their popular Android based One M8 for Windows Phone have been circulating for months with Verizon as the flag bearer, but details of the device – and release – are now coming into focus. Tonight, Engadget is reporting that the name of the phone is called "One (M8) for Windows," which is a little awkward, although if you drop the M8 it has a nice ring to it.
Engadget reports that they phone should launch by on "Verizon during the third quarter, or no later than the end of September" although our sources tell us that Microsoft Stores have a planning date of August 20 with a launch on the 21st. The off-contract, full price of the phone is listed at $610 with on-contract price most likely nearing $199. The name is also confirmed as "One (M8) for Windows" according to documents we have seen.
Indeed, Microsoft Stores are getting ready to take stock of numerous accessories, including the Dot View case that leverages the new 'smart cover' feature found in Windows Phone 8.1 Update 1. The One M8 for Windows comes in silver, as expected and since cases like Otterbox and Speck with the M8 designation are in the plan, it is very likely that the W8 is an exact clone of the M8. Interestingly, the W8 is the first Windows Phone to support Voice over LTE (VoLTE), which is once again yet another feature of Windows Phone 8.1 Update 1, making this phone highly likely to ship with the update on board.
There is no word, at the moment, of other carriers are following Verizon, as so far they are the only one listed as launching the phone, leaving AT&T users on the side.
Finally, the W8 is supposed to sport BoomSound (opens in new tab) and Duo cameras, with the former giving a significant boost in audio and the latter greatly improving the imaging.
More information is expected in the coming weeks. For now, you can read the full review of the Android HTC One M8 at Android Central to see what is in store.
Anyone here excited about the prospect of picking up the HTC One for Windows? Let us know.
Via: Engadget
Get the Windows Central Newsletter
All the latest news, reviews, and guides for Windows and Xbox diehards.
Daniel Rubino is the Editor-in-chief of Windows Central, head reviewer, podcast co-host, and analyst. He has been covering Microsoft since 2007 when this site was called WMExperts (and later Windows Phone Central). His interests include Windows, laptops, next-gen computing, and for some reason, watches. Before all this tech stuff, he worked on a Ph.D. in linguistics, watched people sleep (for medical purposes!), and ran the projectors at movie theaters because it was fun.
Damn it! Stupid exclusives!!!

Exclusives are one of the reasons why WP flagships don't sell well

Agreed. Imagine if the 1020 had come to all major carriers last year?

Exactly, and they release the budget phones on almost every carrier which is also another reason why they sell so well, I just don't get this exclusive crap, do they really think people are going to step out of their comfort zone (carrier's) just for a phone?

I switched to AT&T specifically for the Lumia 920. Then again I was coming from the realm of hell called Sprint, so it was a pretty easy choice.

Yeah, but not many will switch from ATT to Verizon or vise versa.

I certainly won't, and even though I'm a pretty good Microsoft supporter I'm about ready to tell MSFT to piss off and have their phones. I'm pissed that the best thing I can get on AT&T is the 1020, which was instantly outdated with its dual core CPU that can't properly handle the monster camera it is meant to operate. I love WP but can't get a phone that is worth having for most occasions. I was excited to hear about the HTC rumor months ago and hoped it would pan out. It seems to be, but for Verizon. If I don't have a decent upgrade path on AT&T I'll just sell my 1020 and buy a G3 or something. At least I know there's no shortage of Android handsets that are flagship worthy for AT&T.

Absolutely agree with the sentiment. Who do they think they are? Apple with an iPhone? People don't switch carriers for phones unless they're truly revolutionary. Especially these days when you have competitive carriers like T-Mobile offering deals too good to be true. I want to buy this phone (given that Microsoft killed Nokia and decided to focus on crappy budget phones now). I'm due for an upgrade and none of the Windows Phones currently on the market feel like an upgrade to me, except for this one. Sadly, HTC decided to shoot itself on the foot by going exclusive instead of trying to dig itself out of its hole by selling products to any customer who wants to buy them. Let's just hope it's a short term exclusive and that they support their Windows Phone offering better than they did the 8X (which was a great phone, but the lack of support made me switch to the now-defunct Nokia).

This may be more the carriers doing than Microsoft. Has anyone ever thought of that? Have you ever repaired an iPhone 4/4S? Did you know that the internal layout of components (or more specifically the frame brackets) are positioned differently? In situations where there must be custom changes for a phone to work on one carrier over another, Microsoft (hardware) vendors may have to choose which carrier has the better chances of moving product before larger scale roll out where investment in those customizations can succeed in producing a return. I'm not saying this is the problem. But there are factors we are simply not privy to that influence exclusivity (nevermind the "hotness" of being the first carrier of a product). Then again, maybe that is all it is... Why get so angry? It's like MMO or followers of stuff that say "if they do , I'm going to quit/leave/switch" but then never do. Just switch platform for god sake, I'm sure there plenty of well paid people thinking about this precise problem and what it says to consumers.

I did the same for the 920, but my hell was Verizon. I hate those guys.

I hate exclusives as much, if not more than anybody else. But when you say "they" are you referring to the carriers, or Microsoft? Because the carriers are the problem.

Imagine if the 1520 did..

It didn't sell well even on AT&T, what chance would it have had on the others?

If it were on Verizon, I'd be a happy 1520 owner!

I'm sure that explains why 8X sold so well.

+M8 I love the M8, and I love WP, but I'm on AT&T. Dammit...

I have a feeling AT&T is going to get a high-end Lumia exclusive by the end of the year.

A 1020 successor, or what Daniel said, a 925 successor. 5 inch screen 1080p, S801 AT LEAST, 2GB or more RAM, microSD card slot and/or 64GB internal storage, and the other late 2014 specs.

Hopefully like the 1020/929 it will have the ram to power it

Yes, Microsoft needs to sell new phones, but not only the 600s or 500s
2015, JAN, new phone, lumia680

Exactly!! The future is bleak on AT&T. I have nothing to look forward to.

U think that is bad i live in Europe!!!

Not really exclusive phones like the icon or the 928 are helping the platform. But i think things like the 925 32GB version exclusive to Vodafone is hurting the platform because everyone else who isn't on Vodafone suffers from a 925 wit only 12 GB.

If you are in US, Verizon this month started a very compelling prepaid (no contract) offering of $45/month with unlimited talk and text plus 1GB LTE data. Additional data can be bought - $5 for 500MB, $10 for 1GB and $20 for 3GB. The additional data (called bridge data) has 3 month validity so unused portion rolls from one month to next. Solid no contract offering in my opinion. Plus the fact that all LTE Verizon phones have an unlocked SIM slot that can take any carrier SIM if you are ever not happy with Verizon.

Att already has this exact plan and an option of 2.5Gig of data for 60 bucks, which I think is a better deal. (it's called GoPhone)

You can also get a Straight Talk SIM that uses the AT&T network for $45, pretty much the same deal talk/text/data-wise. That Verizon plan sounds really good too for someone like me who doesn't use a ton of data.

Yes but with Straight Talk it is 45 dollars without fees added. With Verizon it is 45 dollars plus taxes and fees which is an extra 10 or 12 dollars added to that 45 dollars

That's the kind of deal I have been looking and waiting for.

Nonsense. The iPhone was exclusive to AT&T for years and sold truckloads. Certainly, it's sold more since going multiple carrier, but that's a consequence of having marketed well and created demand first. Microsoft needs to deliver a true flagship phone, something that's unique and offers something brilliant nobody else does. Something that people will be willing to buy. Once they have that, then they'll sell gangbusters.

iPhones with a 480p screen (2014) will sell truckloads, people just like buying iPhones because its an iPhone

Not to mention, the iPhone was the first phone of its kind. There were no Android or Windows Phone --- instead we have basica phone & Windows Mobile powered "Pocket PC's". Samsung's Galaxy S line wouldn't be doing as well if it was only on Verizon.

The iPhone wasn't exclusive to ATT the way phones are carrier exclusive today. None of the other carriers were willing to take a risk and comply with all of Apple's demands for the phone (ie no 3rd party carrier made software, direct firmware updates, etc). After it started selling "truckloads", with the intro of the iPhone 3G, the other carriers wanted in, but ATT had an exclusive contract for a few years. But yes, if MS makes a truly great phone then people will buy it regardless of carrier.

It wasn't exclusive the way phones today because the iPhone created carrier exclusivity. Verizon had first option and declined. No one could care less about what phones were exclusive to a carrier before then. They were all Motorola Razors and LG flip phones. Verizon was already miles ahead of the competition back then. This is before At&T bought Cingular and Verizon bought Altell. At&t was the shittiest carrier out there coasting on its 80's monopoly cred when they got the iPhone. Sure they sold truckloads, but no one liked being on At&t. It was all about the iPhone. The biggest reason At&t exists today is because of that. At&t had a two year exclusivity agreement. Could you imagine that today? Everyone sites how the iPhone doesn't have to deal with carrier exclusivity as opposed to Microsoft, but they were the ones that started the trend only to beat it. Win win.

There's a lot of misinformation here. The AT&T we know today was Cingular before they rebranded in 2007. Cingular was far from the "shittiest carrier out there". The AT&T that made the deal with Apple for the original iPhone is the same AT&T that exists today. And while the iPhone certainly propelled their company further than would have otherwise been possible, they do not owe their existence to Apple so single-handedly.

Wrong. The iPhone sold a truckload while it was an AT&T exclusive because it was the only smartphone of its kind back then. If you wanted an iPhone, you signed up with AT&T. Apple swore it was always going to be an AT&T exclusive. Then Android happened. One of the reasons Android grew so fast was because anybody that wanted a smartphone and didn't want to change carriers had no other choice but to buy Android. Many analysts have pointed out, repeatedly, that if Apple wasn't locked into the AT&T exlusive, Android would never have gotten any kind of traction. It was laggy and not ready for primetime. It survived the tough times. By the time Apple got out of its exclusive contract, Android was much much better and could now hold its own. WP is making a mistake tying itself into exlusive deals. True, it doesn't have a choice in some cases. It just doesn't have the kind of pull that Samsung or Apple has. Those two can dictate terms to carriers. With Nokia, that is not the case. Still, in any exclusive deal, only two parties lose; the customers and the platform.

Yup, biggest reason the exclusive iPhone sold truckloads is cause there was no other option yet

Couldn't have said it better myself. I don't know why people don't seem to understand this. If Windos Phone came before Android, it would have a boatload of marketshare now.

Android was shit. You're fooling yourself if you think the reason ATT/Apple exclusivity ended was because of Android being a threat. ATT/Apple exclusivity ended because their contract ended. Simple as that. They jumped over to Verizon and sold truckloads, they jumped over to T-Mobile and sold truckloads, and they jumped over to Sprint and sold a bunch. Android gained traction because their phones were cheaper, they caught onto the ignorant crowd of people wanting a smartphone because it was a "smart phone" and Apple's long-term goals always sets themselves up as a niche market with overpriced devices with limited mobility.

Yeah sure, whatever makes you sleep well at night.

Best analysis and commentary on here dude. Right on. Wish Microsoft/HTC were reading this. Apparently, they're highly paid executive lack basic understanding of why Android is where it is today and how to avoid making the mistakes BlackBerry made when it was trying to rebound (remember the Storm and the Torch "exclusives"?).

iPhone didn't have competitions for a while. It was very popular and new.

I think we can all agree that the iPhone is pretty much the exception to everything. Plus, it didn't really start dominating he market till every carrier had it.

Not exactly. The lumia 1520 is sold worlwide. The main obstacle is advertisment.

Exclusives is the reason this product is actually going to launch in US. People fail to realise that Carriers are HTC / Nokias customers . They buy phones from manufactures and hence they have say in it. Nothing Microsoft/HTC can control , unless the demand is there like Iphone of Galaxies , Carrier buying power and monolopy will stang

Carrier Exclusivity is the main reason that WP doesn't sell well in US. Lumia 930 is a great phone, but so what?! MS/Nokia just don't want you AT&T users to have it. Verizon, with its Nokia and HTC WP lineup, only has 13.7% WP market share in US. HTC One M8 WP will be just another WP phone with limited success. This kind of self-imposed restriction marketing is killing them. Sigh! I remember that Stephen Elop had spoken highly about his carrier exclusivity when they introduced Lumia 900. Ever since, this exclusivity deals has continued for most of their WP phones in US. But the WP sales can't go anywhere. Wonder who should be responsible for this failing policy?

@ULOP3Z, Agreed. If there were no exclusives, my family would have had a 1520, 1020. 928, Icon, and 52x....

T-Mobile always seems to be absent whenever there's a flagship WP in tow'

Indeed, we still need an international Ativ SE.

Nearly the whole idea behind this phone is smart. The benefits of having the same design as the Android version negates any issues with getting support for accessories for dedicated WP phones. It's one of the top phones out there currently and will only look to boost market share for Windows Phone. HOWEVER, being a carrier exclusive is completely moronic. You would have thought that phone manufacturers had learned their lessons that a carrier exclusive doesn't do anything except limit their potential market share. Carrier exclusives might have worked years ago, but considering where the market is now, it doesn't do anything but limit a phones appeal. I don't know of many, if any at all, that would change their carrier just to get a phone, no matter how great that phone is. Microsoft needs to realize that if they want to gain market share, they are going to have to release the same phone on all carriers at the same time, like all other companies have.

I was planning to get the Lumia 930, but it isn't sold in the United States. I was gonna get the Lumia icon instead, but its a Verizon exclusive. I was gonna look into getting the phone in the article, but its only with Verizon.

WHY IS EVERYONE SAYING THIS IS AN EXCLUSIVE? For all we know, AT&T might release it two weeks later.There's nothing in the article that says it's a Verizon exclusive.

We aren't saying it is, we're just saying it would be really stupid if it is

Lots of people are saying it, actually.

No they assume it will be

Probably because of this: name one Windows Phone that launched in the U.S. that was available on all major carriers, simultaneously. There are zero.

HTC 8X was on AT&T, Verizon and T-Mobile. Only WP ever to have that, this HTC device may do the same.

I would just buy a international unlocked version.

lord, when ever it's a Verizon exclusive, it means the rest of the world gets nothing

Nope, rest of the world got 930 after ICON

AT&T better get something awesome this fall, and not be square and bulky like the Icon, and needs to have Glance and Qi wireless. Or I might have to start considering Verizon.

No need to wait then. AT&T dumped Qi for PMA already.

I think at&t is still in both camps.

Considering the awesome camera, Qi and 4 mics, the Icon isn't bulky at all.

And how long did that take? *Removes glasses and stares* hmmmmm?

Haha....I sense you are making fun of the perpetual whiners. "Waaaaah, these exclusives are killing us and I'm going to get an iPhone". Hahaha Pssst...switch carriers...it's easy.

Switch carriers it's easy bahh. Unless you have for phones in the contract all with different upgrade times. Then you have to time all phones to not get upgraded when they are supposed to our party a butt load to break the contract

Wow. Word Flow failed you HARD...

Maybe it'll be for a temporary time only.

Ugh verizon is getting all the gooood phones now -_-

Why does every single article have whiners? Can't anyone see that this is actually a great non Lumia phone for once? Unlike Samsung who sell the old Galaxy S4 as new Ativs?

This has nothing to do with Lumia or not,this has everything to do with more sales for WP

LOL, it I'd funny. The ATIV articles have people all over it singing it's praises. I've never had good experiences with Samsung. Another point: The ATIV is based on Samsung's phone from a year ago and the S5 is already out, whereas this rumored device is current hardware.

Hopefully it will have the edge to edge screen. It would be so cool if we could get extra wide tiles like the m8 UI on Android.

I want NOTHING that has "extra wife" on it! Perish the thought.

Exclusives only work well if they are advertised like crazy. A great example is the original iphone in the UK which was only available on O2. It was advertised everywhere - billboards, TV, magazines, radio etc... Everyone knew about it and almost everyone wanted one. That's what MS and their partners are going wrong IMHO

Doesn't anyone here knows what unlocking a phone means?

I have no idea why you folks don't rebel against exclusives. Bombard the carrier hotlines! In Europe most carriers stopped locking the phones they sell to their network because people just unlocked them anyway.
WP has 10% marketshare in Europe, close to nothing in Japan and US. Guess why.

In the USA Verizon phones are also already unlocked. There is nothing but money stopping people from buying these phones outright and inserting a SIM of choice. Whether all LTE bands will work is another story, but the option is there and you have 14 days to try to get it to work.

Well I used the unlocking as an example of what the voice of customers can do. Same can happen with exclusives if the customer voice is strong enough

What if I tell you that http://www.telfort.nl/ already 'leaked' the phone?

Those that fail to learn the lessons of history are doomed to repeat it.
The definition of insanity - Doing the same thing over and over and expecting different results.
At this point, with respect to the mobile phone market, I can only hypothesize that MS/Nokia's Windows Phone strategy is insane.

Exclusivity is completely a fail marketing strategy for Microsoft and its carriers and manufacturers. I hate it!

Whoa, pretty major phone, gotta be good news for WP

Have to admit I'm impressed. This looks like a solid offering from an OEM who isn't Nokia/Microsoft.

Remember their line of phones running WP7? Back then those phones were top class, I don't see why are you surprised?

The HD7 was the worst phone I ever owned, aside from running WP, which was its only saving grace. That piece of shit was the reason I went with the Ativ S over the 8X when my carrier passed on the 920. I liked the 8X design better, to be truthful, but I didn't feel I could trust HTC to deliver a quality product. I never regretted it for a moment, either. The Samsung is the best phone I've owned to date, never an issue. It just. Plain. Works. Just like the OS running on it.

Yeah, WP is now only 6 months behind. There is still a gap, but at least it's closing.

We need this phone to sell really well. Everybody buy one!

I'd buy 2 if AT&T gets it

So it's supposed to be like an M8 running Windows Phone?

So that means it's going to run and perform twice as nice :-)

I can't believe an OEM which isn't Nokia - technically Microsoft but still - is making a high end Windows Phone.

ATIV line is actually high end and I am waiting for LG to get on board.

HTC has been making Windows phones since Windows mobile. And they had several solid offerings in WP 7. So yeah not really surprised. Just wondering what took them so long to make a successor to the 8X.

Impossible. It can't be faster ;p Posted via WPCentral App.

I'm probably the only one who hates this. It's pretty much an HTC One M8 hand-me-down. Same phone, just somebody else wearing it.

And you hate this.... Why? Does HTC have a new phone coming out tomorrow? No? So what does it matter. The further this progresses, the more likely we are to see same day launches of the same hardware with the OS of your choice, seems like a win.

Which is why I hate it. I don't want the same phone as people on Android. At least I'm safe with Nokia.

But phone like these are ones that will drive the OS (app development, etc)... With popular phones like this scarce Accessory won't be a problem anymore... A competition for Micosoft/Nokia also gonna drive it to create better different phones. It's a win win actually... Though, I won't like the idea of Double OS or Microsoft giving its exclusive feature... That's plain stupid for me.

I completely understand from a business perspective that this is a win win. For HTC, it's killing two birds with one stone by designing one phone and selling it to two platforms. Sure, I agree that the M8 and many Android phones look very nice. However, everytime I hear things about this I can't help to think that Windows Phone is considered an "inferior" platform and not worth spending a lot of time and effort into creating new hardware specifically for it. I guess it's better than not having one at all, but my favorite motto from the old Windows phone website is, "it's not a phone for all of us, it's a phone for each of us." I know it's meant for the OS, but I personally think it's important for hardware as well.

Unlike the Samsung Ativ S (re-badged Galaxy body), the HTC One is an amazing looking device and I'm happy that it's coming as a WP handset. This is the only non-Lumia phone I'd consider as I currently have a HTC One M7. I just wish they'd create Blinkfeed app for WP. I love it.

To me, they should have released this phone a bit earlier. The WP version is launching late. Still happy for more WPs though.

Yes, and the good question now Can the normal M8 be flashed with WP8.1 rom ? :O

Once the HTC specific WP ROM is available, yes.

I haven't had a HTC phone since pro2, to me HTC fell off a bit. This could be their comeback and with a WP8.1

I am willing to give this phone a try if the reviews come in positive.

Should not be a problem... With all that spec and W8.1 it will be a treat ... Hope HTC will give more attention with its own application though.. A blinkfeed for WP will be awesome :)

I loved my HD7. If they could put the imaging capabilities of the Lumia line into the M8 I'd buy in a heartbeat.

The 8x was my favorite Windows phone, but Nokia got me with their adopts and camera. I still miss how svelte the 8x was.

The Titan II was probably the best WP7 device and I hear the HD7 and Titan were ok. I do miss my Pro2 sometimes tho.

Come on, where's the international version?

I'm sure there will be one :)

I always liked htc wp phones. I hope they release the international version soon. Might choose this one over the lumia 930 if it becomes available in the Philippines in Q4.

I'm considering one too, always been my style of the phone, but I want Windows Phone on it :)

Right! I like the chassis and the dual front speakers will be a killer too!

And finally a phone with a LED notifications :D

HTC always got some international versions...

Yes, I'm just hoping they use the same exact hardware or equivalent and not something that looks like M8 but a stripped down version in terms of specs.

If it comes with a decent camera not that 4MP crap than I'm down

I know.. At least I can feel a little better with a DSLR, but smartphone photography means a lot to me. That 4UP aren't bad at all, but still needs a little bit more..

The camera in the htc, at least in the comparisons I saw, outperforms most 8 megapixel cameras. And lets face it, 99% of people using their phone as a camera are just putting the images on Facebook anyway (slight exaggeration, but probably not by much). That being said the current iphone (and obviously, Nokia) cameras perform better, as well as the high end Samsung stuff. I'd actually be nice if they just beefed it up a bit, maybe 5 or 6 mp, however the sensor would be bloody huge if they retained the pixel size.

Would still be awesome to have that sensor :P

Well, yeah, this is true. Who knows, maybe in the future they'll devise a way to boost it up.

Exactly! Posted via WPCentral App.

Didn't the 8X have 8MP? Why would this have less?

It's just their Ultra Pixel style they are currently using

Because the M8 with Android had 4MP

Because it have The Duo Camera like the M8 which includes a 2 Megapixel Depth Measuring Camera (up top) & a 4 Ultrapixel Main Camera ... Aka the 4 Megapixel camera.

I was actually impressed by their approach and it was a good way to differentiate their products, the duo cam is a bit dumm though.

I agree ... Gotta give HTC credit for trying something different instead of just stuffing more megapixels into it ... It's kinda okay for a v1 product ... I remember reading a interview with HTC's Camera guy & he said they are close to launching phones with Optical zoom (18 months).
Nokia was reported to be working on a very similar concept to the Duo Camera (also 2 cameras setup) Completion is good! Makes OEMs try different approaches & experiment with different stuff.

Rum O' Meter pegging high

Hmm...an HTC One with Windows Phone instead of that instead blink feed should be awesome

The HTC One really is a beautiful phone but its camera is mediocre. Also, that supposed name is confusing, it's even worse than the Microsoft Windows Phone Nokia Lumia xxxx thing. Simply call it the One (W8). And hopefully, it'll be priced lower than its Android counterpart at launch, somewhere around $550 would be nice for the same specs, or $650 if its internals are updated.

Nobody calls it Microsoft Windows phone Nokia Lumia.

Yeah, it's either Nokia Lumia XXXX or Lumia XXXX.

Of course not, like no one will say "HTC One (M8) for Windows" but simply "HTC One W8". Still it will be its official retail name.

People aren't even calling the original M8 the "HTC One (M8)". They either called HTC M8 or just M8. But I get your point. It's a stupid name.

I refer to it as One M7 and One M8, it's really no different than "Galaxy S5"...just doesn't roll off the tongue as well.

The "wait'. WP users will feel instantly familiar. :-)

Yeah, my 8X technically isn't even an "HTC 8X," but rather a "Windows Phone 8X by HTC," but nobody calls it that. They call it the "8X" or, if trying to be a little more specific, the "HTC 8X."

You should speak to Ballmer. Because he and a couple of idiots in charge of Microsoft DID thought that people called it by that name. Hence the talks of "easying the branding"...they failed to realize people did that for them by not mentioning neither Microsoft nor Windows Phone in the name of the phones. Often not even "Lumia" got through and was reduced just to L1020.

The HTC 8X's official name is "Windows Phone 8X by HTC" ... But no one actually calls it that.

Damn it I was hoping not to be stuck in HTC land like I have with my last three phones, but this phone is really nice looking especially that cover.

When did Verizon become AT&T with WP exclusives?

I'm loving Verizon these days!

Nothing in this article says anything about it being exclusive to Verizon.

I hope they release it worldwide (India as well). I know its out of my budget (android version is $725) but I will definitely buy it.

Next: LG G3 with Windows Phone :)

OMG that would be awe some!

Boost Mobile exclusive Posted via Windows Phone Central App

Unfortunately, WP8.1 only supports up to 1080p (lol like that's a bad thing) and update 1 only allows for a few mid-range resolutions. Hopefully Update 2 or WP9 adds support for 1440p....

You don't need 2K phones anyway. As per the various reviews from Android Central the 2K isn't noticeable at all. It only has a positive effect on those Asian languages with complicated drawings. It does, however, have a negative effect, because you notice the apps aren't optimized for 2K. Many of them aren't even optimized for 1080p. And if they still aren't in Android, they won't be on WP, that's for sure.

True, 2K on small screen will just kill battery and have slower performance.

Korean texts show just fine on even my L920.

Heck, my 8X's display does Chinese characters just fine and it's not (even close to) 2K. Definitely not necessary, but then again, assuming apps move towards supporting it and as 2K displays get more power-efficient, why not have one?

Would make me consider one definitely. :)

Eh, I doubt it will get it. Pureview camera spoiled me and HTC camera is not that great. Still guess this is good for the Nokia haters. HTC does make a better product than Samsung so I am glad to see what likely will be great hardware compared to the the Ativ. Can we get a high end Lumia announcement please that is not 930 lol.

Eh, I didn't like the Samsung too, but a Note is a whole different world of experience, "cheap plastic" or not. Still the best one on the market including with it's camera if you know what you are doing. Nokia only gets better at low light.

please don't tell me overblown colors are good :-| That's sickening. Samsucks

Why so much fanboyism? Overblown colours?, that's what Nokia actually does.. Ofc you can fix that by knowing how to shot a photo. I pretty much manage to make true colour pictures on Samsung. The reviews we see on the web are just lame sometimes. And that PureView should be better for so called best camera.
I'm being objective here.

I really like the design of this phone. If it comes to AT&T I would seriously look at trading in my 1520.

Over/under on Verizon's existing WPs getting 8.1 before this thing releases? I'll say Icon probably, 928 maybe, everything else not a chance in hell

Lol Verizon. That's the network for old naive people who just blurt out "BUT COVERAGE!!1"
It's true. I have VZW as my work paid for phone and ATT for my personal. I use my personal phone for work conference calls because Verizon drops to many calls. And CDMA data outside of LTE is dial up. Just terrible.
Bet hey congrats people who overpay!

Let's see here, which point should I tackle first? Verizon is the *only* carrier with LTE where I go to school. AT&T and TMobile barely have 3G. Verizon and AT&T are basically equal in their overpriced-ness, but at least my dad's work has a contract with Verizon that get's us a 20% discount. The only advantage AT&T has is the ability to bring your own device and that will probably be a non-issue once VoLTE is available network-wide and everything CDMA is phased out in a few years (which they've already said will happen as soon as they possibly can)

How about you live where I live and try to have a different carrier? I'm sure you would overpay just as quickly as I do. I hate Verizon prices, but there is literally no coverage from any other carrier where I live.

I travel all throughout Montana every month. ATT works way better than Verizon. Just saying. I guess ATT has better coverage in the West ... Nothing more irritating than a circle data icon on my Verizon iPhone... Useless

I could not keep using my 1020, the processor was showing is age and 1520 is too big for me. Since 930 was not coming to US, I decided to get the Verizon Icon (basically Verizon version of 930) and that is the reason I am with Verizon.

I pay $60 per month for 2.5 GBs on Verizon. I never have dropped calls.

Can get unlimited on T-Mo/MetroPCS for $60

Yeah, but it's not necessarily a better option. Verizon generally has better coverage (especially in non-urban areas) and many users never use even close to 2.5GB/month. Note that I'm on T-Mobile, and am speaking based on experience from road trips with people on Verizon.

I had Sprint for many years, AT&T for 2 years, T-Mobile for one year, and now Verizon for the past 3 months... I gotta say, I have not had a single issue with Verizon so far, knock on wood. Not a lost call, no having to resend text, not a single instance of no coverage. I'm pretty impressed. It's not even close how much better it is than the others, for my usage at least.

Ring Bell > Dog receives food Ring Bell > Dog expects food Call ATT > Get shitty customer service Hear ATT tone > associate tone with raging frustration Hear "ATT" brought up in conversation > bash ATT til everybody switches. ATT has such shitty service in my area that they offer free Uverse internet if you sign up for wireless service. ATT is so good at sucking that they're putting whores out of business. My guess is their corporate customer support is equally shitty and OEMs don't even want to deal with them. And before I hear a "U Mad Bro?", I'll answer professionally: Why yes I was. However after switching to Verizon, I'm much happier & reccomend you do the same.

It's really about where you live. Each carrier is different in different areas. Nuff said!!

Man I never had such a good laugh,rofl

As a over the road truck driver Verizon hands down has better coverage. That's why I went to them at&t just has no where the coverage. I get 4g in places that my at&t phone would be lucky to have 1x. Just wish T-Mobile coverage did not suck donkey balls. Or I would be over there before I could finish this.

I'll get one if it on T mobile or At&t.

I really liked the 8x, so it will be cool to see this phone, but would really like to see it across all carriers.

I might actually consider this phone if it weren't for HTC's habit of "release it and forget it." Maybe I'm just spoiled by the frequent updates on my Lumias. But it sure is tempting!

I'm with you there. It would be a risk to go with HTC on WP given their history. Posted via Windows Phone Central App

What exactly is their History. They've updated the 8X with every update that's come up so far. They have also confirmed that the 8X will be recieving 8.1 as well.


I've gotten every Windows Phone update for my HTC phones (except for 7.8 on my Trophy) pretty quickly. Some of them even more quickly than Nokia phones received theirs. However, I can understand if you mean OEM exclusives.

At this point we aren't even certain the 8X is going to get an official 8.1 update :/

I'm *fairly* certain all 8.0 devices are supposed to be able to get 8.1.

It is certain, relax. Posted via Windows Phone Central App

They have defintely confirmed that the 8X is getting WP 8.1 http://www.wpcentral.com/htc-confirms-8x-windows-phone-81.

Yeah, I'm still annoyed that my Titan never got 7.8! Loving my Icon now though...

Lol Nokia Lumia 810 owners will disagree with you....

I have a 920 and I don't know what these frequent updates are you speak of. HTC updates just as much, there's just more Nokia coverage. I can't wait to get back to HTC.

I dunno about that... HTC hasn't really done anything with my 8X since I bought it around its time of release.

HTC 8XT was first phone to get official GDR3 on Sprint. So... FIRST!

OMG OMG OMG OMG OMG OMG OMG OMG OMG OMG
I'm definitely excited for "One (M8) For Windows" !!!!! Excited, don't even describe it! Couple of questions Daniel,
- Did you hear if its a completely Verizon exclusive like the Ativ SE? Or will HTC release it world wide with Verizon being the exclusive carrier in the US?
- is the Silver gonna be the only color available? Or we will also get that sweet GunMetal Grey one?

So far, just silver. Regarding 'just Verizon' that is all I'm hearing for now.

Okay cool. Thanks Daniel, I appreciate it.

Aren't Verizon phones unlocked? I thought I read an article back when the 928(?) came out. I thought it had a sim slot as well.

Yea ... Their recent phones were unlocked ... They work on GSM networks outside US

Though I think it's safe to bet it will be "just Verizon" in the US. HTC will certainly release it Worldwide. They would not go to the trouble and cost of re-purposing a phone just to cater to one carrier in a market where the OS they're putting on the phone has 3%.

So Verizon gets the the 930 and now this. Hopefully AT&T gets some love with something new in the 5-5.5 inch range.

Hopefully at least 3 carriers get that phone

This is pretty exciting. While I do enjoy the Lumia design, I will admit that I do very very much envy the look of the M8 + the cover. The camera is good enough for my needs, but I do hope they at least made some improvements. I will definitely be looking at this thing when it releases. I just hope that it's a timed exclusive.

I am a Lumia fan. But that edge to edge screen on the M8 is beautiful. I will admit the Lumia line has a large bezel problem.

HTC , Make this phone's primary (rear) camera 8 MP and this phone will be hot cake!

The sensor size would be huge if they did that.

My girlfriend is going to be in the market for a new phone soon. She shares my live of the Windows Phone OS but after so many severe issues with her Verizon HTC 8X (and the relative lack of issues with my Icon) I really don't think she will be willing to give this phone a chance.

HTC had the same aura around them as Nokia in Europe...i welcome them with a high end phone on WP.. For sure I am gonna get one too check it out

T-mobile please so I can use my jump upgrade to rid myself of this 925 with a bad earpiece.

The Lumia Icon is going to be on a stiff competition this year if this is true

I think the SE gives it a good run. The IR Blaster on this is nice, but the camera is wayyy better on the Icon. (I've got the SE for hacking purposes, and the Icon on the second line. Maybe I'll swap my bro from his sammy flip phone to the One W8 when it launches....)

Interesting. The one is the best looking android in my eyes and I like the blinkfeed. But that camera kept me away. If it stays the same for the WP version. I will continue to stay away. But its great for WP. I honestly think all android OEMs should just be lazy and make exact copies of their androids for windows phone. I dont care if it shows they don't care. It takes no extra effort from them. No extra money since wp is free to them now. And it drowns the market with new windows phones as nokia/microsoft mobile are moving at a slug pace when it comes to bringing out flagships on all markets. Here in Canada. I'm pretty sure the last flagship is still the 1020. I haven't seen a 1520 up here and 1320 isn't really a flagship.

Well, this is what Microsoft's easing up on the WP requirements (no more camera button, no hard touch buttons) was supposed to do - make it easy for manufacturers to just take an Android design and install WP on it. Maybe it's starting to pay off.

It'll be cheaper with WP. They still need to pay patent royalties for Android. A lot going to MSFT. It's coming. Coming hard!!!!

Not until it's "coming to all carriers." A Windows Phone version of yesterday's Android hardware on a single carrier with no mass availability is hardly going to move the needle.

Hopefully they wont use the ultrapixel crap on this one

I need a smaller high end phone for att. This 1520 is too huge and the 1020 is too damn small.

Uh, hopefully not 4 ultrapixels. Still, a solid phone for WP.

I'm so excited! Wish Sony also makes the same move. Go Xperia Z8!

There is absolutely no reason for this phone to be a Verizon exclusive. The Icon barely works on other US carriers, so to me, that is part of it being exclusive. But HTC has made the Android M8 on all US carriers and who knows how many international ones. To say that HTC would be seriously shooting themselves in the foot if this is going to be a Verizon only phone would be one of the biggest understatements of the year. I currently have an Android M8 but would switch to a Windows M8 in a heartbeat. I'm on AT&T. Verizon coverage actually sucks where I'm at and would need their $250 signal booster to get decent voice coverage. LTE is a joke... Seriously hoping this isn't the case...

I'd say that since this is a different model, they have to get different deals with this phone than with the M8. They can't necessarily just say "well, this phone is kind of the same, so just clear out room and let us sell this as we want". Maybe T-Mobile and AT&T just didn't want it or maybe HTC didn't think that they could get their ROI back by promoting it themselves (although I would argue that Microsoft should've stepped in and offered marketing help if this was the case) so they did an exclusive with Verizon so they would help with promotion.

I see your point, but in the case of AT&T, at least in my opinion, that would be hard to argue if they simply didn't want the device when they're willing to take on something as such as the Asus Padfone X. A niche device at best. Not saying it's bad, and perhaps you're right. AT&T gives me the impression that the Lumia 1520 is the cat's meow... A 6 inch phone certainly isn't for everyone, and with the touch input issues that have plagued it since day one, they're not doing themselves any favors... But that's just me...

There's nothing in this article that indicates it is an exclusive.

Right, nothing except the 4th paragraph....

What? No, it doesn't say that at all. It just says it's coming out on Verizon first. Exclsuive means that they are the only ones that have the right to sell it. There's nothing about that in the article.

Could be exclusive for 6 months.

Nokia has me spoiled after my initial great Trophy experience but I just might have to give this a hard look when my contact expires

Come on now! This must be a joke! I not laughing! Icon/930 and now HTC W8? Microsoft is total crazy and so is HTC! I still going with iPhone 6! Just totally anti-high end unless you are a Verizon Windows customer that is. This is unbelivable! Totally dismayed at high end Windows Phone marketing.

Slow down there. I feel your frustration, but the iPhone 6 is still not released yet either. Chances are there will be more high end WP by the end of the year.

The "just wait a little longer" thing was barely bearable in the era of WP 7.X. It's now 2014, and we're still being told "just wait a little while longer, good things are coming." Consumers aren't going to wait. They're going to go to their T-Mobile store and see that their choices are powerful Android handsets like the One M8, LG G3, and Galaxy S5. They're going to see that the latest iPhone is in stock -- 5S or 6. And they're going to see a measly Lumia 635 and Lumia 530 as their only Windows Phone choices... with a forlorn Microsoft guy saying "just wait a little longer! Those Androids you can buy today will be coming as Windows Phones in another six months, exclusive on another carrier!" What do you think the T-Mobile customer is going to buy? Even upgrading customers with legacy devices like the 810 and 925 have NO VIABLE UPGRADE PATH on their carrier today. The situation is even worse on Sprint. And not so great on AT&T.

Lol Posted via Windows Phone Central App

First the Icon, then the ATIV SE, and now the W8. Verizon is taking all the Flagship devices.

Yeah pretty sad considering their stores don't even push the phones or display them. Then again most carrier stores have this attitude when it comes to Windows Phones. Stupidity!

I wonder if I should just buy a UK spec One (M8) and flash the WP 8.1 ROM when it's available?

Hesitant. Support would be my biggest worry.

Camera is my biggest worry on this one

Yep. The 8X's camera is a major let down and the One's camera from what I have read is sub-par with that ultra pixel nonsense.

The 4UP outperforms my brother's 8MP phone camera. And I didn't read this somewhere, just seen it with my own eyes. Posted via WPCentral App.

Yeah I agree. I'm not 100% confident in getting good WP support from HTC or Verizon.

I wouldn't worry about that Sam. I think HTC learned to keep their lead, they will support it. This is big news. I hope this could happen on AT&T. Come on HTC. Get there. No one does battery life like HTC.

Why would you think they would support it? The last I heard, HTC wasn't even sure they were going to give the 8X an official 8.1 update.

I think they would be foolish not to support it.

This. Posted via Windows Phone Central App

Well, they now have all the motives to support WP. Sony is beating them on Android already and since Nokia is out of the phone business for the time being, HTC can very well be the only serious WP OEM in the market.

It'd be covered by a 2 yr warranty in the EU and if I had problems, I'd reflash the stock HTC Android ROM.

Verizon is getting all the Windows Phone flagships! The Lumia Icon, ATIV SE, and now the One (M8) for Windows! Guess if you want a real Windows Phone you have to go to Verizon. This is really frustrating! I hope this phone will go to more carriers!

The same case could be made for AT&T.

No 1520, 920, or 1020 on Verizon. We had the trophy, ativ's, 822, 928, 8X, and the Icon. So it is what it is man. WP isn't in a position to dictate anything to any carrier right now.

I hope so too. Not counting on it though... but this would be a PERFECT match for T-Mobile.

Wow thanks HTC! My very first WP device that made a convert of me was the HTC Radar WP7.5. Although happy for WP fans who are also HTC fans at Verizon, being an exclusive in one carrier, it will not even be a blip in the radar of WP growth worldwide. Hope it eventually gets released across the globe. But good start anyway - hope other big OEMs will follow suit. We need them just as much as we need the smaller OEMs, or mayber even more.

My Radar is still in good shape. Even have 7.8 on it.

HTC I'm happy for you but, About that name "One M8 for Windows"... Come on; we both know you can do better than that. Is this Cortana's husband (mate)?

So it's not exclusive to Verizon, they are the only carrier that has announced it.

Another exclusive? Microsoft, please learn.

Microsoft has nothing to do with it. HTC is free to make exclusive deals with anyone. They get financial support in doing so, so they have incentive. Don't hate the player, hate the game ;)

i luv the player, i hate the game of exclusivity...lol

This is great news. HTC makes some very nice phones. I bet there'll be an unlocked version at some point in time.

Verizon phones are unlocked by default.The Icon on Verizon is anyway.

No, I know. By "unlocked" I meant more a universal/international version of the phone.

So if this is going to ship by end of August with Update 1, does this mean DP soon? I suppose not, unless they fix that Bitlocker issue... I'm hopeful I'll get Cyan for my Icon by then though.

I'm almost bummed out now that I bought a Lumia Icon 3 months ago... this phone looks sweet.

Please don't tell me this is an EXACT copy of the One (M8). God, please no.

The M8 is an impressive phone, so it running WP will certainly steal sales from the 930. I would consider it IF it wasn't for a single detail: HTC's cameras SUCK. Big time. The day HTC fixes that (say...by licensing the formerly-known-as-PureView tech from Nokia) I will look at their offerings twice. Now...bring on the Z3 Compact for Windows.

High-end specs, looks amazing (especially with the cover), has 32GB AND an SD card slot? That sounds like a dream come true. I would definitely buy this ASAP if they made the cameras better.

Yeah, the shitty camera is really the only thing preventing this from being a perfect phone. And from me to buy it. Camera quality is one of the things I value the most and HTC is nowhere near the line of acceptability. (Ok, I'm not crazy about the size either as I'm not into big phones but that's a general problem nowadays).

Bro, the titan II camera was the best camera of any wp7 device. The only thing the 920 had over it at the time was OIS which enabled superior low light shooting. Maybe their cameras suck now but recent history says it wasn't always the case.

Well, the camera of the 920 was better than the one of the 930. Thing is, it's no use going by models they did in the past when in the present they show other things.
Currently HTC has the worst cameras on any Android device. Even Samsung's S5 has a better camera. And since I don't believe HTC will spend a single cent developing any new tech for the W8, it's gonna come with the horrible 4 "UltraPixel" dual camera the M8 has.
(also, I disagree regarding the camera quality. There's only one company that can come close to Nokia standards in that field and that is Sony...)

'Worst camera on any Android device". Please go to the Android Central HTC One M8 forums, see the pics people post for yourself and stop spreading shit like that. It only has 4MP but can take great pics (not always, but you can tweak the settings and use Zoe). Posted via WPCentral App.

Will WP M8 model be supporting BoomSound and Duo cameras too?? Can the OS support them? AFAIK, WP OS has lots of limitations with comes to working with unique hardware of different OEMs.

Boomsound works just fine on my 8XT, so... Yes. Also, I believe that WP8.1u1 brings support for dual cameras as well as for the smart cases.

Being on Verizon, and a relatively happy 8X owner, I am super pumped about this. Although I would have liked a little tweaking of the phone (colors?) for WP but we are in no position to ask OEM's to so this right now.

Another lost sale from me just like the butcherd ATT 1520. Who are the morons running this stuff?

WP8.1 Update phone but the first 8.1 update isn't even out yet?

Yes it is.The Lumia 930, 630 and 635 are being sold with WIndows Phone 8.1 installed.

He meant Windows Phone 8.1 Update 1, not Windows Phone 8.1.

No, by "the first 8.1 update" he clearly means Windows Phone 8.1.

No, 8.1 update - 8.1 GDR1. He is not saying WP 8 update aka WP8.1. Read again.

Is it the fact that there are so many non-English speakers here that the level of literacy seems so low? Let me explain: "WP8.1 Update phone but the first 8.1 update isn't even out yet?" What he means is actually this, which is clear if you do what you suggested I do and read it again: "Windows Phone 8.1 Update 1 is about to be released, but the original Windows Phone 8.1 isn't even out yet?"

Wow, that'll be 3 great phones to choose from at big red! I think I'll be waiting forever for a phone that supports all Sprint LTE bands :-\

This is SO HUGE I am speechless. If they could do with W8 what they did with HTC ONE M8, folks on Verizon are going to be in heaven. If it comes unlocked as other phones do on Verizon, I'm selling my Surface 1 and 2 to buy one for AT&T. The battery on the M8 is the best in the land.

LOL. HTC M8 has good battery but no where close to the 107hrs of Lumia 1520 (best in the land) http://blog.gsmarena.com/htc-one-m8-battery-test/ http://blog.gsmarena.com/nokia-lumia-1520-battery-life-test/

Its all good but this ain't a phablet. What WP does a battery like the M8? Like I said, if they can do with the W8 what they did with the M8 in terms of battery, I'm all in. I have not seen a phone go two days without a charge with normal use like the M8. Never.

+1 The battery life is awesome on the M8. Posted via WPCentral App.

Holding onto my Icon for dear life. Must..not...

Cannot wait to see it in Ireland....oh...wait

Not going to lie, I miss HTC. This phone would have my absolute devotion if HTC simply didn't have a spotty support record with Windows Phone. I love the look and feel of this metal/sleek design vs. Nokia's fun and colorful but more obtuse styles. It's interesting to see HTC going at it again though, and I'm happy to see that OEMs seem to be revving up the competition a bit for WIndows Phone. It will be good for everyone. I absolutely loved my original HTC Trophy for Windows Phone 7. The Nokia Lumia 822 has been good, but I'm keeping my eye on HTC. The cameras don't seem as impressive on HTC, but compared to my Lumia 822 the speakers are bound to be much better with HTC. I personally perfer music over photos. Such hard decisions, I like to be in this predicament for a change. Things are looking up guys!

My first Windows Phone was the HTC Arrive. I'm not on Sprint anymore but I can't seem to part with my first.

Could that August 21 be a date of their release of 8.1 update besides this device?

Very nice phone but dont think i could step down from the 1020's camera and wireless charging, plus I would be afraid to drop it.

Who names these f#ckin things!! They need shooting or sacking at the very least

If only I could give up Glance :(

Am I crazy to hope for a dedicated camera button, and Canadian availability on this device??? I'd love to own this one!

Happy with my Lumia 1520. She's a keeper!

It looks like this will definitely be worth the W8. :D (I'm sorry, I had to.)

Well that suck for everyone NOT on Verizon.

I've always wanted a HTC One with WP.

Aug 21 is right around the corner. When might we expect to see something on VZW website?

Another dumbass decision to go with Verizon exclusively. Imagine how many more 930's could have been sold if T-Mobile or AT&T would have sold it. I would have been one of them. But I won't whore myself to Verizon for a phone. You hear me Microsoft. Don't be dumbasses! Verizon doesn't give a crap about WP or their customers.

It's not Microsoft. It's HTC. They get financial support for carrier exclusivity. The same with Lumia. It's not Microsoft, it's the carriers decision if they want to sell it.

This will be my replacement phone for my HTC 8X

Wasn't Sony also rumored to have a upcoming WP earlier this year? Maybe their announcement is right around the corner?

I'm currently rocking an HTC 8X and I'm not sure I'd buy another HTC so fast. The soft touch cover if peeling at every corner and the aluminium HTC letters have unglued themselves

Does it have the Zeiss camera?

No. It's exclusive to Lumia. HTC has a dual 4MP camera

That things going to be sweet.

I like the idea but I really want to see what Lumia comes out next.

Aren't Verizon phones GSM unlocked anyway or did that change?

Yeah, but people say they can't get MMS to work. This is one of the reasons I haven't got one. Another one is also the fact it doesn't fully support LTE on AT&T, which is my preferred carrier network.

I traded my 1520 for the M8 last week, and can say that I think it is the best Android phone going after comparing everything on AT&T. While the camera doesn't have the high clarity pictures when taking zoomed landscapes the Nokia could do, it blows it out of the water for macros and low light shots. Normal shooting it does excellent as well, but, plan on learning how to use the manual mode and learn how to use the light properly it's not a point and shoot type camera but can remember settings that you can have a short cut for. While not as good in some cases, better in others and should have some pretty awesome software to play with too don't forget. Now, if Verizon could con Sprint into giving them the Harmon Karman sound that would be awesome, but the Boom Sound will blow you away in its own right. It's better than any phone I have ever had before. If it runs WP as well as it runs Android there's going to be a lot of happy campers and a lot of po'd AT&T users if Verizon is the only carrier that has it. Posted via Windows Phone Central App

Thanks for the info about the camera! I would consider this phone!

A non-bias camera comparison that states HTC is better than Nokia in some areas in the comments here??? Watch out, you're going to have fan boys coming after you.

Well put. Posted via WPCentral App.

Why did you switch to Android from the best OS in the world

Problems with the phone, problems with my Microsoft account that couldn't be corrected by Microsoft and tired of Xbox music and video player issues to be truthful Posted via Windows Phone Central App

This is great news for the people on Verizon. I wish it would be on more carriers, but what can you do. Seems Verizon's got the ball ATM. I'd really like an Ativ SE on ATT. I not only like those Super AMOLED screens, but feel for whatever reason Sammy has supported WP since its inception. They even have an App on WP for their Printers. But I'll take whatever I can get I s'pose.

What? HTC's still producing new WP8 handset? I thought they gave up long time ago!!......... The terrible hardware spec of HTC 8x was the reason I gave up HTC and switched to Samsung......

Well, they gave up before 8.1. With 8.1 and 8.1 GDR1 they'll be able to simply pick up one of their Android Phones, change the OS and put it on the market as a WP too.

This could come to other carriers, heres to hoping!

Thanks for the comments about the HTC camera quality... I would consider this too.. The camera reviews were a concern.

I hope ATT gets this phone. I've been very happy with my HTC 8X and really like the feel of the One M8.

If I was on Verizon I would be excited lol. Is the torch for WP passing from ATT to VZW?

Aww c'mon ATT, you better bring us something this fall!

T mobile is an alien with win phone...ngeeekkkk

is it a coincidence or is it everytime MS changes their name HTC follows suit, it was Windows Phone 8X now it's One for Windows phone. It's nice to see HTC bringing their A game to Windows Phone

Except HTC "One" has been around for quite a while. HTC One is HTC's Android flagship of last year. This year they released a new one called HTC One (M8). The M8 was the production codename for this HTC One 2. The original HTC One was codenamed M7. So now you have HTC One M7 and HTC One M8. Both phones were released with Android and the name has nothing to do with Microsoft. It's just a new irritating and unoriginal fad on phones. It's the HTC One, the One+ One, the Motorola X +1 (this one is still unconfirmed) etc etc.

Actually HTC started with the "One" series before MS. Started with the One X, One S, one X+, One VX, One (M7), One (M8). Posted via Windows Phone Central App

Great news. HTC One is a nice phone, fantastic that its coming to the Windows platform. Only a matter of time before its available internationally. Well done HTC.

I have a GSM M8 and 1520. Perfect for ATT nano SIM swapping. The two best devices on the market!

I've got the 928 with the xenon flash. I take A LOT of low light pics. Nothing can touch the xenon flash in those conditions. Does anyone know what this phone's low light abilities will be?

I have the same phone, the 928. There's a comment above from a guy whose name is MDMcAtee above and he posted about the HTC camera doing well in low light. The 928 is really good in low light!

Go read the reviews of this phone for low light. It out does anything out there Posted via Windows Phone Central App

Excellent! Thank you, I'll look it up!

My only guess I I the phone wasn't exclusive than it wouldn't have hit a carrier. Or carriers offer better terms for exclusive devices. But what I don't get is why don't companies just offer exact hardware for windows and go side by side its not like they would have to do much other than load and test the software

Daniel reported that it will be a exact copy but running WP Posted via Windows Phone Central App

I'd rather have a G3 running WP8.1 more of a LG fan. Love the thin bezel and the real estate LG gives with their design. Posted via Windows Phone Central App

LG made awesome WP devices back when WP7 came out. Despite other people's opinions, I actually liked the LG Quantum. It was great. The keyboard needed to be a little better but other than that it wasn't bad. Lasted fine for the two years I used it for.

I'm very excited. The more the merrier. Hardware and software parity is what WP needs to give it a fighting chance.

After my experience with the 8X and the old "Rhodium" on Windows Mobile 6.5 I'll never buy another HTC device again. I just don't see a reason to buy HTC for a high-end device. If I wanted high-end Android I would buy Samsung; for high-end WP it's Nokia... Because those are the companies that are actually innovating on the respective operating systems.

There is also a difference between innovation and flooding the market like Samsung does. HTC does a better job with design, hands down. Nokia has done the best job with Windows Phone, however they also really put all their eggs in that basket, and relied on it heavily for their survival. Posted via Windows Phone Central App

Do we have any facts on the HTC One W8? CPU?, MHz?, 32GB RAM?, MicroSD slot?, Replaceable Battery?, Battery specs? No Physical camera button? Screen Size? Screen Resolution? Physical buttons? ...
Would the specifications all likely be the same as the HTC One M8? I guess I'll look them up on Bing.
I miss my HTC TouchPro2 with its physical sliding keyboard and tilting screen.

This is killing the WP market, these exclusives.

I don't get the point of this. It'll run 6-month-old internals, meaning the next iPhone and Note should outpace the hardware of this. Meanwhile, we should see Microsoft release a Lumia with a Snapdragon 805 as well. It's likely a combination of desperation for both HTC and Microsoft, in my opinion.

WP doesn't need to have extremely high specs to run awesome. I doubt most people will tell any difference between a Snapdragon 800 and 805. Most Android manufacturers are spec-whores because Android needs that to even run smoothly (or somethimes not *cough*S5*cough*) If my Lumia 520 can run 8.1 smoothy with it's 1 GHz S4 and 512MB of RAM, the One M8's internals should hold up perfectly fine.

HTC is back in the black because of this phone, and it really is stroke of genius snagging it for a new WP, not a act of desperation at all. This phone is hands down the best Android phone out there. Go read the reviews guys, and then go put one in your hands. The build quality is every bit as good as the iPhone, the sound quality is better than any phone, the screen is stunning. Call quality is outstanding, WiFi is perfect, If.... If... Microsoft throws in some of the Nokia camera software it will be even better for you. Now, what may bother some is the 4.7" screen, especially if you are used to a bigger screen, but I can tell you this,after lugging around the 1520 this phone is a breeze to type on, to carry around, and there are some great cases, glass screen protectors for it already. The dot case is pretty cool, but my favorite all time case is made by Sedieo and it's called the Surface case. You can check them out on line or drop by Best buy and look at the Platinum series cases.. These are the rebranded ones by Sedieo. Oh..... battery life is excellent too, and if it has HTC's extreme saver option... well go read about it, it's very nice too. No, it's not removable, but it lasts me well over a day and night on a single charge with normal use and 10 to 13 hours with a lot of use. Also with 32 gigs internal and up to 128 gigs external it simply rocks. It's a real shame Microsoft hasn't perfected it's music and movie player yet to take advantage of this capabilities this phone has to offer, but one can hope they get it all figured out some how soon. I'm going to order one of those 12 or 17 power external lens kits off Amazon for it to see if this will help, the folks at HTC don't know, told me no one else has ever asked about doing this, but say it should work with it. Yup, you guys are going to like this phone Posted via Windows Phone Central App

If it sells well for them then HTC might think about coming back to the platform with more phones. Their WinMo phones were always killer (I think the HD2 was one of the most modded phones of all times - I heard of mods running WinMo/Linux/Windows/Android). That had given me hope that perhaps phones would go the way of PCs - buy the hardware spec you wanted and then have the choice of OS to run on it. Anyways - I hope it sells well for them, and if it makes its way to Australia I'll definitely be looking to get one.

I'll be the first to admit that I hate the HTC 8x but damn I might be willing to give HTC a shot again if this comes out by contracts end

So tired of these exclusives. T-mobile rarely gets any Windows Phones. No one is going to switch a carrier just to get a phone. If you pit these phones on all carriers, they would sell better.

Seems a bit bizarre, but at least they're pulling no punches. It's clear that they're using the same hardware as their Android variant to power a Windows Phone device.

Had the one on android and was an awesome phone. I might consider this except Nokia is pretty sweet. Be checking the reviews later.

I'm so sick of USA exclusive Windows Phones. First Samsung's ATIV SE and now HTC's One for Windows.... I'd buy either of them if they were available internationally!

The One W8 will probably have an international version. HTC always has international releases of their phones (except the 8XT, haven't seen it anywhere except the US, but it's not that great anyways)

Dear WPCentral, Could you please help me to report to Microsoft to bring down the price for 1020 in my country, Cambodia? I am willing to get one to replace my 925 but it's too expensive and higher that its best competitors to date the like S5, One M8, Z2 and even G3. Also, i want Microsft to make POP3 email better by always downloading full email (no requirement for user to download while we're on the page - it's boring) and bringing image signature. Thanks a lot!

I would have been if I didn't have an Icon. My girlfriend might've been stoked too, but we literally just picked these up a month ago.

Ya! Finally!!! I just bought Nokia Lumia 930 and love it, but I will immediately buy HTC One W8 when it comes out.

Whoa whoa whoa... Nice to have more and more OEM join WP, things gonna let somebody knows that there is not only one manufacturer out there runs the windows rules. Good.

This is so my next phone! I have 3 upgrades available in November. Now I'm excited!

Eh I think I'll stick with Nokia for two reasons: 1. The camera. I've used a One M8's camera and it's just plain shit. It's terrible. I'm planning on upgrading to the 930 mainly for the camera, so the W8's camera won't be good if it's the same as it's Android counterpart.
2. Support. Back with WP7 HTC was the dominant WP manufacturer until Nokia came along. Since the 8X and 8S support has been lackluster at best from what I've seen. This might change with 8.1 but idk if it will. Other than that, it looks like it'll be a great phone. Where I live everyone buys their phones outright so if an international variant is available that should be nice. Glad to see HTC making a comeback. It's refreshing not to see just Lumias being released.

Ditto. I wouldn't bet on HTC. HTC has too much focus with Android phones. I doubt much attention will be given to its Windows Phone counterparts.

That's the problem, It's the Android>WP mentallity thet most OEMs have. That's one of the reasons WP is still low with market share. That along with poor marketing from Microsoft and that carriers drive people away from Windows Phones due to them not being as popular as Android (I walked into a Telstra store to see what they'd do and a sales rep was literally trying to make me walk away from a Lumia 1020 when I walked up to it). It's just one big circle of shit, if you know what I mean.

Ha, I recall a similar situation where the Att sales rep asked me why I'd want to go backwards. I had a Note2 and wanted to pick up the Lumia 920 when it was new. I said, "You obviously don't know your phones very well". He shrugged his shoulders and moved on to another customer.

I had a pretty good experience the other day; I was checking out the 630 as a possible work phone, and the salesman offered to give me a walkthrough demonstration. I told him I had a 1520 myself and just wanted to get a feel for the phone physically, and he responded that he had a 620 himself...

I wouldn't bet on that. HTC has stepped up their game and should support it as good as it's Android counterparts. There in it to make money not to start losing it again. These guys have put a lot into this phone and to take the best rated Android phone and turn WP loose with it... isn't something done every day Posted via Windows Phone Central App

I don't understand what the support myth is. HTC phones have been updated as much as Nokia phones, it's on the carriers to release the updates. As far as OEM apps, the good ones have a 3rd party versions that are as good or better (i.e. proshot vs Nokia cam).

So atlast we'll have a flagship phone!

I've been telling myself that I'm not getting another non MS/Nokia WP, and then Microsoft cancels their fall flagship and now the best Android phone is gonna get a WP version. Looks like that planned going out the window.

Windows Phone 8.1 Update 1 was a dead giveaway.

This probably means that T-Mobile wont be getting any high end device from HTC. Unless they make a GSM version too like they did with the 8X.

I would have the htc one m8 for wp any day

Dear AT&T, pick up this damn phone so I can buy it from you please.

At&t need a new phone. Or two. Or Verizon it is.

I have the 1520...but the M8 is a bad ass phone. But I'm on Att. :(

I like the sound of this!

Exclusive sucks and might be the downfall. Otherwise good news for WP and good call on cloning the design for interchangeability of accessories...

Very tempting but the one design I'd like for a Windows Phone is the Xperia Z2. Really nice device.

This is awesome sauce. I love the M8 design, but as excited as I am, I'm still gonna stick with Nokia, just because of their app support on WP devices! But that's just me.

App support? What app do they do that is exclusive to Lumia and worth having?

HERE Drive (free exclusive), Nokia Mixradio, Camera apps to name a few. But again, that's just me.

HERE Drive ain't exclusive. The camera apps are and Mixradio.
Posted via Windows Phone Central App

Yup, that's why i said FREE exclusive. Means it's only free exclusively on Lumia. Big deal for me.

W8. Nothing fits the WP market better

This is good news! Hopefully the LG release will follow soon as well. Posted via Windows Phone Central App

Sony come on! WP version of Xperia! But this too is good news to WP.

If HTC makes a international unlocked version of the M8 running WP8.1, I will buy it.

Too old, but glad HTC is still in the WP game, sort of. Too bad for exclusivity also.

I hope it will have the same/better specs as the One M8...

If HTC also migrate the dual-sim version of the One to Windows that will be a reason to leave my Nokia 920 behind...

Verizon... Noooooooo! Posted via Windows Phone Central App

Any word on it's availability outside US..??

Brilliant news. Hope my network stocks this in the UK.

Why does Verizon get all the latest and greatest? While At&t gets the largest and stripped down versions. I might have to reconsider verizon if this keeps happening...

Just happy to see a premium device close to being launched not by Nokia/Microsoft for once. We have been bombarded with entry level phones that keep pushing the limits of minimalism. Keep it coming.

Good to know that the W8 is almost over.

One (M8), like One Mate? I can live with the name.

Great to see top end HTC hardware coming to WP

Would sound nice next to a Xbox One....

This kind of behavior is why I switched to Verizon. ATT doesn't support windows phone. They may get a high end by Christmas but it will be spayed or neutered with no Qi, and updates will take forever.

Has HTC improved the actual quality of their devices? Many people that I know that have HTC phones running Windows Phone or Android are unhappy with the reliability of them. I had one friend go through three HTC 8Xs before just getting an iPhone on verizon. He wanted the 8X because it was only .01 on contract -- but the GPS would never work and then the others would just constantly randomly reboot even with no apps installed. My Nokia and Samsung WP have always been rock solid compared to HTC.

The quality of mine is excellent. GPS navigation works perfectly with both Gmaps and with Co-pilot to within 6 feet. I am quite sure that some folks will get a bad one out of all the runs, but this happens to all oems from time to time. Verizon has pretty good services now as compared to a few years ago when I was on them, and HTC is a great company to work with on fixing the phone issues now, heck they have their HTC advantage where you get 6 months screen replacement if you break yours free, and they push out updates regularly for their phones too. It seems many have this problem with the camera on it, and complain about the megapixels being what it is, but they don't understand how to use anything except a point and shoot cell phone camera. It has limitations but for the majority of folks it works just fine, and the funny thing is, it can work even better if they learn what it really takes to shoot great photos with a real camera in the manual mode. If you are a WP fan that loves quality, go and look at one these phones and see for yourself because I think this one will be the one that really will put WP mainstream. HTC is a company that builds quality phones, and has a non metal one with the same specs they can drop a pure view camera into as well for about 1/2 the cost... and if this works out well for them, hopefully the m9 will have on it next year sometime for both models. Posted via Windows Phone Central App

If Nokia stops making flagships I might have to switch to this... Sorry Nokisoft but I need my flagship. W8 4 the M8!

I've always thought that the HTC One is one of the most beautiful devices out there. I hope it does well with Windows Phone on it. I just wish the cameras were better.

I'm using the M8 now and all I can say is that Verizon can have it. This camera is near unusable and it doesn't come close to the build quality of a Lumia. Three more days and I'm done with this nightmare for good.

How is the camera on the M8?

I've been wanting this phone since the original One! It better come out for Sprint and other carriers soon!

focken EXCLUSIVE man... SMFH.

Another carrier exclusive. That has worked so well for WP.

Devices like this are emblematic of a failing strategy. Yesterday's Android hardware released with Windows Phone 8.1, exclusive on a single carrier. If someone wants the hardware because of the hardware, they'll just spring for the Android version (which is available on every carrier). They're not going to change carriers to get one phone. On carriers like T-Mobile and Sprint, users will simply pass by the unimpressive WP lineups there and go straight to Android. Frustrated WP users waiting for a true upgrade are already ditching their 8XTs, ATIV S Neos and 925s for shiny new Android One M8s and LG G3s. Microsoft needs to get serious about making competitive hardware available across carriers -- through subsidies for OEMs, Nokia-branded stuff, whatever -- but they need to do it right now, to stem the tide of Windows Phone users who have no upgrade path due to imbecilic carrier exclusives.

Yuck that picture has a malware...it has a name called android.....

Lets just speak about the looks. The HTC launcher on this phone already looks like Windows Phone. So... not surprised.

No,not really. Binkfeed looks totally different than anything on WP and while it may act like a tile it isn't one. The beauty of the Android version is you can have any launcher on it you can want,and that is one of its strongest feature sets. WP not so much...and IMHO if they ever allow some of the modifications to it,that you can easily do on Android, then I see no reason it can't take over the #1 spot for mobile. Not everyone prefers 1 style or launcher,and having the choice is but one of the reasons I went back for my daily driver. That said,I think this phone is going to draw some serious attention to WP here in the States,more so than any Nokia has. Here's hoping it does extreamly well !!!!

I've had both generations of the HTC One and while it's a magnificent device I've never been overly impressed by the "ultrapixel" camera.

It is always possible that this isn't an exclusive. If Verizon is the only carrier to sign on for it, you really only have your carrier to blame. The Icon is a different story. That was developed exclusively for/with Verizon. There may also be terms for that agreement that limits sales of the 930 through other US carriers. Either way, using the term, "exclusive" for every phone that is sold through a single carrier may not be accurate. If you would like to see more choice through your carrier, you should contact them or move to a carrier that has the desirable options. I went off contract specifically so that I would have the choice. Consumers give carriers the power to dictate terms. Our collective voice is more powerful than Microsoft or OEM's.

Oh, that is nice, but the only thing I care right now that come from Verizon is that God send Windows Phone 8.1 update. Why Verizon has to be such a party pooper.

I know Sprint would only sell two of these, total, but I'd be one of the buyers.

Welll not crazy about exclusives. Buttt. I am on Verizon and super stoked to see this phone come out.

Hate that the back is curved but the cover is flat. Folding the cover back results in a bouncy feeling!! Idiot design.

I'm definitely getting this phone, hopefully it does release in August!

I'll be in line for one when they get their head's back on straight and release for GSM carriers.

The ONLY reason I haven't bought an Icon yet - I am waiting to see if a high-end Windows Phone with micro-sd support is deployed with the general release of Windows Phone 8.1 Looks like this may be it. As long as Big Red doesn't cripple it with only 16gb version. It'd be just like them to do that though - humbug!

I have an M8 now and if I could get the same phone that runs Windows, I totally would. I could pop my SIM over and even pop my case over and switch between Android and Windows seemlessly. That would be sick.

Its a cool idea and I think people will REALLY like WP on such stellar hardware. I have the Verizon Android M8 and a Lumia Icon and enjoy both.

Supposedly this it's coming to AT&T as well! Hopefully all the major carriers will have this!