Huawei Ascend W1 stops by the FCC, coming soon to Net10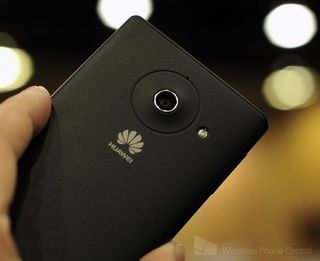 Early last month, at CES 2013, we gave you a hands on look at the Huawei Ascend W1. An entry level phone that we expect to do well in emerging markets. At the time we told you that the device should be available here in the US during Q2 on either regional carriers or some MVNOs. Turns out this little device powered by Windows Phone 8 will coming soon to TracFone Wireless, under the Net10 brand of service.
Engadget saw the Ascend W1 sitting around some FCC filings from Huawei, with TracFone branding throughout the documents. Looking at the HSPA frequencies inside and it's easy to guess that you'll be able to get it through Net10.
The colorful Ascend W1 would be the first Windows Phone 8 device on Net10 and could do well compared to the relatively bland black and white Android offerings. While you and I probably won't get too excited about adding the Ascend W1 to our own smartphone lineup, its inexpensive devices like it that will help grow the install base of the Windows Phone ecosystem.
Anybody thinking of picking this budget phone up for themselves or a relative?
idk i think that phone looks pretty good just wish it was high end.

Yeah, it's not the right phone for me either, but lots of people don't need or can't afford a high-end phone. This could be the right phone for such people, especially since WP works a hell of a lot better on lower-powered phones than Android does.

This is huge! Net 10 is one if the biggest prepaid carriers! I might get one! Sell my Lumia 920? Lol bad idea?

Depending on price I may pick on up just for the kiddies to play with.

Wow. Both of my parents use Net 10 -- they really like PAYG. Right now they have cheap little flip phones, and I would buy a pair of these for them the moment it hits for better call history, dialing, phone book and text messaging.

You'd be offspring of the year if you get your parents on Windows Phone 8.

I got my mom a wp7 when it release in 2010.

I would pick one if it were released on Virgin. Any chance that would happen? Just took a look at the Net10 plans and Virgin is still cheaper.

They have them in Virgin, just not here. I know in Canada and south Africa.

Virgin Mobile USA is owned by Sprint. You have to wait until Sprint releases their WP8 phones before they can make it there.

Was wondering when Windows Phone would come to the budget carriers. Was kind of hoping it would've been the Nokia Lumia 620 first.

Are there any first generation Samsung Focus users who have had trouble getting the 7.8 update to install? A friend of mine says his Focus didn't completely install all of the updates and never made it to 7.8. He did receive some though.. Can somebody tell me how to help him get his device to 7.8?

Your friend can install a 7.8 rom on the Focus. There is one called 'Clean ROM' on XDA that runs smooth on the Focus, has no bloatware and will not toast the phone. Also easy to install. Your friend can enjoy the full 7.8 experience~

Im waiting for a WalMart and made in China comment...

Doesn't yours qualify? Lol

Not compared to what I wanted to say... ;-)

Great news, W1 is a great budget phone should do well on net10 if priced right..

I think this is great news! Lot's of people simply don't want a contract, and want the flexibility that PayGo services offers. If this was on VM, I know someone that would be interested as it would allow them to keep their phone number by not having to go through the process of porting it over.

Hopefully, this is a sign of things to come with WP becoming available on Paygo services in the U.S.

Not going to be on VM until sprint gets one.

C'mon MetroPCS! Pick this phone up!
Windows Central Newsletter
Get the best of Windows Central in in your inbox, every day!
Thank you for signing up to Windows Central. You will receive a verification email shortly.
There was a problem. Please refresh the page and try again.