Huawei's Ascend W2 shows up in yellow, gets caught looking like a Nokia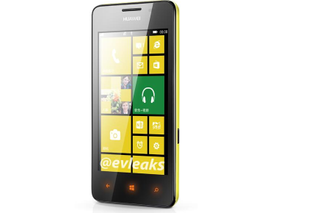 Yeah, yeah, we know Nokia didn't invent colors on smartphones, nor are we necessarily upset that more OEMs are embracing the bold and bright options that nature gave us, but we're a tad suspicious here of the Huawei's Ascend W2 that has now been revealed in yellow.
Truth be told, the device is not bad looking at all, except for all of that bezel. The W2 is supposed to be more high-end than the current W1, which itself is not a bad entry level device.
To refresh you on those specs, besides the dual-core 1.5GHz CPU, we may also expect:
Display
4.3 inch IPS Touchscreen
Display resolution 1280 x 720
Color Support: 16 million colors
Screen technology: Multi-touch screen
Camera
8MP
Flash: LED fill light
AF: Yes
Aperture: f/2.0
Continuous function: Support
Video recording: 1080p (1920 x 1080, 30fps)
No word on when the W2 will be officially unveiled but the leaks from @evleaks continue, we can only imagine we're getting real close to an announcement, coinciding with the imminent Windows Phone GDR2 hardware refresh this summer.
Source: @evleaks
Daniel Rubino is the Executive Editor of Windows Central, head reviewer, podcast co-host, and analyst. He has been covering Microsoft here since 2007, back when this site was called WMExperts (and later Windows Phone Central). His interests include Windows, Microsoft Surface, laptops, next-gen computing, and arguing with people on the internet.
Looks very nice! I might consider this.

The blue one! And the glowing icons!

Seriously? who the heck would buy a Huawei when you can have a Nokia, there is just no competition, and price is not a factor since you can get a Nokia for $150.
Its like buying a Trabant when you can have a BMW.



Nokia having a $150 phone doesn't mean they dominate the market, nor does it mean they lead in price competiveness.
The Lumia 521 isn't widely available internationally nor is it high end phone to compete against the W2. The 920 (which you should be comparing against) is a great phone, but its not revolutionary enough to be an obvious purchase.

If I was to ever buy another WP it would have to be Nokia, their software is outstanding and they have made this OS an actual competitor to iOS and Android by having killer features, Huawei, HTC and Samsung don't get any of these features so I could never buy one.

Just a point, the Lumia 520 is the international version and is very widely available

What Nokia costs $150? Even a 520 is in the $200+ range. 920's were in the $600-700 range until a month ago... I can pick one up now for $480+. If you're referring to an on-contract price, then that's just nonsense.

Do some research dude and then come back....

Someone who possibly doesn't want a Nokia?? Maybe they want to try something different??

granted, but there are those still who only look for cheap phones without any fancy cameras or exclusive apps.....
and there are those in asia who are much more comfortable using a fellow asian product for various reasons. (never mind the fact that even foreign companies manufacture their products predominantly in asia using asian workers)
the W2 will suit them just fine

I'm for it. Helps make WP stand out from the crowd.

Has Microsoft now gone a bit fluid on the button placement? Is this a special case coz there seems to be no volume rocker or power button to the right?

Didn't think MS were to particular about button placement as Samsung's have the volume rocker top left and the power top right, more interesting is the fact the capacitive buttons are yellow in line with the theme. Is this to be expected in our future update or is this an oem thing?.

I don't think the colors of the capacitive buttons depends on the theme, I think it matches the color of the phone. Seems like a nice phone, but I'll stick with Nokia for their support and amazing cameras :)

I'm in agreement with MDak280. I think the capacitive button colour is suppsoed to match the colour of the device. As an extension of that, the "yellow" lights actually look more orange to me. Not sure if that's just because of the picture or not.

Microsoft never had a rule that said where the buttons had to be placed except for the windows, back and search buttons.

Hey Dan will the soft keys at the bottom come in colors like in pic? I know we asked this from pics at MWC but this looks more legit.

it doesn't look like a nokia

I'm sorry, but it does look like one. It just does.

Shit you are correct it has touch screen it must be a nokia clone

Yeah, and not only that, but it has live tiles to.. They totally bit Nokia's style.. Oh god, I just realized I sound like those old iSheep from a few years ago..

This looks nothing like a Lumia.

Actually, since Nokia unveiled the 925 we have no defined Lumia look anymore.. Just saying.

Dislike it. Huawei=no value added apps like Nokia and poor optics crap cameras. Good specs. What's the internal memory?? If it's 4gigs it's useless

I'm guessing the memory will be more since its a higher rated phone than the w1, we shall see though. Personally, I am with Nokia all the way, but good to see other OEMs in the game.

I debated getting a nokia or a Huawei for ages, months of reading reviews and everythign i could about the devices.
I love Nokia and think they are one of the best manufacturers out there, i love the look of both and the fact that the Huawei was slightly bigger in screen size and has a better soc was all that made me buy one, oh and the fact that the W1 is around £50 less than the cheapest Lumia.

I have had my W1 for around 4 months now and love it, it does everyhting i want including taking very nice photos.
I am sad that i did not get the Nokia phone but happy with what i purchsed, hopefully in the future Nokia will drop their prices just a little more and provide just a little more than the cheaper Huawei products, if they can do this they will have won me over...but i am a customer who will not spend more than £100 -£120 for a phone no matter how good it is.

Until Nokia has a wide range of devices on every carrier, and outlet, then devices like this are crucial to increasing WP awareness, and market share..

Not sure why there is a tendency to dislike anything not Nokia. So what if it doesn't have special apps? If it's a good phone and the OS gets updated in a timely fashion I am not that bothered by lack of manufacturer specific apps. I think another vendor getting in the market offering an alternative to the dominant manufacturer is a good thing. It will appeal to a certain market segment. If it does that then there will be additional WP users and additional users means that we will continue to see more of the apps that have been missing from the eco-system. Keep in mind that one of the reasons given by some services for the lack of an app is the low number of WP users.

If the price is really cheap, I think it's worth to get it as a backup phone. I have used Nokia for too long to get attached to the VAA so this phone doesn't have appeal on me but for those who want to try wp8 and doesn't care about VAA and brand, this phone is a good option.

VAA? Violin artist acoustics?

Daniel R... Can you look into these different color buttons? What's up with them?

"...gets caught looking like a Nokia"

Racist much? :P

discriminating a phone brand because of it's color.
and a tongue means j/k or sarcasm

Can't the guys at Huawei get a photoshopped screen right?!

One Note Live Tile...try again Huawei.

Im not gonna buy things that are made in China.

Go ahead and get rid of everything you have, then.

Indeed. Im a Chinese myself, and I always avoid China branded stuff. I boycott most Chinese products, just like Lenovo makes good laptops but i wont buy them, in favor of Asus. Before someone tries to correct me, Taiwan is different and separate from China.

Don't know what you think is so good about Nokia, I have a 920 & brought 8 x 820 for my staff & every one keeps randomly rebooting. Absolute rubbish! @ least the HTC Trophy's didn't do that.

Are you sure youre not dreaming 8x 820 and randomly rebooting?never had this issue on my 920, and my brothers backup lumia 720.

I have not had one single random reboot on my 920.

Weird. The 8X I got as a gift for my mom runs butter smooth and no random reboots. And my 810 is also an awesome phone...

Being Captain Obvious here, but I think he was saying 8 x as in 8 Nokia devices for his staff.
But don't worry. I would still pick 8x over 920 anytime.

The WP home/back/search buttons have different colors... that's hot!

looks just like the lumia 620, only uglier

Give your glasses a good clean, old boy. The Lumia 620 is a thick, rounded design, whereas the W2 is square and flat.

if it can match the color f tiles it would b cooll ..........add this nokia

If this phone can reach segments of the population not currently being reached I am all for it, as long as the user experience is good.

Those are nice looking, but Nokia all the way.

I like the orange and blue lights, that's different

Hate to say this since I am a Nokia and Windows fanboy; but I like the W2 size and screen resolution. 4.3 inches is the right size for me. I just holding off to see if Nokia will counter this in the next few months until September.
The W2 just doe not have the right specs for wi-fi and bluetooth however:
Bluetooth: Bluetooth 2.1 +EDR WLan: Wi-Fi IEEE 802.11 b/g USB: Micro USB v 2.0 It been a puzzle why most manufacturers think that their smaller size smartphones except for the iPhone must have much cheaper components and specs in it. Do they not realize that some people like a smaller size phone and can afford to pay for high end spec phones like the iPhone 5! Top of the line iPhone5 with 64GB is priced at $849!

Anyways, it will most likely be between a future Nokia model or the upcoming iPhone 5S. I will make my decide when the iPhone 5S is released.

Nice to see other OEMs joining Microsoft. I understand why people here go head over heels for Nokia but Huawei deserves props for making a sweet looking device and hopefully it becomes successful and pushes WP along.

.
Love colorful smartphones!!!! Keep them coming!!!!

OMFG, these Chinese! What's next? Fake Iphones?
Windows Central Newsletter
Get the best of Windows Central in in your inbox, every day!
Thank you for signing up to Windows Central. You will receive a verification email shortly.
There was a problem. Please refresh the page and try again.