Hulu Plus for Windows Phone 8: Now available in the US Store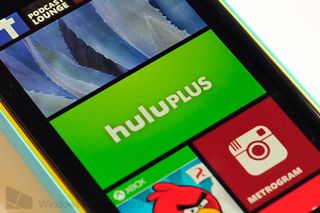 No sooner than we posted our hands-on video did the link go live, which means you can go ahead and experience high quality video of your favorite shows, streamed to your phone yourself.
There's not much else to say about the app except that you do need a premium account but in our opinion, it's totally worth it (especially if you have an Xbox 360 and/or Windows 8 machine).
Head here to the Store to grab it right now. Let us know what you think in comments! [As usual, with apps that are real new to the Store, it could take a few hours for it to hit your region. We're also betting that like the Hulu service itself, this is restricted to the US.]
Bonus: For those who use Bing for daily searches can get a free one-month subscription to Hulu Plus by using their Bing rewards. Thanks, Squatting Hen, for that tip!
Get the Windows Central Newsletter
All the latest news, reviews, and guides for Windows and Xbox diehards.
Daniel Rubino is the Editor-in-chief of Windows Central, head reviewer, podcast co-host, and analyst. He has been covering Microsoft since 2007 when this site was called WMExperts (and later Windows Phone Central). His interests include Windows, laptops, next-gen computing, and for some reason, watches. Before all this tech stuff, he worked on a Ph.D. in linguistics, watched people sleep (for medical purposes!), and ran the projectors at movie theaters because it was fun.
Says the app is not available for my device. The reason being out of date software :/ or could be because im form the UK. I think it is because I'm from the UK, Oh well. (L920)

Well, Hulu Plus is only available in the US and Japan.

I think you can download it in any country by changing phone's location to US

Well, changing the location will enable you to download it but you still can't use it outside of US.. Like Netflix.

This link should work: http://www.windowsphone.com/s?appid=35eeb915-64d1-44a4-ae34-242fb2e19c1e
Worked for me (stateside L920)

Can't open link to store. Getting error

We know the song and dance here: try again in a few hours as the link is very new.

450 points for one months seems like a lot. I always use Bing and it takes a long time to rack up those many points. You know what would be
I'm glad this app is here. I've been waiting for a long time for this app to come. You know what would be cool, if reward points were added when we use search using the built in search button on windows phones. May be we already do and I don't know about it???

The old (as of a week or so ago) redemption price for Hulu Plus I think was 694 points or 625 for gold members. Really that is in line with the other offers since Hulu sosts $7.99 + tax. You can also redeem more than 1 month. I was able to get three and I am close to another month. Each day I do my searches and the offer of the day. Currently with the gold price that is only 27 days. If it sayed at this price, I would never have to pay for Hulu again. *I am not sure, but you might be able to do the searches through desktop IE mode on your phone*

You are correct - you can earn points on the phone, but you have to do it with the bing site in browser, rather than the built-in app. Getting points from the built-in app would be priceless.

It takes me two weeks at 31 points per day to rank up 434 points. It only takes me a couple minutes each day to do the searching. I usually spend them on $5 Amazon gift cards. This being 420 points for Gold members, I could get two months worth of Hulu Plus every month with points left over. I doubt it will stay this low for long. To get 31 points each day, you need to maintain Gold status (150 searches per month). You need to do 3 searches (instead of 2) for every point earned while on Gold, but you can earn up to 30 points instead of the usual 15. The extra 1 is the Today's Offer bonus point they give you for clicking on whatever they are trying to teach you about Bing.

I am gold and have been "stuck" on 16 points a day for a while even though I meet all of the things you mentioned. Oh well, hopefully it will change for me soon. Would love to be getting twice as many points per day!

It varied for me when I first started. I'd have to do different objectives to get different amounts of points, then for the past year... it settled on the 3 searches for 1 point up to 30 points per day, plus the bonus point. Either they judge to see how far each individual is willing to go to do searches... or it's the same for everyone and settles down after awhile. I dunno. My gf has Silver and gets one point for every two searches up to 15 points, but she also gets other tasks that give her 50 or 100 points every so often. It just varies I guess on how often and long you do it for.

As usual with big name apps, US only.

Hulu is a US only service, no?

Yep, US only. You should know by now that people will kick up fuss about just about anything on here.

From their FAQ: Unfortunately, Hulu is only accessible within the US and Japan at this time, as we only have streaming rights for our content in these regions. Click here to learn more about Hulu Japan. https://www.windowscentral.com/e?link=https2F%2Fclick.linksynergy.co...

Wrong. No Hulu in Japan. Only Huru.
I'll show myself out.

Ooh, that was cheesy. Lol

Kinda jealous of you Americans getting there Hula fix heres hoping Lovefilm or the BBC give us some UK streaming love.

Well iPlayer is coming. Doubting Lovefilm will though, given they don't have apps for anything other than consoles and Kindle Fire. If you want to make a statement, pay £1 more p/m and go for Netflix.

If Netflix did Blu-ray discs rental or at least blu ray quality with hd sound streaming i would drop lovefilm in a heartbeat.

Netflix does blue ray disc rental for a bit more per month.

Now waiting for Amazon Instant Video app.

Yes, and Amazon MP3/Cloud Player app.

Runs amazing and the picture quality is flawless. Way better then the Netflix app in terms of high definition video.

From UK says not available for my device and error too.

That's because you've never watched Hulu in the UK and you won't with this app either ;) Sorry!

They don't get it do they Daniel?

Is there an hdmi cable for the HTC 8x I could use with this? Love me some Hulu and the wife has unlimited 4g. And no broadband where I live.

Use the phone as a hotspot.

Lol that can't happen till a tethering app or hack comes out as I have Verizon.

I doubt there will be a hack, but you can already use the phone as a hotspot. It's been part of Windows Phone since Portico on Verizon. If you're unlimited, it will coat you, though. I think it's $10.

They need to enable this for Hulu Basic users. The desktop application is there for basic, why not the mobile?

Just like Spotify... free on your deskptop, but you have to pay for mobile use. They gotta make money too, and $8 a month subscriptions is how they do.

Advertising is how they do it.

Why would you pay to get ads.....

Hold on to your chair, because this requires some really deep thought....... You wouldn't.

great .. now waiting for HBO GO and Amazon Instant player!!

Great took a while to get here but very well designed

I clicked the link on the WPCentral website, and I didn't get the error. I did get the error multiple times when trying to download from the app. Might be a coincidence.

FINALLY!! Thank you! Working flawlessly in my 920!

FINALLLLLY this is one of my big name apps I was waiting for!

Its about time... next up HBO Go

HBO Go for Windows Phone 8 is only available in Romania.

Funny ha?

Yay! Finally!
Was watching stuff when I got the notification about it being up...lol.

Yes! I've been waiting for this.
Works great and picture quality is fantastic.

Only for US but still can't download it. Error that I'm in the wrong region but I'm not.

So great to see Hulu on windows phone. 3 of the 5 apps I really missed on windows phone have become available in the last month or so (Pandora, Hulu, instagram*). So now I'm just waiting for a nook reader app and a mint app. Hopefully don't have to wait to long.

Serious, why can't most devs shell out new apps for WP 7.x and WP 8. And when they do l, its not at the same time, its usually a day or a couple off from the WP 8 release. Otherwise, this is good news for the platform as whole.

Most devs don't want to put in their hours in 7. apps because most people will be switching to wp8

Developing for both means developing two apps, not one.

I know coding them for both WP 7.x and WP 8 is different. But as a user of a legacy handset and WP 7.x devices are still on sale, I feel left in the dust.

Yup. As I bet, US only. Damn, the only thing I don't seem to guess is the only thing I wanted to guess...the Euromillions combination.

Yes! This is a must have app!

Good stuff! Now we need Amazon Instant Video and we're set.

When can I have my VPN! So I can use these services

Woo hoo! About time! Been waiting for this.

Now i will wait for a windows phone 7 version if they will make one.

Very nice addition to the platform.
Suck not being able to get it in canada BUT that's not a fault of Hulu or MS... Only ones to blame is our CRTC and The CanadianBroadcasting Act. same reason/problem we don't get any decent media services.