Platformer game Hyper Cell launches on Windows Phone first, iOS and Android soon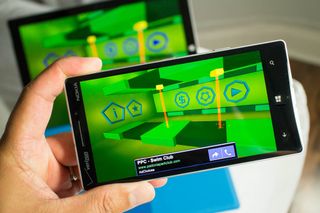 This doesn't happen often, so it gets us excited when a new game releases on Windows Phone first, and then moves to iPhone and Android. It's usually the other way around. That's the case with Hyper Cell, a minimalist survival platformer. If you're Interested in lasers and electronic music, then you're going to enjoy this game.
Hyper Cell comes with a little warning. The about page says, "Some players may be sensitive to the effects, so please play with caution." Still curious? Head past the break to watch our gameplay video on the Nokia Lumia 930.
It's very easy to play Hyper Cell. The goal is to get to the end of the level without getting fried by the lasers or getting crushed by moving blocks. It requires good timing and reflexes. You'll need to run, jump and fall at the right times. There's also one more thing to worry about. Your oxygen level is depleting, so you can't take too long.
When you die, you can restart from checkpoints. Running out of checkpoints bring you back to the beginning of the level.
The visuals are very minimalistic. The environment does not have a lot of details. The background is constantly flashing while the music goes fast with nonstop head-nodding beats. It keeps the game feeling fast-paced.
Hyper Cell launches with 9 levels. More are planned in upcoming updates. It's a free download with ads and in-app-purchases. The game can be played without making any purchase, but in-app purchases can provide boost when needed. For example, removing ads and 10 extra checkpoints cost $1.49 each.
Hyper Cell is available as a universal Windows app, so you can grab it from both the Windows and Windows Phone Store. The constant flashing background and electronic might make it hard for some you to play this game for a long period of time. Check it out and let us know what you think in the comments!
Get the Windows Central Newsletter
All the latest news, reviews, and guides for Windows and Xbox diehards.