Idea Cellular in India launches its official My Idea Windows Phone app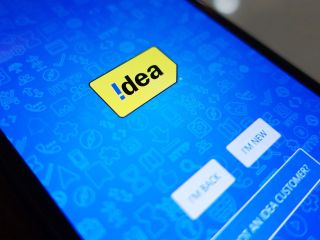 One of India's largest mobile phone operators, Idea Cellular, has finally launched a dedicated My Idea app for Windows Phone users. The app will allow customers to do things such as check and reload their accounts, keep an eye out on their data usage and more.
Idea Cellular previously allowed their Windows Phone customers to purchase digital content from the Windows Phone Store with their account balance since December 2014. Here's a look at the features for the new Idea Cellular Windows Phone app.
Get a snapshot of your postpaid account details like your current plan, bill due date, outstanding bill amount, recent data usage, etc.
Make prepaid recharges for yourself and other prepaid numbers on the go!
You can recharge the account with a credit card, debit card or by using net banking.
Make quick bill payments for any Idea number using debit cards, credit cards and net banking facility. You can also save your card details for faster payments in the future.
Manage multiple Idea connections on just one phone – view details of your linked accounts, recharge, make payments, activate packs and services for all with just one login.
View and activate tariff plans for full talk time, top ups, SMS, internet packs, roaming packs, other value added services and much more.
Select a new dialer tone or change your existing one from a wide gallery of tones on the app.
Raise a service request and gets its status details, all on the app interface.
View and manage all your subscriptions in one go – whether it is a new roaming pack or a value added service, get all the details with the click of a button.
Get a summary of your last 5 online recharges or payments.
Thanks to everyone for the tips
Download My Idea from the Windows Phone Store
Really wow, I am Idea user.
This news is covered in time,
Still wynk music app by airtel is not covered by WC team as this app launched on windows phone 8-10 days ago

Wynk, hotstar, saavn and many more still remain.....
Long road ahead.....

Wynk already available in store

Windows 10, which doesn't work half the time.

Eagerly hoping Tata Docomo follows suit!

First it needs to ensure that it is able to launch at least 3G services in many circles at a time when Airtel has rolled out 4G. App can be developed later.

Tata Docomo's Network doesn't follow properly.. And you are hoping that its App would follow its way in the store xD

Hahaha exactly they suck at network

They advertise themselves like they invented the internet..

They are allowed to do that...its called marketting.. And atleast it carries a social messege... Do you really think airtell provides the speed they advertise?

Of course. I had ported-in to Airtel from TDoc because they didn't even offer 3G in MMR. Eck! And I am really enjoying Airtel's service :) Still, their ads are really annoying. And also my 830 doesn't support their 4G :_(

I see adds for airtel 4G working on any phone.
The latest "jaldi upload kar" add.
Isn't that working for you??

No. Airtel's 4G is of the TD-LTE (2300 MHz) standards which most Lumias don't support and not FD-LTE. Their support team had even sent me a list of phones that support their 4G. The list included 1520, 628, etc. But not 830.
And by all phones they mean those cheap Android devices which are made in China by Indian/Chinese vendors and a few midrangers. Only 1520 is a high-end Lumia on the list.

930 too supports that band.

According to this page the 930 is not even 4G ready for India. It's just 3.5G :-
https://www.windowscentral.com/e?link=https2F%2Fclick.linksynergy.co... And by its global specifications, it does not support 2300 MHz band :-
https://www.windowscentral.com/e?link=https2F%2Fclick.linksynergy.co...

In Kerala and Tamil Nadu Airtel is providing 1800 mhz so all the lumias with this band will support Airtel 4g
ie;
Lumia 1320
Lumia 1020
Lumia 925,920,625 etc will support 4g in Kerala and Tamil Nadu

Oh. That's cheating. They should be consistent across the country.

at least now Airtel will update it's app looking at the idea app

On the one hand we have, the carriers of the western world against WP/W10M & on the other the service providers in India launching new apps.
Take notes MS & stop being so US centric.

That yellow price tag looking thing on blue background instantly reminded me of bestbuy

What is it about American Market that makes it so different than other countries? In EU and India Windows Phone seem to be doing pretty good with app support from small and big companies.

Most of them just care for Apple products, blindfolded.

I found many in US even don't know that there is something called windows phone !

App Name in the Menu ( App List ) looks too Odd..
" My idea - official mobile app "
It's actually too long..
Instead it should be just
" My Idea "
& performance wise app works damn slowly..
Settings & other options just won't get open..
Need to update on this issue..

Vodafone has a good app since quite long time.....only thing needed is support for carrier billing

It looks like the Best Buy logo

Hope Airtel fixes its Money app for starters. It's a mess!

Much needed shit. Thank u idea

the features on the app may be good but not even near satisfactory.very slow to process.... The app has some very serious issues... Lots of bugs as they say
Windows Central Newsletter
Thank you for signing up to Windows Central. You will receive a verification email shortly.
There was a problem. Please refresh the page and try again.