India's Idea Cellular enables carrier billing for Windows Phone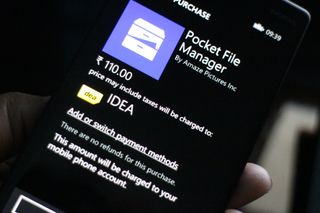 It looks like Indian carrier Idea has enabled carrier billing for Windows Phone, which allows customers to purchase digital content from the Windows Phone Store with their phone balance. Several users on our forums have already confirmed that the option is now working for them, and if you're an Idea customer, head on over to the payment options on your phone to check if it is available for you.
Based on the discussion in the forums, it looks like Idea is the only carrier in the country that has the feature enabled. How many of you are interested in seeing carrier billing come to other cellular providers in the country? Let us know in the comments.
Source: Windows Central forums
Thanks Apurva for the heads up!
Windows Central Newsletter
Get the best of Windows Central in in your inbox, every day!
Harish Jonnalagadda is a Senior Editor overseeing Asia for Android Central, Windows Central's sister site. When not reviewing phones, he's testing PC hardware, including video cards, motherboards, gaming accessories, and keyboards.
Wow! Finally something really amazing and new for idea users. :)
Hope this comes to BSNL and Vodafone soon. :P

Vodafone has been a bitch to me, call drops and all those shit, so at least they should bring this to improve the experience.

It has happened with me too on Airtel. Its not just vodafone. This problem is with most of the networks. My calls drop, phone not reachable no network sometimes and more.

Word of advice : Call drops are due to 1) GSM "un available time slots" - means simply more user's in same cell tower area(Population of using phones). Well you should not experiance it in 3g mode because of CDMA technology. 2) Due to tall building. cannot be easly solved in months. 3) Other wireless devices could interfere wifi router, other phone's etc..,. 4) Speed of your travel(if your traveling more than 60kmph in 2G call drops) could also effect, but should be ok in CDMA or 3G. or your phone antenna is not good enough to receive signals. Solution: Use 3G WCDMA could solve your problem. or simple hold your phone properly for good reception.

actually all carriers in Mumbai have this call drop issue in the last few months for some reason itll show full signal etc but when you try to use data,make a call,text ,itll just give errors and call drop im on Idea 3G on my Lumia 720,airtel 3G on L820,vodafone 3g on nexus 5

I would love to see Vodafone supporting carrier billing and I am happy with their service. The problem is they have very bad coverage in many areas. Airtel is better in this matter but it's service is bad and internet packs are costly.

Sane thing here with Airtel. Data packages are expensive compared to other networks, plus coverage is poor too.

I have seen that Airtel and BSNL have best network coverage followed by Vodafone.

Call drops happen on every networks and due to congestion you also get cross calls. It matters how was the issue is resolved and I'm happy with the service provided by Vodafone and the offers I get with them. Happy being Vodafone customer for past 7 years.

Yes, I agree the customer service has been great, but I experience call drop every other time. And, I live in a metropolitan.

I am also a bsnl customer, i wish this come to it soon

Hey how how to use bsnl 3g on Lumia 730 ? Default apn or manual? I get H or E sign beside the network strength. But no internet.

Come on dude, use 3g from idea, its fastest carrier ever know in india

Greaaaat.. Thanks to Modi

How is Modi responsibile for this?

Lol.... He was just being sarcastic

Modiji mentioned AndroidOne in one of his speech.

I missed his speech. What did he say about it?

modi is satyas cousin bro. pay in india

Idea internet lagaing to India ko na ullu banaing na......

Haha... Modi must have worked really hard for this.

This is great. Soon more carriers will bring this ability & then buying paid apps will be fun. :)

You Indians need this. So many of you are always bitching about it, and rightly so.

And your from..?? Heaven..??

That honour killing is a historical and cultural thing present in both India and Pakistan. It should be brought to an end.

Mr.wam1q in entire world india is the peaceful country,... Don't make my hand itch, i will slap u until u agree this,,, :P

It's peaceful if you're not a female, or of a lower caste.

And Mr. Wasp ye are from also heaven..??

This is a tech site..Let's not flare up people on other issues..!! Agreed or want somethin bad..??

I have the right to say what I want to unless it doesn't hurt anybody. So I stand by what I have said. Nobody is going to be scared of your threats.

Ur words about india hurted me...

You thing your US (or whatever country you are from is great?)
Tell me more?
It must be more developed but your country employs us Indians to run those companies that facilitate this development of yours. It's not true for only the US but for most western countries. Believe it or not. NASA has a very high (I think the highest proportion) proportion of employs who are Indians. Mind that, u ass.
We Indians are one of the oldest civilizations of this world, we are one of the most diverse countries, we invented, arguably, mathematics, we invented, arguably, astronomy, we performed the first plastic surgery, we are those people who are still thriving after 200 years of colonialism. Colonialism done by you western countries. Whatever India is behind in is all because of you western asses who thought that it was your "responsibility" to civilize us. How can u all even think of that when u all are not civilized enough to respect another countries culture? Great people.

I said nothing bad about India. Nonetheless, for all the culture and history, the practice needs to stop. Don't be offended, all countries have historical and cultural problems. Some are more heinous than others.

Will you just shut up and go to sleep or have your breakfast or something?

Wow, what a retort from a retard.

Agreed. Indians are super-proud but they are reluctant to see and correct their historical/cultural problems.

"You Indians Need This" seeing this attitude of yours I think your culture might have developed but not you..!!

+1030 Malay Nice One Bro..!!

" Whatever India is behind in is all because of you western asses" So westerners forced you to create child brides and the horrible caste system? Amazing!

Do u even know India's history? How the westerns exploited India? How they took away India's resources?
If they hadn't, in the present we would have a strong enough economy to compete with the US's and that economy would have helped Indians to build more schools, this boosting education which in return would have eradicated all these historical practices. After 200 years of colonialism and the state of Indian economy that the British left us in I think we have progressed a lot. A LOT LOT.

India able to compete with the US! Are you high? Obviously. Only Closest entity is the entire European union put together! Shit man, pick up a book.

So you mean we should respect the practice of "Suttee" or the Hindu "Caste system"? Unfair practices of any culture are not to be respected. The British did indeed "civilise" you Indians.

See
Only some Indians are like that. Not all. I am from those who hates the caste system, who hates the sati (which is no longer present) practice, who hates female feticide, who hates India's education system, who hates how India is drowning in politics. So how can u say that "Indians" are historical criminals? There is a large percentage of Indians who don't believe in all this shit. How can u address all Indians? Btw, u know I am also a person who believes that the 26/11 attacks were not the doing of all Muslims but the work of those Muslims who wrongly interpreted Jihad.
Don't blame me asshole. Go and talk to those Indians who believe in the historical practices, don't address all of us.

Though what you say is correct, but your name-calling doesn't help.

You deserve this name calling.

Good bless. That's all I can say if you think I deserve names. :)

Western countries are land of whores....

I am not from a Western country. ;)

And your momma is the queen.

I am Indian and I agree that the caste system and the such are a disgrace on this earth. But, your statement that the British "civilised" us is incorrect. They did no such thing. In fact, they weren't civilised themselves. Every country and culture has/had factors that is not very great. Do not attempt to single us out.

Of boy that escalated quickly

Shit! I had the balance but I activated internet with it.

Waiting for this here in Saudi Arabia

Waiting for STC to do this. And they will In Shaa' Allah

In Sha'a Allah soon.
STC announced this feature last week, Android is the first one to get it ... Hope Windows follows soon

Etisalat has this in the UAE.

Etisalat can be bitches sometimes....my mom uses a dual-sim android (sigh) and she kept the etisalat sim in the second slot for a few months without ever using it.....and then one fine day we receive a bill of AED 1021 X-(

You can try talking to them and see if they check the logs again.

I agree. When I happened to visit Dubai I took a SIM from them and activated data plan for 100AED and without I'm using the data I lost 80AED when I called their support they never helped me and was sarcastic in replying.

The thing is there is no other alternative operator. Du is lame and Etisalat is the only useable operator.

Me too!!!
STC made it available for Android last week, hope Windows is up next

I thought this feature is exclusive for WP and Symbian

IIN : NEW COLLEGE.
. This ad d seriously sucks

Still waaay better than Hunny Bunny XD

Better than idea internet Jo lagaaving India ko no uloo banaaving......

Now a days In most of the colleges people study via internet only bro not by going to classes. It is very innovative idea to make it as an Ad

Aisa hai kya? Kyunki mere college me toh phone seize ho jata hai :-/

+DCRUST,MURTHAL Arra bhai to tu hi hain

Practically, yes. Camera Roll is the home for all my class notes :P :P

Hell yeah!!! :)
And Office Lens too!

I had the billing option in Airtel for asphalt 8

Bro that is a free game.it might be the in app purchases which is available in many Gameloft games.

That was for the IAP not for buying the game from the store.

For many other games too..!!

In- app purchases are possible because i made them once or twice on airtel.

I'm not able to buy anything .. I get an error

Hope Vodafone starts this soon..

Hoping that it's Coming Soon (not Airtel, 1030)

Haha Lol..Waiting for the same..!!

Such as awesome way to welcome users to buy paid apps,but they should also bring in Vodafone

I have great need of this from TATA DoCoMo too

LOL You people still use DoCoMo

And ye still use a Nokia Lumia 710..!!

I am still using DOCOMO FROM LAST 4 YEARS... and didn't found any issue relating to Internet speed and costs or call costs.... It offers best network near my college and home

Bhai bahut zyada pareshan hoke maine last year DoCoMo ka SIM nikal ke phenk diya.

@Aman : India mein ek phone ko 3-4 saal use karna common baat hai bhai.

@TheFFK786 Jiss terh DroidOne bikk rahen hain..Toh 2-3 saal ho gaya hai ab..Lekin bhai kyuki ab WP 7.8 ka support bhi band ho gaya hai isliye kha..Aurr kuch nahi..!!

@Aman : Trying to add 20 to 710 (maybe after Feb 2015)

Nice choice bro..Hope ye get it soon..!!

Docomo? Their service sucks. If only I could convince my mom to give it up :(

Docomo is the best when it comes to value for money data packs..i guzzle data because of Docomo's cheap rate and more data... You can't say the same for Airtel any other carrier... They all are shitty but at least Docomo doesn't charge a dime!

BSNL has cheaper data packs than Docomo and you also get good coverage, which Docomo doesn't provide. In Karnataka, BSNL provides 2GB of 3G data for a month for Rs. 251/-.

Tata Docomo sucks. Those Docomo people know only how to market and fleece customers, they don't know how to provide decent network coverage.

I hope this should also come on Reliance and Airtel soon

Airtel please please please! :'(

For over a year in Belgium already

Can't trust Indians to pay their bill.

But we pay your mom daily..!! Asshole your comments are going Anti-Indian by the moment..!! Stop it now..!! Racist

Chill out dude damn and how old are you? Mom jokes srsly? That the best you've got? He was just joking

Joking..?? Comments of his are Anti-Indian in this article-scroll up a lil bit-It's nice to troll..Even I do but I don't comment on somebody's country and their culture..!! It's a tech site and let's stick to the topic of importance..Rather go flaring up folks with any reason..!!

Ive read his comment too he made an Indian joke and you made a mom joke so I think its even now and I agree to stick to the comment, I didnt say anything about India I just said Belgium already has that for over a year

Am not saying anything to you..Just answering to your He's just joking'..!! What's an Indian joke BTW..Is that a common thing for ye..??
It's not even yet..!! He made a remark about 1/6 of the world's population and I just for a single person..!!

I said nothing wrong about Indians. Other than my joke about paying bills. So what?

Ye included a whole countries name without any reason..!! It's not a joke if a say that I fucked your mother..!! Sorry to say this..But asses like ye definitely need an example..!!

@peg leg, just tell us your country and we Indians will make great comments on your country : |

@Peg Leg: You better off stop commenting (not because of all these comments but I've read your comments on previous articles as well. You basically "troll"). Talking of this article in particular, most of your comments I read till now promotes nothing but racism and inferiority in your thinking the way you look at the world. And by your bad luck, you're in between a tech site with a great Indian user base where you're bashing about. Best of luck.

+930 He's been made silent by just 3-4 of us..!!

Just like the women your kin kill by stoning...only takes three or four of you to make her silent. Barbarians and autoterrorists.

Here you go little á$$hole 1.With only 5% of the world's population, the U.S. has 25% of the world's prison population.
I think you and your family is also one of them. 2. 1 in every 5 African American men ,go to prison . This is prove of how racist you all white as$es are. 3.Out of the 313 Million Americans living here in America, 47 Million of them are on Food Stamps.
Oh poor fellas , you think you all are rich. 4.The United States has the Worlds largest teen pregnancyrate, at 22%.
I think your sisters are really enjoying their lifes. 5.The United States is ranked #1, in highest drug use.
Smoke Pù$$y smoke. 6.In the United States, the average person $ex 5 hours per week. ( highest in world)
As i said your sisters are really enjoying it and rocking on p•rn sites. 7. Oh you want more , you said MSFT , your father Satya is one of us.

+1 Sanjeet bro Looks like his kin is a lot famous on the internet then..!! :P :P

And you call yourself developed and modern..?? Poking in other countries' problems..What happened in Iraq..?? Afghanistan..?? Vietnam..?? Heard you were kicked in the ass a big time..!! Atleast in our country we can say 'I Love You' to our partners and not like your country where the folks think twice before doing the same..Cause your government,, NSA,,NRO,,CIA,,etc who doesn't let the people breathe in a democracy..!! BTW ours is the oldest and the biggest democracy..And there are gonna be some conflicts and problems..!! It's now India that's gonna develop the fastest to the biggest in the world..And what's more The US is gonna help us..!! Atleast we have nice ties with every country..!! The whole of the South-Asia looks upon us..Japan..
Russia..Australia..Brazil have made India their their best alliance..!! Now the US is following suit..!!
Even I heard..The whole world heard about the Ferguson case..Such a pity..A racist thing in 'The US of A' on which Mr. Leg prouds on and thinks that being born there gives him some natural powers..You are not more than a remark making racist pig who is a lot adamant and full of ego and thinks of others as minions and who is neva gonna improve..But I ask you big big moron that what have you achieved in life except some nice hearing from others..?? Wishing you a happy lonely and a gift less Christmas..May you roost alone in a closed room with just gift cards and no more than a candy..!! Wanted to write more but hope it satisfies you..!! STFU..!!

Moh Fugger, half your facts, are skewed. Like I already said, the US shouldn't have made GB give up its territories, like yours, because I've never seen a troop of monkeys do a good job at anything besides chewing off people's faces and throwing their own shat.

No they are not..!! They are clear and sharp..And supposedly they are needling ye in the ass..!!

Mrs. Kabiraj, I'll say what I want. If you don't like the idea of honor killings (murder) then tell your cave dwelling, inbred cousins to stop. You folks probably sent ravens with messages up until 5 years ago when the US provided free infrastructure for your desolate, filthy, puss swilling, infected Ganges river of a country so we could kill your kin, Osama.

Dude stop talking shit about people you dont know. 1 joke can be funny but stop calling people names India is the most important country for Lumia phones so go buy an Android and go talk shit on an Android forum

Mr. Montana, you did nothing wrong nor did I say you did. Have a nice day or night depending on your local.

He's gone mad don't work yourself with him..!!

"Honor Killing" ? From where did that topic arose all of a sudden? Besides, that thing was a thing of past. And that was just not in India, worldwid. Although, the influence were significantly seen over the Western Asian culture, I admit. But trust me, you really have to be some abnormal illiterate with poor mentality to pull in such topics on a tech site article that tells about carrier billing in a particular region, seriously man. Get a life. Have a good day.

On the contrary, Mrs. Kabiraj, just this past summer, a prominent newsline on the BBC outlines the death of a wife at the hands of her husband, uncle, and father. Having the ability to include additional topics in a conversation is a mark of intelligence, unlike your obvious lack of intellectual ability for you can only focus on one finite topic at a time. If only Great Britain would step back in and operate your country effectively for those in India are far from capable. Oh, where is it India resides on the educational standards of the world? Right down there with the penguins of Antarctica. Moron.

Oh yes! That's why Microsoft CEO is an INDIAN. Now shut up and admins please block this person. We need constructive windows community not racist bullshit on this site.

+1 @Pratyush Nice one bro

I'm on your side Aman ;) +520 Remember me?

@rzkwp8 Ofcourse bro..!! No misunderstandings again..!! +520

You two sound so gay...wait, its in your culture, you folks don't appreciate women, you stone them to death.

We'll fire his dumb ass soon.

You'll fire what? "We" ???
And whom are you representing in the first place?
Doesn't look like you're even aware of the current tech affairs. He's being praised worldwide for how he has transformed Microsoft!!! Wake up!!!

"We" gonna call all of your moms..??

Oh my Shiva. Your going to call my mom. Grow the funk up ape.

I see no point of arguing with someone who's committed not to understand, no matter what. Jumping from one topic to another which have no meaningful relations in between, and calling it a mark of intelligence is only a nuisance like you would do.
And who are you to ask for Indian educational standards? You better ask the top software developers and CEOs around the world who are mostly Indians.
India is a developing nation (I doubt if you really know) and it's developing rate can be noticed in all fields. Some just take time to catch up, software field, being the most successful one.
I won't be surprised to know if the comment section you're using to comment is coded by an Indian, lol.
...............
"Education" and "Educational Values" are two different aspects. And the way you make a comment shows you've got none.

I earned a PhD, Associates through Masters all in Radiologic and imaging sciences to boot, Moh Fugger. Plus, I belong to a developed nation. Your country is only developing.. and that is because of GB's help.

You sure did a PhD but in "abusement" being the subject, no wonder, lol.
It's "Associated" not "Associate" and it's called "Radiology" not "Radiologic" unless you did them both, which you didn't. Clearly.

Infact its Radiologic because its connected to sciences so "Radiologic Sciences"

Yup, that's why I told "unless you did them both"...

Didn't see that, sorry bro

Mrs. Gkabiraj, I have an Associate of Applied Science, a Bachelor of Science, and a Master of Science. Does that clear up my under/grad studies for you? Clearly, you are a drop out.

@peg leg, you start this, now we will continue this until you apologize to us(Indians).

I never heel to lesser species.

@peg leg अब तू देख कमीने......

Peg Leg, how can you say that he is "clearly" a drop out? O.o and Gautam is a Mr. Not a Mrs.

Because I'm calling him a woman, moron.

No need to correct him, bro! He is a great scientist all by himself, handling so many degrees that he forgot his manners (if he ever learnt any on how to speak with strangers) in Kindergarten. Leave him. I tried to correct, I regret.

"How can I say he is un/undereducated?" All I have to do is try to read his writing. His writing is very, very poor. Hence, a lack of education. My manners are entirely separate from my intellect. If I choose to write utilizing disparaging vernacular, that's my business irrespective of educational achievements.

Speciously, you've gained ample education in your overly-developed nation but are clueless as you are, about where and how to use them right. A person's etiquette speaks for his educational achievements / culture (you don't know what it is anyway...) while a mark of educational attainment need not to be brought down to vindicate his shibboleth. You, for one, represent a paradigm of discourteous folks dreaming in a misted vaunted crown of ego, whom when asked for manners reveals his inextricable human identity.

That means I have the intellect to verbally annihilate you and yours all day and all night...just the way your mother runs in the brothel...all day and night.

Did that much but still petty minded..!!

Yes you can say anything and everything..But you can't say anything against anyone..!!

Aircel nd Vodafone please.. We need this

Mere bhai pe bhi h ek L710 :P

Tu dono bhai toh nahi ho..??

Hum dono kya , tu bhi apna bhai hi to hain

Ofcourse bros..!! But I don't have a 710..!! :P :P

@Aman : Yes we are brothers. Pledge nahi yaad kya?? All the Indians are my brothers and sisters?

@TheFFK786 LOL Vo pledge abhi bhi yaad hai..!! Bhai agar thoda uppar wale comments mein help kardo..Anti-Indian remarks are there..!!

Ye lo bhai...! +800...still rocking one! :P

Ek aurr..!! BTW is this a girl..??
@'RIA'+'NEXT'..?? Am confused a bit..!!

If she is girl then we aren't your(@rianext) bro :P

That's a boy..!! :P :P Thoda uppar scroll kar ke America ko javab de do..

Jaane do yaar...he wasn't really insulting us in the beginning...i think we might have taken it a little too sensitively...then things got aggressive and both sides messed up...:P
I want no part in the argument...:D

We would have let him go away with this..But this is not the first time he's done that bro..He's insulting other from time to time..!!

Chhod na bhai ch**tiye apni ch**t mein ungli karke chillate rehte hain .... Let them shout .

True. I'm not upset. Just playing, perhaps a bit extreme? Accept my apologies?

Fellas please...rian= 'nair' inverted...ext= extreme...hope that clears it up.. :P

Bhai majak bhi nahi kar skte kya apne bhai k saath ab???

LOL So much into making a forum name..!! Nice one though..!!

Maine to mera purana Google username yahhan pe bhi use kar liya ..... Par wo google wala username banane ke liye kafi sochna pada tha ... To keep it unique.

LOL But seriously need your help up some comments..!! He has taken to gods now..!!

I said I was just playing.

@Peg: we accept the apology...but if this is your idea of playing, then clearly its beyond our comprehension what the humour was in all that you said...
Perhaps you are used to taking pot shots at each other over in your country and take it all lightly...but we are from a different background and culture...there are things that are sensitive to us sometimes for the simple reason that the insult thrown at us may be true to some extent in our country and its something all of us are trying to denounce and have no hand in...
So be careful what you joke about...this site has a lot of people from different backgrounds...not everyone will get your 'jokes'...

The guy is apologising now...let it go mate...there are other ppl reading this stuff...it doesn't look good on us even if we started by defending ourselves...totally felt that the whole thing got outta control when I read that stuff...

It's been there for a long time

All the major carriers should follow this move. Airtel, Vodafone, BSNL we are waiting

This is really good news.... Airtel need to do.... Bcoz it's largest telecom operator in India....

Airtel and Vodafone needed!!!

Fantastic option for Indian users. This should be the way forward for the users who has not yet connected their cc or who is worried of connecting their cc. Wonderful alternative payment mode.

I connected my Visa DC, but MS doesn't seem to accept it at all

My Federal Bank VISA Debit card works just fine with Store!

Got Karnataka Bank. Tried everything, no luck.

Sorry for you! I'm not sure why it didn't work, I thought all the visa credit/debit cards work. Have you tried contacting the bank?

Vodafone come on...
Even idea did that!!

Yeah Vodafone should be the next one.

Indians rocking for the first time I saw.... I was bored with U.S carrier news everytime

I hope my country will support carrier billings very soon. much easier to support developer don't you think?

Hope airtel bring this using entropay for now but after 1 month if airtel don't bring this only idea cellular for me. Posted via the Windows Central App

Lumias come with Vodafone internet offers when we go to buy new phones. But Vodafone is continuously ignoring WP. I asked them about Vodafone Music app for WP and they said that they even don't have any plans for it.

That's a sad news, bro :(
I have a credit card but most of my friends don't (they're all on either Airtel or Vodafone). They always wanted carrier billing on WP.
And sadly, most of the operators / carriers always have a negative aspect for Windows Phone no matter what.

Idea rocks!! Lucky me, having Idea. :)

K buddy but mere paas na Idea ka coverage achha hain na Vodafone ka. Tab bhi Vodafone leke fasa hua hun. Dusri jagahon pe Vf ka coverage achha hai.

Buuuhuuu to other operators...!!

I have already paid for apps via Reliance prepaid

This is what I want here in Philippines. Our carriers support billing like this on Android. Sucks that Globe doesn't support WP though they always sell WP phones.

WP phones = Windows Phone phones.... Technically the correct term... That is, until W10 hits. Then it'll be W10 for phones. :P

The name of the OS is "Windows Phone OS" and the phone is "Windows Phone". "Windows Phone phone" is wrong.

Really, English is most likely not his first language. Leave em alone.

Airtel pleaseeeeeee
Then I can just recharge my phone to buy MCPE on bday :D

Please Vodafone do this :(

Tata Docomo will do it.. They listen to their customers.. :)

Now when you have a dual sim windows phone why not get the other carrier sim simply for the second slot rather than waiting for it to come at your network operator.

Bad luck not on idea... Time to port in....

Time for Vodafone,DoCoMo and BSNL to come up with this facility :))

Good. Unfortunately Idea doesn't provide 3G network in Mumbai circle.

Wow! I'm switching to idea right away!

Airtel.... Make this happen fast....

Wait
He needs a file explorer when we have files for free?

PFM is more than just a file browser. Its a full fledged FTP server as well. The best part is it allows seamless cut, copy & paste between the local file system and among different clouds. Try it for yourself. :)

Reliance had carrier billing feature way before

Exactly.. My friend made an in-app purchase through Reliance 3G months back...

It is for in app purchase not for apps or games purchase.

Good move IDEA... What an idea sirji...

Thats really a good option, i wish bsnl will soon bring this....

Saying India is the only country that has open the portal to pay WP digits with phone balance is not true. Things already happened in China several days ago, maybe even week before. People can pay for the digital content from WP Store with carrier CMCC.

I'm waiting to Harish to show us how to do this on an article he have to make for us.
Because I'm on the US region with US English and US Store. I have Idea SIM, and I'm living on India having my Lumia 1520. What should I do to get this guys please help me?

Which city you are living on bro?
I'm at Saharanpur/UP WEST

Here how I got it 1. Change the region to India
Settings>Region>Country/Region
2. Change the Language to India (English) or Hindi
Settings>Language>Add languages
3. Get a GooD internet connection, then check for update under (Phone Update)
Settings>Phone Update You will see an update for the Indian Language/region, download the update then restart the phone when it ask to. (it's about 10-15MB) After the restart go to the store and try to purchase anything, and try again and again until you see the idea icon. (I got it from the 2nd time)

As your Talktime balance is in ₹ not in $.
Change your region back to India and restart your phone then move to store that's it.

Your are right bro. But I did what you said again and again, and I see the Indian rupees, but nothing, I don't see the idea payment. Please help me guys. Is it because I am living in Saharanpur/UP WEST, and not in Delhi or any other main city?

Here is how to do it
1. Change the region to India
Settings>Region>Country/Region
2. Change the Language to India (English) or Hindi
Settings>Language>Add languages
3. Get a GooD internet connection, then check for update under (Phone Update)
Settings>Phone Update You will see an update for the Indian Language/region, download the update then restart the phone when it ask to. (it's about 10-15MB) After the restart go to the store and try to purchase anything, and try again and again until you see the idea icon. (I got it from the 2nd time)

I suppose carrier billing is also available through Reliance. My friend made in-app purchase through his prepaid balance, over Reliance GSM 3G

Would greatly appreciate this feature if it comes to my country Nigeria, so many apps I would like to purchase

IDEA no ULLU banaving no ULLU banaving. Worst network but is giving good features

I really want to see Airtel enable carrier billing for windows phone,I want to purchase many games, but can't because in India credit card penetration is so low we have debit cards more.

I always need this feature and was happy when microsoft told they are working with carriers all over the wold to incoporate carrier based billing for purchasing apps. But only Idea got it :(. India's most popular BSNL has to get it, and hope it will be real soon..

Off topic but can Microsoft Pakistan sign the same deal with Mobilink in Pakistan? Pretty please!

http://www.nokiapoweruser.com/exclusive-lumia-435-will-join-the-lumia-ra... Hear! Off topic but anyway

Not reported by WC, so not true!

Completely different topic, but does anybody know why I am not getting Cortana anymore, here in India? And of course, my region is USA and I were using cortana before sometimes. But when I tried to activate it some days before, my phone seems to be completely forgotten about her (cortana). Any ideas??

Maybe you have to turn on Location as I think

Sorry, I've been bit busy. Anyway, thanks bro, I never thought of that. I will give it a try. :-)

I have heard somewhere,some days ago that Reliance is going to have carrier billings enabled very soon.

Upps !!I think it's already available through Reliance GSM.

Finally!...i hope airtel follows soon

Airtel needs this.. Soon. It will go well with it's current promotional schemes too.

If Airtel, I will buy 5$ apps every month

Who does still have edge connection? 4G for the win!

Hoping for reliance and Airtel..

Hope Airtel bring this too. Will be interesting

would be cool to see it on MTN CYPRUS

Aircel... Please do it!!!

I will stop piracy and buy all apps if it comes to Airtel as I don't have card.

Ppl @ Airtel are busy eating our, they don't have time for this :P;-)

I would really like to see other carriers enabling this feature especially Vodafone or aircel

Expect this to happen on other carrier ..because that would be great

Vodafone where art thy? :P

This option should be enabled everywhere.

How?... I can't find this option to purchase app in my Lumia store

Here how to do 1. Change the region to India
Settings>Region>Country/Region
2. Change the Language to India (English) or Hindi
Settings>Language>Add languages
3. Get a GooD internet connection, then check for update under (Phone Update)
Settings>Phone Update You will see an update for the Indian Language/region, download the update then restart the phone when it ask to. (it's about 10-15MB) After the restart go to the store and try to purchase anything, and try again and again until you see the idea icon. (I got it from the 2nd time)

This should be on every carrier in Africa and some part of Asia along with South America and remote places in Europe, Is should be a standard. Nice going I want it in Nigeria.

I'm not getting the Idea payment option
I live in Saharanpur/ West UP
Please Harish show us how to do this PLEASE

1. Change the region to India
Settings>Region>Country/Region
2. Change the Language to India (English) or Hindi
Settings>Language>Add languages
3. Get a GooD internet connection, then check for update under (Phone Update)
Settings>Phone Update You will see an update for the Indian Language/region, download the update then restart the phone when it ask to. (it's about 10-15MB) After the restart go to the store and try to purchase anything, and try again and again until you see the idea icon. (I got it from the 2nd time)

Wallet works absolutely fine for me. All purchases with VISA/MasterCard secure pay. But this is a welcome thing. BSNL wake up.

I used to use Idea as my service provider before porting to BSNL for 3G network (no Idea 3G in Karnataka) and cheaper call rates. Wish I hadn't done it now. :( Hopefully, carrier billing for Windows Phone is supported by BSNL soon.

Thanks WP central. Now this is what we wanted instead of the credit card option.Kudos Idea.And btw it is working.

Which city you are on bhai?

First of all make sure u have all the correct settings like Keyboard to English (India), Region to India, Language to English (India). Go to the store and hit buy option. Then if u dont see idea hit "Add or Switch payment option". Then select Idea. Now there's a catch. I was trying to purchase using my wifi internet connection. If u r doing the same then u will not be able to purchase successfully. U have to use idea internet for making the purchase then only u will be able to make the purchase successfully. I hope this helps

Aha. I was wondering what the heck is happening? Why is it not getting it through wifi? I tried through mobile internet & voila! It worked. Has Microsoft or Idea done this with a reason in mind?

Been to hell, your family is sitting at the edge of the streets panhandling. The payment they desire is sodomy.

Thanks for the reply...
I am going to try it now

Welcome bro ;)
Tell me if its worked with you or not bhai

Haha, i couldn't find a WiFi yet to update in my city. I think i have to visit Delhi once.

The phone didn't asked for a Wi-Fi with me, because the update it just 10-15MB
It looks like you have more than just a language update.
GooD Luck bhai BTW, which city you are living at?

It didn't ask, i assumed..
I thought after update i ll have to install all the apps again(i have 221 on my lumia) and that could be expensive on cellular
If its only 15 MB here we go
Thanks a lot
Btw i live in a town in bijnor district, UP

All apps will remain the same don't worry, it's not a major update, just a small update for localization
I am living at Saharanpur/UP
Welcome ;) bro

Great move by Idea and Microsoft. I am about to buy new idea sim. Guys plz reply me if u r on idea and able to successfully purchase apps and games.

I have an idea prepaid SIM and I'm able to purchase via idea payment, then it cuts from my balance

Here how to pay via idea if you use US store
1. Change the region to India
Settings>Region>Country/Region
2. Change the Language to India (English) or Hindi
Settings>Language>Add languages
3. Get a GooD internet connection, then check for update under (Phone Update)
Settings>Phone Update You will see an update for the Indian Language/region, download the update then restart the phone when it ask to. (it's about 10-15MB) After the restart go to the store and try to purchase anything, and try again and again until you see the idea icon. (I got it from the 2nd time)

I use to use the US store, and after changing it to India's store, I couldn't pay via idea, then I got an update via Phone Update, after the update I'm able to pay via update
Windows Central Newsletter
Thank you for signing up to Windows Central. You will receive a verification email shortly.
There was a problem. Please refresh the page and try again.