If you own Destiny, you can play some of The Taken King's content for free next week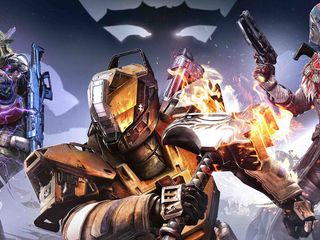 Bungie is planning to launch the huge expansion to their 2014 first person shooter Destiny, The Taken King, on September 15 for the Xbox One, Xbox 360, PlayStation 3 and PlayStation 4 consoles. However, if you already own the game, you will be able to play a number of the multiplayer levels and game modes from The Taken King for a few days before the expansion goes live.
Bungie says:
Keep in mind that The Taken King content will be inaccessible for Destiny players after the free preview event, unless they purchase the expansion pack. Think of it as a free trial of sorts.
Check out Destiny: The Taken King Legendary Edition on the Xbox One at Amazon (opens in new tab) ($59.88)
Source: Bungie.net
And here I am, just trying to finish Moments of Triumph :/ SKOLAS!!!!!!!!!!

Preorder numbers must be down.

They did this with the last dlc too. Its just smart marketing.

Love the Destiny content. Keep it coming.

Looking forward to smashing some guardian heads in new environments next week.

DLC is to expensive in my opinion, I mean newer games are coming too and they look much better than Destiny.

Agreed, hopefully this one has much more value than the last two. $20 seemed steep for what we got.

Agreed 100%.. Tired of paying for DLC's

Apparently next weeks patch will be about 18GB.

I will be deleting the game by then, making space for Forza 6 and Halo 5 when it comes out.

I was disappointed in the last DLC so I'm going to hold off on this one and see what the reviews say about it. For now I've got plenty of other great games to play and Fallout 3 is waiting in the wings. Just not feeling the Destiny love at the moment. Hopefully it meets expectations for those that pre-ordered.

It's odd they force all the DLC data content down on you even if you don't buy the DLC. Why take up my hard drive space if I haven't purchased it?

So that you can play with people that do have it to avoid player base fragmentation. Hence why they're called "compatibility patches"

Anyone looking for help doing moments of triumph, post your xbox one GT and I will help you finish it.

crepemachine I've just got Skolas to finish then I'm done!

MatsuDano I too have Skolas to finish. Probably on later tonight and Sunday.

I got stuck on a level playing Destiny and just gave up. Liked the game but there were just.too.many.of.them.
Windows Central Newsletter
Thank you for signing up to Windows Central. You will receive a verification email shortly.
There was a problem. Please refresh the page and try again.