Images from unreleased Windows 10 for phones build get leaked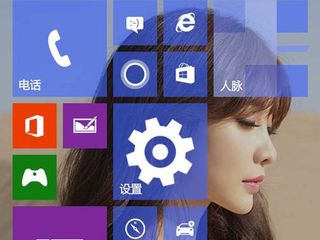 Screenshots for an unreleased Windows 10 for phone build have surfaced. This time the build's version number is 10038.12518 and the screenshots show a few minor changes compared to the current public preview that was released in February.
The China-based ITHome published the screenshots this morning. They seem to show a way to pin some settings to the Start screen, along with a revamped phone dialer. The keyboard is showing some new options as well, including a way to choose its size, switching between right and left-handed modes and more.
Microsoft has not announced when the next preview build of Windows 10 for phones will be released, although the company is expected to expand the preview to include more devices. At the moment, just six Lumia smartphones can use the preview build.
Weird dialler currently and no revamp yet for windows store outlook..!!! :/. Need too much of feedback .!!!!!

Guys I use my Lumia 730 as my official phone. Would that be a good idea to go for windows 10 preview?
I had used the preview for developer on my Lumia 520 before and it worked fine

No this is alpha software. Preview for developers is release candidate. Much more polished and stable. If that's your primary phone wait till may at least for consumer preview. But don't need to beleave me. That's what Microsoft is telling you.

With W10 Preview, you're trading performance and consistent UI and Cortana for new features and some greatly improved apps.

I would agree with Thomas#WP. Preview for Developers is quite mature output, while the W10 Technical Review is more of a rough output as of now. If your phone is official one and if its encrypted, I would not at all go for W10 TP... might be more chances of bricking it if you want to come back to 8.1

I would rather see screen shots with Thai letters. Thanks

Even on the news, someone wants something that "seems faster" (wink, wink)

Indeed... She is so beautiful.... Wait... What?.... Oh... Yeah... The UI is so beautiful.... :D~

Looks the same. Not sure why this would garner any new fans when the UI looks exactly the same.

I agree, but I don't think we would see any major UI changes until later builds.... Well, I don't think we're going to see any major UI changes, rather something big in the area of functionality...

Yeah there's only so much you can do with an mobile operating system... :)

How about integrating some of the cool third party customization apps to show some true diversity in start screens. I have and my start screen looks nothing close to that. It's very modern looking.

I agree... They need to have these apps pre installed in there own section of options... The average user isn't going to find these apps hidden in the store...

I would actually go a step further and use these apps to provide themes or completely unique start screens available under settings. You've seen mine Rodney. It looks nothing like a stock screen. But the average person would never know what is possible right out of the box and most people don't scout around the store like we do looking specifically for customization apps. So much room for improvement.

Yes, in Settings.. That's exactly what I was trying to say,, but you know,, the brain... And, I completely agree... 100000000%

I'm all for it as long WP stays fluidic... :)

I don't see any reason why it won't.... But, WP is pretty empty when it comes to the fun stuff... MS seems to have themes for their major updates, and hopefully with W10 they begin to focus on the coolness factor. Right now it's a little plain, and all business.

Even though I don't care for themes, they seem necessary to attract younger users... I agree with you on that.... I hope they add these said features in W10..
Edit- with themes, i mean customization of start screen

No.. I meant themes for their major updates like with WP7.5 MS had to focus on adding the basic features that were critical to a smartphone experience. With WP8.0 they focused primarily on changing the core, and preparing for the convergence of WP8.1.. And, WP8.1 primarily focused on enterprise features, and bringing it's feature set up to par with the competition.....
.........
Now, I'm hoping they can start to focus on the fun stuff, the cool stuff.... Sure WP8.1 came with the most customization options so far, but I'm saying it would be nice if we could see a major focus on more appealing, fun, and customizable things with W10.

Tile Art is a good example of a lost opportunity. They basically had a tool to customize, showed some cool examples and then made it a completely manual convoluted effort to make it work with any degree of success. There should have been 20+ templates and premade ones to just use and tweek. It was an utter mess.

And, the worst part is MS seems to abandon projects after the first try... Maybe the TA app would've been ok released the way it was, which would've still been pathetic, but at least they could've followed up with weekly updates....
.........
MS in no way should let things like this trace back to them... IOW, they should've only let this guy release this independently... Well, maybe he did.. IDK.. It just seems like to many no brainer mistakes for a company like MS.

Preview for Nokia Lumia 720 plzz ;)

We all know when leaks go out, release is at the horizon!!

I hope not. I don't understand Chinese.

I'll get right on that. But only because some random commenter on some random article said please. I have just been waiting for this moment and all of your preview dreams will be fulfilled!

I'd love for my phone to be included in the next go-round. I'd like to have a voice.

HTC One M8 and a Lumia Icon. I understand what they are doing, etc. I just wish I could contriubte to the future shape of W10 during the beginning stages. I'd hate for feedback to warrant a path that would otherwise be discussed openly with a wider audience. Maybe a pipe dream.

Me too, I currently have an HTC One M8

User thoughts on the phone M8?

Great design! But there's a known issue of overheating, also present in Android version. I had to refresh my phone 2x since I got it last November. Thank goodness for WP8.1, I can restore almost everything without hiccups.

Heating is expected I think, because of the metal exterior.
But it's still a killer phone, wish I had one.

I love it. It does get hot when playing graphically intense games but it doesn't bother me thanks to my case. I wish it would charge faster though. Other than that, no other complaints.

I hope we get full transparent tiles So d wallpaer is shared btween tiles & background

And ability yo have no transparency at all.

And also to control the level of Transparency .

I saw a tweet (Think it was from Joe Belfiore) that said there will be the option to have a full background behind the tiles, and to keep it the way it is in Windows Phone 8.1 - Good to have the choice. I prefer the way it is in Windows 10 so far, wit the full background including in between tiles.

Wc is too slow in updating news... :D

I am not installing unless it gets stable. I have Lumia 730.

Have you observed purple ghost trailing and kinda pixelated display (at keen observation) in your Lumia 730? Or am I only one?

Is it a problem? Cause I'm going to buy one.

I have Lumia 730 since 2-3months now. I have no such issues.

Need a closer inspection, like only on black background with grey ui.

No....not really. I use cool under color-display settings though.

This happens on my 930, but not on my GF's 730.

Mine is like this on 930, but only on low brightness, I thought it was a faulty phone but perhaps it's software related?

It happens on few phones only with Amoled displays

And OLEDs, it had to do with its operation.

Nope. It is OLED technology. The pixels have delay time while turning off and on. Hence, this can be seen only in black theme.

May be its a software issue, like it was on 1020

It because of the purple hue issue. I think it's hardware related.

Then the preview is maybe not for you. For a stable version you should wait until the final release.

I will wait until it gets on preview for developers.

It will come when it is ready

Wasn't a revamped dialer already available...?

Well, the dialer is supposed to change, although I do not believe this is it

Removed my comments? Smartass!

The way you cropped the first image ;) for full images check my tweet @nithinsuren

I don't see where any settings are pinned to the start screen here.... That's what it mentions in the article.... We can already pin the settings tile in 8.1....

Well the pin option is there in the top right corner of settings screen in third image. If you go to the source link you can see it clearly.

Daniel... Have you heard if Microsoft has been talking to Neuance about a licensing deal for the T9 dialer? Cry me a river if you want but then build me bridge to get over it... Posted from my HTC M8

yeah, but it will probably be changed a lot

Still think all the things in Settings need a more polished and unified design. Make everything white, add more visual context and it will be better!

No, make everything black... Or give us the choice like on 8.1!

ladies and gents clear example of how everyone has their own opinions and design isn't easy!

This is why the choice of either 'light or dark' should still be available in 10

It is, the current preview has the settings menu in white. That's the difference here..

No, Make everything optional!

Let us choose not only between black and white, but between any other color

@rise4dizzy, did you mean global colour schemes?

I also like white theme more with better visual

Black is the way forward with so many AMOLED HD displays. White drains battery insanely fast.

black or white, and text only

@Melle Zwerver.
"Black" and "text only" on a phone are the same thing lol... No OEM is going to use a coloured display...

Captain ? link to that asian chicks wallpaper pls :P

Those screenshots are from a 1520 or 1320

The Windows Phone OS has different grid struture with the big screen device such as Lumia1520 and 1320, It is obvious. Then we can even check the screen shot's resolution to see if it is from 1520 or 1320, because 1520 has 1080*1920 resolution and 1320 has a one as 720*1280.

Uhmm, dialer's looking a bit androidish. Is that the Maps setting? Looking good! Revamped keyboard also looking sharp.

Android has a million different dialers through themes. This is an improvement over the current dialer....visually.....i think...

Call me old fashioned, prefer the old dialer, as it looks much cleaner imo.

Resolution is not correct ... the elements

Nothing worthwhile to see.

Preview for some 512mb devices

It is already on the 630/635.

W10 is so buggy on my Dell Venue 8 Pro, I'm staying far away from the tech previews

If there would have been a warning about tech previews.. right?

Why the Chinese people are releasing photos how do they get it

I want to know that too :P

Why do they have to be "Chinese" people? Why can't they just be people? Huh? Huh!? :-P

He meant no offence bro. He meant people in china cus most of the leaks come out of china.

I'm 90% sure the origin is MS themselves.


Maybe because that's where the phones are made...

I really do like the translucent tiles better than the current transparent ones. It brings back some much needed color. They also allow for a full background image, and unlike the current backgrounds, shouldn't be blurry.

Yes it does, I like it to. But to some,old is better.

Very very happy to see a single windows phone 10 article after days

Cant wait to see this in 3 years

Keyboard for right and left handed? Wow nice job MS

Well this is what I was waiting for..

I am still asking myself will win10 be realy upgradable to all lumia (wp 8.1) phones....

They already said yeah, so u might wanna stop worrying

Think he means if it'll be worth to upgrade ?

yea, unless carriers don't screw up. lower end devices with 512 ram will get an update too but limited features

Like on 8.1. (hey cortana, sensorcore)

they all will get it, with features depending on the hardware, it's just the preview that's limited for now, otherwise there would be a lot more people complaining it doesn't work, completely ignoring any warning

Get the damn of the home screen,we should swipe right and bring up all apps in tile view

I hope I install it on my Lumia 930 :)

Those rounded toggles are ugly. They should keep the ones it has already on 8.1.

Nah, been there since WP7. Any change is good change at this point.

Agree. At the very least, I hope the entire UI is one way or the other, and not some weird mix of the two, when released.

Yep, and probably harder to press because of decreased size

why this leaked stuff is either in chinese or russian ?

Cause they know how to hack into Microsoft's networks.

Will this run on a Samsung Focus?

Not one pivot or panorama to be seen, are we sure this isnt just an android skin?

no, that's the way windows 10 is gonna be, the current preview already got rid of most pivots/panoramas

dialer app sucks. the existing one is good no need to change and just add cursor and other more shortcuts if necessary.

Nope both of them need to be better than this

We need smart dialing, where we can just type in # or name and it brings it up. Can't believe we still don't have it.

Removing comments is not good. Comments section should allow people to speak

Also not crediting people for tips? Curse you all!

Lol that's why they got deleted. And why did you reply to your own post?

It is good most of the time. Nobody likes to see irrelevant comments such as "wen in India?"

Just wondering how these guys are able to get this build?

Can't wait for the full update as well as the flagship phone they are going to announce!

Auto map-updates. Very useful :)

That dialler still looks too small

yeah the current one is good it just needs more features that's it.

I'm not too fond of that keyboard. I trust it'll change. It's too small.

When can we expect the complete Windows 10 for phones?

That's what she said right?

I hope dialer and keyboard get same layout. This sucks.

Horrible rounded corners for toggles.

About me, I will prefer have WP8.1 GDR2 on my 1020... Maybe.

What's changed? I don't see anything new.. *-_-

I cant download WP10 after denim!! My phone is L630

Really not liking the new dial, hopefully will be modified before final build

My 1520 still waiting...:(

I just follow it does all devices this time. My HTC One is ready...

I see that emoji key back to its place :)

it wasn't gone, in some apps it's under numerical, and in some it's on it's normal place

Just notced that the mist of the ss above are looks like from a big phone. Well like 6 inches

This leak photos are trusted cuz a lot of leaked images from china website exactly same with the launching products or features.

Cool cool. Cool cool cool.

What's the point if only minimize the dial feature without adding smart T9 call option, useless. Get it back to Nokia, it works better than under Microsoft.

Still no visual confirmation of parallax background photos. Not digging the messy translucent look.

It's been reported that both will be an option, not one or the other. That's good, I like options.

it's been confirmed, so no need for visual confirmation :)

I am sorry to say, but if this is what they managed to deliver after a whole month of development and a ton of feedback, Windows 10 are destined to fail miserably, at least on phones. A dialer with tiny buttons and an even smaller back button at the top of the screen? Really? It's a mystery how Microsoft decided to replace the most beautiful, cohesive, intuitive and efficient user interface with that unintuitive and ugly mess. Please, be original and don't copy others. Return to your previous excellent UI before it's to late.

You're just one of those few who can't accept the change.. Remember, change is the only thing that is constant in this world.

You should only accept change when it's good or an improvement This is neither.

You mean pinning some settings independently and keyboard sizes options and left/right handed keyboard mode are not improvements? Come on dude.. Have you even red the article before posting comment?