India's Federal Bank launches FedBook, an electronic passbook for customers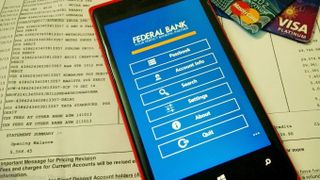 Gone are the days when you needed to visit your bank to update your passbook. Federal Bank, one of the savvy banks in India has introduced FedBook, a convenient and secure mobile passbook for customers who hold a Federal Bank account.
While Federal Bank already has a mobile banking app - FedMobile - for Windows Phone users, this new app allows real time transaction updates without the need for phone calls or SMS alerts. Like the traditional, physical passbook, the app allows you to view your account statements, on the go and even when offline. From within the app, you can view transactions of all operative accounts.
Unlike most mobile banking aps, FedBook allows you to tag transactions and add personalized remarks for transactions. This helps when you are searching and allows you to filter transactions. To use FedBook, your mobile number should be registered with Federal Bank for mobile alerts or for the FedMobile app.
While the app is pretty useful and has an intuitive user interface, I wonder if the functionality can be integrated in the existing banking app, so users don't have to install a separate app for the purpose. But we're not complaining!
While the FedMobile app has been available for Windows Phone 7.x and Windows Phone 8 devices, the FedBook app is only available for Windows Phone 8 devices. If you are a Federal Bank customer, download it right away for free from the Windows Phone Store.
Thanks Salman M for the tip!
Windows Central Newsletter
Get the best of Windows Central in your inbox, every day!
it's hearty to see how india is gainging interest in windows phone.thanx to all the developers.

Many Indian banks have brought their Mobile banking app to Windows phone except ICICI and Citi Bank. Shame on both of them !!

Axis as well why cant they release a banking app

God knows when ICICI bank will be ready with der app..

I still dont understand whats taking so long for ICICI. They released windows 8 app much before everyone else but no WP app.

Hi Indian developers. Can you make Brazilian apps? Thank you. :P

Hehe they will surely pour some love for brazilians in 2014

How ps4 is doing in brazil? Heard its 1300$ there!

You heard wrong: is about 1700 U$ in here! I think isn't selling well here. :)

Yep looks like India is embracing wp

Nice to see indian developers showing interest in windows phone :)

Hope we get a Citibank Official App too...