India's premium video service, BoxTV arrives on Windows Phone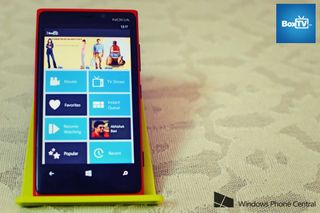 BoxTV (www.boxtv.com) is an online video service in India, which serves the latest Bollywood, Hollywood and regional movies, TV shows and premium video content in one place. Essentially, the service from Times Internet fills a critical void due to the absence of services like Hulu and Netflix in the region.
While the official apps for other platforms have been available for a while, the Windows Phone app makes its debut now. From our friends at Times Internet, we also hear that a Windows 8 app would be 'coming soon in few weeks.'
While you can watch more than 5,000 hours of free movies and TV shows, you can also upgrade your collection by subscribing to the BoxTV Monthly Subscription Plan and get access to more than 17,000 hours of entertainment videos.
When you are signed in, the app provides personalized recommendations based on your viewing history as well as allows you to resume watching your movie from any device. You can also filter your search according to genre and language. BoxTV claims that the app is optimized for mobile networks and video content is available in different quality settings. While the service is available worldwide, geo-restrictions may apply for some of the content in the catalogue.
The app is nicely designed, and features an intuitive user experience. However, it hurts that it does not have the ability to download, cache offline, or pre-load videos on WiFi to watch while you are on the move, and don't want to use your data connection when on restricted mobile plans. That's a critical feature for me when it comes to any app that serves videos.
You can download the app for free for Windows Phone 8 devices from the Windows Phone Store. It's a great app and with a cheap monthly subscription, the service is great value if you are a fan of movies and TV shows. Give it a spin, and let us know how you like it.
Windows Central Newsletter
Get the best of Windows Central in in your inbox, every day!
So whats the free "content"?

A large number of movies are free to watch without a subscription. But you'll get everything, and the best of the lot, after subscription (we highly recommend it :)). We're also going to announce an exclusive Windows Phone offer (it's already in the app if you look for it closely) soon.

I wish those half tile sized tiles were available on the OS home screen

Hi Topleya, Didn't understand - was that a feature request? Do send over to our support id.

He means on his wp8 screen, nothing to do with your app

Isn't this the official online broadcaster for last years IPL t20 cricket.nice for cricket fans.

WP India has really been great lately. Good for all I believe.

So we can save movies to offline list??

Hi Aashish, No, you cannot yet save movies offline.

Is this something that will be coming in a future update?

Can you guys add office office serial in the tv series list

Just asking here but why are indians soooo much into Windows Phone? Installed the NEARBY app last time and the windows forum is full of indians...that's good though but any indian here to tell me what makes them love the Windows Phone platform??

The devices are cheap and India is one of the biggest strongholds of Nokia, the amount of marketing they do here is insane. Every channel (like hundreds of them) show nokia ads every day

Infact nokia's marketing has went down the hill.L1520 ad was shown for like hardly 2 weeks and 1320 ad is nowhere to be found.And if you compare it to the recently launched GRAND 2 , grand2 alone kills all lumia ads.MST and nokia need to spend huge on marketing , in bombay wherever i go i see only SAMSUNG and SAMSUNG and SAMSUNG.

Because nokia is like a bugatti for Indians

Nokia means trust in India.A Large people still use feature phones and nokia is their preferred brand,so when they upgrade they want nokia as for its build quality, and service networks can be found anywhere.Hope wp 8.1 make its market share in smartphones above 15%.

Anybody knows if this app region locked? Can I subscribe from the US?

Doesnt look like region locked, i am using it from Europe.

The first impressions are good! Lets see how this goes

I was one of the earliest subscribers of BoxTV. I must have written a dozen emails to support asking them to build an app for phone and desktop 8. Eventually they never did and i switched to BigFlix. Will see if they actually deliver the Windows 8 app before i buy a subscription. Just the phone app is just not good enough.
Windows Central Newsletter
Thank you for signing up to Windows Central. You will receive a verification email shortly.
There was a problem. Please refresh the page and try again.