Indian music streaming service Saavn finally brings offline streaming to Windows 10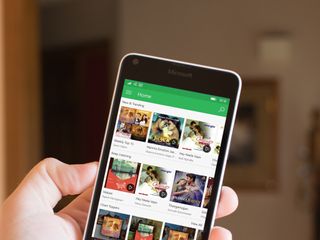 Saavn Music & Radio was one of the first regional universal apps for Windows 10 PC and Mobile and while it sports a pretty neat UI and seamless navigation, several users, including yours truly, were miffed with no support for Saavn Pro, the company's paid subscription that allows offline streaming. The feature was available on Android and iOS for some time now, but Windows users were left out.
The wait is over now, as the Saavn app got updated to version 3.0 today that brought Pro benefits like offline listening, no ads or interruptions, exclusive content, as well high-quality 320kbps downloads. The online streaming is still limited to a maximum of 128kbps, although Saavn has confirmed an update in the coming week to bring 320kbps online streaming as well.
A Saavn Pro account can be used on five iOS, Android, or Windows devices regardless of where you signed up. You can also login and listen to ad-free music on Saavn.com outside of that limit. Saavn offers unlimited access to songs, curated playlists, and radio stations in Hindi, English, and Indian regional languages like Tamil, Telugu, Punjabi, Marathi, Bengali, Kannada, Gujarati, Malayalam, Bhojpuri, Urdu, Rajasthani, and Odia.
Before Saavn, and after the shutdown of MixRadio, the only alternative for music lovers on Windows was Gaana. While Gaana had support for offline listening since their Windows Phone 8.x app, the app hasn't been updated for Windows 10 Mobile and sports a dated and complex UI. Funnily though, Gaana has a UWP app for Windows 10 PCs out since several months.
To sign-up for Saavn Pro, there are no in-app purchase options at the moment. You'd need to purchase a code from any of the online retailers listed here or carry your subscription from Android/iOS devices.
See at Amazon (opens in new tab)
Download Saavn from the Windows Store (opens in new tab)
Thanks Aleem for the tip!
Glad they finally brought the service to Windows 10

Yess!! I have been waiting for this since they launched UWP app.

We have most of the local apps on Windows Store, yet I feel very disappointed on msft for retrenching the Phone market from India (and Brazil).

Yes we do have and hardly any compromise with the quality except Facebook (that is Sh*t).

But you can only play the offline music only through the app. No third party allowed nor can you transfer the music anywhere else if I am not mistaken?

That's the case with most music streaming services.

MixRadio allowed third-party apps to play and/or transfer the downloaded music files. But gone are the days.

Yes, Nowadays, all the music services are like that only. Gone are the days of DRM free music download by Nokia Music Service

Yeah, it was the best! 6 months of free service bundled with any Nokia smartphone, 128 bitrate music would feel like a premium quality.

Yes, that's true. Now they are coming with explosives, so subscribing to one service is not going to be enough.

Lol. Detain this guy for questioning :P

I meant Exclusive. Fawking autocorrect XD

That's okay. Every developer will do so. Piracy is a thing that haunts these developers but they are good to do so.

Yes! I'm currently using Saavn as the Gaana (UWP) Mobile has very ugly UI(PC version has good UI) and lacks many features.
Saavn is a cool app ☺

Crap app.... I still love my ex lumia 520

I tried to use this new feature on my PC - and got the error that says I have to deauthorize a device to use it(http://i.imgur.com/XyKy5eh.png). I only use Saavn on my phone, so I couldn't have exceeded the number of devices authorized. Plus, they don't have, anywhere in my account, a setting that will allow me to deauthorize devices - looks like it can only be done from the device. I think they have some ways to go before the software is mature.

I'm facing the same problem on my phone.

I raised a support request and they fixed it (though they broke something else, so I am still trying to communicate with them).

Is this service working on Australia?

hi, I was able to download it on my L950XL, but it doesn't open. The app just closes & returns to the app list. :( I am based out of Brisbane

I don't think so it will work outside India

It works everywhere. Although availability of English music outside of India is limited or even unavailable...

It works fine in US and I use it to listen indian songs only. Actually Saavn is best used in windows 10 (in a way). In android and IOS, Saavn plays ads between the songs if you are not pro. I think they have't implemented that feature in windows 10 app. My friend who moved from windows to IOS just saavn and couple of other apps is very unhappy now.

Exactly this is something i love most about saavn. No ads. On my mom's android it was do irritating to have ads in between especially when i would put on an instrumental music playlist for sleeping at night. I haven't updated it yet on my lumia 550 but i wonder that with pro feature now available on Windows too, will they include ads in the free version? ? If they do so then it will be a big disappointment. But i won't ditch saavn yet because i have no other option. Mix radio is gone, Microsoft won't let Indians own a groove music pass even though there are more than a hundred thousand hindi, Tamil, punjabi Bengali gujrati urdu and other Indian language's songs, and other streaming apps on Windows like gaana hungama etc are crappy. Many a times i fail to find my choice of song on gaana. Although i do like sonewhat other apps like deezer. Posted via the Windows Central App for Android

999₹ for a year of ad free and offline play back is a fair deal. You should go pro if you are really annoyed about ads.

FAQ says it works anywhere, so assuming out of India as well.

Try using hotspot shield. I wanted to use spotify. So downloaded it changing the region to US. And changed back to india after downloading. But i wasn't able to sign up, so i used hotspot shield to sign up and it worked. Was able to Use Spotify without any problem

Audiotica is better than this pro app

Audiotica isn't available for HoloLens but this app is

No. I'm just showing their support for Windows 10 UWP.

I ditched Gaana. I like Saavn very much. The only problem of this app is it doesn't remember the last screen, i.e it returns to homepage, or better to say it relaunches every time when I reopen it from recent tasks. It's irritating. Waiting for them to fix it.

The biggest problem of the app for me is this! Otherwie its the best option on wm10

I really like this app. Although I don't have much use of the pro features, still bought a year's subscription to show support

Please don't left out the Chinese market.

Yesss. Better late than never.

Can we play downloaded songs in default music player ?
और क्या डाउनलोड किये गए गानों को डेस्कटॉप या दुसरे स्मार्टफोन पर ट्रांसफर किए जा सकते हैं ?

Na we cant do that saavn se download kiye gaye gane sirf saavn mein hi bajenge (bhado asaarh mein nahin ) aisa har jagah hota hai ab android ios mein bhi Posted via the Windows Central App for Android

Hello why can't i post my comments Posted via the Windows Central App for Android

I used a code that Saavn had sent to all MixRadio users back in April and it worked. Have 90 days of Pro to check out. :-)

Waiting for dark/black theme option in saavn app. Now that would be super cool \m/

Just bought the pro access code for 99₹ to check the benefit. They have not overpriced it.
Windows Central Newsletter
Thank you for signing up to Windows Central. You will receive a verification email shortly.
There was a problem. Please refresh the page and try again.