InMind VR is the first virtual reality game for Windows Phone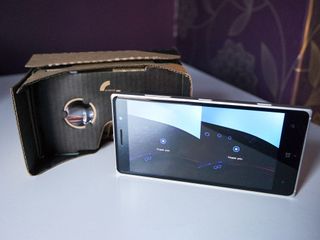 Virtual reality is one of those buzz phrases that has been around for ages, but rarely moves beyond niche technology. One creative way to bring it to the masses is by reducing user cost, and that can be achieved through Google Cardboard.
The Google Cardboard initiative lets companies create cardboard VR helmets with lenses that can be sold for $5 and up. Users then insert their phone into the device, and like a View-Master from childhood, you now have a cheap VR helmet.
Game makers Nival have now released a game for Windows Phone called InMind VR as a way to explore this technology for Microsoft fans. The game is rather short and is more of a demonstration of the technology. However, it is certainly well done and very intriguing.
To begin, just download the free game to your Windows Phone 8.1 device. You can then put your phone into one of the many Google Cardboard helmets, which can be purchased direct from vendors (or even on Amazon (opens in new tab)).
From the game description:
InMind VR lets you float through a brain where you can see individual neurons. When you come across a red one (damaged, diseased) you look at it by tilting your head. Once locked, you will automatically fire a weapon at it to destroy it.
The game uses a split-view pane for each eye and the accelerometer/gyroscope for head movement. Moving your head around (with the Google Cardboard and phone combo) results in letting you "view" the virtual world, in this case, the human brain.
InMind VR is free, very well done and quite clever. Hopefully, this will not be the first and last VR game to come to Windows Phone, as this style of immersion certainly has its benefits.
Watch the two videos above of the gameplay and trailer to get a better idea of how it all works, then download the title below!
Download InMind VR for Windows Phone 8.1 (Free, requires gyroscope)
Daniel Rubino is the Editor-in-chief of Windows Central, head reviewer, podcast co-host, and analyst. He has been here covering Microsoft since 2007 when this site was called WMExperts (and later Windows Phone Central). His interests include Windows, Microsoft Surface, laptops, next-gen computing, and for some reason, watches. Before all this tech stuff, he worked on a Ph.D. in linguistics and ran the projectors at movie theaters, which has done absolutely nothing for his career.
Microsoft CardboardoLens and you have a deal!

Well you will get that in 2025!!! And after that they will make a better version for iOS and Android.

Well, HoloLens is augmented reality, whereas this is virtual. Two different things with different results.

Cover the lens with a dark shade and... oalá!

yup, it can be used as both

Enjoy with google till then

Who cares about VR? I am waiting for Hololense :D

Augmented reality is very similar to virtual reality in that it combines virtual and true

And its very different whereas AR still allows the consumer to be aware of their true surroundings and VR completely closes them off from it. And that's the main major difference. Average consumers don't want VR they'll enjoy AR. Gamers will enjoy both and MS will sure have a good way to implement gaming with Hololens.

Ie taking the HUD and visual effects like lens flares out of video games and putting it into the holo lens to make it more immersive.

Downloading to try. Why not eh? Not like I am funding Google by using Google Cardboard.

I guess I can be happy I have a 1520 if I'm going to try this.

What? My 730 does not have gyroscope? Why?

Same
Who knew the necessity of gyroscope.

Why wouldn't I just make my own cardboard phone holder for free?

You can, make it yourself kit (scroll down) https://www.google.com/get/cardboard/get-cardboard.html

While that's all fine and dandy, I have a lot of unused cardboard boxes I could make one with.

Google cardboard? I tried it with some oculus rift videos on YouTube and I was assured that this thing can make me go blind real fast.

Where can I buy Google cardboard in India?

waiting to play minecraft wearing a hololens....

Hololens is decent still. Looking at the video of VR ill go blind one day

Well... I just ordered a Google Cardboard Box for 5€ =D I'm definitely gonny try this app. Hopefully the developer brings a few more VR demos/games to Windows Phone =)

Would cardboard fit the 1520?

What cardboard is Daniel using?

They're all basically the same. You can make your own even.

I prefer Augmented reality vs VR cus VR make me feel bad.... i test it and make me feel bad.... you feel that you are moving where you not you get motion sickness.... Hololens is more more advanced than any other VR.... VOTE goes for AR.

It's funny, i ordered a Google Cardboard just yesterday for a project in my university. Very excited to try this. :)

"Game makers Nival have now released a game for Windows Phone called InMind VR as a way to explore this technology for Microsoft fans."
Do I have to be a Microsoft fan to explore this or will being a Windows Phone user work just as well?

Been waiting for something that uses google cardboard! Sold my nexus 7 a bit ago, now I can try this on my 1520!

If you can relax your eyes you don't even need cardboard.

how can I watch 3d movies on my phone using cardboard? I'm asking bout the movie file, is split screen content available?

Google has proven itself to be an enemy of not only Microsoft but of every Windows Phone user. They're repeatedly demonstrated active contempt and willful malice to Windows Phone users. Remember the YouTube app fiasco, among others? The safest approach is "Just say no - to Google." We don't want, nor need, Google, which is another reason we continue to stick with Windows Phone instead of running to Android when we change devices. Google has left such a bad impression on so many of us that no matter what they do, many users they've angered, disgusted, or just outright "pissed off" will never go back to Google devices or services, and Google did this to themselves with their arrogance and hate mongering.

It does not work on lumia 640xl lte
It does not recognize the sensor gyroscope
Windows Central Newsletter
Thank you for signing up to Windows Central. You will receive a verification email shortly.
There was a problem. Please refresh the page and try again.