Instagram client 6tag gets multi-account support, notifications and more in latest update
Users can now manage multiple Instagram accounts in 6tag with version 1.2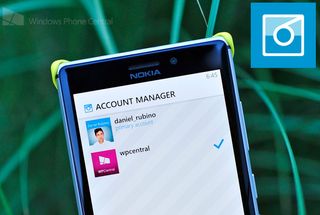 The popular Instagram client 6tag has a new update now live in the Store. Version 1.2 is now available to download and while it is still only for Windows Phone 8, it brings along with it a handful of useful new features.
The big one that is truly unique is the ability to support multiple Instagram accounts. As far as we know (as we asked), that feature is not available on Android or the iPhone, making this a first for Windows Phone. The feature is what it seems: users can add numerous accounts to the app and dynamically switch between them. It's intuitive and easy to use. For sites like us, it sure makes using 6tag a breeze as we can now change between our personal and WPCentral Instagram accounts on the fly.
6tag version 1.2 changes and additions
Fast video upload mode (use 3 times less data and 2 times faster)
Toast notification every 30 minutes
Display notification page faster, no more loading
Keep in memory the last posts to access them offline
Improved 'full picture' feature with better image quality
Use accent color for Live Tile
Settings to disable double-tap to like and remove stripes
Tap-to-focus improved
That's not too shabby of a list and we know Toast notifications were a huge want for many of you, so now you should be all set. We're also a fan of the "remove stripes" feature as we think the plain light grey background looks swell.
Even more good news? Version 1.3 is on the way and should be available this week too. Rumor has it that people who prefer to swipe (over tapping) will have a new UI option available. We should find out more soon enough.
Pick up 6tag version 1.2 for Windows Phone 8 here in the Store
Via: Windows Phone Central Forums (Kevin D.)
Daniel Rubino is the Executive Editor of Windows Central, head reviewer, podcast co-host, and analyst. He has been covering Microsoft here since 2007, back when this site was called WMExperts (and later Windows Phone Central). His interests include Windows, Microsoft Surface, laptops, next-gen computing, and arguing with people on the internet.
Rudy Huyn is such a great developer.

It's just simply amazing the amount of care and dedication Rudy puts into his work.

Yes, please father our kids

I love you Rudy will you m..... mentor me

Still cant add images to a queue though when I have no data (i.e when sailing)... Everything else is top, but this is crazy!

Rudy is amazing. This truly is the best instagram app!

Man, not even the official Instagram app has support for multiple accounts.

Let's all tell CNET's Molly Wood about this!

Molly Wood can eat my wood!!

I would never let that horse face near my wood.

How can we? According to her, we exist on a separate plane of reality... ;p

Lol. I think the opposite is true. She is the one existing on a separate reality plane. Her Nokia Lumia 1020 review says it all hahaha.

I tweet her every single new great feature from WP.

Her lame ass response is that none of these features were available when the review vid was done.

Supposedly the design will get an update in v 1.3

I need Rudy to make a Twitter app, half of my tiles are his apps

...but the official app works great.

rudy shouldnt. too many twitter apps... i hope he'll create a tumblr app instead!

Y u no give me WP7.8 version?....whyyy? :'(

WP7 can't support the current design (with swipe), next update of 6tag includes a new design, WP7 compliant, so one more step to have a wp7 app

Sweet thanks !! Can't wait :D

Rudy. Update your profile picture on here! :)

Aww mehn...thanks Rudy, you are an angel sent down from heaven :-)

Have fun with your crappy Instagram app on your Iphone, Molly Wood.

Multiple accounts... This is pure GOLD.

THANK YOU VERY MUCH, Rudy!

RUDY! RUDY! RUDY!!! I made an instagram just because of how everyone was raving about his app. Thanks.

I did the same. This guy does brilliant work.

The lines only dissapear inside the settings for me.

Exit out and re-start the app, derp

It's kind of like the internet version of "duh"

It means everything and nothing. Context sensitive. Or not. :)

C rappy
N etwork
E nvious
T elevision

Best comment of September 2013 on WPCentral.

The funny part is that now 6tag is better than official instagram

Yeah and I'm even bragging about it now to my friends that have Android!

How do I donate to show my support? It seems like the dev makes more money if I keep the ads.

Ummm, what about we donate for a dollar per month and each month a developer takes a big money reward?
For example we could manage to get 50,000 people to donate each month. That means $50k each month. We take that money to encourage developers to create awesome apps, and no limit for a developer, which means if you have 4 awesome apps you can win the money 4 times!

http://blogs.technet.com/b/firehose/archive/2013/08/26/it-s-a-bird-it-s-...

I think this will make it to WP7 soon....

Windows phone 7.8 support please.

Read Rudy's comment above, it is in the next update.

thats what he said last 2 months ago.

The only thing missing from the official app is push notifications, which is impossible.

I really wonder how Rudy will further update this app, it really is amazing!!!

Has anyone else noticed that the flash turns on when you switch to video capture mode? Is this the proper functionality?

Wouldn't it be great news if Instagram turned to Rudy and said, we are so impressed with this app that we are gonna lend our name to it. . That would shut a lot of people up.

That's exactly what I was thinking. They should move to formally adopt it as the official client and support it where it's needed. Then all the noise from our iOS and Android friends would stop. Microsoft and Nokia would immediately have one less big hurdle to get over and could concentrate their lobbying on other things. I wouldn't want to see Rudy acquired as well in that way, he's way too important to be sucked into one development stream.

BTW Daniel, when will WPCentral comment system will have likes or vote up/down? Or will let us order the comments?

I wish there was a way for me to like this comment. If there was a way I would

You know what would be really great? Having a double tap on comment threads collapses the thread, like how Baconit does it. It would be so awesome if I could collapse the long-*** comment threads on the top of the page for nearly every article...

On a similar tone, is instance supposed to get an update soon?

Update broke the beautiful transitions :/ now it flashes black when I switch pages

Now, when try upload a photo and not possible, on mensage on top say "Não é possivel enviar o video" (Portuguese), but...i'm sending a photo...

Yup! The first thing I noticed when I updated

can they make Instavid upload from camera roll? i really wanna test out the new features that's currently unavailable.

Love the "Use accent color for Live Tile" feature! It's a small feature but can really go a long way! Thanks again, Rudy!

+100000000 absolutely. I prefer all my small tiles to be uniformly the same colour. Especially when i get the 1520 i want it to be less busy I prefer leaving the contrast for the large tiles that give relative info like weather or music playing... yup OCD!

Update!! I didn't realize the accent colour option is available. Must learn to read better. Just gotta wait for 6sec now

Any new update on 7.8 support?

He just commented up above!!!

I'm a little concerned about new reports of ads coming to instagram. Hopefully this won't be something that "breaks" our instagram clients.

Follow my new public account bk_lumia1020. All my pics will be unedited, unfiltered(occasional cropping) taken with with the Lumia 1020. I live in SC so most pics will be of our beautiful surrounding area.

Question, if someone likes a pic on my private account and someone likes a pic on my public account, will the live tile show 2 or 1 based on what account is selected within the app?

I bought the app as I was pretty happy thus so far. Now this update happens to address pretty much every single one of my frustrations! Thanks, Rudy.

So for a few days now, the "following" activity doesn't show anymore. I tried reinstalling, nothing. After this update, nothing. Anyone else?

awesome rudy!! thanks!!
next step, be able to share videos stored in the phone :D

ohh im going to brag the multiuser feature to my friends so much! :D

Rudy for next Microsoft CEO. J/k keep on making great apps and lets hope Microsoft will hire him.

when is for 7.8? can you at least provide a clear ETA? like 4 months from now or early nxt year... pretty pleaseee! :) no rush, though. jst want to know the date.

I hope w7.8 has 6tag too. Im jealous :( Mr. Rudy Huyn please

He should write an app for FB.

I'm loving these frequent updates! Rudy is the absolute best developer! Not even the official app is this good! I prefer 6tag over every other version... I paid to remove ads to support him.

The likes heart is now red too, it was grey

Noticed that too, makes a big difference. Amazing work Rudy ☺

Its kinda weird that I can't make the live tile colour match with the phone theme. And the app shows me notifications from last week.

Delete the tile and re-pin it, voila ☺

I even tried uninstalling then installed the app again, but it does not help at all. So I have to disable notification instead.

Can somebody try this with 6tag 1.2. Set autoplay video to disable, then goto your profile stream and play one of your video post, while playing, start scrolling down to see your other posts. Notice that the video you played re-appears several times in the stream. I saw the one video like 5 times when scrolling down. Lumia920 amber

Happens to mine now as well, HTC 8X. Emailed Rudy, suggest we all do the same so he knows its a common problem.

Emailed Rudy, he got back to me, he says it only happens if you have auto play disabled for videos (which I do) and he's going to issue an update. Cool work Rudy ☺

That's great! Good to know that a fix is coming. :) Thanks!

Cool! Was about to leave a comment

After the update the find friends function isnt working anymore. Also it seems like the search is broken. I cant search any of my followers or people im following by their name, only by their username. Does anybody else have this problem?

Thank you Rudy for removing the stripes in the background. ;-) Now if we could only use the space a little better, something like WPGram, that would also be great.

I don't know if it's just me...but after I updated the app, from time to time I get toast notification telling me that someone tagged me, but once I open the app, there is no new photo which has me tagged...very weird

I get that too, kinda annoying sometimes

hahaha really awesome with this guy
single man could beat real Instagram app
hands up to Rudy :)

Delete the tile and then re-pin it, voila! ☺

I noticed that now the LOVE is red! Yeah, spread the love!

And thank you for the red instead of gray heart. ;-)

There is a bug, when i play one videos, several other picture post get duplicated to the video i played..



please fix this.


Read my earlier reply above ☺

It is not tile problem, duh!

I know, duh! Read above that about video, duh duh duh!

Guys stop asking for 7.8. Just read comments above. Rudy commented that he will focus on WP 7.8 version after the release of NEXT patch for 6tag 1.3. There are some issues with 7.8 and it may take longer but it will come eventually. Just be patient.

Yes, the switching feature is awesome. I'm in charged of our church IG account, and this feature helps me alot!!!;. Rudy!!!Rudy!!!!

Anyway, rudy replied my email about the bug, he submitted a fix tonight

Great job, Rudy!
You're always impressing us with your wonderful apps!
Keep up the great work!

Idk for some reason is try to click on other peoples grey tags in the pic description and it won't load up their pages??? :(

But 1020 can't upload photos to instagram!

I miss the smooth transitions which are now substitued by a black screen. And the "Find Your Friends" feature doesn't work anymore!

my hashtags stopped becoming public again after the update. Anybody else?

Can anyone please help me to set-up my account in 6tag? I wrote to Daniel Rubino, and even contacted Rudy Hayn via Twitter with no repsonse. I am using a Lumia 925 smartphone and every time I try to create an account, I get a message to say either that there is another user by the same name or there is a problem with open proxy. Please help!

By the way, what is Rudy Huyn's email address? I need to contact him to troubleshoot my 6tag app.

@ Ranjitrs account in 6tag . Same problem hier ... none of my valid accounts and none of my valid mail addresses are accepted by TRYING to create an accont by 6tag or Instagram. Am I missing something here?

If someone is reporting your account because they think it's offensive or something 6tag doesnt tell me. I mean, nothing loads, not even my profile. I was just wondering if there was a notification that we get that i'm not getting or what. Do i need to log out to get the notice that my account's been reported? Any help is greatly appreciated, thanks!
Windows Central Newsletter
Get the best of Windows Central in in your inbox, every day!
Thank you for signing up to Windows Central. You will receive a verification email shortly.
There was a problem. Please refresh the page and try again.