Instagram brings disappearing photos and videos to its Windows 10 app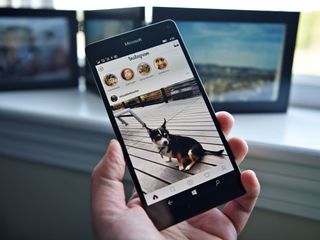 Instagram users on Windows 10 PC and Mobile are getting a bit closer to feature parity with their Android and iOS counterparts with a new update rolling out to the photo-sharing app. Most notably, this update adds the ability to send disappearing photos and videos with a dedicated button in the direct message (DM) screen (via Plaffo).
To get started, you can select the camera button at the bottom of your DM list to snap a photo or video. From there, you can draw on or add stickers to your creation before sending it off to a friend. Once the photo or video is viewed, it will disappear, much like Snapchat's ephemeral-style messages.
Elsewhere in this update, you'll find the ability to upload multiple photos or video clips in a single post. In total, you can attach up to 10 photos to a single post that your friends will be able to swipe through like a gallery.
Both features are available in version 10.849.31554.0 of Instagram on PC and 10.849.31563.0 on Mobile. To check out all of what's new, you can grab the update from the Windows Store now.
Thanks to Antonio for the tip!
Download Instagram from the Windows Store (opens in new tab)
Get the Windows Central Newsletter
All the latest news, reviews, and guides for Windows and Xbox diehards.
Dan Thorp-Lancaster is the former Editor-in-Chief of Windows Central. He began working with Windows Central, Android Central, and iMore as a news writer in 2014 and is obsessed with tech of all sorts. You can follow Dan on Twitter @DthorpL and Instagram @heyitsdtl.
So, Facebook updates the IG app, but not the FB app?????..... I hate to complain, but FB, and Messenger, are the worst performing apps on my phone...🐌 🐌 🐌

Facebook works horrible on Android right now, last couple patches and now I feel like I'm browsing on dial up.

You mean, now it feels like you're on Windows?

No he means it feels like the whole lagdroid experience, at least now it's coherent

As WP fans, is it really fair that we dis Android, or any other OS, at this point?

Facebook app doesn't lag on my 950 XL. It takes a while to load the first time, sure. But hell, it works pretty well and doesn't crash at all. Note it did crash on my ex-640XL. This app just needs a lot of ram and absolutely needs to be installed on internal memory.

it's sending all the data to the CIA/NSA first, then they're sending it on to you ;)

thats not true at all.. i dont have a single problem on android.. cmon stop spreading false news to make yourself feel better for using windows.. seriously

Both work fine for me, except for the long start time.

You have live on instagram?? I still dont 😐!

I think the live feature is region locked, not everyon around the world can use it.

Not region locked, but I think server locked.... as in they are rolling it out to people depending what server your account is on. It's definitely not by region/OS/device since there's people from all types that have said they got it and didn't. So they are probably rolling it out in batches on their servers. Heck tons of people on iOS and Android still don't have it.

I think this is depend the device. My Lumia 535 and 640 XL doesn't support live video but my 950 support

Axel you are talking about win10 mobile or android? your Instagram app on lumia 950 have live video or messenger for win10 ? what about lumia 930 ? dont understand why messenger for win10 mobile still haven't got audio/video call wonder when we get it on messenger for win 10 mobile plus the upgrade adviser app is back on store don't know we get creators update for lumia 30 series ☹️☹️

Instagram on Windows 10 mobile. I have it on my Lumia I mention above, plus Lumia 520 (10586.494 build) all other devices are on current builds (non insider) and none of them have live recording on Instagram except Lumia 950. About Facebook and messenger I can't say anything cause I don't have Facebook and never used the apps.

The Facebook Beta app is frequently updated... but to be fair the Android Facebook app is even worse.... using it on S7 Edge, and it's on par with Windows, but I feel the Windows one is a bit more snappier.

Facebook has a mobile version. Why anyone would need an app is beyond me.

Instagram, WIndows Central, Banks, Credit Card companies all have mobile versions. If you don't want/use apps, why even pay for a smartphone. Just get a feature phone.

"Why anyone would need an app is beyond me"
........
Fanboyism at It's finest.

I seriously cant relate to that.. the Facebook experience on my S7 is 100% snappy.. it has made me use Facebook again, because with my 950xl the experience was so bad, I actually gave it up and told my friends to contact me on Skype or sms..

I think you're paid to complain rodneyej.

You obviously have no expectations for what a smartphone is supposed to do, or be.... What's your point? Shouldn't you be on a feature phone related ENTHUSIAST site?

Just keep the faith Instagram W10 mobile appreciates your patience.

What's Amazing is that it took so long to get this once super popular app, which is still popular, and now they're one of the only popular apps left.... Amazing it's still there.

@Rodney.
This is because FB developed their own cross platform framework for building all it's FB apps, including Instagram.
That means FB maintain one code base, targeting different OS, including Windows 10 and Windows Mobile.
The lag/parity in releasing new features to different OS comes because of the internal testing cycle (once built release candidate) and priority/resourcing. Obviously WP will be last since market share is 1% (ish).

Interesting to know. Thanks!

Yeah, I know this..... Been here for years. Doesn't change the fact that the apps couldn't have been optimized over the past year to run better than they do now, and with more features.... Excuses are for blind fans...

I would really like to know what we don't have that iOS users have already. A comparison on features.

Nothing. It's on par with iOS since this is the iOS app lol.

Also added Collections for Saved Posts. Anyone know what is still missing comparing with the Android and iOS versions?

As far as I can tell the apps are identical

The Android version just got offline mode. Does the Windows PC and Mobile app have that?

The Windows 10 app is dependent on the iOS version.

I can't even share a single photo directly from the app on my Lumia 650 because it crash it. I've to share it from the photo app 😒

are you on 15063 you can rest the app to see if that fix's it

Move app to phone memory.. That might help

In fact I have it on the phone memory but thks

Instagram works great on my Lumia 650. I'm posting almost everyday with no problem. With the app on my phone or SD card.

Incredible it's still getting updated.

Fuera de broma, es increible que aun mantengan actualizada esta app. Me alegro bastante!.

Am I the only one who has that problem where the camera roll takes like 15 seconds to load? everytime I want to upload a picture I have to wait a long while before I can choose the image. I reported this problem to them, hopefully I'm not the only one that has it and they will solve it soon.

You're lucky. Mine crash it because can't even load

Just tried it. Took about 5 seconds.

Takes me a long time too, think it's cause of too many pictures, they need to handle it differently

For me the loading of the camera roll varies. Sometimes its quick sometimes it takes up to 5 seconds.

have the same issue. I think it is more a hardware problem than the instagram software itself. Even worse, mine have to wait so long but then forced quit from the app. My temporary solution is to read the sd card in the laptop then put it again on my phone. I also delete several photos from my sd card (mine has total 5 gb for 2000++ picts).

Yay! I figured that this was coming soonish.

The customary "Seems faster" post. On a person's page it now shows which of your followers also follow that person. I never noticed that till today so I'll assume that's new as well.

I fully believe if Ballmer was still CEO he would back FB just to get back at Snapchat. But like you said Instagram is now growing faster than Snapchat and has all the important features surpassing Snapchat's usefulness for most folks.

I do because Instagram doesn't have live video filters

Hmm I've had disappearing photos for like 2 months now.... I guess this is a full rollout since before they were rolling it in phases I guess. The Instagram Galleries feature (with multiple photos in one post) is new though! :)

it has a dedicated button now.
I can't even remember what loops you had to go through last time but yeah this has been a thing on Windows for a while.

I had this feature ever since it was introduced.

I downloaded the app, but none of my friends have instagram. Can I send a disappearing pic to them from instagram to facebook?

Facebook should buy Microsoft, they will make all amazing products alive again and never going to abandon us.. Just kidding

It's already been on there

Thanks Facebook but this thing sucks as far as performance goes. They add features but doesn't address the apps performance.

After seeing the headline, this came to mind: "Microsoft brings disappearing apps to Windows 10 Mobile platform". I ended up deleting Amazon, GasBuddy, PayPal and eBay this week since they no longer support their apps on this platform.

The amazon app updated recently furthermore the audible app is also pretty good on WM10

Snapchat is in deep trouble, especially with what the Snapchat CEO said about India a little while ago.