InstaWeather Pro, coming to Windows Phone from iOS and Android, lets you share your current conditions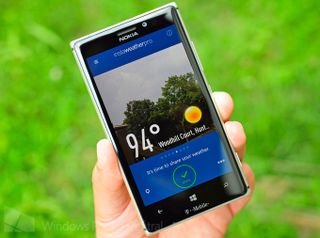 Here in the North East, we're dealing with a kind of nasty heat wave, so weather and apps seems appropriate (our "real feel" is 109F, which is crazy). That's why we're kind of excited to see the app InstaWeather Pro headed to Windows Phone in the coming weeks.
We'll give you a sneak peek, including video of it in action, in addition to launch details and what's it all about.
InstaWeather Pro, found on iOS and Android (opens in new tab), is part of that new crop of apps that allow you to take a photo and overlay your current location and weather with just a few clicks. You can then easily share those images to Instagram, Facebook, Foursquare or email.
At first you may think such an app is an odd thing, but truth be told, we found it quite fun to use when we travel, as it's a good way to share with your social network where you are in the world and what it's like.
Now, the team behind InstaWeather (which also has a website with mapping ability: instaweather.me) let us take a quick look at the upcoming app and it's quite elegant. The app features numerous skins (more will come out in updates), and a half dozen or so designs to choose from. It then access the Windows Phone "Share" option, meaning you can send the image to any other app or social network. You can also configure it for Celsius or Fahrenheit, metric or imperial and include the logo overlay for the app as an option.
Gosh, it's hot
We're told the app will launch for an introductory $0.99, which is a $1 cheaper than on iOS (opens in new tab), and is near final stages. The developers are looking to add Facebook Places and foursquare integration in future updates as well, making it even more useful for those who uses those networks.
We'll keep you posted on when the app is available, but for now, we're excited to see another developer embrace Windows Phone.
Daniel Rubino is the Executive Editor of Windows Central, head reviewer, podcast co-host, and analyst. He has been covering Microsoft here since 2007, back when this site was called WMExperts (and later Windows Phone Central). His interests include Windows, Microsoft Surface, laptops, next-gen computing, and arguing with people on the internet.
If only after that insta was gram. Today would've been a great day.

So you're telling me that, 94 is hot?
Man that''s like heaven here. Please come to Dubai and experience the whopping 120F

Insert classic line: it's not the heat, it's the humidity. I can deal with heat. But this is more like the jungle than a nice, dry desert ;) Also, try to be in NYC and subways in this weather...ugh, nightmare.

OH, how did I forget to tell you that Dubai is on the coast?

Still dry over there...its a desert...

Here in Hell its 180....in the air conditioning!!!!!


That's quite an ISP you have, providing Internet in hell. I'm impressed.

LOL, so the devil got you?

Exactly what I was going to say. Although the actual temperature is 94, the humidity,and dew points can make it seem alot hotter.

Yeah I heard subways was very musty lol

Tell me about humidity here in Puerto Rico.

I deal with 104-110 weather in Texas post and pre rain. Everyday is humidity day in Austin. I like to drive top down and let my face fizzle and mustache singe.

Lol that's insane lol, ill stick to the 94 lol

Yeah so... I live in Houston and we took the feels like 117 no problem the other day :) Oh, and Houston is very humid if you didn't know :D

Houston is like a damn sauna on meth

Try it every year in Texas starting May ending Sept. This only a glimpse in Texas Life.

"took the feels like 117" Do you mean that you accepted the heat like Master Chief (John-117)? Or that it feels like 117F. I'm hoping for the former as it sounds cooler ;)

108 currently here in Las Vegas. But its a dry heat.

come to Bali then, nice weather here

Interesting! I'll give it a look when it comes out. I'm a sucker for weather apps and social media :(

Then you should try other apps already in Marketplace and some of them with much better things than this InstaWeather. We already have at least 3 apps with same functionality.

What else is left to share? I think I'll create a device to measure bladder level and share it on InstaWhiz. *Billionaire in the making.

You have something there.
We share pics of food.
We share pics of weather.
Lets start sharing pics of bowel movements. It will be the new craze! Lets call it Insta-Poop

One day the movie Idiocracy will be considered a documentary.

That scale you use for temperature is weird.

Cool, but I already have like 3 weather apps. I got to stop somewhere, right?

Just buy em all man. Buy em all.

As for myself, I do not share.
So for this app, I should not care?

Yeah, you're probably not the target demographic then!

Is that a defect or scratch in the middle of the left metal frame in the juntion with the screen?

I dropped it on pavement from about 4 feet up.

I hope they change how the gestures work. Right now, if you swipe left or right you are taken to a different weather overlay within the same theme. Because of that, they need those buttons to a. select a different theme and b. access settings (whose button is at a difficult to access location - up top). I would like to see a more metro-style gesture where swiping to the right takes you to the different themes and swiping to the left takes you to the settings (like Facebook). That leaves accessing the different overlays within a theme. I think that can be accomplished by swiping up/down within the photo frame. My 2 cents.

This app directly share on Instagram, even in iOS and Android??

Pffft, we've got triple digits all the time in Boise, welcome to Summer.

Good to see another app make its way to Windows Phone
Its kind of similar to apps like Ciel
http://tinyurl.com/mmfnx7n

In the meanwhile, for same purpose you can use this app for free:
http://www.windowsphone.com/en-us/store/app/wead/d1a52d22-38ca-44d6-96c2-d93b48c099a7

Amazing Weather HD is so waay better w/ bing image changes everyday as Lock Screen? so beautiful and detailed!

Reelfeel is a joke. Just like accuweather. People in the east are babies. Come to the southwest if you want really dangerous heat. We dont get advisories unless temp ACTUALLY above 115.

People really having a pissing contest about ones weather being better than another? Its flucking hot. It being hotter in Texas or anywhere else ain't changing that.

Weather Tag Pro (http://www.windowsphone.com/s?appid=0b18e924-1a9f-4745-bdd4-a27bd71f70d1) is good alternative app. Here is the feature list: Support Windows Phone 7.x/8.0 Support portrait and landscape pictures Share photo to Facebook and Twitter Edit place Support English, Italian and Vietnamese

Isn't Ciel similar? Serious question. Just started using Ciel.. Never used Instaweather. Sounds similar.

Does this have a good animated radar? I'm sick of all the social networking efforts in weather apps and poorly implemented radar and mapping features. Developers need to focus on basic functionality before social networking.

I can only tolerate 64 to 88F in Los Angeles. Outside that range I'm a cold biotch or a hot piece of arse.

I visited my sister who lives near Laguna Beach in Cali in Laguna Niguel and the weather in Cali in August was amazing... Was cool even on a sunny day and at night it was nice and cool. I love it there.

I'll be in the San Diego Area in a few days for a bit of R & R. I live in the Gold Country of California and while there is no place else I'd rather live, the summers can get a bit toasty to say the least. I'm looking forward to some nice coast breezes. S.D and surroundings have some of the best year round weather of anywhere I've ever been.


Bob Dylan once sang that you don't need a weatherman to know which way the wind blows. I don't think he mentioned anything about not needing a weather app on your phone to make it look as cool as everyone elses lol


If the live tile can be as awesome as weather flow and it changes as my location is changing I will use this one!

The UK Met Office app isnt that bad, in that it has an augmented reality view where is overlays the sunrise/sunset times; humidity and weather etc. It's not a photo overlay app as such, but all you have to do is take a screenshot of it and then upload that!

http://www.metoffice.gov.uk/services/wp8 screenshot on the met office page for the (WP8) app.

Available now for Windows Phone 8
http://www.windowsphone.com/en-us/store/app/instaweatherpro/8ce9c050-c3e9-4bba-afb9-9a654528553a
Windows Central Newsletter
Get the best of Windows Central in in your inbox, every day!
Thank you for signing up to Windows Central. You will receive a verification email shortly.
There was a problem. Please refresh the page and try again.