Get your DIY on with the official Instructables app for Windows & Windows Phone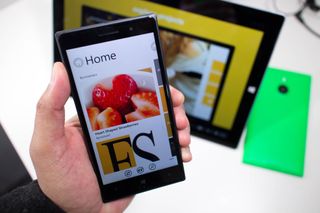 Do you like to do it yourself? If you haven't heard of Instructables (instructables.com), it is a great resource for those who love tinkering, soldering, stitching, frying, and, making just about anything. You can find step-by-step instructions on various projects and interact with other users along the way. Sounds interesting? Autodesk, the company that owns Instructables, has recently released an official app for Windows and Windows Phone devices. See it in action with our hands-on video.
The Instructables app feels very Metro. It opens up to the Home section, which features a few items with thumbnails. Swiping to the left or right shows off other sections like Explore, Contests, account, and main menu.
Tapping a project displays more details about it. It includes the instructions, the user who submitted it, how many times it has been viewed, how many times it has been liked, and the number of comments. The thoroughness of the instructions may vary. Some may be very detailed, while others keep it brief and simple. Users can leave a comment with feedback or questions.
The Explore section provides users access to certain categories like Tech, Workshop, Living, Food, Outside, Play, and Collections. If there's a specific project that you are looking for, tap the search icon at the bottom.
The Contests section displays all the available contests currently on Instructables. Contests let users submit projects with chances to win prizes. For example, the Small Spaces Contest asks for DIY projects that maximize the space in your home, office, and other nooks and crannies. User submissions in this contest can lead to a new iPad.
The Instructables app also lets users log in to their accounts. Members can leave comments, add projects to favorites, follow other users, and even add new projects from the app.
What do you feel like making today? You might find it on Instructables.
Thanks for the tip, Travis L.
The app has been available on Windows for a long time, FYI.

WC guys are lazy sometimes. I know they have so much to cover. Still Doing great though

You comment such shit things.
Still doing great though.

Awesome! Beats having to pan and zoom with the mobile web browser :). Downloaded.

Nice to have on the phone. Nice to have another official app added to the roster. Overall... Nice.

Good stuff AutoDesk is on a roll lately.

It seems like these guys know how to make a Windows Phone app better than Microsoft does. After having seen the ugliness of universal apps with hamburger menu and all, I find it hard to refute myself.

I cannot agree more. It's one of the many characteristics that make Windows phones unique..... and there's a very small learning curve for people coming from ios or android. MS listen to Google (only this time) per their commercial and 'Be together and not the same'

Are you trying to be kinky with that first line?

I am a DIY kinda guy, Downloading! ;)

This is awesome. I'll definitely be using this app to build a few things.

It's not at all downloading.... Says pending after half download. But other apps are downloading without any problem

Now bring AutoCAD to Windows phone

Lets do it ourself. Yeah!

I've used instructables for years. Glad to see a WP app finally.

Wow.. More Autodesk apps !

Love it, really well designed.

I'll be downloading this immediately. I've been using Instructables for years. Not too crazy about their mobile site so this is fantastic. But it's great too see any new WP app that's useful to someone. Hopefully the trend continues. I'm looking at you, SiriusXM...

Heeeeeehawwwwwwwww.......

"Best opening line" nominee right here
Windows Central Newsletter
Get the best of Windows Central in in your inbox, every day!
Thank you for signing up to Windows Central. You will receive a verification email shortly.
There was a problem. Please refresh the page and try again.