Intel hits 5GHz in new Core i7 U-series processor, offers its first 5G M.2 solution
Faster Core i5 and i7 processors for thin-n-light laptops are coming this summer, along with Intel's first 5G solution for mobile PCs.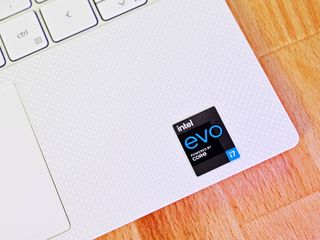 (Image credit: Daniel Rubino / Windows Central)
What you need to know
Intel has announced two new Core U-series processors for thin and light notebooks.
The chips are 11th Gen 'Tiger Lake' based on the 10nm SuperFin process.
The new Core i7 is the first U-series chip to hit 5GHz (turbo single-core).
Intel expects 60+ consumer designs with the two new chips this year.
Intel also debuted its first 5G M.2 solution for laptop makers.
In an unsurprising but still welcomed move, Intel announced the new Core i5-1155G7 and Core i7-1195G7, which clock higher than any other U-series chips so far. Both are 4 cores, 8 threads with 12-28 watts TDP, but the clock speeds are higher to achieve even more performance. The chips are 'Tiger Lake' designed based on the 10nm SuperFin process as previous 11th Gen releases.
The i5-1155G7 brings the base frequency down from 2.6GHz to 2.5GHz compared to the i5-1145G7. But the new i5 boosts max single-core turbo to 4.5GHz (instead of 4.4GHz) and all-core turbo to 4.3GHz (instead of 4.0GHz). Likewise, graphics max frequency jumps from 1.3GHz to 1.35GHz, sharing the same clock speed of the Xe graphics of the i7-1185G7.
Similarly, the new Core i7-1195G7 has a 2.9GHz base frequency (down from 3GHz in the i7-1185G7). But the new i7 increases all-core turbo to 4.6GHz (up from 4.3GHz) and single-core turbo to that coveted 5.0GHz (up from 4.8GHz). Equally, its Xe GPU hits a new high of 1.4GHz instead of the 1185G7's 1.35GHz.
Intel is confident its new i7-1195G7 can "eclipse" the AMD Ryzen 7 5800U in benchmarks, whether in gaming or content creation. For instance, in gaming, Intel claims its new i7 delivers a 1.64x increase in performance versus Ryzen 7 in a game like Apex Legends. And in something like Adobe Lightroom (Photo Merge), the i7 has 2.36x the performance versus the identical Ryzen 7.
Intel has also shared info about these claims on its website for further scrutiny.
Besides just performance, these new chips still feature Thunderbolt 4, Wi-Fi6E (Gig+), and Intel Evo certification.
Intel announced more than 85 Intel Evo designs were launched by OEMs, including Acer, ASUS, Dell, HP, Lenovo, MSI, and Samsung. It expects that number to go up to more than 100 by the end of 2021.
As far as momentum and adoption, Intel claims it expects over 60 consumer designs with these new Core U-series processors from its OEM partners by the end of 2021, with Acer, ASUS, Lenovo, and MSI available this summer. And, overall, Intel boasts there will be "nearly" 250 laptop designs with Intel 11th Gen Core (U-series) this holiday season.
Always connected
Intel 5G Solution 5000 M.2 coming this year
Finally, Intel revealed its new 5G Solution 5000 in partnership with MediaTek and Fibocom. The new M.2 solution lets OEM drop in 5G to new laptops with Intel Core U- and H-series processors. The Intel 5G Solution 5000 has worldwide carrier certification and "delivers nearly five-times speed increases over Intel Gigabit LTE."
The 5G type offered is the more ubiquitous Sub-6GHz standard instead of the more powerful (but range-limited) mmWave provided by Verizon (which also has more complicated antenna requirements).
While there are currently Intel-based 5G laptops like HP's ZBook Firefly and Elite Dragonfly, those laptops use Qualcomm-based X55 modems to achieve that connectivity. Instead, companies can build laptops that are pure Intel for the processor, graphics, Thunderbolt 4, and connectivity like Wi-Fi6E (Gig+), and now 5G. That competition should also help drive down 5G prices for laptops.
Fibocom will supply the part under FM350-GL, and MediaTek played a role in "product definition, development, certification, and support of 5G modem solutions."
Like the new Core U-series processors, Acer, ASUS, and HP among the first OEMs expected to implement Intel 5G Solution 5000 in new Core U- and H-series laptops later this year. Over 30 laptop designs with Intel 5G are projected for 2022.
Daniel Rubino is the Editor-in-chief of Windows Central, head reviewer, podcast co-host, and analyst. He has been here covering Microsoft since 2007 when this site was called WMExperts (and later Windows Phone Central). His interests include Windows, Microsoft Surface, laptops, next-gen computing, and for some reason, watches. Before all this tech stuff, he worked on a Ph.D. in linguistics and ran the projectors at movie theaters, which has done absolutely nothing for his career.
I would've preferred Intel to prolong battery life without compromising the performance of the last generstion of chips

That i7-1195G7 would be great in a Surface Book 4!

Ryzen 7 5800HS would be the right call, given that it has twice the power for similar sustained power draw.
If this new i7 chip can even come close to Ryzen 5 5600HS, I would be very surprised.

Ryzen 5 5600HS generate more heat and eat more power which I think would not work considering the cpu is in a tablet with little room for a big battery. Ryzen 5 5800u would make more sense.

@ochhanz depends on the power draw, the Ryzen 5000 chips are crazy efficient compared to Zen+ lol. They can be limited however the Surface Book has more cooling capacity than a Surface Pro due to the form facter. So 7 5800Hs on the top end, mid range 5 5800u would be best the solution imo.

"So 7 5800Hs on the top end", what advantage would that bring compared to the latest AMD ryzen u cpu's? Is the HS based on newer Zen than the latest u series? To me it would seem like it woudl throttle nearly instantly. ("5600HS is configured to a TDP of 35W. " https://www.notebookcheck.net/AMD-Ryzen-5-5600HS-Processor-Benchmarks-an...) "Surface Book has more cooling capacity than a Surface Pro due to the form facter.", only for the gpu, while for the cpu maybe even less since the 'Clipboard' part is quite thin.

@ochhanz it's the use case. Not many people actually use the top half solely as a tablet. When in tablet mode it can throttle down. Sure, it will run hotter docked but you're forgetting the basic laws of heat transfer :). Air is not a vacuum, heat rises and cold air drops. The ambient temp will be lower than heat of the CPU and by extension any cooling mechanism. By having a mid and high end tier. People who want a slim fan less design can get the mid tier. People who want the oomph, get higher end tier. Your suggestion could effectively mean we get U series parts with flagship prices lol - the surface book ain't cheap lol. Unless you have a tree that grows ready made currency lol.

I am just saying that you cannot just put in gaming laptop cpu's in a tablet. These devices already run hot, which is bad for the battery and probably even the screen. If you want something like a Surface Laptop Pro with a beefy cpu etc than I completely agree, I just think it is wishful thinking to believe MS can put H/HS chips in the Book (unless they come up with some brilliant cooling solution or make the tablet part thicker). "Your suggestion could effectively mean we get U series parts with flagship prices lol - the surface book ain't cheap lol.", hey the Book is not my idea, its MS's idea ;) .The current Books already ship with U series which what makes the tablet part not a boiling plate lol.

Given that all-core turbo is supposed to maintain 5Ghz, this i7-1195G7 will draw more power than the R5-5600HS and it will be absolutely hotter. Power efficiency will be roughly the same on idle task, maybe even more efficient for Ryzen when it cTDP downs to 25 watts, so you'll get the same battery life regardless. Surface Book 4 using inefficient and overpriced Intel U28 when you have Ryzen H35 chips will be a Deal-Breaker for a lot of people. Unless Microsoft is on Intel's payroll (many other OEMs are), it would be a stupid move for them.

I completely agree with the AMD part but u-series would make more sense in a tablet (which is what the Book essentially is with a gpu keyboard dock).

That's nice, Intel Now, AMD next please

Can't believe that 4 Core can outperform 8 in multicore.

Yeah only in certain benchmarks that benefit Intel cpu's more than Amd's.

While I would prefer to see more cores, any increase in single core & graphics performance is welcome too.

"complicated antenna requirement" for mmwave, that's the understatement of the century! 🤣🤣 I'm curious to see what comes out Mediatek from this collab, hopefully cheaper 5G integration or better still progress to a proper 5G solution that doesn't rely on mmwave. I'd rather have sub-6 as a stop gap as a sort of 4.5 G (abit like HSPDA / HSPDA+). Personally, I think we are nearing the limits of data transmission speeds via a mobile/cellular network, the only way to pack more data in is in compressive technologies. Anyway, I sure hope these "new designs" take repairability into consideration and are easily serviceable. As if Covid-19 has taught us anything - if you don't have a laptop or PC the chances of you being able to work remotely is very slim so you will lose your job / livelihood. By making laptops easily serviceable, it minimises the amount of downtime and prevent's users having to ship their laptops back to OEMs for basic repairs which can take over a month in most cases. Lower serviceability means an additional logistical burden, putting people at risk and less work for people who run a repair business like Louis Rossman. Which ultimately means higher unemployment and then higher taxes down the line to trim down the deficit when things simmer down. Ontop of that lower serviceability means higher e-waste and higher risks of ground water contamination. Soooo yeah... people should really push for better servicability of laptops and maybe we will finally be able to upgrade GPUs in laptops using something like MXM.
Windows Central Newsletter
Thank you for signing up to Windows Central. You will receive a verification email shortly.
There was a problem. Please refresh the page and try again.