Intel takes to Computex 2019 with new dual-screen laptop prototypes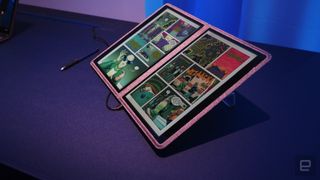 What you need to know
Intel had two new dual-screen laptop prototypes to show off at Computex 2019.
Codenamed Honeycomb Glacier and Twin Rivers, both prototypes take different approaches to the dual-screen idea.
While Intel is a chip maker and won't ship these devices themselves, they're meant to act as ideas for PC makers like Dell and HP to experiment with.
Intel is no stranger to prototyping dual-screen devices; the company dipped its toes in the water with its Tiger Rapids device at Computex 2018. At Computex 2019, however, the company came armed with two new prototypes that take pretty different approaches to the dual-screen concept.
Engadget got some hands-on time with both prototypes, dubbed Twin Rivers and Honeycomb Glacier, respectively. The Twin Rivers concept is almost entirely focued on taking full advantage of twin displays, with one fully replacing the area where the keyboard would normally lie. Honeycomb Glacier, meanwhile, is a little more focused on gaming with a design that appears strikingly similar to ASUS' new ZenBook Pro Duo, but with the added ability to prop both displays up with an extra hinge.
On Twin Rivers, Intel opted to go with two 1920x1280 screens that can be configured like a traditional convertible, rotating between laptop mode and tent mode. And while you can type on the bottom screen with a virtual keyboard, Intel has also created a thin Bluetooth keyboard that can be placed on top of the bottom screen when you need to get some work done. The bottom screen also makes use of a digital trackpad for controlling your mouse cursor.
Impressively, Twin Rivers is wrapped in a fabric covering that Engadget says "makes the device feel like it has a book cover." When you hold the device in portrait orientation, Engadget says that the screens adjust to mimic a book as well, with Intel showing the feature off with a comic book reader and recipe app.
The Honeycomb Glacier prototype, meanwhile, very much looks like a traditional laptop at first glance. You've got the main 15.6-inch display, but Intel has also added a 12.3-inch display just above the keyboard. Developed with gamers in mind, Intel showed off how gamers could play on the main screen while keeping chat apps like Discord or streaming apps up on the lower screen. Intel also makes clever use of Tobii eye tracking to monitor where your eyes are and transition keyboard input to the apps you're looking at.
What really stands out with Honeycomb Glacier, however, is its second hinge. The main hinge is still used to open and adjust the primary display. A secondary hing, however, sits just below the second screen, allowing you to prop both displays up from the base of the laptop. This has the effect of bringing each display closer to you while making the secondary display a little easier to glance at.
It's worth keeping in mind that both of these are simply prototypes and Intel, as a chip maker, isn't going to be manufacturing and selling these laptops. However, Intel's PC partners like ASUS, HP, and Dell can take the ideas Intel is experimenting with here and run with them, so we could see them implemented in some form in the coming years in laptops hitting the market.
These prototypes also mesh well with Intel's Project Athena, which, similar to its "Ultrabook' initiative several years ago, Intel is using as a platform to push the PC industry forward with new device types and capabilities.
Affordable accessories that'll pair perfectly with your PC
Every one of these awesome PC accessories will enhance your everyday experience — and none cost more than $30.
KLIM Aim RGB gaming mouse (opens in new tab) ($30 at Amazon)
Whether you're a gamer or not, this is an absurdly good mouse for the price. It's ambidextrous, has a responsive sensor, a braided cable, tank-like build quality, and, yes, it has RGB lighting, though you can turn it off if that's not your thing.
AmazonBasics USB speakers (opens in new tab) ($16 at Amazon)
These neat little speakers may only pack 2.4W of total power, but don't let that fool you. For something so small you get a well-rounded sound and a stylish design. And they only cost $16.
Razer mouse bungee (opens in new tab) ($20 at Amazon)
Use a wired mouse? You need a mouse bungee to keep your cable tidy and free of snags. You get no drag on the cable, and this one has subtle styling, a rust-resistant spring and a weighted base, all for $20.
Windows Central Newsletter
Get the best of Windows Central in your inbox, every day!
Dan Thorp-Lancaster is the former Editor-in-Chief of Windows Central. He began working with Windows Central, Android Central, and iMore as a news writer in 2014 and is obsessed with tech of all sorts. You can follow Dan on Twitter @DthorpL and Instagram @heyitsdtl.
Makes me feel like we're getting closer to windows in our pockets.

Be careful what you wish for. I've had Windows, of a sort, in my pocket since the late 80's with Windows CE, Pocket PC, Windows Mobile... I've also had full Windows on small tablets as small as 7". That experience was largely dismal. Windows is designed with a keyboard, mouse and larger screen. The applications are designed for keyboard, mouse and larger screens. Applications designed for phone size devices and touch can certainly be scaled up, but then people complain about their capabilities and visuals. You can cram windows into a small form factor, even a compute stick no bigger than a Firestick, but then you have to add a keyboard, mouse and larger screen to make it usable. I imagine there wouldn't be a big technical issue in shoehorning Windows into a beefed up Lumia 950XL or HP X3. There were already docks designed for them, and many USB-C docks designed for Macs and Chromebooks worked as well. Thing is, you'd still need a 'mobile' UI presented when you weren't docked. Not sure what the advantage to Windows in your pocket would be, if you can't really use much more than you have on a phone now, due to ergonomics, and have to tote around a 'lapdock' to get the benefit of the power locked up in the pocketable device.

I agree, I loved the vision of the one Windows device, but it's hard to see how the usablibity would be with out external devices.

I think he meant windows core OS or whatever it will be called for smaller form factors.

I disagree. I've gotten plenty of work done with office apps on my smartphone, and even more done with my Surface, using only the pen. I've never used a keyboard with my Surface; once you get used to the pen there's no going back for typing on the go. I guess it depends on what kind of work you do, and how portable your productivity needs to be. That's why these dual screen devices are nice. In a lot of modern productivity situations keyboards and mice are cumbersome, and out of place. My next device will be dual screen, and that's guaranteed.

How do these new laptops have anything to do with fitting in your pocket? They are merely new laptop forms, nothing more.

Also, it will take these designs YEARS to shrink down to a pockable size. At least a comfortable one. At the same time, these designs might not even matter when we get down to the 5" range. Maybe one day we will get the Westworld vision of a 4 fold screen. It's hard for me to see anything that the current Windows has be a good experience on something that small. I want full W10 in my pocket, able to play Xcloud and hook to externals if I want, but not with the current UI choices. Hopefully we will all be delighted with Windows Lite, but I just can't see it yet.

Kyocera had a dual screen folding phone several years ago and ZTE had a really nice one a couple years ago. Hardware isn't the issue. Software and making that form factor compelling is the issue. There just hasn't been a good reason for dual screens in a phone. What is the point?

The bigger question is what do you have to do with Windows Central, troll? You can't afford anything new anyways, so that's why you're so bitter about new tech. Proof is that 6 year old, low end, Android device you use.
You can get a low end device like 5 for 1.. WTF is wrong with you? Get a job.

Finally! A foldable tablet that makes sense! Two screens! Duh! What a difficult concept for the foldable screen people to comprehend... now... for the next difficult to grasp concept.... inkable bottom screen!!!! So I can actually use the digital ink pen with a laptop without feeling like I'm stupid ... who needs a keyboard... ink everything

It still doesn't make sense. Screens that size require keyboard and mouse to be productive and they are pointless for consumption. Inking won't be enough. It is an answer looking for a question. You just made your laptop, which now exists merely to be productive, less productive.

Broken record... Stop trolling. I never see you post on Android Central, yet you hate everything PC, or Windows.
Pathetic life you do live.

2 screens PCs are literally worse in every way than foldable PCs

I think that one picture with it standing like a dual monitor workstation is pretty bad ass looking. It almost doesn't matter that the screen isn't full size.