Intel announces massive shift in processor strategy, including making chips for other companies
One month after becoming Intel's CEO, Pat Gelsinger announced some major changes.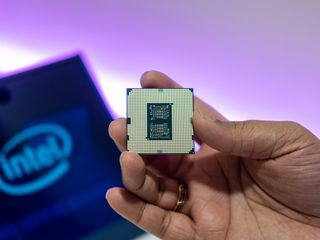 (Image credit: Harish Jonnalagadda / Windows Central)
What you need to know
Intel announced plans to produce chips for other companies.
The company announced a $20 billion investment for two fabs in Arizona.
Intel expects to finish its 7nm Meteor Lake processor designs in the second quarter of 2021.
Intel annnounced massive changes in its "Intel Unleashed: Engineering the Future" webcast yesterday. New Intel CEO Pat Gelsinger announced plans for Intel to produce processors for other companies. Gelsinger also announced a planned $20 billion investment into two new fabs in Arizona. The CEO also specified that the designs for Intel's 7nm Meteor Lake processors should be set in the second quarter of 2021.
Gelsinger's outlined changes are part of his IDM 2.0 vision. There are three components of this vision; Intel's in-house manufacturing, Intel using third-party foundries for manufacturing, and the company's new Intel Foundry Services that will produce chips for other companies. These moves should help Intel diversify its efforts as the competition to create the best processors heats up.
Here is Intel's summary of the core components of IDM 2.0:
Intel's global, internal factory network for at-scale manufacturing is a key competitive advantage that enables product optimization, improved economics and supply resilience. Today, Gelsinger re-affirmed the company's expectation to continue manufacturing the majority of its products internally. The company's 7nm development is progressing well, driven by increased use of extreme ultraviolet lithography (EUV) in a rearchitected, simplified process flow. Intel expects to tape in the compute tile for its first 7nm client CPU (code-named "Meteor Lake") in the second quarter of this year. In addition to process innovation, Intel's leadership in packaging technology is an important differentiator that enables the combination of multiple IPs or "tiles" to deliver uniquely tailored products that meet diverse customer requirements in a world of pervasive computing.
Expanded use of third-party foundry capacity. Intel expects to build on its existing relationships with third-party foundries, which today manufacture a range of Intel technology – from communications and connectivity to graphics and chipsets. Gelsinger said he expects Intel's engagement with third-party foundries to grow and to include manufacturing for a range of modular tiles on advanced process technologies, including products at the core of Intel's computing offerings for both client and data center segments beginning in 2023. This will provide the increased flexibility and scale needed to optimize Intel's roadmaps for cost, performance, schedule and supply, giving the company a unique competitive advantage.
Building a world-class foundry business, Intel Foundry Services. Intel announced plans to become a major provider of U.S.– and Europe-based foundry capacity to serve the incredible global demand for semiconductor manufacturing. To deliver this vision, Intel is establishing a new standalone business unit, Intel Foundry Services (IFS), led by semiconductor industry veteran Dr. Randhir Thakur, who will report directly to Gelsinger. IFS will be differentiated from other foundry offerings with a combination of leading-edge process technology and packaging, committed capacity in the U.S. and Europe, and a world-class IP portfolio for customers, including x86 cores as well as ARM and RISC-V ecosystem IPs. Gelsinger noted that Intel's foundry plans have already received strong enthusiasm and statements of support from across the industry.
The final component, the new Intel Foundry Services, is making headlines. It is a standalone business unit and will make processors for other companies. That's a major shift for Intel that could see the company making chips for some of its biggest rivals. The unit will produce ARM, x86, and RISC-V core chips for other companies.
As part of the first component, Intel's own manufacturing efforts, the company plans to build two new fabs in Arizona that will be part of its Ocotillo campus.
Intel also announced plans for a research collaboration with IBM. These joint efforts will focus on creating next-gen logic and packaging technologies.
Intel also announced an event series called "Intel On," which is a series in the spirit of the popular Intel Developer Forum event.
News Writer and apps editor
Sean Endicott brings nearly a decade of experience covering Microsoft and Windows news to Windows Central. He joined our team in 2017 as an app reviewer and now heads up our day-to-day news coverage. If you have a news tip or an app to review, hit him up at sean.endicott@futurenet.com (opens in new tab).
The foundry business is a smart move...and arguably necessary. We are far too reliant on Asian foundries for semiconductors and, in addition to bringing some competition to this space, it can help to ease the global crunch on chips. As much as we disdain Intel for their anti-competitive practices, I definitely want them to succeed in this sector. As funny as it may seem for AMD to hire Intel as a foundry, in the end, Intel just cares about whatever would make it the most money.

Would have been better off if they started a consortium again and had Apple/AMD/ARM/Nvidia et all buy in....

blahism, I think I disagree with this (and agree with Culex316). I confess I don't know all the business drivers for the chip business, or all the facets to Intel's strategy, but in general, a consortium lacks the profit motive that sets the all-important incentives to drive innovation. A consortium is good for creating industry-wide standards or compatibility, but that's not really relevant here. No one is asking for ARM and x64 chips to become compatible, so just throwing themselves into the open market as a foundry for hire is probably going to be better for them and for us as customers who benefit from the ever lowering costs that ONLY come (at least in the long run) from competition by multiple companies in pursuit of profit.

"As much as we disdain Intel for their anti-competitive practices ..." This is the opposite of anti-competitive practices. Intel used to keep its foundries to itself so that it could make it more expensive for their competitors. They were that big. Now the heat's on with AMD and ARM-based chips competing very well against their offerings. They can't rely on being the bully on the block anymore. Great news for the parts of the world that are not Intel! That includes me and you.

China is looking to invade Taiwan in the next few years.
That gives them TSMC.
What happens after that? So yes, Intel investing in state of the art foundries is a Good.Thing.™ It also fits in with the post-pandemic world of supply chain diversification and "build where you sell".
But instead of a consortium, the optimum solution is *other* players getting into the foundry business.
Not everybody needs to be doing cutting edge chips, either.
There's plenty of money to be made off last gen processes.

Dude, sell crazy someplace else.

What do you do with the last generations' manufacturing capacity? Keep making stuff for customers that don't need the leading edge tech. Would you call this horizontal integration? Intel will build chips from 22nm to 7nm.

What kind of chip is used in a Smart TV? How many devices today of processors? Most of these devices are simple and have specific tasks. So you do not need the bleeding edge. The IoT devices will be plugged into infrastructure and expect to work for years without upgrades.
Windows Central Newsletter
Thank you for signing up to Windows Central. You will receive a verification email shortly.
There was a problem. Please refresh the page and try again.